Do you get a sore left foot when changing gears? It's not uncommon among riders, according to my physiotherapist.
He says stiff motorcycle boots and the upshift gear action can cause plantar fasciitis which is a severe and sharp pain in the bottom of your foot.
Don't worry, you're not getting old and fat. In fact, a lot of very fit athletes also suffer as well as tradies with stiff work boots.
The pain is usually most severe at night as your muscles cool down, with your first few steps of the day or when upshifting on your bike.
Treatment can include rolling a golf ball under your foot, strapping, anti-inflammatories, stretches, shoe inserts, massage and even surgery in extreme situations.
My physiotherapist also suggests I wear boots that have good flex through the foot area and use a motorcycle heel shifter to reduce the stress.
Many cruisers with floorboards have heel shifters which are a rear extension of the gear shift behind the pivot point, therefore, they work in the opposite direction.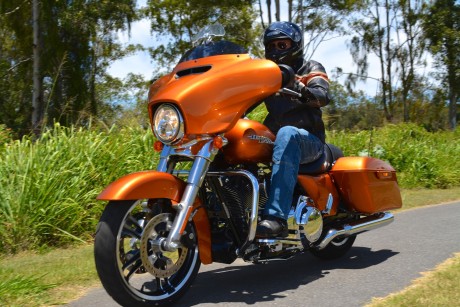 So upshifting requires you to stomp your heel down, rather than hooking your toes under and pulling up.
They can't be used in downshifts, but it doesn't cause any pain to push down on the front of the lever, anyway.
Most people use heel shifters to prevent scuffing the tops of their boots, but they can also help alleviate this chronic pain syndrome.
I always thought heel shifters were simply in the way, but now that I suffer from plantar fasciitis, I have been using them whenever I ride a bike with floorboards and a heel shifter.