Motorcycle tour guides are usually smart people with a lot of practical tricks that make your journey easier and Hear the Road Motorcycle Tours owner Enrico Grassi is no different.
When we arrived in Rome for his Tuscany and Umbria Tour on Friday, he presented us with a welcome package.
Smart extras
It included a free t-shirt each, some visor cleaner, a phone with a local SIM Card and a comprehensive guide that included the supplied local phone numbers of every member of the tour as well as Enrico. Smart move!
The first night consists of a walking tour with Enrico through Rome's bustling labyrinth centre.
We start with an aperitivo in an alleyway just off Piazza Navona, devour a Roman pasta feast at a restaurant next to the Tiber River and finish off with tartufo (chocolate and more chocolate) that Enrico insists will convince you there is a God.
Some of the recipes from the restaurants that we will visit on this trip are even included in the guide book in the welcome pack so we can cook up a feast on our return home to relive our trip.
On our first day blasting our bikes out of Rome on the ring road and Autostrada, it was also comforting to know that if we took a wrong turn we would be able to call for help on the provided phones.
However, it's a small group of six riders and three pillions, so it's difficult to get separated or lost.
Rollercoaster ride
Pretty soon we are off the Autostrada and embarking on a scenic rollercoaster ride we will never forget, says Enrico.
Most of the roads are part of the ancient Roman Via Cassia that winds over the hills and valleys through mediaeval villages.
It's all part of the UNESCO-listed region of Tuscany and the views are a faithful rendition of a Frances Mayes novel cover.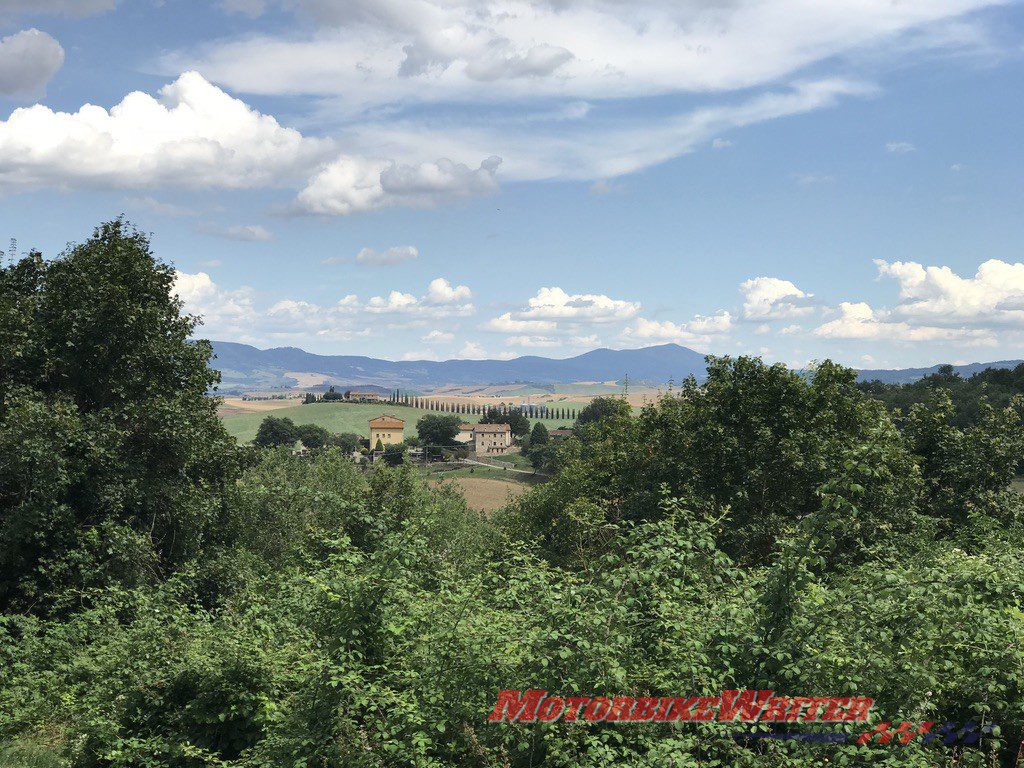 The Via Cassia passes through sepia landscapes of green and gold pastures dotted with hay wheels, along roads lined with pencil pines and around hills topped with centuries-old castles and churches.
But where there are pastures, there are also bugs, so the visor cleaner comes in handy when we pull into our first stop an hour into the journey at the village of Roncaglione.
This cobble-stoned village is the scene of a famous jockey-less race in August.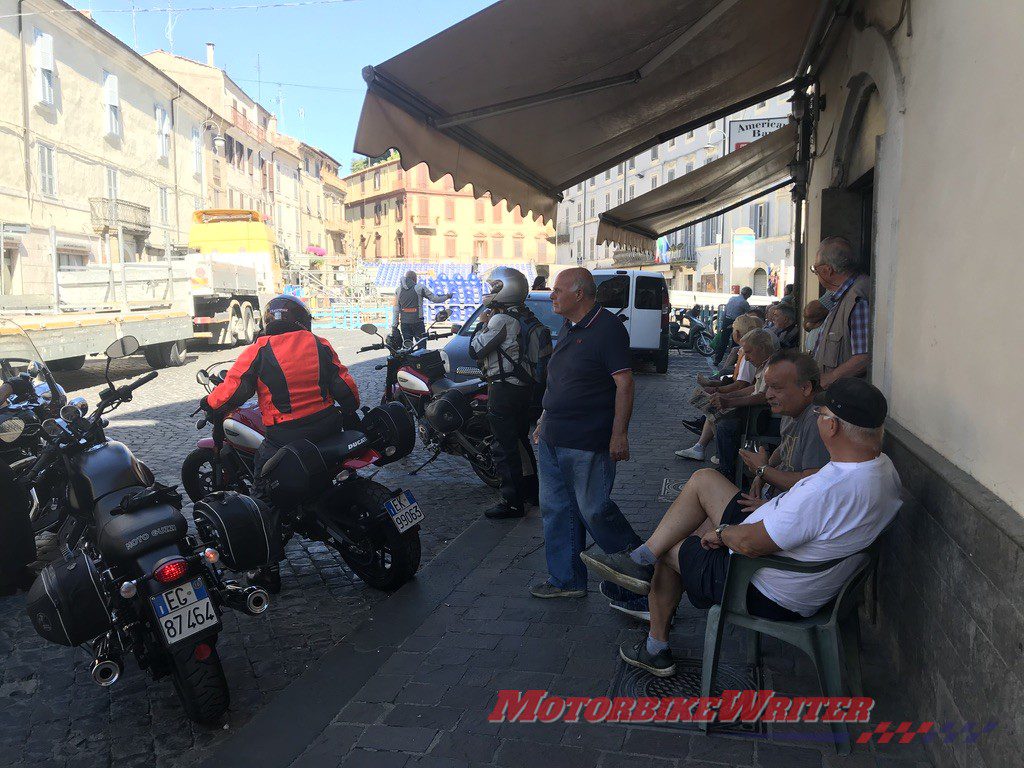 There are some great photos on the wall of the cafe and the local men outside engage us in lively conversation before one of our riders accidentally knocks over a scooter with his Harley.
I'm worried that this could suddenly turn pear-shaped, but the owner just laughs, pulls on his pink helmet and rides off.
After a quick double espresso, we are back on the bikes and winding up the pace along the rollercoaster ribbon of tarmac.
Flowing roads
There are almost no straight stretches of road to be found here only every type of corner you could imagine, except for switchbacks. The Tuscan roads simply flow like a Chaucer poem.
Then we climb one of the hills towards the quaint hilltop village of Radicofani for a lunch of panino, salad and acqua fredda.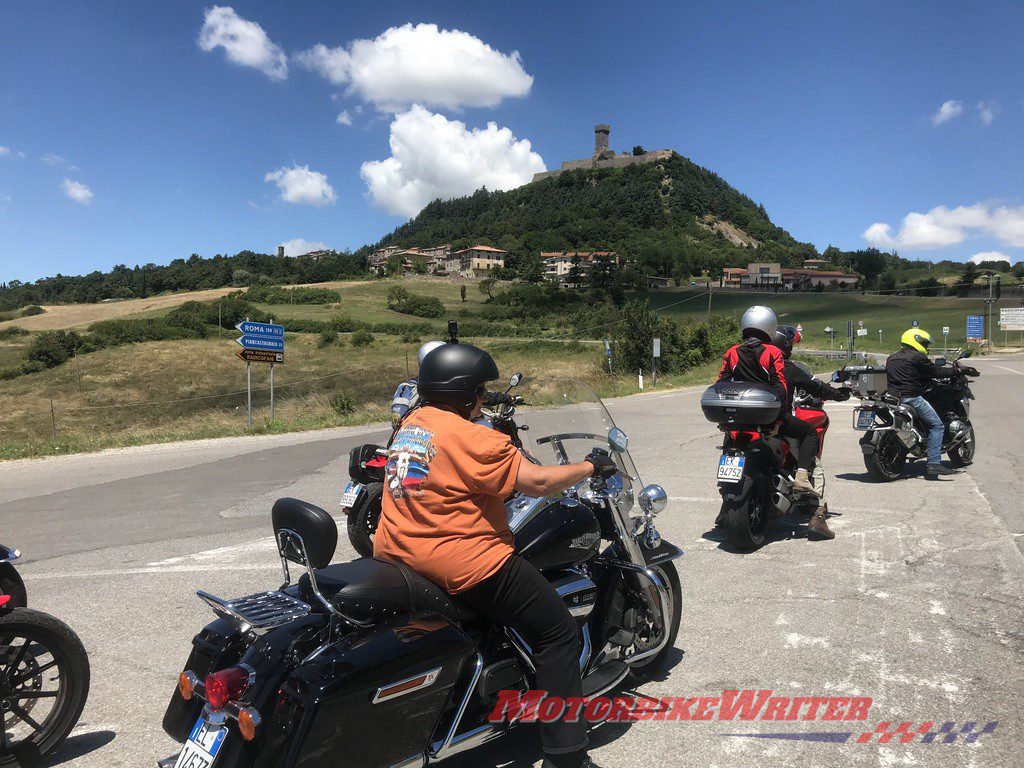 This is an excellent stop for a group photo and a few minutes admiring the spectacular rural views.
The group has chosen a variety of bikes from tales biggest motorcycle hire company, HP Motorrad, and Harley-Davidson Rome. 
Enrico rides a BMW R 1200 GS, two of the American women are riding Ducati Scramblers, a couple from Kuwait are on a Ducati Multistrada, while another woman from Louisianna and an Alaskan couple are on big, comfy Harley tourers.
Mrs MBW and I are enjoying the rattle and hum of a Moto Guzzi V7 II … to me, the perfect Italian bike full of temperamental character for a two-up love affair with Tuscany.
After lunch, we call in for a gelatto and some photos at Bagno Vignoni, an achingly gorgeous town with a mineral springs pond as its town square.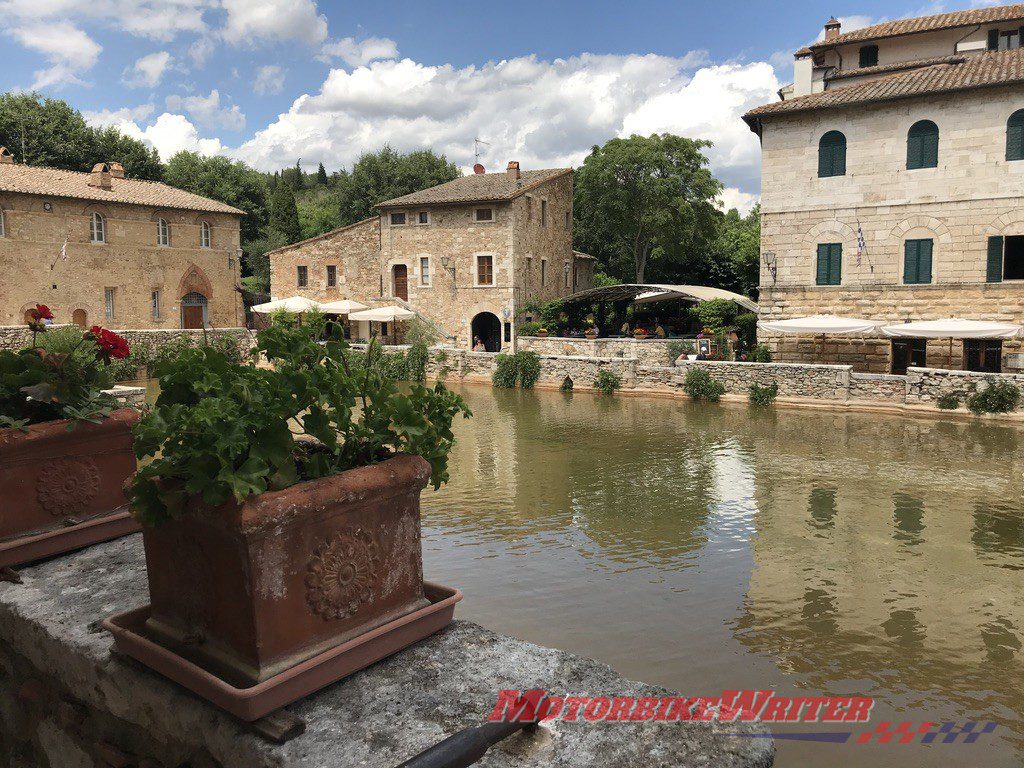 It also affords a great view of a typical Tuscan landscape compete with hilltop villa, a crushed gravel pathway leading up the hill lined with pencil pines.
Enrico swears it was used in the Gladiator film and who are we to disbelieve him!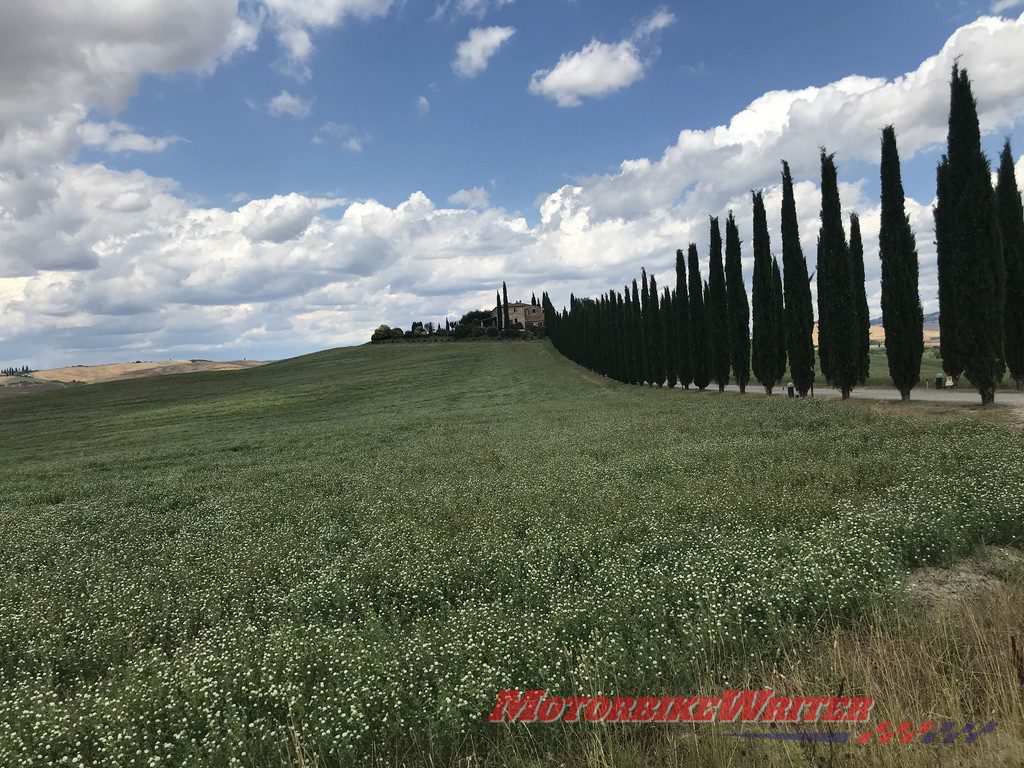 After all, he was right about the tartufo and the Tuscan scenery and roads.
But God intervenes and the first day ends with a heavy downpour just a couple of kilometres from our homestay for the next two nights in Sienna.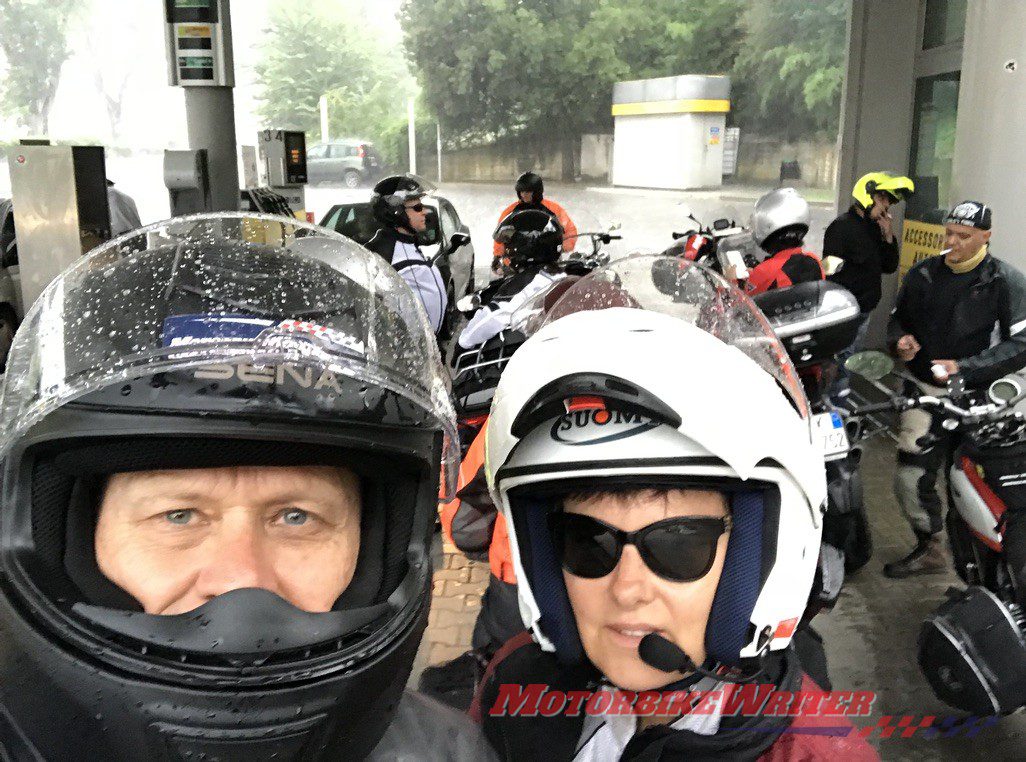 But it's worth the effort for the beautiful view of Siena out of our bedroom window!