The Bluetooth Headwave Tag sticks to the back of your helmet and uses vibrations to turn it into a speaker, but the sound is pretty dismal and muddy.
We had hoped this would be a great invention that would do away with uncomfortable speakers or earphones, but after spending almost $500 on the device we were disappointed with the results.
However, to their credit, Headwave did refund us the money in full when we posted it back to Germany.
The unit is basically a speaker that drives the sound into the helmet via "surface transduction" which transmits vibrations through the helmet.
Headway founder and CEO, and motorcycle fan, Sophie Willborn, says it has "outstanding audio quality."
"It's like being in a soundbox," she says. "The whole helmet is the acoustic resonance body so you can hear the music from everywhere around you. The best thing is, you can feel the bass. The whole helmet vibrates when you hear music with strong bass."
However, our main criticism of the unit is that the sound quality is poor with little bass and no stereo effect.
Sophie says we didn't fit it correctly. However, we tried it with a number of helmets and could never get the full 100% firm fit she said was required for quality sound.
Check out these photos which show only the tiniest gap.
There is also a substantial amount of sound leakage outside the helmet which Sophie says shouldn't be a concern.
However, if you pull up at your next stop with your mates and your music is playing Kylie Minogue, it could cause some embarrassment!
It has one button on the back to turn it on and off and to pause play. The manual says you can also control volume and skip tracks, but that's little misleading. They actually mean you can control those functions on your phone or music device.
Since it is just a Bluetooth speaker, there is no communication functionality, although you will be able to hear when someone rings you.
The unit sits about 4cm out from the back of your helmet which could be a concern in a crash. It is stuck on but may not tear off easily in a crash.
Sophie says the tape that attaches the unit has "extremely high tensile strength rated up to 300kmh". It's used for mounting spoilers, etc on the outside of cars.
If it does come off your helmet, it is claimed to be very robust and should withstand being run over by one of your riding colleagues as this video shows.
However, when we pulled it off via the centre of the unit as shown in their manual, the outer casing came apart a shown. Sophie recommends pulling it from the ends.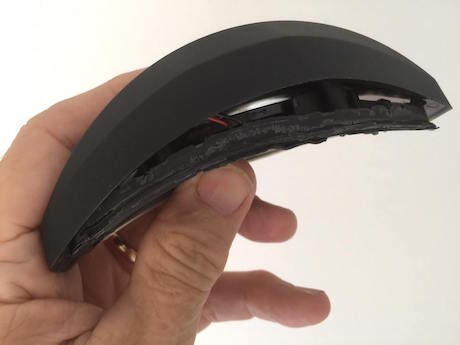 We had reported on the device back in February 2104 and it took almost two years to get the unit to market.
I think they need to spend a bit more time perfecting the sound quality, manual instructions and fitment, and give it a bit more functionality.
UPDATE: A second unit arrived, yet the results are the same. For more details, see the comments below from Sophie and my reply.