If you believe your head will crush as easily as a cabbage if you crash, then this video of some helmets being crushed will be of interest.
Crush test
The video from the "Hydraulic Press Channel" on Youtube shows a cabbage in several types of helmet including half and full-face motorcycle helmets, an army helmet and a cycle helmet.
Advance to the 4:20-minute mark and you will find the full-face motorcycle obviously holds up the best to the 150 ton (136 tonne) hydraulic press.
It doesn't really tell us anything useful about impact resistance, but it's good to know there is some protection if a 136-tonne truck runs over your head in a crash.
If you want to know the real-world safety rating of helmets, we suggest two sites.
The NSW Consumer Rating and Assessment of Safety Helmets (CRASH) crash-tests 30 helmets a year and releases the details every November.
It is not as comprehensive as the similar British SHARP helmet safety scheme which has tested and rated hundreds of helmets, almost all of which are now available for sale in Australia.
Click here if you want to know if helmet safety is related to the cost of your helmet.
Crash stats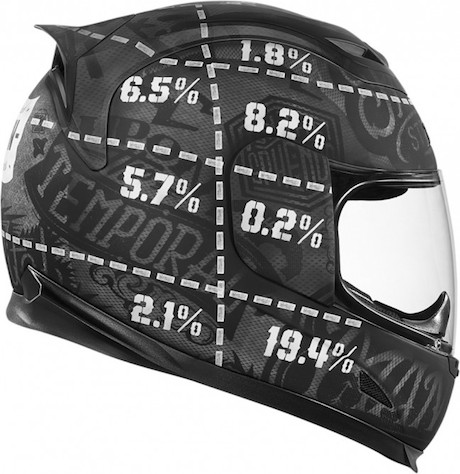 Meanwhile, the Icon Airframe helmet (above) shows the percentage chance of parts of your helmet suffering an impact in a crash.
The crash statistics come from the 1981 Hurt Report and show that the most common area of impact on motorcycle helmets is the chin at 19.4%.
The least vulnerable place is the very top of the head at 0.4%, as shown in the crushing video above for the half helmet, although it is the cabbage that crushes before the helmet!
Both the video and the statistics helmet are good arguments for wearing a full-face over an open-face motorcycle helmet.