Versatility is the key word for the Harley-Davidson Dyna Switchback.
It's a tourer with hard panniers and a big windscreen, yet in seconds the luggage and screen can be whipped off to reveal a handsome boulevard cruiser.
So you can switch back from tourer to cruiser and back again, hence the name.
At $25,995 (plus on-roads) it's an attractive proposition being two bikes for the price of one.
Its main competitors, the Victory Cross Roads Classic ($25,495) and Triumph Rocket III Touring ($25,990 plus on-roads), also feature quick-release windshields and hard panniers.
The Switchback layout is similar to the Road King with its stripped-down touring credentials.
But the Switchback is made for shorter people. Long-legged riders and pillions might feel a little cramped and cop a bit of buffeting from the windscreen.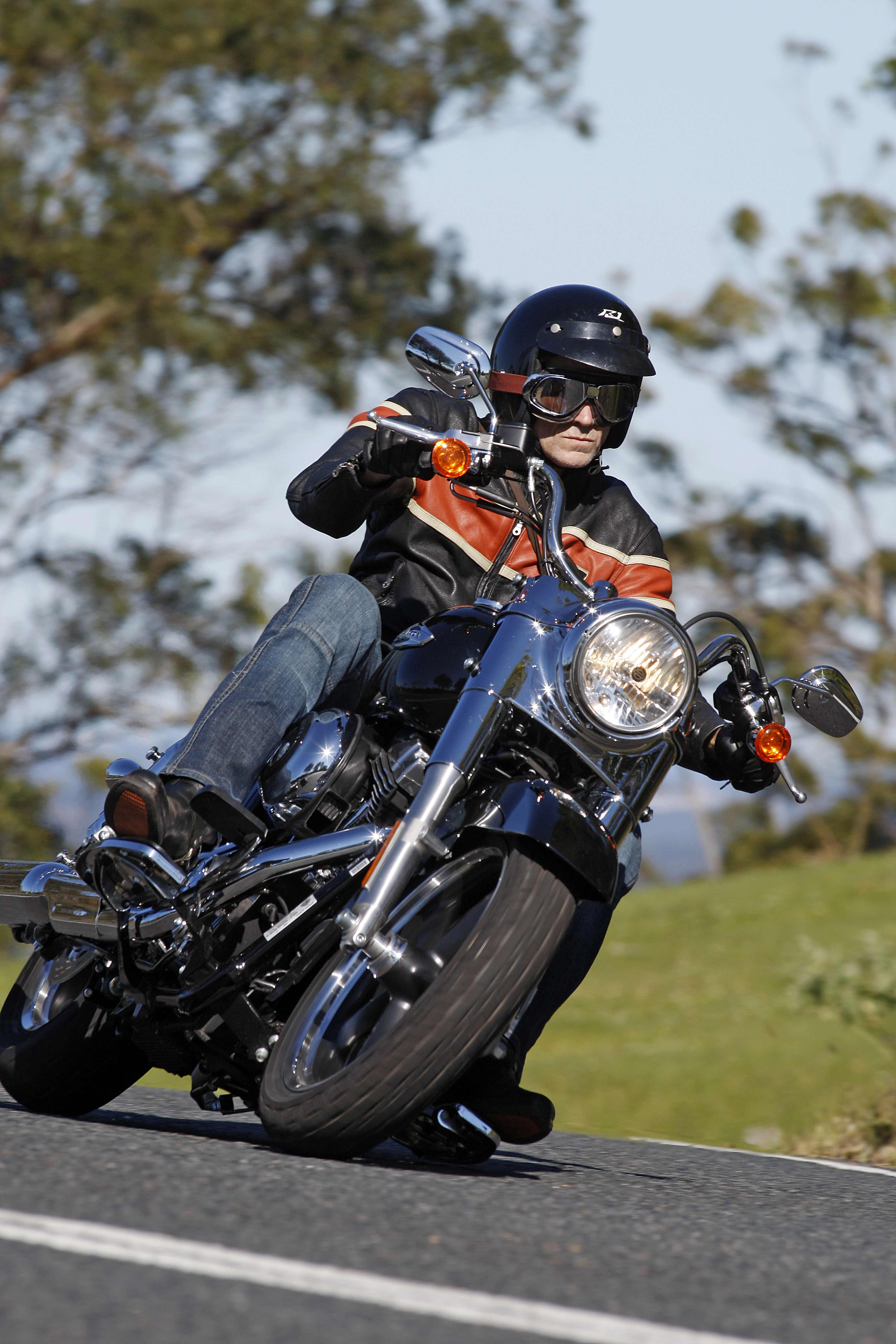 Its low 663mm seat and relatively low 316kg (dry) weight should attract shorter riders and females who haven't been able to find a suitable tourer before.
The Switchback is powered by the plodding momentum of Harley's 1690cc Twin Cam 103 V-twin.
It's down on capacity relative to the Victory (1731cc) and the whopping 2.3-litre Triumph, but it's 67kg lighter than the Victory and 46kg less than the Triumph. It's also 42kg less than a Road King.
The Switchback has bags of torque for quick acceleration and will delight with its cruising pulse.
There is a bit of a solid clunky on ignition, but its something Harley has been smoothing out.
While Harley has also reduced the clutch pull, the six gears are still a little clunky and neutral is difficult to find.
Sixth is also an overdrive and really only needed at 120km/h so it's basically irrelevant in Australia.
The two-into-one exhaust dispenses with the butterfly valve and is very quiet at 91.5dB. Legal Screamin' Eagle replacements are also available.
Fuel economy is about 5.6L/100km, giving moderate touring range from the 17.9-litre tank which is from the Street Bob.
There is no doubting Harley's style. It harks back to the 1970s when Willie G first put pen to paper and invented the Dyna dynasty.
It's old school, but with enough modern-day menace to be relevant.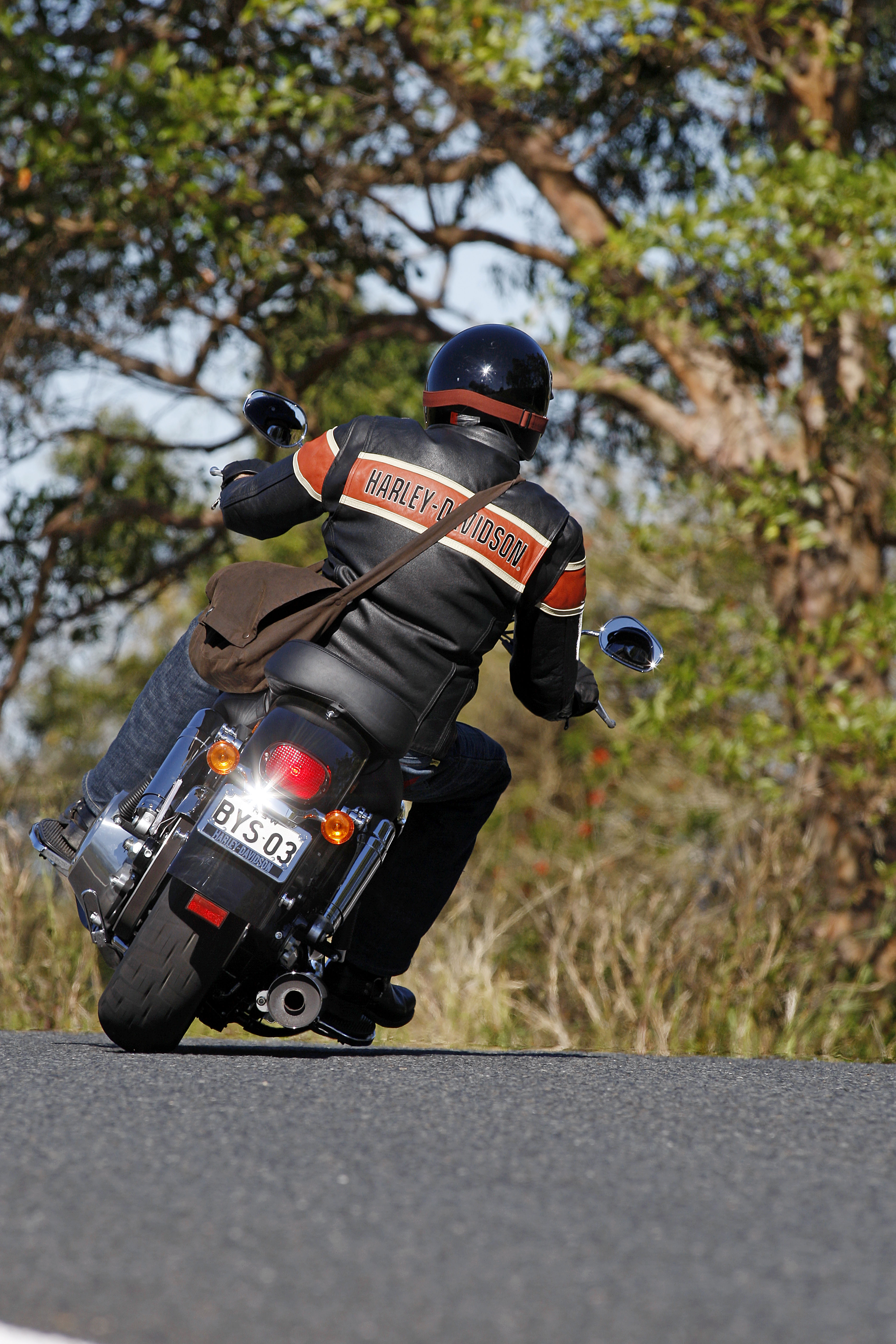 It features cigar-shaped covered twin springs/shocks, which match the cartridge-style forks. The old-school fenders are full and the adjustable mini-ape handlebars are comfortable. Hollowed black cast-alloy wheel spokes keep weight down.
Instruments are minimal, but feature a handy LCD screen that provides more information than before including a tacho and gear indicator.
The panniers are on the small and narrow side, but will hold enough for a weekend getaway.
The Switchback points and shoots quite nimbly thanks to the front-end geometry, preload-adjustable rear shocks with dual-rate springs and sensible tyres.
The only drawbacks are cornering clearance and short rear travel that hits the bump stops way too often.
The ABS works well, if a little jerky, and there is limited fork dive under heavy braking.
Riders will enjoy the comfortable contoured seat and full-sized footboards, while pillions will delight in the thick seat cushion and long reach to the pegs.
While it may be two bikes in one, it's not a compromise. It will tour and cruise with ease, and the price is just right.
Harley-Davidson Dyna FLD Switchback
PRICE – $25,595 (ride away)
WARRANTY – 2 years/unlimited km
SERVICE – 8000km
ENGINE – 1690cc Twin Cam, 135Nm
TRANSMISSION – 6-speed Cruise Drive
THIRST – 5.6L/100km; 17.8L tank
DIMENSIONS – 2357mm (L), 1595mm (WB), 663mm (seat height)
TYRES – 130/70B18; 160/70B17
DRY WEIGHT – 316kg