Aussies love a good motorcycle tour so it's no wonder the Harley-Davidson Street Glide Special is our top-selling tourer.
I've been riding one for the past month in South East Queensland. In that time, I've done all sorts of riding from short trips to the shops just 800m away to riding several hundred kilometres across bumpy backroads and gravel.
This is no adventure tourer, but it is quite surprising how well this bike will tour in varied conditions.
And at the end of the day, I can get off feeling fresh, thanks to the comfortable ergonomics and that deep-dish saddle.
I've ridden the Street Glide on many occasions in the past few years plus the latest blacked-out Special model in the most horrendous typhoon conditions in the States.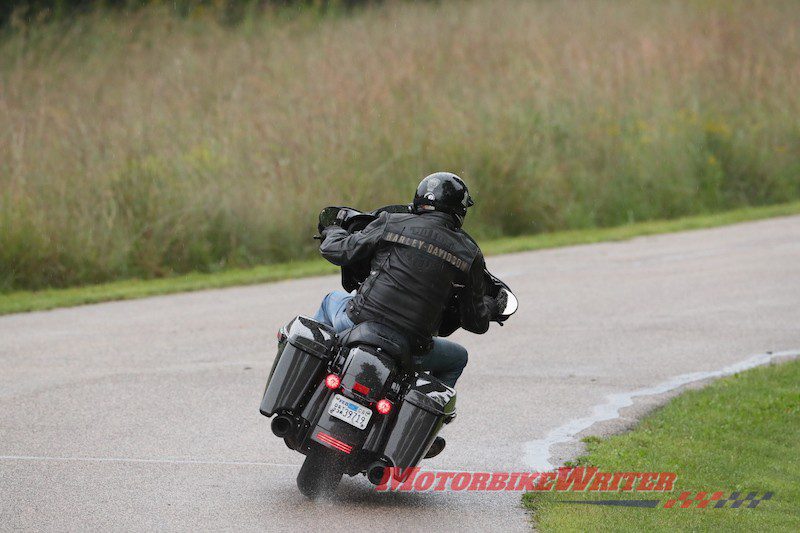 So I have now compiled five top reasons to try the Street Glide Special.
1 Milwaukee Eight engine
Ever since Harley introduced the Milwaukee Eight engine a couple of years ago, I've been a big fan.
The Touring range for 2019 now all come with the 114 cubic-inch Milwaukee Eight engine with a whopping 163Nm of torque.
No initial thump on start-up, more torque than a truck and quite smooth for a big V-twin.
Together with the finessed transmission with a new slipper clutch (Drag-torque Slip Control System), it's Harley's most sophisticated drivetrain yet.
2 Infotainment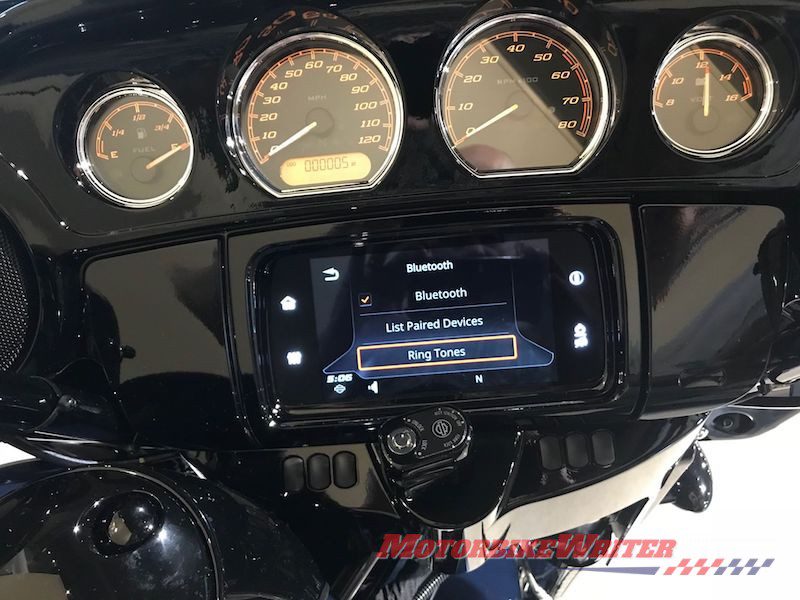 Tourers love plenty of tech and entertainment to soothe away the long, boring highway miles.
The 2019 Touring modelsnow get the new BOOM! Box GTS infotainment system with extra functionality.
It has a TFT display with edge-to-edge Gorilla Glass designed to minimise reflection and optimised for touch sensitivity even with gloves and in the wet.
You can also control it all from the handlebar toggle switches.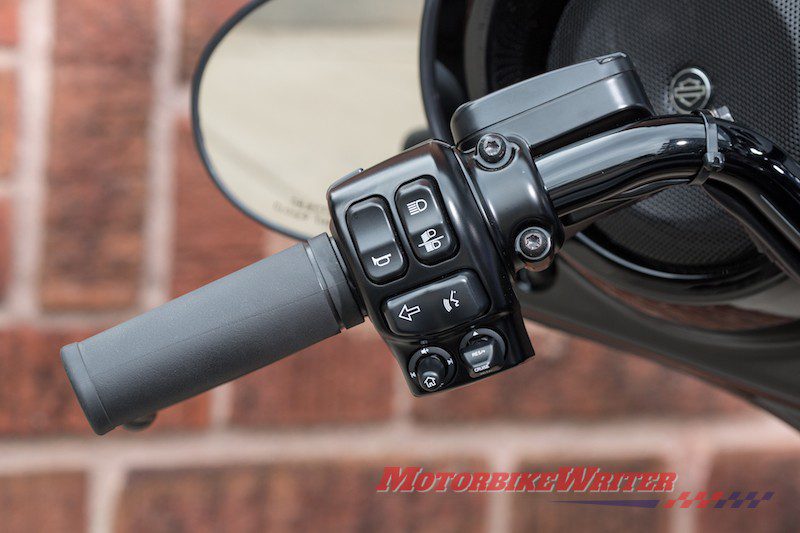 By the way, you can also pay an extra $300 (approx) to fit a wireless interface module installed which that adds Apple CarPlay compatibility.
It basically makes many of your iPhone apps available on the screen.
You can also use Siri to tell the system what to do. No need to use your hands at all!
Not that Siri would have reacted to any of my "colourful" verbal commands as I steered the Street Glide Special through the maelstrom around me.
3 Back in black 
Black never went away, but the blacked-out Special models give the bikes a new menacing stance on the road.
There is hardly any chrome on the bike.
It's black around the headlight, engine guard, forks, handlebars, controls, mirrors, indicators, tank console, engine covers, air cleaner cover, mufflers and exhaust shields.
4 Top suspenders
It doesn't glide along the road, it carves its way through the road and startle many riders on smaller and more nimble bikes.
I rode it over several tight and twisty mountain passes and kept pace with many other riders on sportier machinery.
The suspension upgrades include Showa Dual-Bending Valve forks with bigger pistons for improved damping.
It makes the front end more compliant, taking away that jackhammer affect through the grips, yet retaining a sharp and light steering feel.
It's a big and heavy touring bike, but it still has the ability to change direction in a corner without upsetting the ship.
At the back, Harley has moved from air shocks to emulsion shocks with 15-30% more preload adjustment using a single hand-adjustable knob behind the left pannier.
5 Cooler ride
Despite riding a big, faired cruiser in Queensland's summer heat, the new Street Glide Special is a whole lot cooler these days.
Harley has advanced the ignition, dropped the rear header down from the exhaust port and moved the catalytic converter rearwards.
This makes it cooler for the rider.
However, it still gets hot in slow traffic and your pillion's right leg cops a lot of the hot air that has been moved backwards.
Harley-Davdison FLHXS Street Glide Special tech specs
| | |
| --- | --- |
| Price | $A38,750 ($NZ42,750) |
| Engine | Milwaukee-Eight 114 (1868cc) |
| Torque | 163Nm |
| Transmission | 6-Speed Cruise Drive |
| | |
| --- | --- |
| Length | 2425mm |
| Seat | 690mm |
| Fuel tank | 22.7 litres |
| Dry weight | 362kg |
| | |
| --- | --- |
| Wheels | Black, Talon Cast Aluminium |
| Tyres front | 130/60B19 61H |
| Tyres rear | 180/55B18 80H |