The world's largest motorcycle rally at Sturgis in the Black Hills of South Dakota last week was dominated by cruisers, particular Harleys.
That's to be expected as Harley has more than 60% of road motorcycle sales in North America. But the rally also attracts adventure bikes, touring bikes, sportsbikes and other cruiser companies such as the revitalised Indian brand, Victory and, to a lesser extent, Yamaha, or Star as they like to refer to their cruiser models.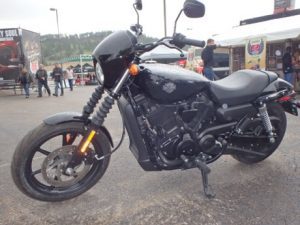 The diverse types of riding in the Black Hills attract the other bikes. There are many hard gravel roads that wind up into the hills so adventure bikes are the next most prevalent after cruisers. They are dominated by BMW's GS models.
There are also sportsbikes, mainly high-powered Suzuki Hayabusas attracted by the fast interstates and big BMW and Yamaha touring machines to cover the vast distances people travel to the event.
Harley had several big stands at Sturgis and hired out shops in almost every town in the region to be branded merchandise retailers during the rally. Such is their dominance of this event.
But Indian and Victory have a large and growing presence. Indian is actually making a habit of launching new models at the rally. This year it was the Roadmaster and Scout, while last year it was the three Chief models.
It will be a hard fight against the traditional market leaders.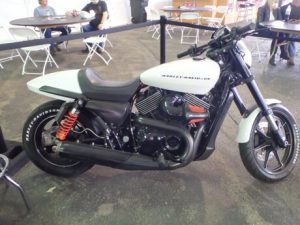 Meanwhile, the dominant Harley is looking to spread its customer base even further.
They already totally dominate the older white male market in the US. So over the past decade, they have targeted new customers: young, African-Americans, Hispanics and women.
It's been quite a successful formula. The youth market has been attracted by the dark custom models as well as the current trend to customise old baggers with big front wheels, lowered rear ends and big sound systems. Harley says its average customer age has reduced by several years.
Marketing campaigns directed at ethnic groups have also yielded rewards with sales to more than 54% of the African-American men and women in the motorcycle market and almost 60% among Hispanic men and women.
Harley's nearest competitor fails to break into double-digit percentages in those categories.
But the biggest and most lucrative market for Harley is women. A lot of female riders have been attracted by Harley's lighter and lower models such as thew new Street family. Harley's market share among Caucasian women is now more than 62%.
The US Motorcycle Industry Council shows 12% of all motorcycle owners are women, up 30% in the past decade and about 40% of women owners ride a cruiser-style motorcycle. Nearly 25% of all motorcyclists are women, or 6.7 million out of the 27 million people in the US licensed to ride.
It is estimated about 20,000 Harleys will be sold to women inn the US this year.
Maybe the male-dominated Sturgis rally will have to change its image as more women come cruising into town in future years.