If a Fat Boy went on a diet it would become a Harley Softail  Slim.
That's what Harley has done with its Softail Slim, a stripped-down, old-school bike costing $26,995 which is almost $2000 less than the popular Fat Boy.
It still has much of the Fatty look about it except for the wire wheels and the very narrow waist so that the rider can see the cylinder heads.
"I like to be able to look down and see what's moving me," says senior H-D designer Casey Ketterhagen. "It's time to make the engine the focal point of the motorcycle."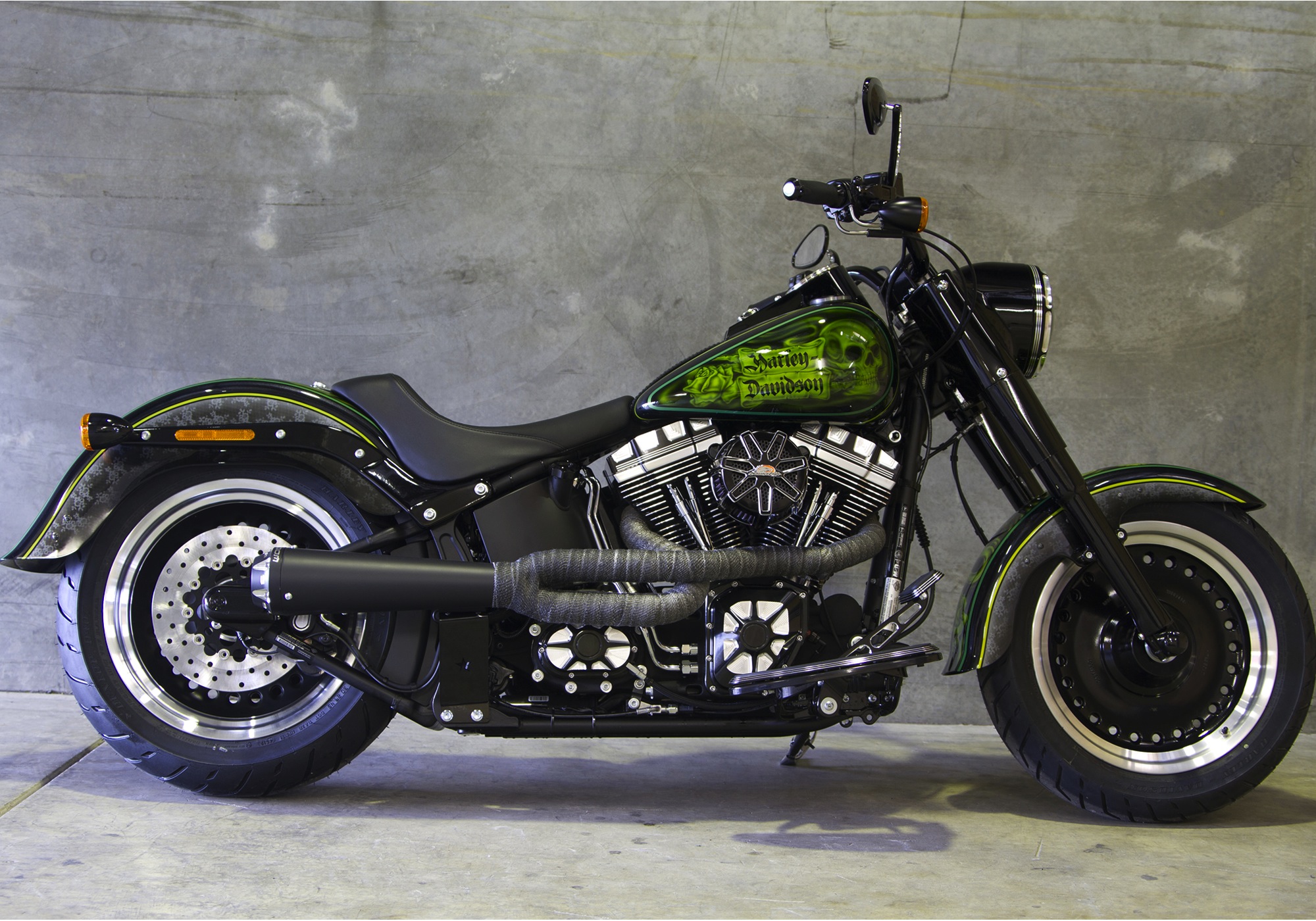 The Twin Cam 103 (1690cc) engine has polished covers instead of chrome, and the black cylinders are not highlighted. Front and rear fenders are "bobbed" so much that at the rear the struts are left exposed. It's a great minimalist "blank canvas" for customisers which is why so many dealers chose it to customise for the recent Judgement Day III competition. That's the winner pictured below from Morgan & Wacker in Brisbane.
Harley went through the parts bin for this styling exercise with the Fat Boy's chunky 16in front wheel, and the rear from the short-lived Blackline. The only new bits are the name, paint, seat and gloss black handlebars with MX-style brace for hanging lights or satnav.
They're called "Hollywood" handlebars as riders who mounted these in the '40s and '50s were said to have "gone Hollywood".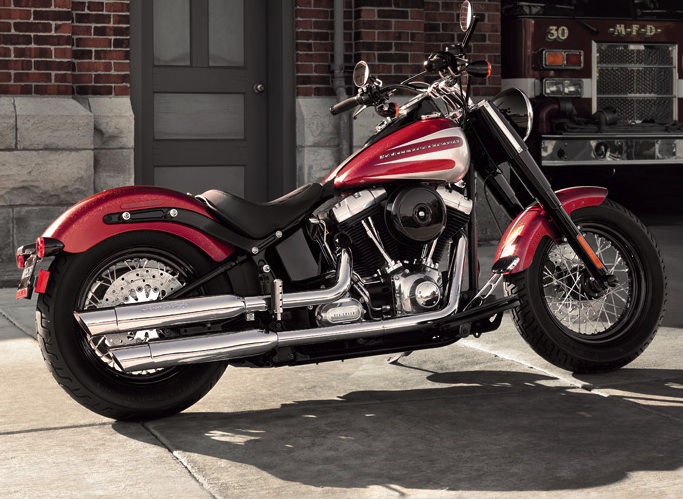 Pivotal to the retro look is the narrow rear tyre and chunky front tyre, both with laced wheels.
Other period styling cues include a gloss black "cat's-eye" tank console with a retro speedometer face, half-moon rider footboards, tapered Fat Bob peanut tank, a round air cleaner cover, gloss black headlight cover, wheels and hubs and low-slung solo seat.
All Softails now have the rigid-mount 103 (1.6-litre) V-twin with 132Nm of arm-stretching torque from just 3200 revs. It's mated to a clunky, but forthright six-speed transmission with a light clutch and recalcitrant neutral.
It drives through a quiet and low-maintenance belt drive. Instruments now include an LCD screen with gear indicator, revs, clock, two trip meters and odo.
All Softails now have ABS that not only works well, but is discrete so it doesn't spoil the aesthetics of the wheels. Brakes are powerful and effective for such a heavy bike.
Clearance has been slightly raised to 115mm – pretty good for a low rider – but cornering is still an issue with scraping noises giving the rider a gauge for lean angle limits.
If you understand its limitations and take things easy, it's a capable mid-length cruiser on good-quality road surfaces.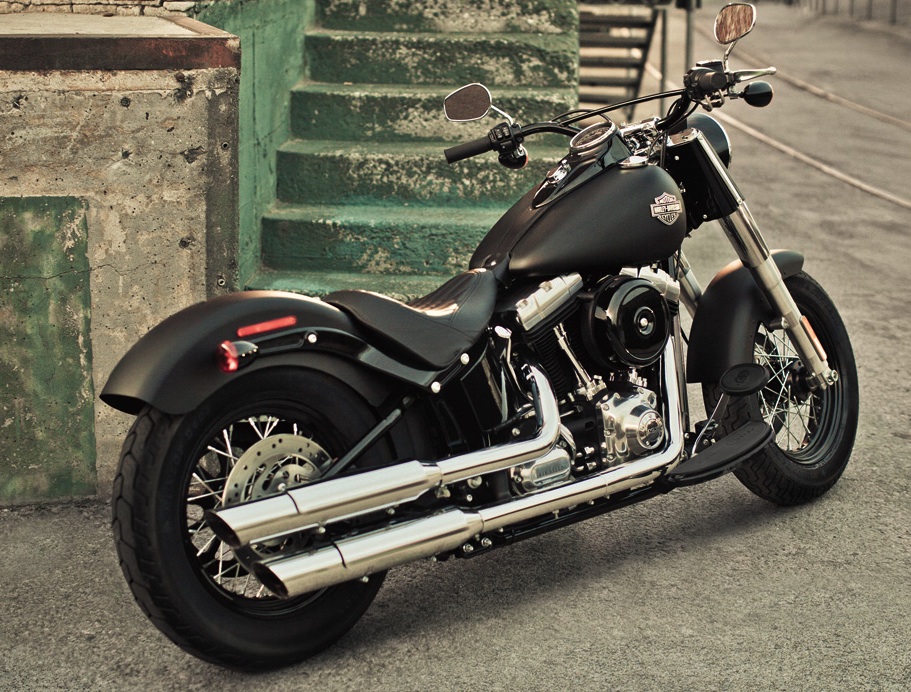 Tighter corners have to be taken cautiously, but it turns easily with the combination of a thick front tyre, narrow back tyre and wide, curved bars.
Power comes easy for rapid take-off and overtaking and it will hustle along briskly if you know how to wield the beast.
The relaxed riding position is comfortable for about two hours and this solo-seater can be converted for a pillion with an accessory seat and pegs.
I think the Fat Boy is more comfortable, but there's no denying the styling cred of this retro ripper.
Harley-Davidson FLS Softail Slim
Price: $26,995
Warranty: 2 years
Service: 1600/8000km
Engine: 1690cc Twin Cam V-twin, 132Nm
Transmission: 6-speed, belt drive
Body: 2.4m (L), 605mm (Seat), 1.6m (Wheelbase)
Weight: 304.4kg
Fuel: 18.9L tank, 5.6L/100km, 290km range
Tyres: 130/9016, 144/ 90 16 Dunlop