A Tennessee Harley-Davidson, Honda and Polaris dealer has got the sack over a Facebook post that said he was "sick of this black lives matter" and called for black people to go "back to Africa and stay".
The sacking comes as Harley has also sacked 90 staff at their York Vehicle Operations in Pennsylvania and 50 at its Tomahawk facility in Wisconsin after temporarily suspending production over the pandemic in March.
The double-whammy sacking controversy comes amid the growing Black Lives Matter movement.
Dealer gets sack
Russell Abernathy (pictured above), who owns Abernathy's Cycles in Union City deleted his post after it caused a wave of criticism on social media.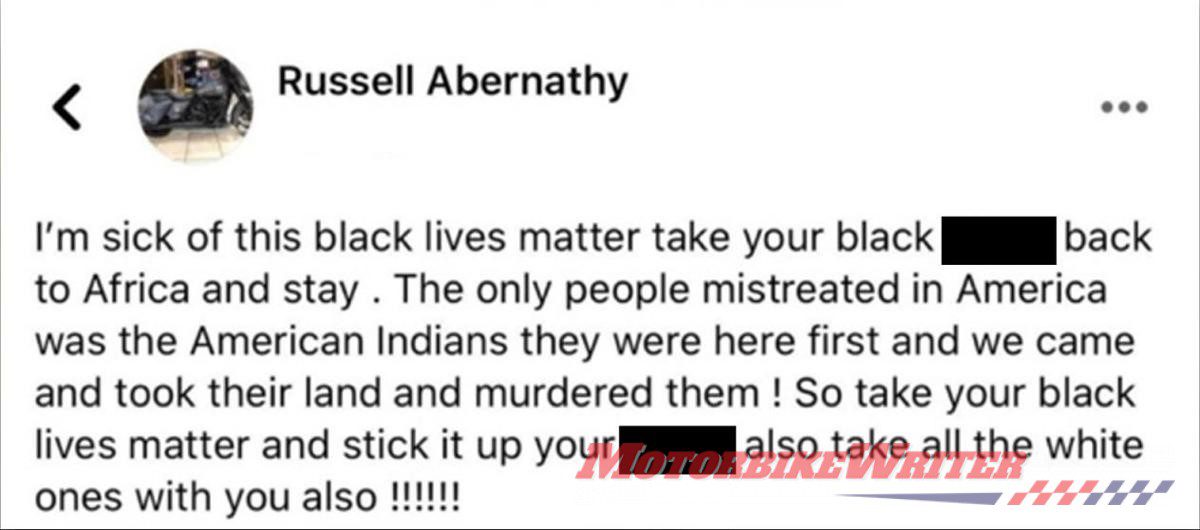 However, Polaris demanded he transfer ownership:
Last week, comments attributed to the owner of a multi-line dealership were posted that do not align with Polaris' commitment to welcome all riders. The dealership has published an apology, and the owner has agreed to step aside in favor of new ownership who would maintain operations, thereby preserving the livelihoods of nearly 100 dealership employees and supporting the Polaris customers that rely on the dealership. Should that transfer not occur, Polaris will terminate our relationship with current ownership.
Honda and Harley went further and withdrew their vehicles for sale from the dealership.
Honda issued this statement:
American Honda has conducted  an independent investigation of various materials containing multiple statements attributed to Russell Abernathy, owner of Abernathy's Cycles. Based on the results of the investigation to date, American Honda issued a Notices of Termination to Abernathy's Cycles on June  25, 2020, for all new Honda Powersports products sold and serviced by the dealership.  American Honda's Notices of Termination are subject to requirements governing dealership terminations under Tennessee state law, but the termination process is now underway.  American Honda strongly believes that racism and intolerance have absolutely no place in our company and must have no place in dealerships authorized to represent the Honda brand.
Harley issued this statement:
Racism, hate or intolerance have no place in our world including within the Harley-Davidson community, employees, dealers or riders. We recently became aware of racist comments posted on one of our dealer owner's Facebook page and immediately started a review process. We will not tolerate this type of behavior in our network, and today we are announcing that the dealer owner in question will no longer be part of our dealer network. Harley-Davidson is committed to diversity and inclusion. We strive to create a welcoming environment for everyone.
Abernathy claims his Facebook page which features a profile picture of him with a Harley in front of the Confederate flag was hacked.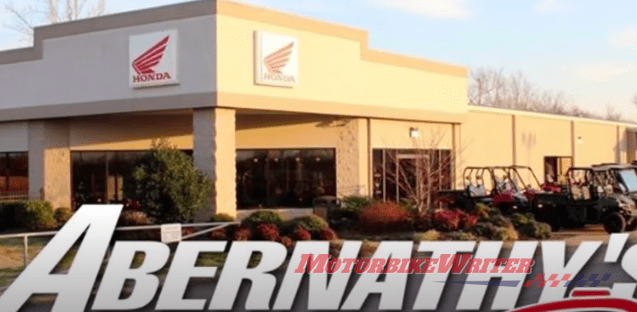 Abernathy said on his website:
Regarding the social media post attributed to me 12/6/2020. I Russell Abernathy, did not post this comment and reject the content of it … I vow to make sure that Abernathy's Harley-Davidson provides a positive environment for diversity, equality and inclusion for all.
The Black Lives Matter controversy follows the recent decision by Confederate Motorcycles to change its name to Combat Motors.
York workers sacked
Meanwhile, Harley-Davidson is sacking 90 workers at its York manufacturing plant, according to  spokesperson.
"As course of normal business, Harley-Davidson regularly adjusts its production plan and appropriately sizes its workforce," they say.
"Today the company announced it will adjust its production volume, which will result in a workforce reduction of approximately 90 York employees." 
The plant reopened a month ago after temporarily suspending production due to the pandemic.
Last month new Harley boss Jocehn Zeitz said they would produce fewer bikes to increase exclusivity.
"We are using this time to course correct and rewire the company in pursuit of making Harley-Davidson one of the most desirable brands in the world," he said.