Malaysian Harley Owners Group members  have gone to great heights to promote their local HOG chapter and first HOG Rally.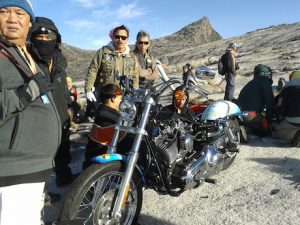 The riders have carried a Harley-Davidson Dyna Super Glide in parts up almost 4000m to the summit of Mount Kinabalu on the island of Borneo. The expedition was held to promote the first Malaysia International HOG Rally at Sabah from September 13-23.
When the HOG members reached the summit, they re-assembled the Dyna and successfully started it.
The HOG Malaysia Chapter members will now apply to have the expedition recognised in the Malaysia Book of Record or World Guinness Book of Record. We're not sure what category it would fit in, but it could be the highest Dyna in the world.
HOG Malaysia was officially formed in 1994 and offers full memberships to Harley owners and associate memberships to close relatives of full members to cater to the public and Harley-Davidson motorcycle enthusiasts.
Meanwhile, closer to home the 24th annual Australian HOG Rally will be held from May 2-4 at the Cairns showgrounds. The rally includes demo rides, guided rides, reef tours, stunt shows by Matt Mingay and a highlight performance by soul singer Lisa Hunt who has performed with Jimmy Barnes and Diesel.