Harley-Davidson has announced it will launch an electric motorcycle within the next 18 months, which would be mid 2019.
The announcement comes straight after posting a big sales slump in 2017 and Harley announcing they will close their Kansas City plant.
Harley global sales fell 6.7% to 241,498 in 2017 compared with 2016. US sales fell 8.5% and international sales were down 3.9%.
In 2016, Harley said it would release an electric motorcycle within five years.
That timeline seems to have been brought forward by a year to 2019, possibly by the continuing slump in sales among younger riders
2019 Electric Livewire
The 2019 electric bike will be based on the Project Livewire that was unveiled in 2014.
We rode the bike in LA later that year. Click here to read our test.
Harley always said it was keen to launch the bike as soon as battery technology could provide a decent range and quick recharging times.
When we rode the bike it took three-and-a-half hours to fully charge and had range of less than 100km and about half that if used in high-performance mode.
Harley boss Mark Levatich has now said they would invest $20-$50 million on its new electric motorcycle this year.
"Certainly, it does a nice job of setting a different image of what a motorcycle can be and what a motorcyclist can be," he says.
Matt claims the Livewire is "an active project we're preparing to bring to market within 18 months". That would mean the middle of 2019.
100 new models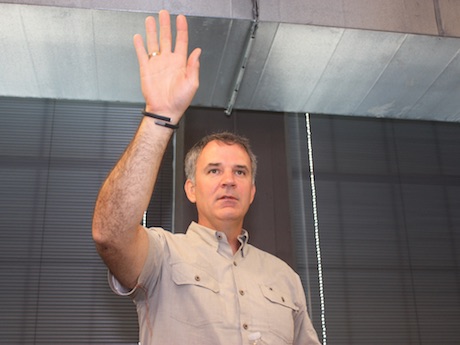 Early last year Matt praised 100 new models in the next 10 years and fulfilled the timeline in the first year with 10 new models in 2017.
We expect another 10 this year including a 48X, Bronx and Pan America, all new names the company has a recently trademarked.
There is no word on what they will be yet, but we tip the 48X and Bronx will be new Sportster models and the Pan America and Tourer.
However, they will be internal combustion engined bikes.
It is expected that when Harley launches its electric motorcycle in 2019 there will be a range of the bikes, not just one model. 
"One of our five objectives is to grow our business without growing our environmental footprint, in EV but not just in EV," Matt tells the newspaper.
"We had a 7% improvement in fuel economy with our new Softails. EV certainly plays in that space."