Beating the heat is as simple as wearing a Harley-Davidson adjustable hydration vest, as I have found out on my ride up to the 24th annual HOG Rally in Tamworth.
It's stinking hot weather here, but the Harley hydration vest certainly does the job of keeping you cool.
I've tried many different jackets and cooling devices over the years from wet hankies around the neck to bags of ice down the front of my jacket.
However, this hydration vest seems to be the best answer as it doesn't leak and drip everywhere and cools your torso, which seems to cool your whole body.
Ok, it's not that you can't still feel the heat on your arms and legs, but it just doesn't feel as uncomfortable when your core is cool.
The only problems are that evaporative cooling isn't very effective at low speeds and humid conditions. In fact, the water warms up and heats you if you aren't travelling, so it's for touring, not commuting!
The vest works by soaking it in water and then allowing the air to cool it. It's called evaporative cooling and is the same principle used in some air conditioners.
With my Harley Triple Vent textile jacket on, the breeze blows straight through the sides of the jacket right on to the vest for maximum cooling effect.
It's not really new technology. My grandparents used to keep water in a canvas bag that they attached to the bumper bar of their car to have as a cool drinking water supply.
However, this is 2015 and they don't just use canvas, but more advanced and scientific materials. This vest is made of HyperKewl fabric with polyacralyte crystals which store the water and allow it to evaporate slowly. It's a similar ingredient to the water-absorption material in nappies.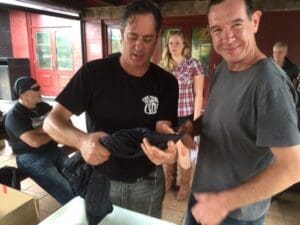 Just soak it for a few minutes in water, wring it out and then put it on. The effect lasts for several hours. If you need to top up, you can use some tap water at the next toilet stop.
It might look like it's uncomfortable, but it's not. Harley has updated it this year with adjustable stretch sides for a better fit and feel.
The vest costs $72 and only lasts a year or 50 times, but it just may be the 50 times you need it to keep your cool.
The Harley-Davidson Adjustable Hydration Vest is available in sizes S – 5XL.