An Illinois Harley dealer's offer to store a soldier's bike while he is deployed overseas has gone viral on Facebook with about a quarter of a million shares.
The letter from Reiman Harley-Davidson is addressed to Jamie Walters, the wife of Sgt Christopher Walters a 23-year army veteran, who had written asking for them to store the Dyna. Enclosed was a cheque for the storage fee.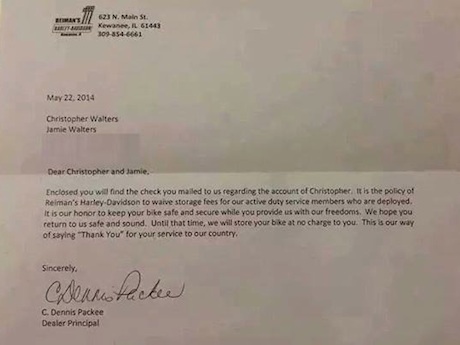 However, Harley dealer Dennie Packee sent the cheque back, saying it has always been his policy to store motorcycles for service members who are overseas. "And I don't care what brand it is. I've always done that."
His letter to Jamie reads: "Dear Christopher and Jamie, Enclosed you will find the check you mailed to us regarding the account of Christopher. It is the policy of Reiman's Harley-Davidson to waive storage fees for our active-duty service members who are deployed. It is our honor to keep your bike safe and secure while you provide us with our freedoms. We hope you return to us safe and sound. Until that time, we will store your bike at no charge to you. This our way of saying 'Thank you' for your service to our country."
Dennie says he then started to receive phone calls from around the country, thanking him for his actions. He hadn't realised Jame had posted the letter on Facebook. One of the calls was from Rear Admiral Terry Kraft at sea aboard the aircraft carrier USS Ronald Reagan.
Dennie then took to Facebook to say thanks for all the messages of support he had received: "I am very grateful and humble for all of the messages and phone calls I have received, but the real thanks need to be given to our Men and Women in the Military, not me. All I did was give up a little space in my building for a person who gave up a whole lot more than I could ever imagine. The least we could do is honor him by taking care of his bike while he provides us with our Freedoms. I would like to say thank you to all of those who have called and messaged me, I am trying to respond to all of you as best as I can. But as I said, thank the Men and Women who have served and currently serving. They are the ones who deserve the honor. Not me. Thank you all again and God Bless."