The long wait for Harley-Davidson trikes, including the new hot-rod Freewheeler (pictured above), is finally over for Australian riders.
The Tri-Glide Ultra will cost $50,995 rideaway and the Freewheeler $40,250 when they arrive in Harley dealerships from October 2017.
Harley-Davidson Australia and New Zealand boss Nigel Keough says the lengthy delay has been in securing Australian Design Rule compliance.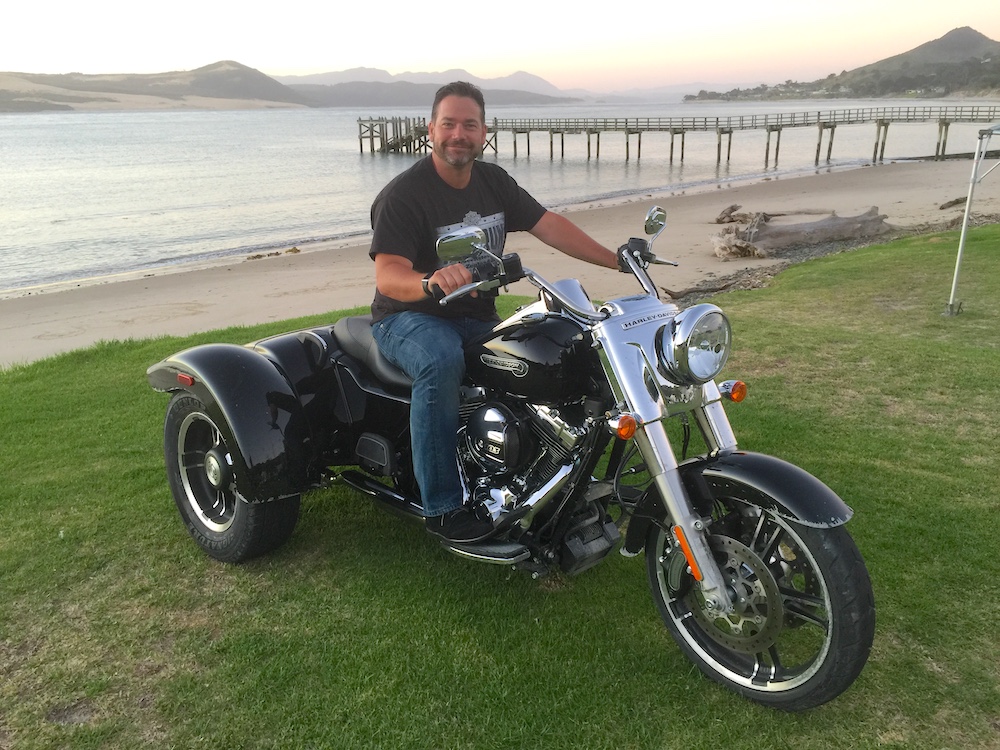 It is believed roll-over issues have been the main sticking points, but there were other small issues such as a reversing lamp.
"Australia has a unique set of compliance issues and we've been working through them for several years now," he told us early last year.
"It's a very important part of our line-up. It won't represent massive sales, but it's an important niche."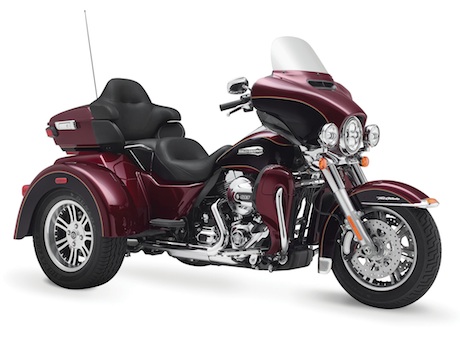 Demand for trikes
There certainly will be some demand for Harley trikes judging by the ever-growing numbers of custom and conversion trikes turning up at rallies these days.
The ageing demographic of riders also points to a growing demand for something a little more manageable for old legs.
Nigel believes the Harley-Davidson trikes will sell well because they are factory made and tested, not an untested conversion or individual custom build.
And unlike many custom trikes, they don't run car tyres on the rear, but motorbike tyres made by Dunlop especially for Harley.
While Harley-Davidson has not been able to import their own trikes into Australia, private importers have been able to import them in restricted volumes for several years. However, they are expensive and do not have factory warranty back-up.
Harley has not been prevented from importing their trikes into New Zealand where the Tri-Glide Ultra sells for $52,495 and the Freewheeler for $42,495.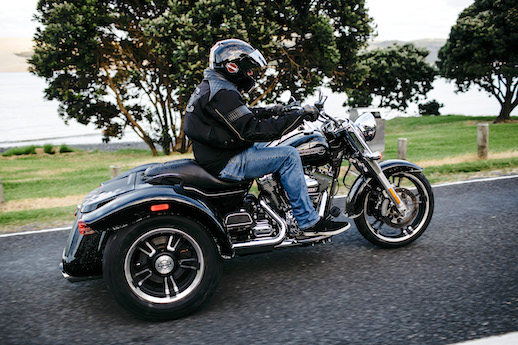 For Harley to import their own trikes into Australia, they required ADR compliance.
"We've invested a lot in this project," Nigel says.
The company even flew out five US engineers and rented a race track to demonstrate to officials the safety of the vehicles.
Harley-Davidson trikes
Colours and full Australian specifications are not yet confirmed.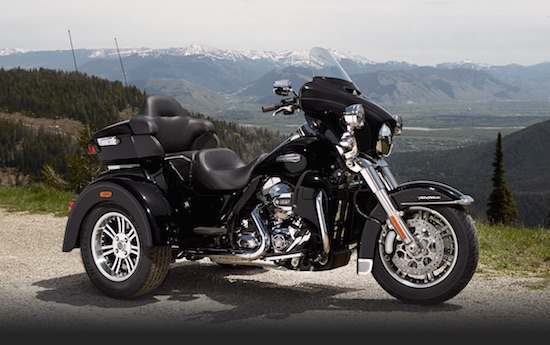 Tri-Glide Ultra
The Tri-Glide Ultra is a full dresser three-wheeler version based on the Ultra but with a new frame.
It comes with the new twin-cooled Milwaukee-Eight 107 engine and includes electric reverse.
| | |
| --- | --- |
| Length | 2670mm |
| Seat Height | 735mm |
| Fuel tank | 22.7L |
| Dry weight | 546kg |
| | |
| --- | --- |
| Engine | Twin-Cooled Milwaukee-Eight 107 |
| Displacement | 1745cc |
| Torque | 152Nm (112ft-lb) @ 3250rpm |
| Transmission | 6-Speed Cruise Drive |
| | |
| --- | --- |
| Front tyre | 16"/Dunlop® D402F MT90 |
| Rear tyres | 15"/Dunlop® Signature P205 |
| | |
| --- | --- |
| Colours | Vivid Black; Superior Blue; Two-Tone Black Hills Gold/Black Quartz; Two-Tone Billet Silver/Vivid Black; Two-Tone Mysterious Red Sunglo; Velocity Red Sunglo; Custom Colour Bonneville Blue/Fathom Blue |
Freewheeler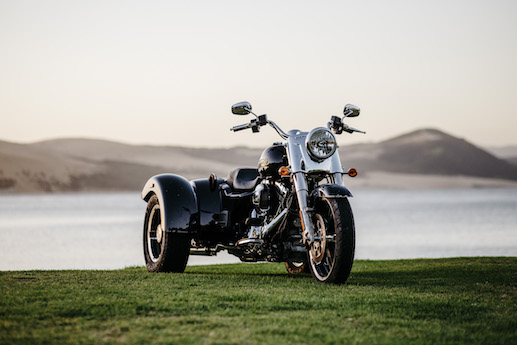 The Freewheeler is a stripped-down hot-rod trike based on a Road King.
Its rear section is pulled forward making the overall vehicle length 76.2mm shorter than the Tri-Glide.
It is also powered by the Milwaukee-Eight 107 engine, but not twin cooled because there is no lower fairing to hide the dual radiators.
| | |
| --- | --- |
| Length | 2615mm |
| Seat | 700mm |
| Fuel tank | 22.7L |
| Dry weight | 492kg |
| | |
| --- | --- |
| Engine | Milwaukee-Eight 107 |
| Displacement | 1745cc |
| Torque | 150Nm (111ft-lb) @ 3250rpm |
| Transmission | 6-Speed Cruise Drive |
| | |
| --- | --- |
| Tyre front | 19″/D408F MT130 60/B19M/C 612H |
| Rear tyres | 15″/Signature P205/65R15 |
| | |
| --- | --- |
| Colours | Vivid Black; Black Quartz; Velocity Red Sunglo; Billet Silver; Custom Colour Laguna Orange |