The word "irony" is often misused, but in this case, Webster's classic definition is right on the money:
"A state of affairs or events that is the reverse of what was or was to be expected.
Search webBikeWorld and print every word related to cruisers and you wouldn't have enough to fill a thimble.
The focus has always been on European sport and sport/touring motorcycles, because that's what I like and that's what I ride.
And since the buck stops here, I get to call the shots for once in my life.
But bikes is bikes; they're all good in my eyes.
So when Mr. Editor Kenn Stamp at 2WF.com called and asked if I'd be interested in borrowing a brand-new 2010 Road Glide Custom for a few weeks to do a review, only one word came to mind.
Yes!
And that's the irony. After all the words devoted to BMWs, Ducatis, Moto Guzzis and the rest that have filled these pages, how ironic is it that Harley-Davidson is the one to come knocking on the door?
But there's more to it than even the Harley-Davidson marketing folks knew. Until 3 weeks ago, I had never been on a cruiser in my life. Not a one.
All I knew was what I read and heard in the street knowledge and rumors that pass for wisdom among my sportbike-riding friends.
That is: Harleys were big, heavy beasts that couldn't turn their way out of the driveway, didn't have enough power to pass a school bus and couldn't out-brake a Schwinn.
I was pretty skeptical, but I figured I'd go into this with an open mind and see what it's all about. I'm glad I did, because those myths were busted wide open.
By the way, this is a good example of how our cross-publishing relationship with 2WF.com is paying off.
The idea was to increase the readership of 2WF.com motorcycle reviews by also publishing them on webBikeWorld.com in the hopes of attracting more interest from the manufacturers.
The manufacturers would offer more bikes for review, which would allow us to bring you more reviews (more here), which would increase the visibility and interest in the products…and the cycle (pun intended) continues. It's working!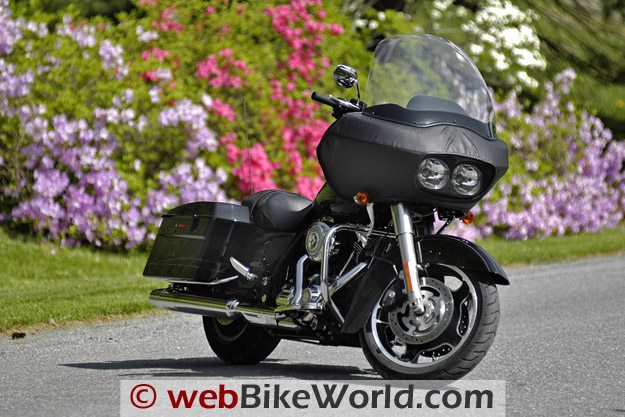 Road Glide Style
Even with a list price starting at $18,999.00, the Road Glide Custom is not quite at the top of the 2010 Harley-Davidson lineup.
It's the latest in a long history of "Glide" models however, which apparently started with the Hydra-Glide of 1949.
That was before my time, thank goodness, because the original 'Glide had a hand shift and foot clutch on the left side — well beyond my ability to coordinate!
Have no fear though, because there's a very up-to-date motorcycle hiding under the Road Glide Custom classic bodywork. This modern 'Glide possesses a sleek style that looks more modern than some of the other retro-focused Harleys.
It is one of the easiest Harley-Davidson motorcycles to recognize, with its "Shark Nose" fairing and dual headlights setting it clearly apart.
That fairing is also mounted to the frame, unlike the "Bat Wing" handlebar-mounted fairing of the more popular Street Glide.
I have always liked the Road Glide's sense of style; it's sort of a touring bike hiding behind a custom look.
I don't know enough about Harley-Davidson history to tell you what the "Custom" moniker adds to the Road Glide; there is no standard version of the Road Glide listed on the Harley-Davidson website, so Custom it is.
I did a little research before I picked up the bike and discovered that the "basic" Road Glide Custom (a paradox in terms, no doubt!) is available in several colors.
The palette includes the Vivid Black shown here and a very bright Scarlet Red and also something called "Black Denim" which appears to be a matte black version of the bike I picked up.
The very beautiful, thick and high-gloss black paint on this bike is a perfect canvas for the deep chrome accents found on just about everything that isn't painted.
I hadn't been within 50 feet of a Road Glide before I laid eyes on this one, and when it was rolled out of the garage, the first phrase that came to my mind was "work of art".
The black and chrome is perfect — and perfectly stunning. There's no question that Harley-Davidson has the best paint and chrome in the business, and this one's a classic example.
Somehow, the bike also seemed a bit smaller than I imagined it would be.
The big fairing dominates the styling and its counterpoint is the low, squat, crouched rear that makes the bike look like a jaguar, about to leap forward. Very cool!
The engine's the thing on any Harley, with the rest of the bike simply being a showcase for those classic big twin cylinders.
Harley still uses the American cubic inch designation, illustrated by the "96 Cubic Inches" printed on the air cleaner.
That converts to just shy of 1,600 cubic centimeters for us Euro-bike riders, a volume bigger than most of the car engines not too long ago.
Eight-hundred cc's pounding through each cylinder means a big 3.75″ bore and a huge 4.89″ stroke. That stroke is they key though; it's responsible for the huge 93 ft. lbs. of torque this engine pumps out at only 3,500 RPM.
Harley-Davidson apparently does not give out horsepower ratings, but with torque like that, who needs horsepower? An old mechanic once explained horsepower and torque to me this way:
"Imagine leaning out of a second-story window and pulling up a load of bricks. Torque does all the work; more horsepower will only move the load faster".
I don't know if that makes sense or not, but the Harley V-twin is all about torque. It gets the job done at much lower RPMs than anything else in my experience.
On the street, that power translates to 50 MPH at only 1,900 RPM in sixth gear. Add about 200 RPM for each 5 MPH and you'll have it just about right — 55 MPH at 2,100 RPM and you can cruise all day at 60 MPH at a leisurely 2,250 RPM.
It can easily lug down to 40 MPH or so in sixth gear and the engine is literally just off idle. Give it some gas and it will smoothly pull right back up again to freeway speeds.
Yet another surprise was the six-speed transmission, complete with the little "6" light that flicks on inside the speedo when the top gear is selected.
Does a bike with this much torque and only 2,600 RPM at 70 MPH really need six speeds?
I was thinking more like two would do it — one for getting it going and the second for everything else. Honestly, I could click the transmission up from second gear to sixth at speeds faster than a jog and have instant power in just about any situation.
This makes the bike very flexible and easy to ride, as I'll describe in a minute.
The massive six-gallon fuel capacity yielded me just shy of 50 MPG during my mostly country road riding, which is outstanding for an over-800 pound bike.
The fairing and the tapered styling may have something to with the excellent fuel mileage I experienced.
I noticed the aerodynamics when trailering the bike; my big V8-powered Explorer got almost 2 MPG more with the bike on the trailer than when the trailer was empty — yet another surprise.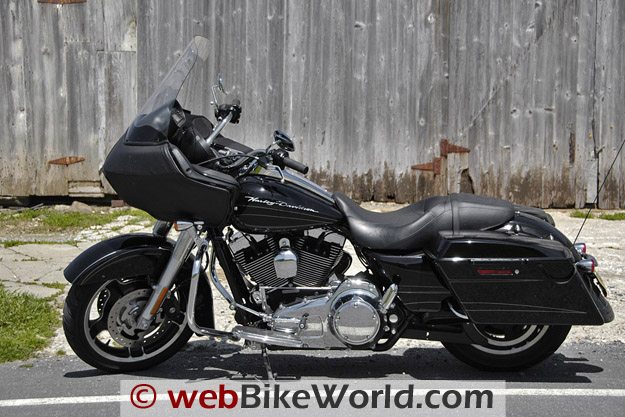 Harley Tech
Although the Road Glide Custom has classic Harley looks, underneath it's all 21st Century technology.
This includes electronic fuel injection, optional ABS brakes (reasonably priced at $895.00) and tubeless tires on very nice cast aluminum wheels.
The Dunlop skins are a reasonably-sized 130/70-18 front and 180/65-16 in the rear.
Reasonable by modern cruiser standards, that is… And as you'll learn in my "Myths vs. Reality" section below, the tires provided outstanding grip way beyond what I imagined.
Other modern features on the Road Glide Custom include the quiet and smooth belt drive.
It sure makes you wonder why other manufacturers haven't adopted the belt as the drive system of choice; it's light, it's smooth, it's quiet, it's clean and it's nearly maintenance free. Sounds perfect, no?
This Road Glide also had the very nice factory cruise control system, another reasonably priced option at only $295.00.
It would probably cost more than that to install an accessory cruise control and you certainly wouldn't end up with the excellent switchgear that controls the Harley item.
Small clicks up and down increment the speed by about 1 MPH or so; perfect for Interstate travel.
The hydraulic lifters and the fuel injection, combined with the near-zero maintenance belt drive mean that there's not much to do except fuel it up, check the oil and tires and you're off.
This adds a lot to the ease of use, reduction in maintenance headaches and the all-important fun factor.
The bike was perfectly reliable the entire time that I had it, and it's my understanding from talking to my friends at the local Harley-Davidson dealership that modern Harleys have excellent reliability.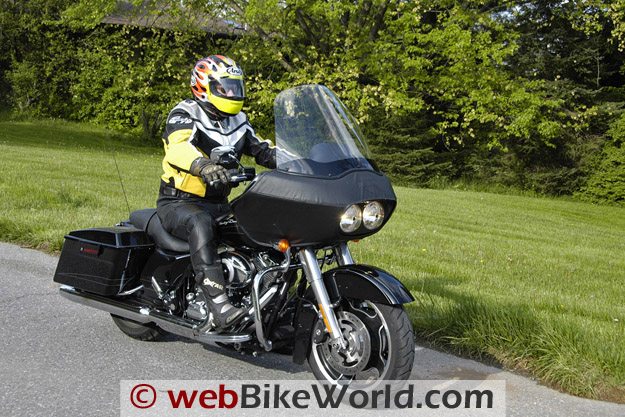 A First-Time Cruiser
The Harley-Davidson plant in York, Pennsylvania, is only about 45 minutes from my home, but the Road Glide was located in a shop in northern New Jersey, 250 miles distant.
I debated whether to simply jump on the bike and ride it home or trailer it back — the trailer won out.
I'm glad it did, because I think it would have been too much of a culture shock to throw a leg over an 800+ pound cruiser for the first time in my life and try to find my way back home through three states.
And what a culture shock it was! I have to say, the next morning I was as nervous as a plucked chicken.
This bike is just so different than anything I've ridden in the past — bigger, heavier and…what about those floorboards? Never had my feet graced a pair of them.
After all, I'm a sportbike guy through and through.
My very first bike was an Bultaco Metralla ex-racer, complete with clip-on handlebars and a "dustbin" fairing. Up to that point, I hadn't been on a motorcycle in my life before, but I just had to own it.
The bike was sitting in a shed, covered in two-stroke Castrol grime when I forked over the 250 bucks to the owner, who probably then laughed all the way to the bank.
I actually ended up pushing it along the sidewalk right through downtown Madison, Wisconsin for the mile or so it took to get home, where I cleaned it up, tinkered with it, got it started, figured out how the right-side shifter worked and took off for my first ride.
Those were the days…
Now here I was, sitting on a shiny new twenty-something-thousand -dollar chrome-draped loaner straight from the Harley-Davidson factory and there it was — that exact same feeling in the pit of my stomach, reminding me of the first time I started up the Bultaco those many years ago.
The evening before was spent looking through the clear no-nonsense Road Glide owner's manual, becoming familiar with the controls and getting a feel for the bike's weight in the garage.
The low 26″ (claimed) seat height really helps here; this is one of the first bikes I've ridden in a long time where I can put both of my feet flat on the ground. It makes a big difference.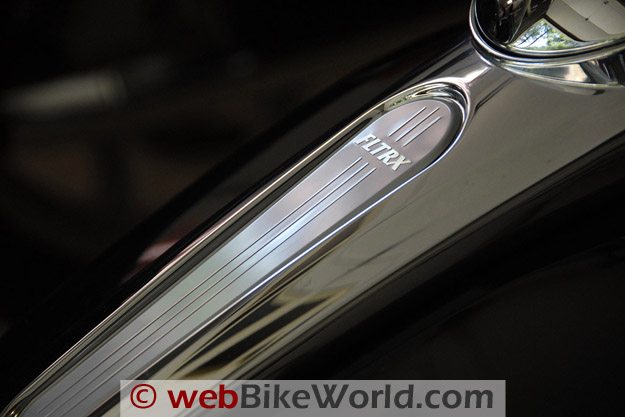 Firing It Up
Right where you'd think the key should go on the steering head, there's a big honkin' doorknob-like thing instead.
Turn it to the right to let the gnomes down in the engine room know that you're getting ready to put a fire in the hole.
The bike does not have a key, or at least anything resembling a motorcycle key I've ever seen. It does have what might be called a "key" but is actually a barrel-type arrangement similar to what they use to lock up a soda machine.
It is only needed to lock the steering head or open the bags and not to start the bike.
Don't forget to bring it along though — it also unlocks the fuel tank cap. Don't ask me how I discovered this…
Turn that giant ignition knob to the right and you can hear the gnomes sending power to the fuel pump. The dashboard lights flash on and off and when everything settles down, it's ready to fire up with a push of the starter button.
And fire up it does — the big V-twin literally jumps to life like it's been Tasered out of a coma.
KaPOW!! It scared the daylights out of me the first time I heard it — I guess it takes a Big Bang to lift those pistons out of their slumber.
The engine shakes at idle (myth not busted in this case) and it took me a few days to get used to that, especially when it settles down to an idle as the bike comes to a stop, where the engine feels like it came loose in the frame.
All part of the Harley charm…
The shaking disappears instantly as soon as you roll on the throttle though. The vibes are no worse than my old Airhead Beemer and less than the new Ducati GT1000, another myth busted.
So I'm ready to go and I slowly and carefully pick my way out of the garage for the very first time and down the hill. Momentum takes over, I lift my feet up and…WHERE ARE THE PEGS! Yikes — the floorboards!
I forgot to scope them out in my garage dry run! A quick glance down to figure out where my feet go and all's well. Note to first-time cruiser riders: add floorboard practice to the startup checklist!
Feet now planted on the floorboards, I safely make it down the hill and out on to the street for the first time and I was off.
I have to say, that day was a sweat-inducing shock that was absolutely the equal in every way to my first ride on the Bultaco.
Having never been on a cruiser before, with no experience in the feet-forward riding position, floorboards or the sit-back-on-the-tailbone seating position, I was flummoxed.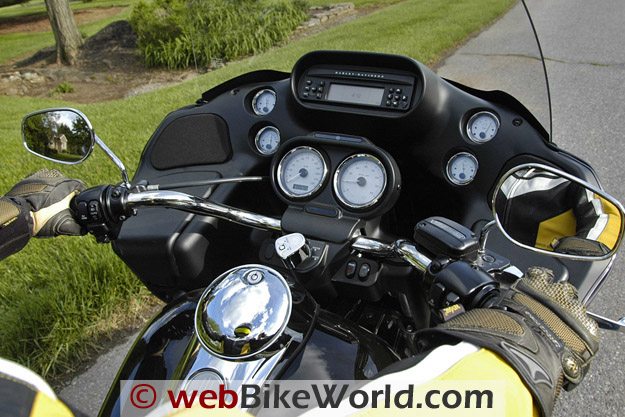 Harley-Davidson: Myths vs. Reality
I rode the heck out of it that first day, learning how to ride a motorcycle all over again, and slowly but surely we started to bond.
A few more days brought a series of surprises that busted just about every myth I'd ever heard or imagined about a Harley-Davidson motorcycle. In fact, the reality was so different from urban legend that I was truly shocked in a number of ways:
Weight
There's no getting around it, 800+ pounds is a lot of bike. But I honestly only felt it when pushing the Road Glide around in the garage. Once the wheels start turning at anything above walking speed, the bike instantly stabilizes and the weight simply disappears.
The low seat height helps when stopping, but I had very little trouble with slow-speed maneuvering.
Steering Lock
Also a great help in slow-speed maneuvers, because the handlebars can be swung through a huge amount of radius, which is crucial to maintaining stability at low speeds. The wide bars help here also.
Clutch Control
The Road Glide Custom is the textbook example of everything they teach in the MSF Basic Rider Course.
The clutch has a big, wide friction zone, allowing the precise control over the amount of power sent through the transmission and out to the rear wheel.
I did find that the slightly notchy clutch feel can be mitigated by wearing a pair of sticky-fingered gloves; I learned this by accident when one rainy day I tried a different pair of gloves with less grip, which makes it more difficult to control the clutch lever.
Fueling
The throttle and fuel injection on this bike combine to give the most precise fueling I have ever experienced on any motorcycle by far.
Exact, precise and smooth throttle inputs are duplicated by those mind-reading gnomes down in the fuel/air department.
It was a revelation to feel this kind of throttle control — I've been taught that it just isn't possible with fuel injection. Wrong. It is.
Combined with the beautifully flat torque curve, the Road Glide is a joy to pilot. If this precision is duplicated across the Harley-Davidson lineup, I now know why the bikes are so popular with first-time riders.
The combination of the low seat, wide-as-Montana steering lock and precise fueling, along with that huge friction zone in the clutch give loads of confidence and help to counteract the weight differential.
But the combination of excellent clutch and fueling — and the powerful brakes — are also perfect for experienced riders.
This bike makes it a snap to use the lessons taught in the Total Control Advanced Rider Course; that is, slow release on the front brake as you simultaneously roll on the throttle to keep the bike from moving around on the suspension during on/off throttle transitions.
A racer's tip for smoothness, but it works like a charm on the Harley and makes cornering even more fun!
Noise
Another myth busted. Believe it or not, a Harley-Davidson is quiet!
The exhaust on this one gave a nice bark on a fast takeoff, but nothing more than the Ducati.
The low RPM freeway cruising speed and quiet exhaust helps make long distances stress-free. Why anyone would replace the stock exhaust with some open pipes — that most likely also ruins the precise fueling — is beyond me.
Brakes
The brakes on this Road Glide were simply awesome, albeit with that classic "wooden" feel. So one myth busted and one confirmed. Harleys are supposed to have terrible brakes, right?
I had no problems with my habitual two-fingered-cover on the front brake lever, and I never need more than those two fingers to easily squeeze the front and pull the bike down from speed in a flash.
It literally feels like somebody threw the bike into reverse.
It didn't take long to learn how to use and rely on the big rear brake pedal also, which can actually be modulated for precise control. Quite a surprise to find a set of rear brakes that actually do something for a change.
I never had to use the ABS in anger, but I tried it a couple of times to see what would happen. It kicks in with a bit of vibration and noise but I didn't notice any difference in stopping power.
Overall, the Road Glide scrubs off speed as quickly as any bike I've ridden, and with less drama because the longer wheelbase keeps it all planted. Squeeze the brakes and the bike hunkers right down and stops. Fast.
Handling
This is the biggest and most surprising myth-buster of all. I had assumed that a big bagger would handle like…well, like a Harley. I figured it would be as different from my Ducati as an F-250 is to a Miata.
Busted to the max! This Road Glide handles way, way better than you'd think.
In fact, try as I might on every one of my favorite back roads, it took me the full three weeks to finally scrape a floorboard, which was fortunately captured in the on-bike video (below).
The Road Glide Custom can be leaned way, way over — surely more than the majority of Harley owners will ever experience.
And it feels great in the turns, with an incredibly quick and silky-smooth side-to-side transition capability, probably due to the low center of gravity.
Rolling on that precise throttle out of the corners means more fun in the twisties with this bike than anything I've ridden in a long while.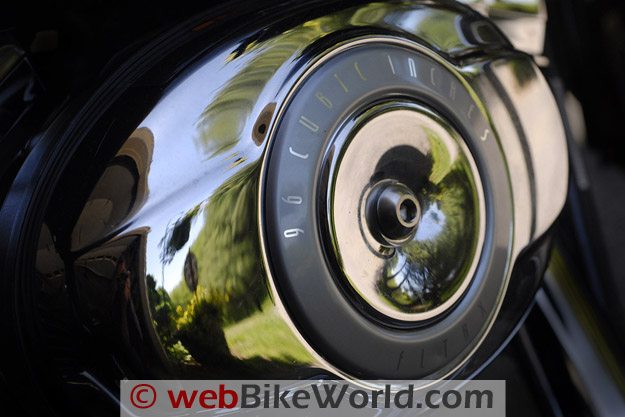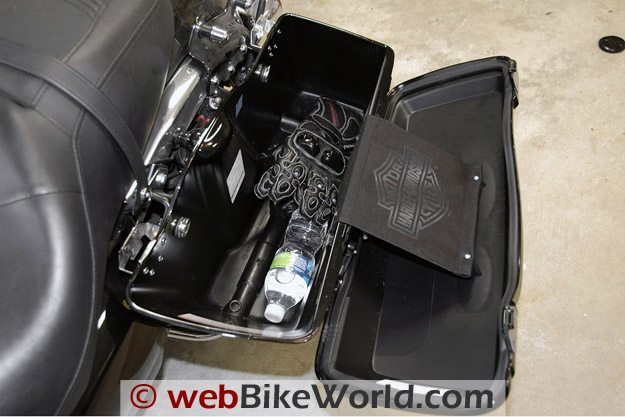 Riding the Beast
OK, so not everything was perfectly rosy. I still question the riding position — I just don't understand how the laid-back, sit-on-your-tailbone seat makes sense.
I discovered why so many Harley riders wear only jeans for riding, however — loose pants help make the riding position more comfortable. Anything tighter prevented me from flexing and stretching, and I'd end up with lower back pain.
The two-way shifter is an anachronism that was the most puzzling, however. First of all, the rear lever forces the left foot into a completely locked-in position, framed in front and back by the shift levers.
I have only a size 10 shoe and I barely had enough room to fit my boot between the two.
Also, it makes no sense to me to have to lift my foot up and use the heel to upshift. On the very first shift of my very first ride, I discovered as I picked up my foot that the bike shifts better by simply using a toe.
Pull up to shift up and press down to shift down. I never used the rear lever again and since it's easily removable, that would absolutely be the first thing to go if I owned the bike.
Removing the rear shift lever would also free up space on the floorboards.
The locked-in-place left foot position means that rigor mortis sets in after about 45 minutes or so, giving me an overwhelming urge to yank my foot out of the trap.
So removing the rear shift lever and extending the floorboards back enough to get my feet planted under my body would yield great benefits for long-distance riding and also help eliminate back strain.
How cruiser riders put up with the typical lounge-chair riding position is something I just don't get.
I did a quick search for extended floorboards, just to see if somebody made a set with about a 6″ extension out the back. To my surprise, all I found were floorboards with extensions to the front — the last thing you'd need on this bike, unless you were over 6 feet tall perhaps.
The nicely sculpted seat on the Road Glide Custom looks great, but unfortunately the padding feels very thin and there's just not much cushioning in that sculpting.
Combine this with the tailbone-down riding position and I was squirming around, trying to find some relief. That's when I discovered the trick about the loose clothing.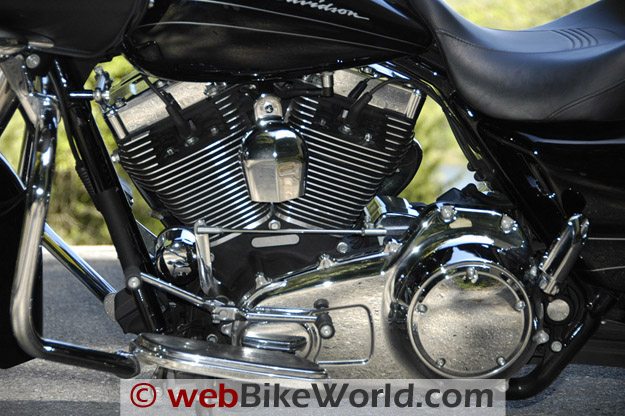 About That Fairing…
The Road Glide normally comes with a low wind-blocking screen across the top of the big fairing, but this one was equipped with the optional touring windscreen. I never did get used to it.
It's too tall, which forced me to look through it rather than over it — the first bike I've ever ridden where I had to look through, rather than over that much screen.
This is both annoying and distracting; it gives a sense of isolation from the road ahead, which I found disconcerting and never quite liked. Also, as the bike leans in the turns, the edges of the windscreen fall right into the area you'll need to see when cornering, a dangerous distraction.
Besides, the tall screen is so far in front of the riding position that the rider is left in a large turbulence wake.
Any speed above 50 MPH would cause severe buffeting on the top of my full-face helmet, enough to shake my eyeglasses back and forth on my head.
Perhaps some vents in the bottom of the windscreen might help to reduce the low pressure pocket behind it, but I'd stick with the low 'screen instead that comes standard on this bike.
I'm not sure if the Road Glide fairing has an option for lower wind deflectors, but if so, I'd give 'em a try also. At freeway speeds, a lot of air is directed from up under the fairing, directed precisely at the rider.
This gives a nice cooling breeze if you want it, but the extra turbulence isn't needed.
That's it with the nits though, all of which could easily be resolved by a Road Glide Custom owner.
By the way, the saddlebags are big and sturdy and the design feels a bit old-fashioned, but they work well. I never felt nervous about loading all my camera equipment inside their cavernous interior.
The tops of the bags are not hinged; the entire top must be pulled off and it hangs via a piece of textile out the side of the bag.
The bags are easily removed, however, by pulling the pair of Dzus-like fasteners inside. Don't lose the fasteners though!
I had no problems stuffing the bags full of camera gear, water bottles, gloves, extra clothing and anything else I needed for my adventures.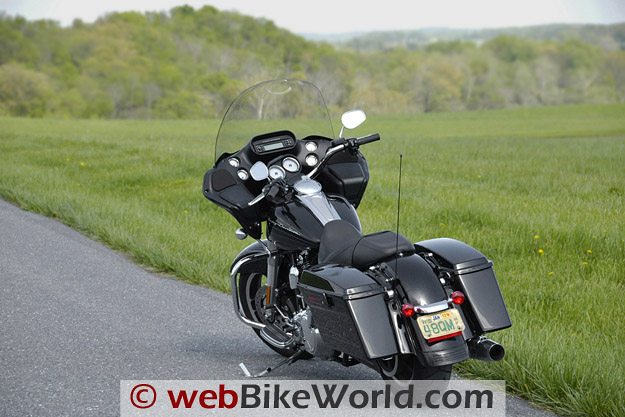 Conclusion
Just about everything I ever thought, heard or assumed about a Harley-Davidson was proven wrong during my time with the Road Glide Custom.
I'll admit, as a European sport-touring guy, I had some prejudices against the brand and the lifestyle that seems to go with it.
Like all prejudices, it only takes education to bust 'em, and simply refusing to go along with the black-leather-and-fringe cruiser wear is all it takes to keep just as safe while riding this bike as anything else.
I initially went into this thinking it would be interesting and maybe fun but I'd never buy one for myself.
I came out of it knowing it was interesting and a lot of fun and guess what — I wouldn't mind owning one. And that, my friends, is a giant revelation for me.
w

BW

 Video: On the Road With the Harley-Davidson Road Glide Custom
2010 Harley-Davidson Road Glide Custom Specifications
Engine
Engine: Air-cooled, Twin Cam 96 Air-cooled
Displacement: 96 cu. in. (1584 cc)
Bore/Stroke: 3.75 in. / 4.38
Engine Torque: 92.6 lb-ft @ 3500 rpm (125.5 Nm @ 3500 rpm)
Fueling: Electronic Sequential Port Fuel Injection
Compression Ratio: 9.2:1
Transmission
Primary Drive Chain: 34/46 ratio
Fuel Economy (Claimed): 35 MPG City. 54 MPG Highway.
Gear Ratios: 1st 9.593; 2nd 6.65; 3rd 4.938; 4th 4.0; 5th 3.407; 6th 2.875.
Wheels and Tires
Wheels: Cast Aluminum
Tires: Front: 130/70B-18 63H; Rear: 180/65B16 81H
Dimensions, Weights and Capacities
Fuel Capacity: 6.0 gallons (22.7 liters)
Oil Capacity: 4.0 quarts (3.8 liters)
Seat Height: Laden 2 26 in. (668 mm); Unladen 29.5 in. (749.3 mm)
Ground Clearance: 5.1 in. (129 mm)
Rake: Steering Head 26°
Trail: 6.69 in. (170 mm)
Wheelbase: 63.5 in. (1613 mm)
Weight: Dry Weight 769 lbs. (349 kg); Running Order 805 lbs. (365 kg)
Colors
Vivid Black, Scarlet Red, Black Denim.
Price
Starting at $18,999. Color $19,479. Security $370. ABS Option $845. Cruise Control $295. California Emissions $200. Freight $380.
Publication Date: May 2010
More wBW Motorcycle Reviews  |  All wBW Motorcycle Product Reviews
Owner Comments and Feedback
---
From "G.M." (6/10): " Having written you about the XR1200, and having said warm and supportive things about HD that I thought would never pass my lips (or fingertips), now we have a review on a traditional Hoggly, NTTAWWT (not that there's anything wrong with that).
I do appreciate you opening comments, because although technically I ride a cruiser (a V4), I do not consider myself a cruiser guy. My bike is a "performance" cruiser, handles great, it's nimble, and tons of fun to ride hard.
Hmm, sounds like a lot of your perceptions on the Road Glide.
Anyway, my first reaction seeing the photo of the bike was "Holy Cow, that is one seriously UGLY bike!". Sorry Harley, to me the ugliest bikes on the road are the ones with the bat winged fairings.
I mean, those fairings are so ugly a mother couldn't love them, they're ugly enough to make a freight train take a dirt road (jump in here with your favorite cliché). Frame mounting doesn't affect the looks.
And this fairing is not only ugly, it looks like it has a "vinyl top" on it.
Vinyl tops went the way of the dinosaur for very good reason, ever seen one that was ten years old? I wonder how the covering will hold up over time. I have serious doubts on that.
Ok, there is more to loving the motorcycle you ride than liking the way it looks, but how many seriously homely girls did you really take out because you thought they had a great personality?
Love is not ALL physical attraction, but you've got to at least have some desire to be seen in public with your bike.
I fully understand the functionality of fairings.
In 1200 BC, I had a Windjammer fairing on three bikes of various sizes. I commuted daily as a college student, and appreciated the function and weather protection of the fairing.
I kept buying new frame mounts as I traded up. I understand their utility, but they don't have to be this ugly; my Windjammer was not ugly at all.
On my present bike, I have a Memphis Shades windshield, a little one, and it does a great job of keeping the blast off of me without making my bike look like it just crawled out from under a bridge to eat small children.
Getting past her looks, and venturing into her good personality, I also agree with some of your first impressions.
Although I sold my 4th bike 30 years ago to pay for my honeymoon, when I got my 5th bike a couple of years ago, the first oddity was the fact that the pegs (no floorboards please) were not where I put my feet.
It was very odd looking down to figure out why my feet weren't on the pegs, to find them 6 inches further forward from where I placed my feet out of a 30 year old habit.
And as for noise, I am the only person I know who ever took off aftermarket pipes (I bought the bike used) and installed OEM pipes. Bikes don't need to be loud, they don't "hear you coming", they hear you passing by and think "-hole!!!". I know I do.
So, it seems that this darling Road Glide has a very nice personality, and can really perform where it counts, but I wouldn't even think of taking her out unless she got a nose job.
And from your comments, she needs one for functional reasons as well."
Editor's Reply:  "Beauty is in the eye of the beholder" I guess!  I happen to think the Road Glide is the best looking H-D. The "vinyl top" is a removable vinyl "bra", designed to protect the paint on the front of the fairing.
---
From "K.A." (5/10):  "I have been riding BMW motorcycles since I got my first bike in 1991, it was a way sweet K75 with bags, shield and crash bars. I put over 55,000 mile on it, trips from the Grand Canyon to Maine.
My next ride was a 2001 BMW G/S with Jesse bags; it too was a great bike that I put 45,000 mile until I traded it in on a 2003 K1200 GT. The GT served me well till she suffered a sad fate in the West Virginia mountains.
Off to the BMW shop I went , I was now the proud owner of a 2005 R1200GS with bags, top case, tank bags and many other nice bits.
The bike took me around the Great Lakes, out to see Yellowstone for two weeks and last year on a two week trip to drink in the beauty of Newfoundland.
This Christmas I shocked my friends and BMW riding buds and came home with a brand new 2010 Road Glide Custom. I upgraded to a Vance & Hines black pipe and stage one kit air clearer.
I just returned from a 1900 mile ride to the Smoky Mountains and couldn't be more pleased with the handling of the Road Glide.
My riding buds both on R1200RTs were impressed and were shocked I huge with them in the twisted and left them a few times. I can't say there are no more Beemers in my future but till then I enjoy my new Road Glide she is one sweet ride."
---
From "C.B." (5/10):  "Great review!  It is too bad you haven't ridden earlier H-Ds just to see how far they've come in the last 20 years. If there was a prize for most improved, I think their engineers would win it.
The older bikes earned the bad reputation they with faults like the old 5 speed trannies that were hard to manage and not on par with the rest of the industry.
But the recent bikes (especially with the 2009 touring bike changes) have made them into different beasts.
Mechanically, they're as good as anything. Ergonomics aren't perfect out of the box, but there's an assumption that you'll put some effort into customizing it and that can make it darn near perfect.
If you like the cruiser style, you'd be foolish to go with anything else."
---
From "R.F." (5/10):  "I am not sure I have run across your site on the web before, sorry. Hit a link on HDForums however and truly enjoyed your write-up.
I grew up on metrics like my first, a 1974 Honda Elsinore 250. Moved on to a 1976 Kawasaki KZ900 (early sport bike?) and one of my favorites, a 1980 Yamaha 850 Special.
Took a break for a couple of decades and bought a 2001 Road Star for me then a 2005 VStar 1100 for my wife.
Now we own a 2008 Road King Classic (mine) and 2007 Road King Classic (hers). I truly love these bikes!  They have their shortcomings, sure but here in my ripe old early 50's they are great handling bikes to cruise Route 66 here in Arizona!
Smooth, powerful, easy to handle and great long haul bikes.
I find value and beauty in all motorcycles. I am not a fanatic that feels HD is the only true bike out there and unfortunately there are some of those around.
It was refreshing for me to read your article from your perspective and experience.
Thanks for keeping an open mind and relaying to others what makes some of us love to ride the big dressers. They are not just for couch potatoes that want to putt-putt along after all."
---
From "J.H." (5/10):  "Thanks for this review…I happen to own a 2010 FLTRX. The "Custom" moniker refers to the lowered rear end, wider rear tire, taller front tire, inclusion of the "dropped" LED rear fender, and the saddlebag spacers as compared to previous years.
As to some of your comments, I'm 6'5″, and I removed the rear shifter as well…I did feel "trapped", as you put it. I put "SoftBrake" 1+ extended brake and shifter arms on due to my long legs, and have actually considered the longer footboards for the same reason.
Other bikes, like the Triumph Rocket III, or the Honda Goldwing would have the peg positioning that you were looking for, but "the Harley feel" is unique.
I would suggest that before passing final judgment on the ergonomics you should try taking it on a journey, not just a day in the twisties.
Also, I found it interesting that your chance to review a bike that was such a huge departure for you, didn't include a single comment about riding with music!!!  Anyway, thanks for the review…I really enjoyed it!"
Editor's Note:  I forgot to mention, I never even turned the radio on!  I like to listen to the wind and the engine; anything else seems to be too much of a distraction for me.
By the way, I had the bike for 3 weeks and I was able to take it on a variety of day trips and short rides, adding a few thousand miles to the odometer…
---
From "B.S." (5/10):  "Now you know what we love about the Road Glide. Great review.http://www.roadglide.org
---
From "L.M." (5/10):  "First off, I want to mention that I visit webBikeWorld daily and have actually purchased quite a bit of my current gear based on your reviews and haven't been disappointed yet!
Great review on the Road Glide as I'm a fairly recent convert to Harley Davidson's having bought a 1995 FLHT Electra Glide. I've owned sport bikes, sport touring bikes, and dual sports style bikes before settling on the E-Glide.
I had the exact same reservations and feelings when I first got it (weight, handling, etc) but it's probably the bike I've had the most fun on in years.
Like someone previously stated, a lot of the negative comments about Harleys in general come from the un-initiated. It's a design that works and does what it's supposed to do.
Having said that, I thought the BMW GS1200 was just a glorified dirt bike until I took one out for a ride and now I want to add one of those to the stable. 🙂
Oh and one thing I'd like to point out is the use of oil on Harleys.
They do run a separate engine/tranny/primary case oil but I switched over to Amsoil's 20w50 synthetic blend which can be run in all three and helps double the frequency for oil changes.
I switched after finding out a co-worker who has a 1998 E-Glide has almost 200,000 km on his bike has been running Amsoil exclusively and has not yet had to open up the engine for a rebuild. Something to ponder.
Ok, enough with the diarrhea of the keyboard. Keep up the good work and keep those great reviews coming!"
---
From "J.N." (5/10): "I liked reading your review on the Road Glide. I have been a BMW rider since 1984 and love them.
In 2003 I bought my first Harley, a 100th anniversary Heritage Springer which I have put 26,000 miles on. I love the look and feel of the HS. Not so crazy about the brakes & handling though!
I have test rode the (Road Glide) several times and most recently the 2010. I feel it handles the road a lot better than my HS, braking is a lot better also. I wouldn't hesitate to buy one of these! Opinions are best formed from experience!
I currently own the 2003 FLSTS, a (BMW) 2002 1150GS and a (BMW) 2005 R12RT."
---
From "B.C." (5/10): "Being a frequent reader of your site, I have to say the Road Glide review was one of the best you've done!  Owning both a '08 Electra Glide Ultra and a ZRX1200R I can truly appreciate your review.
I enjoyed your comments about your first ride. I had a similar experience some years ago when out riding with a buddy one day he wanted to try out my UJM and left me on his Electra Glide.
He was completely out of sight before I could get that big Harley figured out, started up, and rolling. However, after a while I had chased him down and was hanging right in there with him!  It is amazing how well that big bike will handle.
Your comments were spot on. One thing, the heel-toe shifter is an acquired taste, especially if you have ever ridden the older Harleys. Their gearboxes are not nearly as smooth and easy to shift as today's bikes.
With some practice you would find that you can upshift much more smoothly with the heel. Also, the ABS brake system is absolutely terrific, especially when used in anger!
As for the oil capacity, since at least 1996 (my first Electra Glide) the Harley touring model have had a 4 quart engine oil capacity. Some of the other models have smaller oil tanks, but the Electra Glide, Road Glide, and Street Glide all have the same 4 quart engine oil capacity.
There is also the primary case lubricant is approximately 1 quart, and the transmission also about a quart. All three of these oil reservoirs are separate and not intermixed.
Keep up the good work!"
---
From "M.K." (5/10): "First, I love your website and I check it daily for updates, etc. I love the gear reviews.
Now about your Road Glide review… Outstanding!
I own a 2009 Road King and I laugh at the "uninitiated" when I hear them talking about Harley short comings. Usually they are people just like you WERE…. People that haven't ridden one of these great American machines.
Across the Harley line you will find that most of the things that you liked are consistent.
These are great, easy to handle, reliable and fun to ride bikes. The Motor Company knows what it's customers like and want and they do it as well as, if not better than, most.
For the 2009 model year the frames on the baggers were totally redesigned for the better. Throw in the 6 gallon fuel tank, a 6th gear for cruising, and that amazing fuel injection and you have a great line of bikes.
Before anyone that reads this thinks that I am a shill for Harley, I should state that I owned three different Yamahas in the 80's and early 90's before I bought my first Harley. I loved all three of those bikes.
Then in 1994 I bought my first Harley…. A Fatboy….And I knew that I would always own Harleys from that point on.
I had a big smile on my face reading your review and how your preconceived ideas about Harleys disappeared. Thumbs up to you for being open minded… think what you may have missed if you hadn't been."
---
From "L.H." (5/10): "First of all let me say, I've been reading your site for quite a while because I think your gear reviews are just great and have been looking at European bikes for a while.
I'm an owner of Harley Road King and just loved reading this review and I'm glad you enjoyed the bike. To expand on a couple notes from your review:
The 'toe-heel' shifter – I hated mine & took the heel part off as have a lot of people.
The windshield – I found that the stock-short shield actually deflects wind the same as the highway windshield & doesn't get in your face nearly as much (though I ride w/o a windshield when I'm in town & only put it on when I'm on the highway).
Seat comfort – man, those stock seats are horrible. Most people end up getting a new seat or a driver back-rest, which greatly helps the back pain.
Foot-comfort – it most definitely will put your legs to pain/sleep over time. Most people add on highway pegs onto the engine guards to get your legs up.
Anyway, great reading & keep up the good work!"
---
From "J.W." (5/10): "I recently bought a used '07 Dyna Super Glide after been a sport touring rider. Question about the oil capacity. You list the capacity at 4 quarts and my manual says 2.5 for a capacity oil change. Same engine, TC 96. What gives?
Editor's Reply: I know very little about Harleys, but the figures I published came directly from them.
A quick look at the owner's manual shows 4 quarts listed, and I looked at the Harley website and a 2009 Super Glide standard is listed at 3.0 quarts, so for some reason, the recommended oil quantity can vary.
But 2.5 quarts or even 3.0 quarts seems like very little oil though to me, especially for an engine that big. My old 1986 R65 BMW takes 4 quarts and I think just about every bike I've owned in recent memory takes 4.
Maybe the slow-turning, low RPM H-D engines don't need much oil? If I owned one, I'd be keeping a careful eye on the oil level and change intervals!
Can any Harley owners can shed some light on this?
Update from J.W.: "Now that I think about it the trans on the Harley is separate and holds another quart and the primary drive holds a quart so that is about 4.5 altogether.
The trans filler is a plug with an Allen wrench fitting behind the oil filler. The primary drive is on the left side and is a round plate about 9 inches in diameter secured by bolts around the circumference.
There is a drain plug underneath, however, to fill it you have to remove the plate. If you are using synthetic, they all take the same 20-50 which makes it easy…"