Harley-Davidson Australia have recalled 363 trikes over an issue where a rear brake could suddenly activate.
The official recall notice, issued through the Australian Competition and Consumer Commission, says it affects the 2019-20 CVO Tri Glide, Tri Glide Ultra and Freewheeler. (VINs of affected vehicles listed at the end of this article.)
"The electro-hydraulic control unit (EHCU) software may respond incorrectly to a faulty rear wheel speed signal by activating one of the rear brakes," the ACCC notice says.
"Unintended brake activation may increase the risk of an accident or injury to the vehicle occupants and other road users."
Owners should contact their nearest Harley-Davidson Australia dealer "immediately to schedule a safety recall service to install new software, free of charge".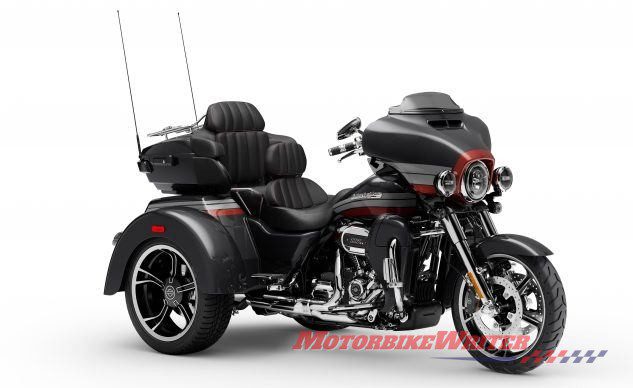 2019 recalls
This is the third recall for Harley-Davidson this year following an issue with aftermarket saddlebags falling off and Street models developing rust on the brakes.
With just a few weeks to go in 2019, there have been 24 recalls of motorcycles plus two accessories (the Harley bags and a Honda Monkey bike rack).
That compares with last year's 37 motorcycle recalls, the second highest number of recalls in the previous 10 years: 28 in 2017, 39 in 2016, 30 in 2015, 28 in 2014, 20 in 2013, 24 in 2012, 16 in 2011, 14 in 2010 and 23 in 2009.
The most recalls this year was six for Yamaha; followed by 4 for BMW; Ducati, Harley, Honda, Suzuki and Triumph on three (if you count the aftermarket accessories for Harley and Honda); and one each for Kawasaki, Indian, Piaggio and KTM.
That compares with the previous year where Ducati had 6;  Indian, Kawasaki, Suzuki, Yamaha, KTM and Triumph 3; BMW, Harley, Husqvarna and Moto Guzzi 2, Aprilia and MV Augusta one each.
Even though manufacturers and importers usually contact owners when a recall is issued, the bike may have been sold privately to a rider unknown to the company.
Therefore, Motorbike Writer publishes all motorcycle and scooter recalls as a service to all riders.
If you believe there is an endemic problem with your bike that should be recalled, contact the ACCC on 1300 302 502.
To check whether your motorcycle has been recalled, click on these sites:
• USA
• Canada
VINs of affected trikes
5HD1MAFGXKB852423
5HD1MAFGXKB852907
5HD1MAFGXKB854057
5HD1MAFGXKB854477
5HD1MAFGXKB854642
5HD1MAFGXKB855001
5HD1MAFGXKB855094
5HD1MAFGXKB859887
5HD1MAFGXKB859906
5HD1MAFGXKB860232
5HD1MAFG0KB851250
5HD1MAFG0KB852222
5HD1MAFG0KB852303
5HD1MAFG0KB852639
5HD1MAFG0KB852706
5HD1MAFG0KB853385
5HD1MAFG0KB853791
5HD1MAFG0KB854214
5HD1MAFG0KB854956
5HD1MAFG0KB855878
5HD1MAFG0KB860353
5HD1MAFG1KB850768
5HD1MAFG1KB850799
5HD1MAFG1KB852147
5HD1MAFG1KB852259
5HD1MAFG1KB852472
5HD1MAFG1KB852858
5HD1MAFG1KB852892
5HD1MAFG1KB852911
5HD1MAFG1KB853413
5HD1MAFG1KB854030
5HD1MAFG1KB854464
5HD1MAFG1KB854531
5HD1MAFG1KB854805
5HD1MAFG1KB855520
5HD1MAFG1KB855808
5HD1MAFG1KB858949
5HD1MAFG2KB851671
5HD1MAFG2KB851959
5HD1MAFG2KB852643
5HD1MAFG2KB853355
5HD1MAFG2KB853761
5HD1MAFG2KB854019
5HD1MAFG2KB854098
5HD1MAFG2KB854716
5HD1MAFG2KB854991
5HD1MAFG2KB856188
5HD1MAFG2KB860032
5HD1MAFG3KB851355
5HD1MAFG3KB853235
5HD1MAFG3KB853316
5HD1MAFG3KB853607
5HD1MAFG3KB854210
5HD1MAFG3KB854787
5HD1MAFG3KB855017
5HD1MAFG3KB855227
5HD1MAFG3KB856278
5HD1MAFG4KB850733
5HD1MAFG4KB851834
5HD1MAFG4KB852207
5HD1MAFG4KB852353
5HD1MAFG4KB852563
5HD1MAFG4KB853342
5HD1MAFG4KB853423
5HD1MAFG4KB853468
5HD1MAFG4KB854085
5HD1MAFG4KB854619
5HD1MAFG4KB854698
5HD1MAFG4KB855608
5HD1MAFG4KB855866
5HD1MAFG4KB859867
5HD1MAFG4KB860355
5HD1MAFG5KB850269
5HD1MAFG5KB852085
5HD1MAFG5KB852684
5HD1MAFG5KB852880
5HD1MAFG5KB853091
5HD1MAFG5KB853396
5HD1MAFG5KB853527
5HD1MAFG5KB853933
5HD1MAFG5KB854113
5HD1MAFG5KB854273
5HD1MAFG5KB854371
5HD1MAFG5KB854662
5HD1MAFG5KB855407
5HD1MAFG6KB850569
5HD1MAFG6KB850992
5HD1MAFG6KB851978
5HD1MAFG6KB852550
5HD1MAFG6KB853441
5HD1MAFG6KB853780
5HD1MAFG6KB854136
5HD1MAFG6KB854184
5HD1MAFG6KB854217
5HD1MAFG6KB854248
5HD1MAFG6KB854444
5HD1MAFG6KB854587
5HD1MAFG6KB854962
5HD1MAFG6KB855206
5HD1MAFG6KB856114
5HD1MAFG7KB850337
5HD1MAFG7KB850600
5HD1MAFG7KB851097
5HD1MAFG7KB852072
5HD1MAFG7KB852329
5HD1MAFG7KB852699
5HD1MAFG7KB852704
5HD1MAFG7KB852735
5HD1MAFG7KB853593
5HD1MAFG7KB853786
5HD1MAFG7KB855828
5HD1MAFG7KB855912
5HD1MAFG7KB856008
5HD1MAFG7KB860155
5HD1MAFG7KB860608
5HD1MAFG8KB850735
5HD1MAFG8KB851254
5HD1MAFG8KB851562
5HD1MAFG8KB854591
5HD1MAFG8KB855112
5HD1MAFG8KB860634
5HD1MAFG8KB861167
5HD1MAFG9KB851943
5HD1MAFG9KB852218
5HD1MAFG9KB852610
5HD1MAFG9KB852882
5HD1MAFG9KB853174
5HD1MAFG9KB853417
5HD1MAFG9KB853465
5HD1MAFG9KB853644
5HD1MAFG9KB854258
5HD1MAFG9KB855801
5HD1MAFG9KB855927
5HD1MAFG9KB856270
5HD1MAFG9KB859461
5HD1MCPGXKB850469
5HD1MCPGXKB851752
5HD1MCPGXKB854294
5HD1MCPGXKB855204
5HD1MCPG0KB850884
5HD1MCPG0KB853932
5HD1MCPG0KB856071
5HD1MCPG0KB856216
5HD1MCPG0KB859245
5HD1MCPG1KB850165
5HD1MCPG1KB850621
5HD1MCPG1KB850778
5HD1MCPG1KB851459
5HD1MCPG1KB851784
5HD1MCPG1KB852756
5HD1MCPG1KB855964
5HD1MCPG1KB856046
5HD1MCPG1KB856404
5HD1MCPG1KB856421
5HD1MCPG2KB850319
5HD1MCPG2KB850398
5HD1MCPG2KB850479
5HD1MCPG2KB850644
5HD1MCPG2KB850854
5HD1MCPG2KB855665
5HD1MCPG2KB856220
5HD1MCPG2KB858372
5HD1MCPG2KB858887
5HD1MCPG3KB850040
5HD1MCPG3KB850815
5HD1MCPG3KB851446
5HD1MCPG3KB854007
5HD1MCPG3KB854797
5HD1MCPG4KB850483
5HD1MCPG4KB850516
5HD1MCPG4KB850533
5HD1MCPG4KB851066
5HD1MCPG4KB851407
5HD1MCPG4KB851522
5HD1MCPG4KB853674
5HD1MCPG4KB855957
5HD1MCPG4KB856042
5HD1MCPG4KB856557
5HD1MCPG5KB850038
5HD1MCPG5KB850170
5HD1MCPG5KB850265
5HD1MCPG5KB850329
5HD1MCPG5KB850945
5HD1MCPG5KB851464
5HD1MCPG5KB852159
5HD1MCPG5KB855899
5HD1MCPG5KB856101
5HD1MCPG5KB856227
5HD1MCPG5KB858494
5HD1MCPG6KB850081
5HD1MCPG6KB850114
5HD1MCPG6KB850288
5HD1MCPG6KB850291
5HD1MCPG6KB850324
5HD1MCPG6KB850548
5HD1MCPG6KB851800
5HD1MCPG6KB856219
5HD1MCPG7KB850283
5HD1MCPG7KB850591
5HD1MCPG7KB851465
5HD1MCPG7KB851966
5HD1MCPG7KB852597
5HD1MCPG7KB854639
5HD1MCPG7KB855841
5HD1MCPG7KB860098
5HD1MCPG8KB850454
5HD1MCPG8KB850471
5HD1MCPG8KB850843
5HD1MCPG8KB851135
5HD1MCPG8KB851233
5HD1MCPG8KB851636
5HD1MCPG8KB856044
5HD1MCPG8KB856190
5HD1MCPG8KB858151
5HD1MCPG9KB850530
5HD1MCPG9KB850558
5HD1MCPG9KB850771
5HD1MCPG9KB851001
5HD1MCPG9KB854772
5HD1MCPG9KB855873
5HD1MCPG9KB856067
5HD1MCPG9KB859356
5HD1MAF60LB850155
5HD1MAF61LB850276
5HD1MAF64LB850062
5HD1MAF66LB850161
5HD1MAF68LB850050
5HD1MAF69LB851028
5HD1MCP60LB850537
5HD1TBH6XLB950110
5HD1TBH60LB950231
5HD1TBH62LB950053
5HD1TBH64LB950149
5HD1TBH65LB950080
5HD1TBH66LB950556
5HD1TBH67LB950159
5HD1TBH68LB950395
5HD1MAFGXKB860800
5HD1MAFG1KB854397
5HD1MAFG3KB855292
5HD1MAFG4KB852787
5HD1MAFG5KB850109
5HD1MAFG7KB854274
5HD1MAFG7KB855702
5HD1MAFG7KB859975
5HD1MAFG9KB854115
5HD1MCPGXKB856191
5HD1MCPGXKB856207
5HD1MCPG1KB855897
5HD1MCPG1KB858427
5HD1MCPG3KB856226
5HD1MCPG4KB854601
5HD1MCPG4KB857529
5HD1MCPG5KB852646
5HD1MCPG6KB855913
5HD1MCPG6KB859332
5HD1MCPG9KB852276
5HD1MCPG9KB854092
5HD1MAF6XLB850325
5HD1MAF6XLB850888
5HD1MAF6XLB853581
5HD1MAF60LB850236
5HD1MAF60LB850642
5HD1MAF61LB850245
5HD1MAF61LB850438
5HD1MAF62LB850223
5HD1MAF62LB850335
5HD1MAF62LB850979
5HD1MAF62LB851257
5HD1MAF62LB851503
5HD1MAF62LB853347
5HD1MAF63LB850277
5HD1MAF63LB850389
5HD1MAF63LB850618
5HD1MAF63LB851090
5HD1MAF63LB851123
5HD1MAF63LB853390
5HD1MAF64LB850031
5HD1MAF64LB850174
5HD1MAF64LB850336
5HD1MAF64LB850482
5HD1MAF64LB850627
5HD1MAF64LB850806
5HD1MAF64LB850823
5HD1MAF64LB851423
5HD1MAF64LB853561
5HD1MAF64LB853589
5HD1MAF65LB850278
5HD1MAF65LB850328
5HD1MAF65LB850913
5HD1MAF65LB851026
5HD1MAF65LB851074
5HD1MAF65LB851348
5HD1MAF65LB853553
5HD1MAF66LB850113
5HD1MAF66LB850404
5HD1MAF66LB850418
5HD1MAF66LB851052
5HD1MAF66LB851150
5HD1MAF66LB851469
5HD1MAF66LB853478
5HD1MAF67LB850069
5HD1MAF67LB850153
5HD1MAF67LB851870
5HD1MAF67LB853120
5HD1MAF67LB853263
5HD1MAF68LB851201
5HD1MAF68LB851537
5HD1MAF68LB853143
5HD1MAF68LB853479
5HD1MAF69LB850266
5HD1MAF69LB850414
5HD1MAF69LB851207
5HD1MAF69LB851255
5HD1MCP6XLB850433
5HD1MCP6XLB850609
5HD1MCP6XLB851680
5HD1MCP6XLB851906
5HD1MCP6XLB853042
5HD1MCP60LB850764
5HD1MCP60LB850912
5HD1MCP60LB851803
5HD1MCP61LB850353
5HD1MCP61LB850384
5HD1MCP62LB850331
5HD1MCP62LB850961
5HD1MCP62LB851530
5HD1MCP63LB852847
5HD1MCP63LB853514
5HD1MCP64LB850394
5HD1MCP64LB851125
5HD1MCP64LB851285
5HD1MCP64LB851996
5HD1MCP64LB853408
5HD1MCP65LB851294
5HD1MCP65LB853482
5HD1MCP66LB850364
5HD1MCP66LB850607
5HD1MCP66LB852020
5HD1MCP66LB853491
5HD1MCP67LB850132
5HD1MCP67LB850681
5HD1MCP67LB851944
5HD1MCP69LB850679
5HD1MCP69LB851542
5HD1MCP69LB851735
5HD1MCP69LB853128
5HD1TBH60LB950584
5HD1TBH61LB950190
5HD1TBH63LB950174
5HD1TBH64LB951995
5HD1TBH65LB951102
5HD1TBH66LB950279
5HD1TBH67LB950260
5HD1MAFGXKB860801
5HD1MAFG1KB852052
5HD1MAFG3KB851002
5HD1MAFG3KB851985
5HD1MAFG4KB850313
5HD1MAFG7KB854078
5HD1MAFG8KB855448
5HD1MCPG5KB850587
5HD1MAF63LB850196