Harley-Davidson announced in June 2019 that it would build small-capacity bikes in China for the Asian market and now they are ready to go into production with the HD350 project.
Harley isn't the only company downsizing, mainly for the Asian market.
A month after the Harley bombshell, Italian manufacturer MV Agusta confirmed they would make 350-500cc bikes and Ducati signed away its naming rights to Chinese scooters.
HD350 project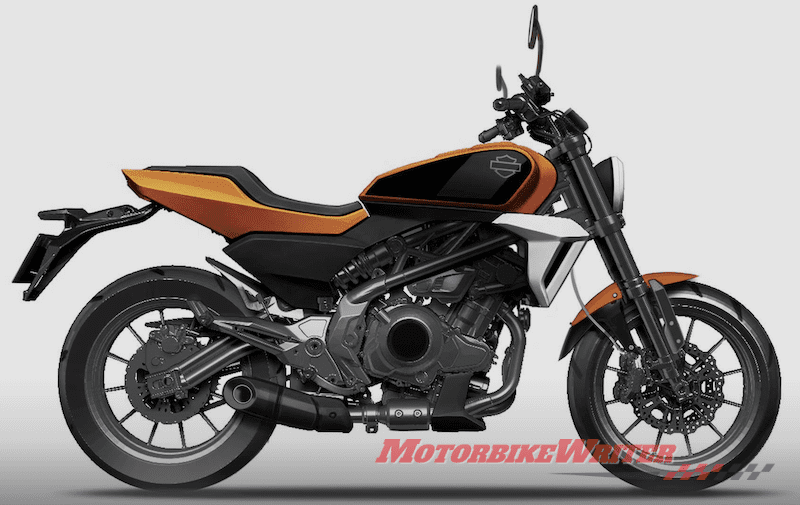 Even though it's called the HD350 project, the Harley will have a displacement of 338cc.
HD350 is just a working title and the bike will have another name when it goes to market.
Harley is working with Chinese company with Qianjiang Motorcycle and this week they agreed on the final design for the bikes.
However, they have not yet unveiled the final design.
The images here were released back in June when Harley said they would "embody a distinctive look, sound and feel that will spark powerful connections with riders".
"The new Harley-Davidson motorcycle and engine will be produced in a Qianjiang facility in China and adhere to the rigorous quality standards and testing processes followed for all Harley-Davidson products," their June statement said.
Qianjiang, based in Zhejiang, China, bought Benelli in 2005 and makes scooters and motorcycles with brands names such as Qijiang, Generic, Keeway, and KSR.
The factory is now gearing up to start production with Chinese sales starting in late 2020 and India in 2021.
There is no current plan to export the HD350 model outside Asia.
However, is it too cheeky to point out that Harley-Davidson Australia and New Zealand is part of Harley's Asian division?
China syndrome
The 338cc Chinese Harley won't be the smallest motorcycle they've ever made. How about the 1960s 65cc Leggero and 1970s 90cc monkey bike?
The sub-500cc bike plan is included in the company's 'More Roads' initiative, a strategic long-term plan, says Harley head honcho Matt Levatich.
He says the strategy hinges on making sales outside the US half of the company's total.
"We're excited about this opportunity to build more Harley riders in China, one of the world's largest motorcycle markets, by creating new pathways to our brand," he says.
"We are just over a year away from launching our first model that will help provide access to millions of customers in emerging markets in the region."
The small-capacity bike will be built in collaboration in a similar venture to BMW's alliance with the Indian TVS company to build the G 310 models or the Bajaj Auto deal to build a third of KTM's bikes at their Chakan plant.