In an irreverent and cheeky promotion, Harley-Davidson Australia is offering up to $2500 in discounts on their bikes for customer trades on certain eligible models HD calls "imitations".
While it may be seen as a swipe at "metric cruiser" riders to get on an SAE model, it also strangely targets riders of adventure bikes, sports tourers and big tourers.
The campaign doesn't provide discounts on every bike you trade in, just those listed as eligible trade-in models.
Obviously the trades include all Indian and Victory models from their fellow American stable, plus cruisers from the four Japanese brands, all Triumph cruisers and the Ducati Diavel.
But there is also a heavy representation of adventure bikes listed, including all BMW GS models, Suzuki DLs, Triumph Tigers and even Kawasaki KL and KLRs 650s.
One wonders how many adventure riders are planning to hand in their peaked helmets and knobbies for an open face and a low-riding cruiser!
HD Australia head of advertising, promotions and PR, David Turney, says the campaign idea was his.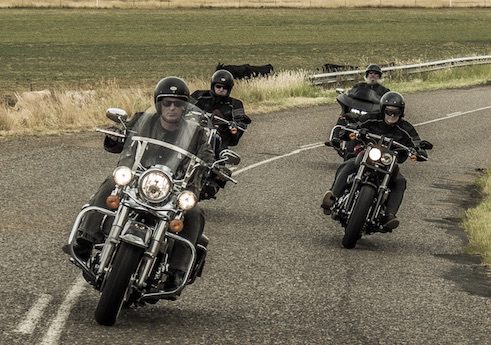 "It's a retail offer and the intent is to offer riders of competitor brands an incentive to trade their ride in for what we believe is the real thing (and we'll forgive them for their prior decision)," he says.
"The brands and models selected represent a range of rider profiles and their chosen models.
"There were a variety of factors in making the offer to those and included their propensity to consider Harley-Davidson.
"That the offer is made across the full family range of Harleys, shows that no matter what the customer may trade-in for there's a forgiveness offer in it for them while the campaign is running."
David wouldn't supply any research figures on trade-ins, but you can't blame him for not wanting to share commercially sensitive material.
However, we can deduct that these "eligible" models are the types of bikes riders are trading in.
Harley is also targeting trades on naked and sports tourers with bikes such as the BMW F 800 GT and K 1300 GT; Honda CTX and NSA 700s and ST1300; Triumph Trophy and Bonneville T100; and Yamaha FJR and TDM riders.
And more obvious eligible competitor models for the Harley Touring range are the BMW K 1600 and Honda Goldwing.
The forgiveness bonus offers are $500 on the learner-approved Street 500, $1000 on Sportsters,  $1500 for Dynas, $1500 on all Softail models, $1500 for V-Rods and $2500 on the Touring family.
The trades offer runs until the end of March.
Is it any wonder that Harley-Davidson is now the top-selling road motorcycle brand in Australia with this sort of aggressive marketing.
(This is NOT a paid article! Like other stories we have published about discount offers, it is presented as a service to riders.)