The Harley-Davidson Low Rider has been around – on and off – since 1977 and in 2014 it was revived for nostalgia fans of the ultra-cool chopped Dyna.
Contrary to popular opinion, the 1975 War song "Low Rider" was not written about the Harley Low Rider, but maybe the song inspired the first Low Rider two years later when Black Betty and Cold As Ice were the top rock songs.
Either way, there is something undeniably cool about the original Low Rider FXS with its retro dragster custom looks and lashings of chrome. They immediately became a popular model and have been part of the Harley line-up most of the following years.
After a short hiatus, the Low Rider was brought back as an unusual mid-year model in early 2014. Harley usually introduces its new models in September, so the March launch of the Low Rider was a pleasant surprise.
It still has a very '70s feel, more of an agile street cruiser than the raked-out Easy Rider choppers of the time. And contrary to the chopper style of the time, it had twin front discs.
Today's Low Rider is not much different. It still has that iconic rectangular chromed battery cover, drag bars, mag wheels, two-into-one slashed muffler, "wrinkle black" engine with chrome-plated covers and double-banana seat, although the cushion is a little less plump these days.
The only thing missing is the white-lettered tyres!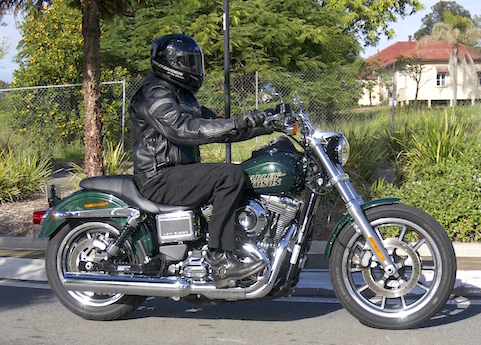 You sit down low, arms outstretched, punching tier fists in the air, legs akimbo with your feet on the mid-mounted pegs; it's almost a rower's stance as they set to push off and pull back on the oar.
This is definitely a fast round-town cruiser stance and not conducive to long bouts in the saddle, even though it is one of the most comfortable seats around.
The handlebars are adjustable for reach by 6cm and there is a bolster available for the seat to move shorter riders further forward.
Both of these adjustments will relieve some of the windsock effect which can sap the energy out of your biceps on long stretches of highway.
It looks a little ungainly and uncomfortable, but it's not too bad and the adjustments and mid-mount pegs mean it's suitable for a lot of rider sizes.
However, you won't find many Low Riders on the main highways. They tend to prowl the streets and back roads in search of twists and bends.
Here you'll have to be a little careful, as it has minimal lean angles (30.5 degrees on the left and 29.5 degrees on the right because of the muffler).
But you can certainly punch it hard from bend to bend if you use the bite of the twin discs to halt progress before a corner and the pushrod 103 Twin Cam;s fierce torque to pump it out of the apex.
It's the last Dyna model to jump up from the 96 Twin Cam and it's a far cry from the original 74ci (1200cc) Shovelhead.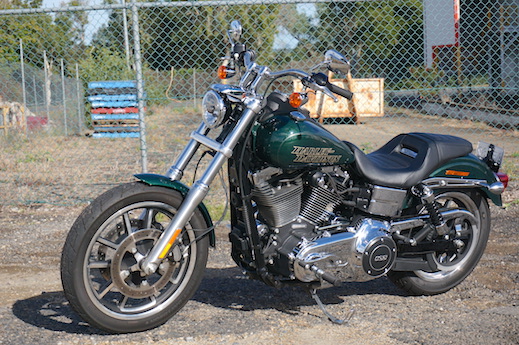 With this relatively low-weight model, the Twin Cam really shines as a traffic-light-derby winner-take-all.
It creates quite a vibe as it's rubber-mounted to the frame and at the traffic lights, it rumbles and shakes with menace.
However, once you get the revs up a bit, the bike settles down into a gentle massaging thrum.
The six-speed gearbox is probably overkill as riders will rarely use top gear, even on the highway.
Harley's transmission is becoming less agricultural with each passing year and it's easier to shift with a lighter clutch pull these days. However, neutral can still be a bit of a nuisance to find.
Its bare and minimalist look is reflected in the twin analogue chrome-ringed instruments on the Deep Jade Pearl fuel tank's wrinkle-black centre console.
To further its drag-strip capabilities, there's a tacho under the speedo which has an LCD window for odometer, trip meters, range, clock and gear indicator. You can easily toggle through all the information with a button on the left switchgear.
The tank has a fuel cap on the right and a dummy cap on the left with a fuel gauge.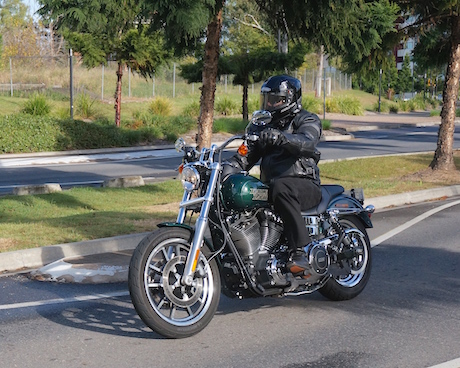 While many tank-mounted instruments are difficult to see because they are so low and point to the sun, these are higher because you are seated so low and they are angle toward the rider for easier viewing.
The Low Rider still has the ignition on the left side of the engine, but these days you can option the Smart Security System with a handsfree security fob that you keep in your pocket, so it won't dangle annoyingly or scratch anything.
It might be a Low Rider by name, but it isn't an uncomfortable ride. It has shortened twin-shock suspension with just 79mm of travel, but it's tuned well with the high-profile tyres for a comfortable ride over most of the urban bumps.
The Michelin Scorcher 31 tyres are common to many Harleys and they have good grip in the dry and wet, providing plenty of rider confidence.
Steering is precise and deliberate for a custom with quick turn-in and plenty of stability through the bends. Thanks to its relatively lightness, it also changes direction easily, flicking from left to right and back again with minimal bar effort.
There's also none of the wallowing in corners that you tend to experience with Softails. It feels positive and purposeful thanks to the Dyna chassis and fat 49mm forks.
Like all Harleys there is a wide range of options available to customise and personalise your Low Rider including Hard Candy Custom paint and chrome steel-laced wheels.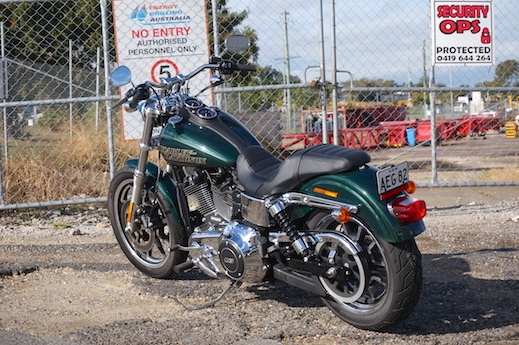 Harley-Davidson Dyna Low Rider FXDL tech specs
Price: $23,495 rideaway

Warranty: 2 years, unlimited km

Service: 1600/8000km

Engine: Air-cooled, Twin Cam 103 (1690cc)

Torque: 134Nm @ 3500rpm

Transmission: 6-Speed Cruise Drive

Economy: 5.5L/100km (claimed), 5.7L/100km (tested)

Length: 2345mm

Seat: 660mm

Wheelbase: 1630mm

Clearance: 105mm

Tyres: 100/90B19 57H, 160/70B17 73V, Michelin Scorcher "31"

Wheels: 5-spoke mags, 19 in. x 2.5 in; 17 in. x 4.5 in.

Fuel: 17.8 litres

Wet weight: 302kg

Rake: 30.5°

Fork Angle: 32°

Trail: 128.3mm

Frame: tubular steel

Suspensions: 49mm forks, coil-over shocks with tri-rate springs

Brakes: 300/292mm discs, 4/2-piston callipers