There is no more menacing a look than the twin headlights of a Harley-Davidson Fat Bob coming down the road with the rider's fists punching into the air on the drag bars.
Now, the Fat Bob gets darker cosmetics which evoke an even more menacing look. The small twin headlights have black rings around them, the black powdercoated wheels have a laser-engraved Harley-Davidson logo and rim stripe and the diagonal Harley emblem across the tank looks kind of military.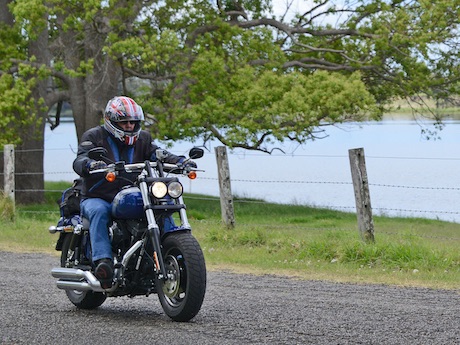 Those menacing images are enhanced by the aggressive stance of the riding position – hunched shoulders, straight arms and legs splayed out before you. This year, the drag bars are a bit closer with a slight bend toward the rider which improves rider ergonomics while still retaining that attacking, aggressive feeling.
It's powered by a 103 Twin Cam V-twin and you can feel its macho vibe rumbling up through the bars and the solo seat. Because it's the rubber-mounted A engine and isn't counter-balanced like the B engines in the Softails, it revs freer and feels more aggressive and robust.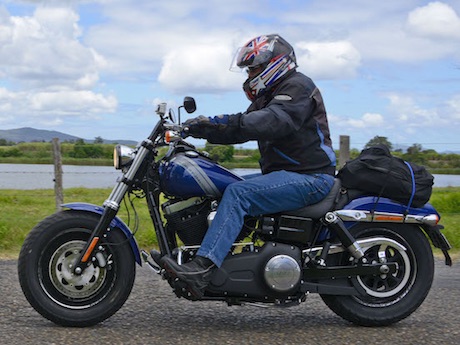 Acceleration is quick at the traffic light derby and at the end of the street, you'll pull up super-quick with the double-disc front brakes and ABS.
The aggressive nature of the engine and brakes is matched by a rigid Dyna frame, thick 49mm forks, twin rear shocks, fat and slightly knobby tyres, which combine to give the bike a solid feel on the road.
The wide front tyre gives the rider a confident feeling when pressing into corners and the almost matching rear tyre means they work in concert so you aren't fighting one against the other in the corners.
However, it runs out of clearance on the footpads and on bumpy surfaces the rear shock gets a bit choppy. Harley has aftermarket shocks that might take some of the pain out of those bumps.
Harley has modernised the rear with two LED taillights behind a sloping perspex cover which looks very Corvette and very hot rod. The LED lights should also make the bike a little safer and less prone to rear-enders.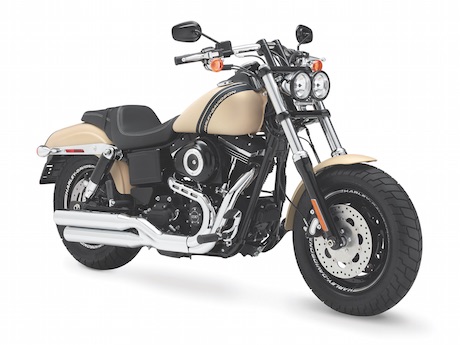 It comes in five colours, Vivid Black, Mysterious Red Sunglo, Black Denim, Superior Blue and Sand Cammo Denim. My favourite is the desert sand paintjob which is certainly eye-catching, although most people will probably opt for the traditional black gloss.
The retail price has dropped almost $1500 and it is now a competitive $25,495 and, of course, there is a host of accessories available.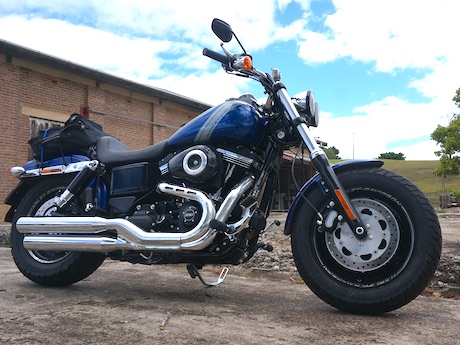 Harley-Davidson FXDF Fat Bob 

tech specs
Price: $25,495 (rideaway)

Warranty: 24 months (unlimited mileage)

Service Intervals: 1600km/8000km

Engine: Air-cooled, Twin Cam 103B (1690cc)

Torque: 129Nm at 3000rpm

Transmission: 6-speed Cruise Drive

Economy: 5.6L/100km

Length: 2400mm

Seat: 663mm

Wheelbase: 1620mm

Tyres: Dunlop D427F 130/90B16 67H; D427 180/70B16 77H

Wheels: 406mm x 76mm; 406mm x 127mm

Fuel tank: 18.9L

Weight: 305kg