The best audio on two wheels just got better with the new Harley-Davidson Boom! Audio Stage II.
If you go into a Harley store in Australia and New Zealand between now and the end of October and just listen to the sound system, you will get a free $20 iTunes gift card.
Anyone who then buys the new audio range is entered into a prize draw to win back the value of their purchase up to $5000.
I've never been a fan of audio systems on motorcycles until I rode a Rushmore Project Touring model with the new wind-tunnel-tested split fairing and a Boom! Box audio system.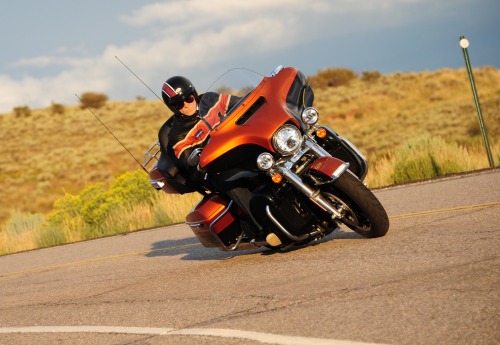 The former reduces buffeting substantially so you can hear the sound system, while the latter had crystal clear audio quality and 1% distortion.
At 180km/h in the Rocky Mountains of Colorado, I could hear ever nuance of sound as Earth Wind and Fire boomed through the audio system.
The new BOOM! Audio Stage II range fits across all 2014/15 Touring family models and has been put through the same rigorous tests as the bikes.
Boom! Audio Stage II range includes:
Stage II Fairing Speakers (from $A437/$NZ588) which are waterproof, UV-resistant and louder and clearer with reduced distortion and improved clarity at speed. See the photo at the top of the page.

Stage II Tour-Pak Speakers (from $A437/$NZ588) are forward-facing three-way speakers with waterproof tweeters and mid-ranges and carbon fibre woofer cones with high-flux Neodymium magnets. They are sized to be a direct replacement for the factory speakers.

Tour-Pak speakers

Stage II Fairing Lower Speakers (from $A530/$NZ714) fit in the glove boxes of the vented fairing lowers. They are vibration-tested waterproof three-way speakers with the tweeters and mid-ranges directed straight at the rider for clear, crisp sound.

Fairing lower speakers

Stage II Saddlebag Lid Speakers (from $A663/$NZ893) are directed toward the rider. They are waterproof 5"x7" three-way speakers that turn the latched and gasket-sealed saddlebags into large speaker enclosures for enhanced bass response.

Saddlebag speakers
Some of the products require the purchase of additional components.