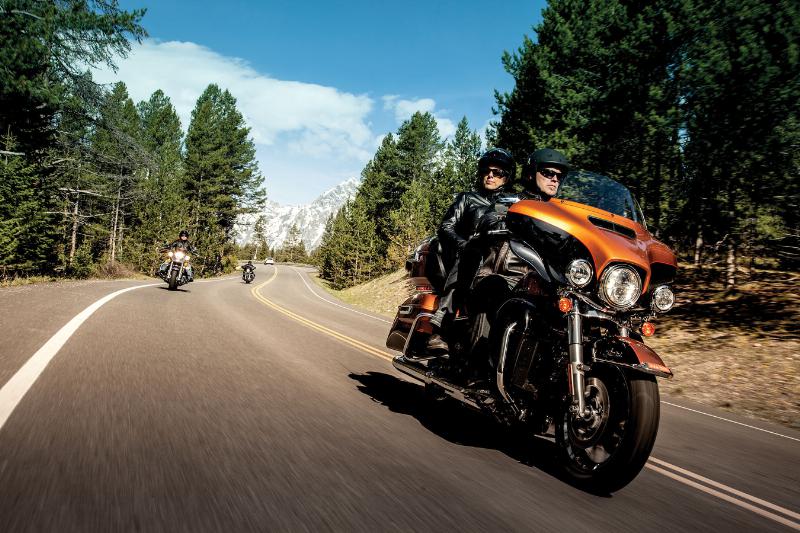 Harley-Davidson is not going totally water-cooled as the pundits predicted. Instead, they are going partially water cooled or "Twin Cooled", according to a company press release.
The Twin-Cooled™ High Output Twin Cam 103 engine is an addition to the 2014 model line-up that Harley calls its "Project Rushmore".
Harley says it is the largest-scale new model launch in their 110-year history with eight new models in the Touring, Trike and CVO lines.
They are the Road King, Street Glide, Street Glide Special, Electra Glide Ultra Classic, Ultra Limited, Tri Glide Ultra, CVO Ultra Limited and CVO Road King. The Road Glide is being discontinued.
Changes include: A more powerful Twin-Cooled engine option, linked brakes with ABS, more customisation, LED "Daymaker" headlights on some models and colour-screen Boom Box infotainment systems.
The Boom Box tech features voice recognition and a touchscreen for music, satnav and phone with Bluetooth, text-to-speech technology, plus support for intercom and CB communications in a single module.
The Touring line-up also boasts better aerodynamics, a new Batwing fairing with splitstream venting to reduce buffeting by 20%, wider and deeper seats, new back and arm rests, and a larger Tour-Pak and saddlebags with one-touch latches, sleeker fenders, lighter cast alloy wheels and new hand control switches.
In changes to other model lines, all five Sportster models get ABS and the Fat Bob has been restyled.
There is no word on a small-capacity bike for emerging markets such as India and China as predicted.
More details and photos are yet to come. MotorbikeWriter is flying to the US on Saturday to ride the new models early next week, so stay tuned.