Guy Martin has broken the speed record for riding the Wall of Death on live TV in the UK riding a specially prepared Indian Scout.
The former Isle of Man TT racer and TV presenter was the second pick behind Charley Boorman by Motorbike Writer readers in an online poll last year to replace Jeremy Clarkson on Top Gear.
However, the 34-year-old quirky Grimsby joker actually knocked back a Top Gear offer to pursue other TV interests.
They include his Speed with Guy Martin series where he tries to break various records.
For this record, a special large Wall of Death was built.
The Wall of Death was a carnival attraction that started in the US in the early 1900s with riders mainly on Indian Scouts travelling about 50km/h in a 10m diameter barrel.
However, Guy wanted to reach at least 100km/h, so a Wall of Death was built with a diameter of 36.5m.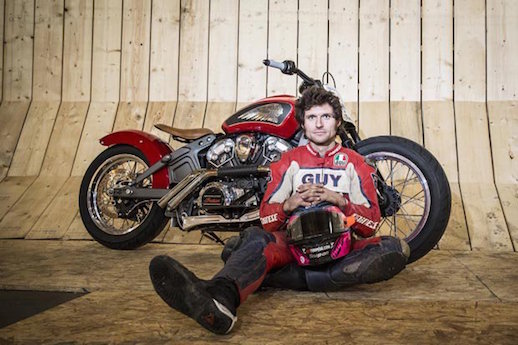 In the end, Guy set a record speed of 78.15mph (125.77km/h).
Organisers were concerned that the gravitational forces of up to 5G would make Guy pass out, so he trained by taking a ride in a stunt plane.
It was later confirmed that he reached forces of 5.2G.
The UK it series Speed with Guy Martin returns later in the year with Guy attempting more world records including breaking the 200mph (321km/h) barrier in a modified Transit van.