Painted road surfaces that present a dangerous slip hazard to motorcycle and scooter riders could son be a thing of the past with new grippy surface treatments.
Australian company OmniGrip has commissioned to replace painted surfaces such as bus and bike lanes and pedestrian crossings with their special treatment in several Victorian cities and more recently Queensland's Sunshine Coast.
Now the Victorian company is so confident that more of these dangerous surfaces will be replaced with their treatment, it is opening up in Queensland.
Dave Jones, External Affairs Director for Smarterlife the Australian manufacturers of non-slip OmniGrip road surface treatment says it is not paint, but a coloured aggregate using recycled Australian glass.
He claims it has the same grip levels as the surrounding tarmac and lasts about seven years which is longer than painted road surfaces.
OmniGrip Direct also provides calcined bauxite safety surfaces that improve grip between the road surface and a motor vehicle's tyres (motorbikes, cars, buses and trucks). It is particularly effective at reducing wet weather crashes.
The rollout of this grippy road treatment was suspended in 2020 due to COVID, but the company is opening a new office and depot in Brisbane to work with councils and state road agencies in Queensland and northern NSW.
Chief road safety expert Dave Jones says they are talking to Councils about its use but deals aren't finalised just yet.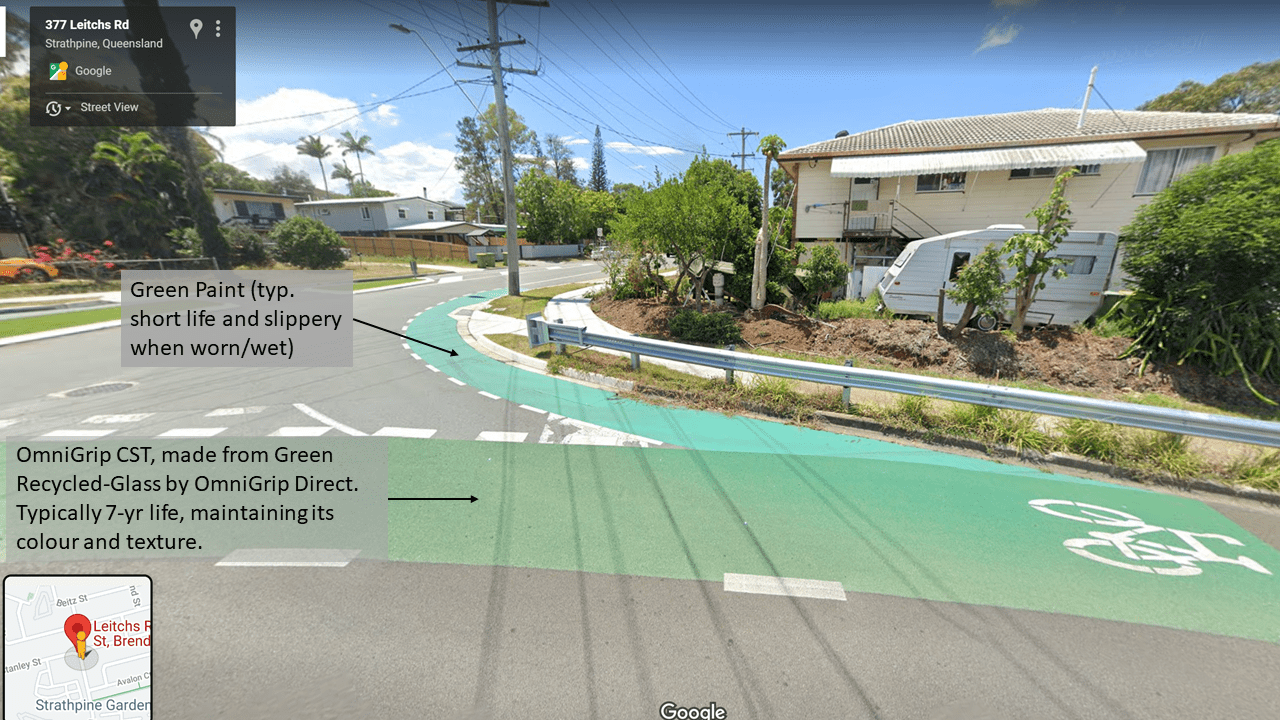 Sites in use already in Queensland are:
Stanley St and Leitchs Rd in Brendale (Calcined Bauxite High Friction Surface plus Green Recycled-Glass bike lane, late 2019)
Griffith Road and Boardman Rd, Newport (Calcined Bauxite High Friction Surface on roundabout, early 2020)
Park Road at Patricks Road intersection, Ferny Hill (Calcined Bauxite High Friction Surface late 2019)
Collins Road at Francis Road intersection, Arana Hills (Calcined Bauxite High Friction Surface, late 2019)
Clear Mountain Road at Winn Road intersection, Mount Sampson (Calcined Bauxite High Friction Surface, late 2019)
 OmniGrip Direct's safety surfaces are also used on red bus lanes and with calcined bauxite to improve rural and urban road safety.
A national industry forum heard that the Transport and Main Roads Department is lifting the standard and requirements for contractors that lay coloured surfaces on their roads such as in bus lanes and bike lanes.
TMR is also banning some types of painted products and require independent assessment and approval by the Australian Road Research Board for any product they do use.
Queensland Councils are also signatories to the process and will adopt it.
Dave has welcomed the move.
"The implication for riders is that coloured surfaces that riders cross will have higher texture, for longer, reducing the likelihood that riders will slide or skid when stopping or turning," he says.
"For example when riders turn across bus lanes or bike lanes at intersections."