TV presenter, race car driver and motorcycle fan Grant Denyer says he only got into TV to pursue a racing career.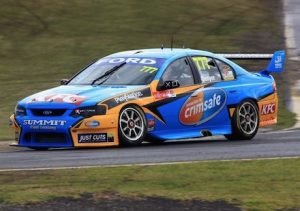 "Racing is very expensive and I worked out early on that if I got into TV I could get sponsorship to go racing," he told MotorbikeWriter at the launch of the Yamaha Tricity scooter in Sydney recently.
It has worked out well for Grant, winning state karting championships, as well as the national V8 ute and V8 support categories and an outright eighth in the Bathurst 1000.
Grant seems to love anything with a motor having grown up on his parents' farm at Wagga riding trail bikes.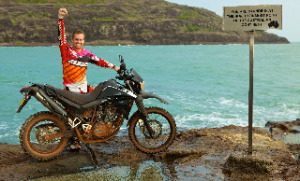 He still loves his dirt bikes and has been to Cape York on a Yamaha XT660, crossed the continent on a postie bike and has been a Yamaha brand ambassador since 2006.
"It all started for me as a six year old. We lived on the Central Coast of NSW before there was any development so I used to ride around on a motorbike," he says.
"I developed that love of machinery from my first bike, a Peewee 50. My passion for manipulating machinery started way back then. That grew into a love affair with motorbikes which grew into racing."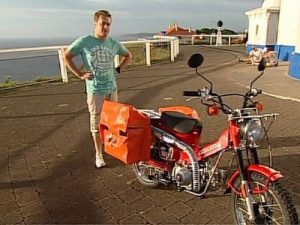 Although he loves nothing more than to go adventure riding with his mates around Cobar or dirt riding on his Bathurst property, he says his attempt to cross Australia on a postie bike was "a stupid idea".
"It took four weeks, it was hot and the wrong time of the year and I was chased by brown snakes. That was the worst thing I've ever done," he says.
"But riding to Cape York was the best thing I've ever done. Crossing rivers with crocodiles and stuff."
He did the trip when he was the weather presenter for Seven's Sunrise program and did live crosses along the way, promising he would present the weather from the tip of Cape York.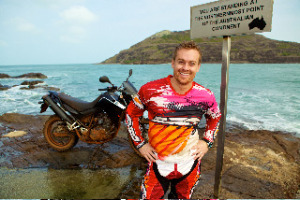 "However, the most northern point of Australia is all rock and we couldn't ride there to do a broadcast," he says. "So we got a chopper to pick up four bikes and drop them in for the live broadcast. I've never confessed that before. It was one of my greatest experiences on a motorbike."
Grant is now hosting Family Feud on the Ten Network which next year will have broadcasting rights for six of the V8 Supercar events. Grant says he hopes to be involved in the broadcasts.
"I'd love to do the reports from the pits. That's where all the emotion and drama happens," he says.
Meanwhile, you may catch him riding his Yamaha WR around the Bathurst region, no doubt looking up at the mountain, plotting his next assault.