GPA Helmet Review Summary
Open Face Helmet Motorcycle helmets can be classified by types, such as open-face, full-face, flip-up or half-helmet.
But beyond that, there really isn't all that much to physically distinguish them, other than style, colors and graphics.
A helmet looks like a helmet, more or less.
Another word for this situation might be "boring".
Helmet styling really hasn't changed much, and some helmet styles haven't changed at all.
For example, open-face helmets of today look virtually identical to their counterparts from the 1960's.
In some instances, about the only thing that's improved is what goes unseen; modern materials and construction and the corresponding levels of protection they provide.
The GPA "Aircraft" motorcycle helmet shown here is anything but boring.
Maybe the GPA helmet and the Draxtar P-104 "Tanker" helmet that we reviewed not too long ago are on the leading edge of a new trend in motorcycle helmet design, although I'm not sure what it might be called — maybe the theme helmet?
If that's the case, I like the trend, because it's bringing some fresh ideas and a touch of whimsy into the somewhat stultified world of motorcycle helmet design.
We haven't been able to find much information on GPA Helmets, which is a French company that apparently also has roots in Formula 1.
The GPA Aircraft helmet continues a recent trend that we very much dislike: the absence of country of origin labels.
We're very surprised to find that in modern regulation-heavy Europe there seems to be no rule stipulating that products must be labeled thus.
So we can only assume that our GPA helmet is made in France, but we wouldn't be surprised to learn that it's actually made in Asia under license.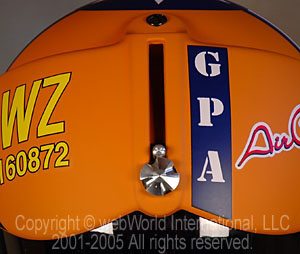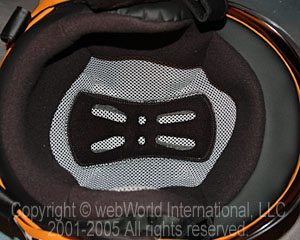 The wheel (bottom) and button (top) are used to lower and raise the twin visors.
Unlike the Draxtar P-104, which is a design that comes to motorcycling from actual use in the Chinese military, the GPA Aircraft helmet is strictly a styling exercise.
But it's also functional, because it apparently meets ECE 22.05 standards for motorcycle helmets, or it wouldn't be for sale in Europe.
We obtained our example from MotoTwin, the UK distributor, which also ships worldwide.
GPA helmets are not labeled as meeting U.S. DOT standards, but it's likely that they could receive DOT approval if and when the company decided to sell them here.
Nevertheless, this is a fun helmet that seems to generate huge interest wherever it goes.
I rode up to a local motorcycle shop during a pre-Christmas holiday sale open house and left the helmet on the seat of the bike to see what would happen.
It drew a big audience and I discovered that most onlookers aren't satisfied with just looking — they also want to touch it, probably because of its matte paint that has a sort of rubberized feel.
The paint and graphics are excellent.
I'm guessing that the graphics are applied as decals, but it's not obvious because the entire surface of the helmet has a consistently smooth feel without the raised bumps that usually signify the edges of the decal.
The Aircraft model has a unique and useful two-part sliding visor system.
The machined aluminum wheel at the top of the visor acts as a screw that holds the clear visor in place. It can be loosened to lower the visor and tightened at any position to hold the clear visor in place with friction.
The aluminum button that is located above the wheel lowers the tinted visor down behind the clear visor, and it can also be positioned at any level by simply letting go of the button, which leaves a slight tension on the visor to hold it in place.
The usual caveats about open-face helmets apply here, with wind and turbulence affecting the lower portion of the rider's face, which is the price to pay for the unique style.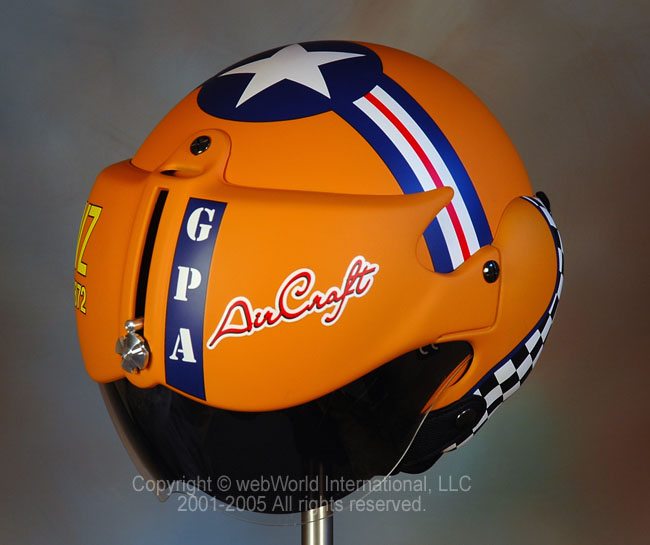 The helmet is actually relatively comfortable. It has a thin but serviceable liner that is more mesh than padding. The helmet has a slightly strange fit; it feels rather squashed in the dimensions from the top of the helmet to its lower edge.
The size XL shown here barely covers my ears, and the inside feels slightly square, like it's flat on top and vertical on the sides.
This isn't quite the problem that it might be if the helmet were of the full-face variety, because there's usually more leeway in the way an open-face helmet fits because of its looser dimensions.
The solid portion of the assembly that holds the visor does not move, and the four straps that are located at four corners around the helmet are there for style and not function.
The Aircraft helmet uses a "quick release" buckle system, which includes a small keeper for the loose end of the strap. The chin strap also includes sections of thin padding to protect the rider's neck from chafing.
The GPA "Aircraft" helmet weighs 1365 grams, or 3 lbs., 0 oz.
See the wBW Motorcycle Helmet FAQ page for more information on fitting motorcycle helmets and the Motorcycle Helmet Weights page for a chart that compares the weights of every helmet we've reviewed.
Conclusion
The GPA Aircraft helmet is a fun take on the traditional motorcycle helmet. Wear it with a three-day growth, a pair of shades and a butt hanging out of your mouth. Don't forget the surplus Air Corps flight jacket and white silk scarf!
w

BW

 Review:  GPA "Aircraft" Motorcycle Helmet
Manufacturer: GPA Helmets (France)
List Price (2005): £169.00 (approx. $297.00)
Colors: Blue, Yellow, Silver
Made In: France (?)
Review Date: December 2005
Note:
 For informational use only. All material and photographs are Copyright © webWorld International, LLC since 2000. All rights reserved. See the webBikeWorld® 
Site Info page
. Product specifications, features and details may change or differ from our descriptions. Always check before purchasing. Read the
Terms and Conditions
!
Owner Comments and Feedback
---
From "H.S." (May 2016): "Just wanted to drop a few lines on the GPA helmet. I purchased mine about a year ago and it certainly is a conversation piece.
Being an ex-flight medic it certainly had a sentimental piece as well and I will tell you it certainly was more comfortable than my Gentex.
Our local regulations allow for an ECE certified helmet to be allowed on the road but I agree with you the labelling isn't really there to support the certification.
I was told right from the company that on the chin strap the serial number starting with "E" signifies that it is ECE certified. With a helmet this unique I made sure to take a copy of the brochure which shows both the ECE and DOT certification with me where ever I go.
I agree with one of your posters that the visor could retract a little further into the static piece on top of the helmet.
As for the straps, not sure what the back ones are for but for mine I did have the optional chin piece. It fits in place nice but is a little close to your lips. When riding without this in place there is a tendency for stuff to hit your chin and bounce up under your visor.
As with your test I can't go to a riding event without getting questions on the helmet or a few people pointing at me.
Being with the veterans group the OD green was the way to go except I had a friend in a sign shop cut me a few matt black maple leafs to put in the center of the flight wing graphics.
Very pleased with the helmet overall and if you want a conversation piece for your ride this is the one to get."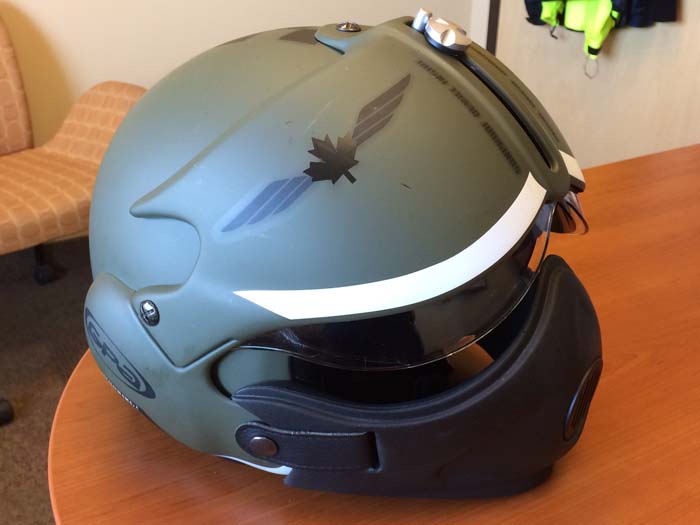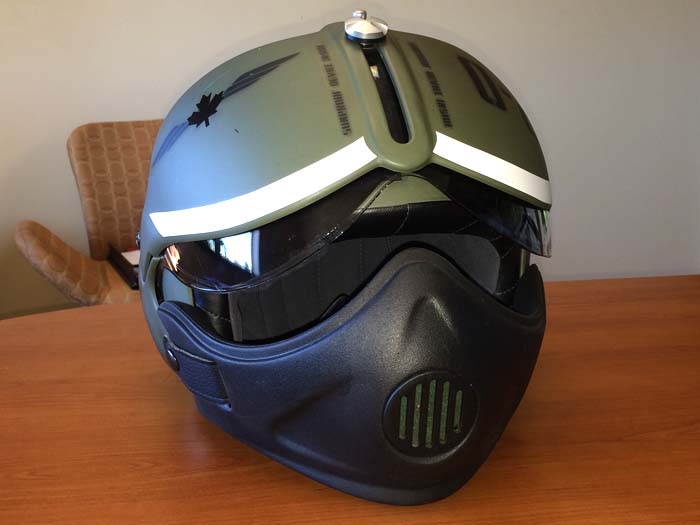 ---
From "P" (May 2010):  "I just purchased the GPA or shall we say the Osbe Tornado Helmet in orange color. The helmet seems to be built extremely well. Pads are very comfortable, knobs and the chin strap seem to be made well. Helmet is very light in weight.
After driving over 50-60 mph, the helmet is very aerodynamic, very little buffeting or vibration. The clear and smoked visor are very easy to get to while riding.
My complaint is, that the visors could go up some more, when not using them. They are a tad in the way, the positive is that it gives you a very good visor.
After reading your review and seeing the incredible graphics in the photos, I found out that Osbe, doesn't offer those same graphics. Now, it's a choice of Olive, Orange and Black.
The graphics look as if they are "Stenciled" on, not nearly as nice as it was shown in your review.
Major drawback on this helmet is temperature and venting. There is very little venting, only one on the top, but it does very little.
The helmet seems to heat up, on a hot day, it's almost unbearable. I had sweat pouring down around my chin and neck onto my bike.
This day was rather hot, about 90 deg. If they were to improve the helmet they would think up a better or more vents for the helmet.
For riding in cooler weather I would very much approve. But I purchased this helmet for Summer wear not Spring or Fall. So I'm back out again shopping for a half or three-quarter helmet."
---
From "J.M.":  "The GPA  Aircraft helmet is being sold by Osbe as the Demi Jet Tornado.