Gorillapod Review Summary
I'll bet you're wondering why in the world webBikeWorld has a review on a miniature tripod?
What does this contraption have to do with motorcycles?  Stay with me here, because I'm about explain.
Neither my wife nor I are what you would call true camera buffs, but we do take a lot of photos while we're on the road.
She's far better at composing the scenes than I am; I tend to just point and shoot.
Having a digital camera sure makes this a less costly matter since we no longer have to pay to have the pictures developed before we see that nearly half are worthless (usually my half).
The problem is that we end up with very few pictures that have both of us in the frame. It's usually "here's her at …" or "here's me at …", etc. You get the idea.
Why? Well, one of us has to operate the camera.
Yes, on occasion we get someone to take a photo of the two of us together, but then we're at the mercy of their camera skills.
And I also discovered during my trip to Vermont last fall that solo riders have similar difficulties.
So what if you always had "someone" along to take pictures of the two of you — or just you — at that scenic overlook or standing beside that fantastic twisty road?
Well, here's your "photo companion": Gorillapod
The Gorillapod Flexible Tripod
The Gorillapod was given to me as a Christmas gift, when our daughter stated that she was tired of seeing photographs of either Dad or Mom but not both.
I have to admit, as I unwrapped it, I was a bit puzzled — "Geez", I wondered, "What in the world is this thing"?
But the light came on as I realized its usefulness and the extent of its "flexibility".
I'm not a gadget guy, but this thing is really cool. Produced by a company named JOBY (of which I could find very little information), the Gorillapod has received rave reviews from around the globe.
It'll stow just about anywhere and weighs pretty close to nothing. So here's the motorcycle tie-in: because of its size and weight, the Gorllapod is a perfect match for the traveling motorcyclist.
There are three different Gorillapods; the the Gorillapod, the SLR and the SLR Zoom. The plain Gorillapod is the smallest, designed for point-and-shoot cameras weighing up to 275 grams (9.7 oz.).
The SLR model is designed for, you guessed it, Single Lens Reflex cameras weighing up to 800 grams, or 1.75 lbs. And the SLR Zoom can handle big cameras weighing up to 6.6 lbs.
The plain old Gorillapod shown here is 5.9″ x 1.2″ x 1.2" (150 mm x 50 mm x 50 mm) and weighs a tiny 1.6 oz. (45 grams). It appears to be made of some type of Space Age Polymer (a.k.a. plastic).
What Is It?
What sets it apart from other mini tripods are the legs. Each Gorillapod leg consists of nine "ball and socket joints" which allows them to bend and rotate 360 degrees.
Each "socket" has a rubber like band of material around its perimeter that provides grip when wrapping the legs around an object.
The "feet" are spheres, with the lower half of each sphere covered in the same grip material.
This material provides excellent grip on all types of surfaces. And since it's all plastic there's nothing to rust with the possible exception of the screw in the removable adaptor for fastening to your camera via the standard mounting point.
This adaptor plate screws into the camera's tripod mount, which has been standardized in just about every camera ever made as a 1/4-20 thread.
Note that some of the really tiny point 'n' shoots do not have a tripod mount.
Others have a cheap plastic threaded insert that can be easily stripped, so be careful.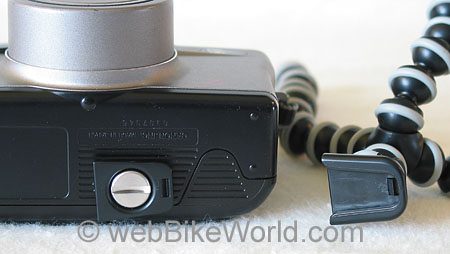 Mounting a Camera
The mount on the Gorillapod is very thin and can be left on the camera for quick set-up onto the 'pod itself.
A rotating collar on the very top sphere locks the adaptor to the pod. Additional mounts can be purchased separately for $5.00 each.
And by the way, they also have a special mount that allows the Gorillapod to connect via standard camera flash mount.
Our old 35mm camera was more than willing to come out of retirement to pose in a photo shoot with the Gorillapod.
Although this old-timer weighs less than our digital camera, the Gorillapod (made to handle most "point and shoot" cameras) had no trouble holding the weight of either camera.
The legs can be positioned accordingly to compensate for uneven loading.
Heavier cameras might require one of Gorillapod's two big brothers (or sisters) which are sturdier (and larger) to handle the heavier SLR's and Video Cams.
We had fun finding odd surfaces where we could mount this critter just to see what it could hang on to. These photos give you an idea as to the versatility of this unusual tripod.
It must have been having a good time too because I left it alone in the living room for awhile, with the 35mm camera, and came back to find the two of them hanging from the ceiling fan.
Conclusion
It never ceases to amaze me when I see the simple contraptions that some people invent.
Motorcyclists are like backpackers — we are bound by the limits of available space and weight for what we can carry along on a ride.
Taking photos along the way is how we capture the moments of that adventure to be savored again and again.
A Gorillapod can help by providing a stable, motion free platform that will pay for itself with crisp, clear photos only possible with use of a tripod.
The Gorillapod is small and extremely light weight and it stows almost anywhere.
Throw it in a tank bag, a side case, a pocket or anywhere with quick access. It sets up in mere moments for that group or solo shot previously missed.
At only $21.95 for the smallest of three, Gorillapod is my kind of gadget. Now all I need is for the ice to melt from the roads!
More webBikeWorld: 
▪ Video Action Camera Reviews
▪ Intercom and Radio Reviews
w

BW

 Product Review: Gorilla Pod
Available From: JOBY
List Price (2007): $21.95 to $49.95
Colors: Black
Made In: U.S.A.
Review Date: February 2007
Note:
 For informational use only. All material and photographs are Copyright © webWorld International, LLC since 2000. All rights reserved. See the webBikeWorld® 
Site Info page
. Product specifications, features and details may change or differ from our descriptions. Always check before purchasing. Read the
Terms and Conditions
!
Owner Comments and Feedback
Other WebBikeWorld Video Camera Posts