"Little MBW" has given the thumb's up to the new GoGo Gear Kevlar armoured leggings.
My daughter, Alice, is a permanent fixture on the back of any bike her partner, Mitch, is riding, but she likes to look stylish.
She hates the bulky nature of most of the motorcycle jeans available, so she searched around the internet for a nice pair of protective leggings to show off her skinny legs.
The problem with ordering online is getting the right size and she had a couple of failed efforts from various companies.
However, when she ordered the GoGoGear leggings from BikieChic, they personally helped her get the right size via Facebook Messenger.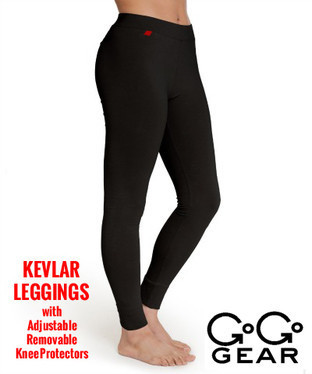 There is a sizing system on the website which suggests you get the crucial hip measurement right as the rest of the jeans will stretch to your shape.
She was surprised to find she was an indicated size 14 around the hips as she normally takes a 10 in jeans. However, when the size 14 leggings arrived they were the perfect fit.
After ordering, Alice received an email notification of the shipment tracking number and it only took a few days for the leggings to arrive.
First impression was that they were easy to pull on and felt instantly comfortable, fitting snugly in all the right places with no saggy bottom, fork or droopy knees.
They also felt supremely comfortable no matter what sort of bike she is sitting on. They have a decorative ribbed stitching on the knees which probably also serves to prevent them sagging after wearing them in a crouched position on sportsbikes.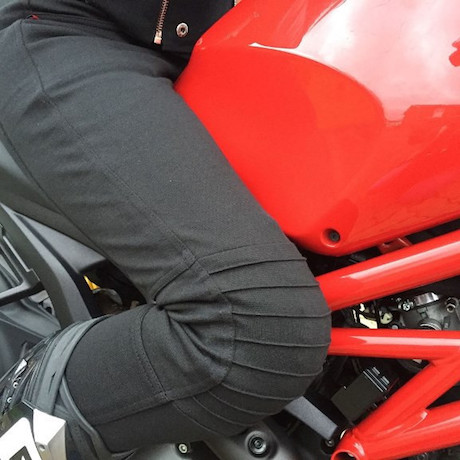 Alice took the level 1 CE-approved armoured knee inserts out as she says they make her look like a grasshopper. That's her decision.
There are also inside hip pockets to hold extra armour if you want to buy them, but I can't imagine Alice, or any woman, wanting to make their lips look wider.
The leggings come with deep front pockets that will fit most phones, but not her huge iPhone 6+. There are no back pockets, but that doesn't concern Alice as she says that would make her bottom appear lumpy.
She's now worn them on a few winter rides and says they are surprisingly warm. If it becomes really cold, she says she could easily wear them under another pair of jeans for extra warmth.
It will be interesting to see how they cope with the hotter weather, although it appears they are quite breathable.
One feature she loves is the addition of belt loops to keep them up. She says she couldn't find any other leggings with belt loops.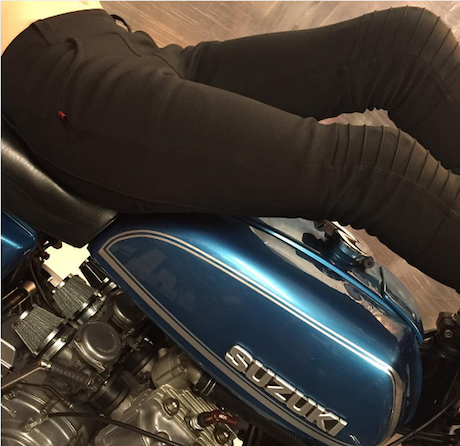 However, she says she doesn't really need a belt to keep her leggings up, but wears one as a fashion statement, anyway.
The leggings fit nicely into boots without feeling packed in and uncomfortable.
They are machine washable and haven't changed shape or shrunk with a couple of hot washes.
The GoGo Gear leggings are made of abrasion-resistant polyester cotton with 5% Spandex for stretch while the liner is a mixture of Spandex and 95% DuPont Kevlar 275gsm fibre to provide a good level of abrasion protection.
You can read all about their product testing results here.
All orders in Australia come with free shipping and they are available in women's sizes 6-26 in black only.