GMAX GM68S Review Summary
The GMAX GM68S is a high quality helmet with an interesting selection of graphics.
It has outstanding ventilation and face shield optical quality and a bargain-basement price.
Unique is the word for the LED lights in the rear.
It's officially 2008, but we started this review a couple of weeks ago and finished up all the photos and the video and the post-evaluation discussions before the ball dropped on New Year's Eve.
I even started turning electrons into HTML code before the Champagne corks popped!
So I'm officially claiming this to be the last webBikeWorld review of 2007, thus making the GMAX GM68S helmet eligible for our annual "Best of" awards for the year. Whew!
And deserving it is.
In a year of lackluster motorcycle helmet releases and thin pickings for everything else (are our criteria getting tougher, was 2007 a forgettable year or are we becoming jaded?), the GM68S was released just in time to make its mark on '07.
Truth be told, I hadn't thought much about GMAX one way or the other prior the arrival of the GM68S. I considered the brand to be, oh, something like a 4th-string contender, to be frank.
I've been monitoring their yearly lineup at the past couple of Indy Dealer Expos but I didn't see anything that led me to believe that webBikeWorlders would be interested.
But a recent GMAX ad for the GM68S in one of the motorcycle industry rags convinced me to take another look. My expectations were pretty low and I'll admit that the box sat there for a week or so before I peeled it open.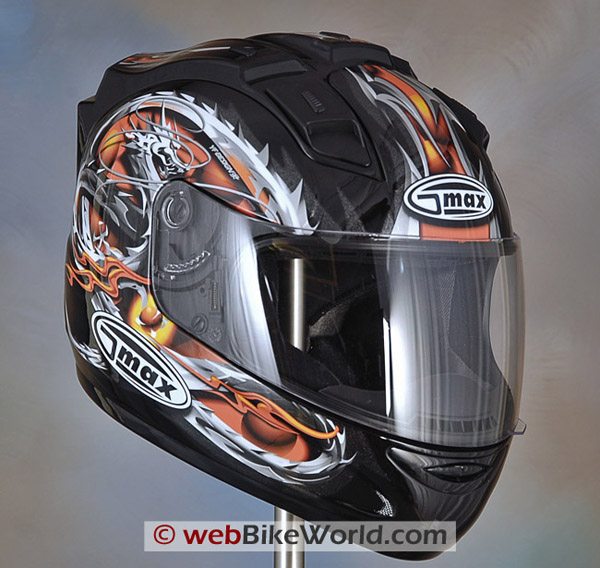 Now frequent visitors know that we get a much bigger kick out of a product that under-promises and over-delivers, and if this isn't the textbook definition of that, I don't know what is, because the list price for the GM68S is only $119.95.
We bought this one retail for $104.95, including free shipping (in the U.S.A.).
And that's not all. GMAX is having a special sale — they included a free dark tinted visor in a fleece visor sleeve, a nice, thick helmet bag and even an extra LED light cover in dark tint to swap with the standard red cover to give a stealth look, if desired.
That's right — on top of everything else, the GM68S has 6 LED lights in the back (pioneered by theAkuma V-1 Ghost Rider) which can be rotated through 4 settings: on steady, blinking, fast blinking and off.
Cool! So let's take a look…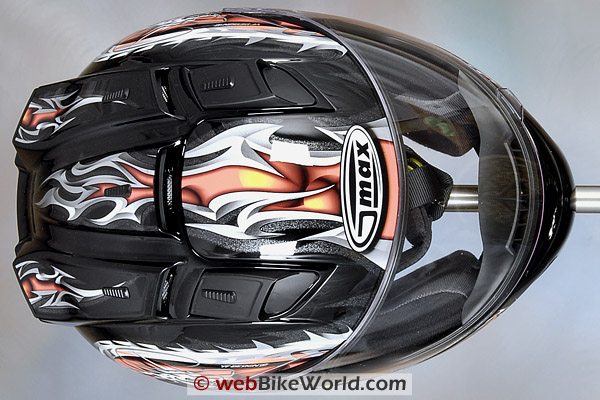 Paint, Graphics and Overall Quality
The "Dragon" graphics shown here are available with either a black or white background. The Dragon design wasn't my first choice; I really wanted a GM68S in the "Crusader" graphics, which I think look cool and different.
However, the GM68S is so new that sizes and colors were limited when we purchased this one and the black Dragon was the only choice available.
Although the Dragon graphics are nicely done, the design is a bit derivative, in my opinion.
Nevertheless, it's well executed and the paint on this example is well above average, with no orange peel nor dust bunnies underneath the thick clear coat.
And it's not obvious in the photos, but some of the pinstripes use silver metalflake, which looks very nice, so overall I give the artwork an "A".
What sets the GM68S apart from most of the other helmets in this price range — and from many competitors costing a lot more — is that all the parts work, they work well and everything has a good feel.
It isn't easy to control quality with this many parts, including the 9 (count 'em) vents; 8 exhaust vents and other bits. That everything works and seems solid and secure is very impressive.
Score: I'll give the GM68S an "Excellent" rating for paint, graphics and design and for overall quality. See the ratings descriptions in the summary table at the end of this page.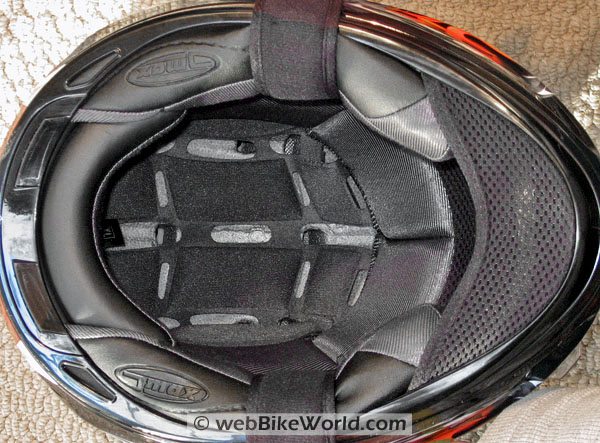 Helmet Fit and Comfort and Internal Shape
The GM68S has what we'd characterize as a round-shaped fit. The GMAX byline is "The Better Fitting Helmet", and although I'm not sure what they really mean by that, the helmet fits me ver well indeed, with the caveat that I have a round shaped head.
The size XL shown here runs true to size, neither too small or too large, but just about what is expected from this size, so I'll have to assume that any of the other sizes run true to expectations also.
The removable liner is made with Coolmax fabric, although it's been too cold here lately to evaluate the helmet's moisture wicking properties. The liner snaps are made from some type of plastic, but they seem to hold everything together without feeling loose.
The liner feels comfortable, it isn't rough or scratchy feeling and it has good cushioning.
The helmet fits correctly over my head in the vertical dimension, coming down far enough to provide protection to my chin and the lower parts of my jaw.
The top of the liner has several large channels to direct the voluminous amount of air that's funneled into the front vents down through 8 large holes in the foam part of the liner and on to the rider's head.
This is about 6 more holes than are typically found in motorcycle helmets, so clearly GMAX had superior venting in mind when they designed this helmet.
The back of the chin bar is lined with a nicely padded, fabric-covered section of material and the chin bar also has two holes through it to channel the air from the front directly through to the rider's face.
This is a definite plus because it isn't often the case; most chin vent air is directed up on to the visor instead.
For more information on choosing and fitting a motorcycle helmet, please see the wBWMotorcycle Helmet FAQ page, which also includes a discussion on head shapes.
Score:  The helmet hits all the right buttons for me, so I'll give the GM68S an "Outstanding" rating for its internal shape, comfort and for its roomy front-to-back dimensions.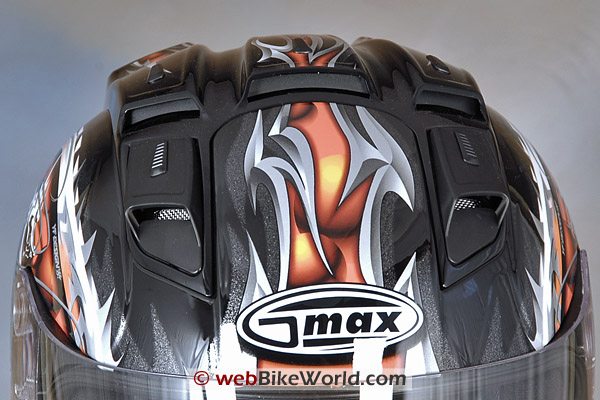 The GM68S feels like it flows more air than just about any other helmet we've tried.
There are 8 front-facing vents that I can count (GMAX claims 9, but I think they're counting the breath guard, which has vents in front) and unlike most helmets, every one of them seems to contribute to the cause.
The chin vent cover rotates down and directs the air through the chin bar and up through a rack of large channels in back of the breath guard.
Two screened openings on either side of the chin bar flow air directly through the corresponding openings in the chin bar padding; light can be seen when looking from the inside-out, so these vents actually do something, again unlike most helmets.
But the top vents are the most noticeable feature of the GM68S; a veritable two-tiered battery of vent openings, just waiting to grab some air.
The vent channels that run along the top of the helmet have 5 openings that point directly forward. Each vent has its own sliding switch to open or close the vent.
The shape and the number of vents scoop up a lot of air, which has nowhere to go but down into the helmet through the 8 holes that are clearly visible in the liner (see the Lightbox photo below for a close-up).
GMAX claims 9 exhaust vents, but we count 4 in the rear of the helmet, the two big ones on top that form the back of the vent channels and two smaller screen-covered vents along the bottom of the helmet.
The bottom of the tightly-fitted glossy gasket that covers the base of the helmet does have some openings at the rear, so perhaps this is where they come up with the 9 count, but these openings seem to be backed with the liner and I'm not sure how the air would escape from them.
But in any case, this helmet flows lots of air — probably about as much air as I've ever felt run through a motorcycle helmet and the equal of something like the old Shoei X-11, which also has good air flow if memory serves me correctly.
Now you'd think it would be easy to make a helmet with good venting if they cared to.
The problem is that more vents usually equal more noise, but on top of everything else, the GM68S is actually pretty quiet, considering all those big openings up top.
Score: The GM68S gets an "Outstanding" rating for venting and air flow.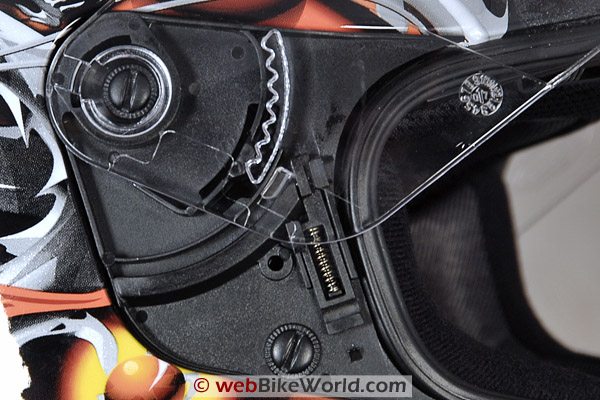 Helmet Weight
The size XL GM68S shown here weighs 1677 grams (3 lbs., 11-1/8 oz.), which actually isn't bad, considering all the vents, the thick plastic vent channels that contribute to the helmet's substance and the LED light assembly (more on that in a bit).
This puts the GM68S about 2/3 of the way up in the wBW Motorcycle Helmet Weights chart, which compares all of the 84 helmets we've reviewed as of this writing.
1677 grams is in the neighborhood of the AGV Miglia (Modular); the HJC Sy-Max (Modular); theBell Sprint full-face and the Arai XD (Enduro). But the GM68S is lighter than several other full-face helmets, including the HJC CL-14 and the KBC Force RR.
Some helmets feel lighter than they really are, while others feel a bit heavier than the readout on the scale shows.
The GM68S is probably in the latter category.
I think the large channels and vents up top, along with the LED light assembly and batteries in the rear, make the helmet feel slightly top-heavy, although it isn't really noticeable when riding because the helmet shell seems just a touch longer and lower than normal and the excellent fit balances the weight.
Score: I'll rate the GM68S as "Excellent" for its acceptable weight considering the number of features and for its good balance.
GMAX GM68S – 

w

BW 

Lightbox – Click photo to view.
Liner Vent Holes
2 LED Covers
Batteries
LED Circuit Board
Face Shield
The GM68S that was delivered to us has a remarkable face shield that more than one wearer has said is the clearest, most optically correct they've ever used.
It gives an uncanny feeling of having an invisible barrier in front of the eyes; the visor simply disappears and the view ahead seems no different than if the face shield was missing.
This is not an easy engineering feat, apparently, because even very expensive helmets get it wrong more often than they get it right. Until you've ridden behind a face shield as clear as the one on the GMAX, you might not notice, but I can tell you that there's a big difference.
I'm not sure why or how, but all I know is that the face shield on this helmet is noticeably better than any other face shield I've used on any helmet, and that's pretty amazing.
And get this: at the time of this writing, GMAX is running a special sale — they're giving away a free dark tinted smoke face shield with the GM68S.
It comes in a very nice, fleece-lined face shield sleeve to match the thicker-than-normal fleece helmet bag that comes with the helmet.
The face shield rotating mechanism on our GM68S has 6 detents, which hold the face shield in any one of the 6 positions, including a small opening to demist the face shield and allow more air on to the rider's face without getting overwhelmed.
This "crack open" feature is suddenly going missing from several helmets we've reviewed recently. A couple of new helmets have only a 3-position face shield, with the first opening position bringing the face shield half-way up.
This is unacceptable, so the GM68S gets extra points not only for its ability to keep the face shield open to any of the 6 positions, but also because it feels relatively sturdy and without flexing as it's moved up and down.
The face shield seals correctly against the helmet all along the eye port gasket and the gasket has an extra flange on either side at the top to help it seal without gaps.
This also involves some extra work and expense and many helmet manufacturers either don't bother to mold the face shield to match the helmet contour or they leave a gap at the outer edges, which can be a source of noise.
Finally, the eye port seems a bit wider and taller than average, giving the rider a very good view from inside the GM68S.
Score: We rate the face shield clarity, operation and visibility of the GM68S as "Outstanding".
w
BW
 Video: GMAX GM68S Helmet
LED Lights
The GM68S also features 6 LED lights in the rear, located horizontally at the back of the large vent channel assembly.
A switch in the middle is used to cycle the LED lights through off, on, blinking and fast blinking. We tried this feature at night and also during a foggy morning and the lights do help to make the rider more noticeable.
I wonder if it's possible that the blinking lights in the rear skirt the boundaries of the law, but we'll have to believe that GMAX did their homework and that the lights are legal.
The switch that turns the LEDs on and off is very sensitive on our helmet and we found the lights turned on unexpectedly more than once after handling the helmet.
It would have been better if the switch had a stronger detent, because it's also nearly impossible to locate and feel with gloves once the helmet is on the rider's head. The solution is to switch on the lights before wearing the helmet.
The LEDs have a red cover as standard, but GMAX also includes a dark smoke tinted cover, which camouflages the lights when it's installed but still allows them to be seen.
The cover is removed with two Phillips head screws and the two AAA batteries are located behind the circuit board, which is rather hard to remove (see Lightbox photo below). But since LED lights use very little juice, we're hoping the batteries won't need replacing for some time.
I'm skeptical of the cover's ability to keep out water, so if I was going to be riding in wet weather with the GM68S, I'd probably run a thin bead of clear silicone sealant around the edges just to be on the safe side.
But overall, this is a nice feature that isn't just a gimmick, and it definitely gives the helmet yet another advantage.
Score: Extra points for the addition of the LED lights and their potential for safety.
Noise Levels
There's usually a direct correlation between the number and size of the vents and the amount of noise transmitted to the rider, although the reality isn't always so black and white.
When I first looked at the two-tier vent system on the GM68S, I figured this would be one noisy helmet, but I'm amazed that this isn't the case.
It sort of blows all the theory away, because although I wouldn't say the helmet is quiet, I will say that it's much quieter than I expected for sure.
The vents induce a noticeable wind rushing noise along the top, and an occasional whistle here and there, depending upon the angle of attack of the rider's head vs. the air stream. I can only assume this might be better or worse depending upon manufacturing tolerances of any one particular helmet.
But overall, I'd say that the helmet is surprisingly quiet, with maybe slightly more wind rushing noise than normal, and what is noticeable isn't bothersome to me and it's a good compromise considering the amount of air that flows in.
Some or many helmets make as much noise with little or no apparent air flow, and that bothers me much more because it doesn't make any sense.
The GM68S also seems very good at controlling the lower frequency "booming" noises that are typically noticed along the bottom of a helmet. This type of noise can be especially bothersome when riding behind a smaller fairing or windscreen that dumps the "dirty" air on the bottom half of the helmet.
But the GM68S controls this noise very well, possibly because of the standard chin curtain under the chin bar in front or perhaps because the lower portion of the helmet fits correctly along the bottom of my head.
Remember that we always wear correctly fitted, high quality earplugs and an extra helmet liner when riding, and we strongly recommend that you always wear hearing protection also. See the wBW Earplugs and Hearing Protection page for more information on choosing and wearing earplugs.
And also remember that your experience with noise levels will probably be different because it depends on many factors, including your head shape, the motorcycle configuration, prevailing winds and more.
Score: I'll give the GM68S an "Excellent" rating for its ability to control noise, taking into account the amount of air flowing into the helmet.
Miscellaneous
The GMAX GM68S is DOT FMVSS 218 and it has a thermoplastic shell. It uses the preferred D-ring attachment system and the chin strap padding is very good. The end of the strap is secured with a large plastic snap. The chin strap seems more comfortable than average.
Addendum
The ear pockets on the GM68S are larger than average; there is no padding over the ears and a plastic liner over the helmet foam forms the "bottom" of the pocket, so I think that speakers could very easily fit inside the helmet and could probably be secured to the plastic liner without problems.
Conclusion
The GMAX GM68S's styling isn't subtle, but in our opinion the helmet offers high quality with an outstanding feature set.
It has the best venting and the best face shield clarity all with the best value for the money of any helmet we've seen in 2007 by far and, in fact, it's probably the best helmet deal we've ever seen since we started reviewing helmets nearly 8 years ago.
The helmet has a list price of $119.95 at the time of this writing and we found ours for $104.95, including free shipping, a free tinted face shield in its own face shield sleeve and the extra LED light cover.
So in a year which had us thinking that there wouldn't be a single outstanding motorcycle helmet, the GMAX GM68S came along at the last minute, and we're giving it the webBikeWorld 2007 "Motorcycle Helmet of the Year" award.
Congratulations GMAX! We'll have a full report on the products of the year coming soon…
w
BW
 Review: GMAX GM68S Helmet
List Price (2008): $119.95
Colors: Solids and graphics
Review Date: September 2008
Note:
 For informational use only. All material and photographs are Copyright © webWorld International, LLC since 2000. All rights reserved. See the webBikeWorld® 
Site Info page
. Product specifications, features and details may change or differ from our descriptions. Always check before purchasing. Read the
Terms and Conditions
!
Owner Comments and Feedback
---
From "D.A." (04/11):  "I bought this helmet after looking at your reviews, I want to say that I love this helmet. I have been ridding sport bikes since I was 19 and I am now 35. I have had several helmets threw the years fro Arai, Shoei, HJC and so on.
I must say the Gmax GM68 is right up there with my $400 and $500 helmets. I was surprised with the weight of it. From the looks you would think it would be a little bulky and unbalanced feeling on your head but it is quite the opposite.
Noise level is minimum and the shields are amazing. Gmax knocked this helmet out the park!"
---
From "D.M." (03/11):  "I recently purchased a Gmax 68S XL helmet as per your recommendation. I had also been wanting an HJC modular helmet which just had gone down $100, but this helmet was also on sale.
I bought the Gmax because being a newbie, I figured the safety lights would help me out much more and keep drivers safely back by not crowding me. So far it has worked well, even on a foggy morning.
I do find it very noisy with the wind but engine noise is quiet due to the wind noise. Maybe I have too many vents open. I also purchased a Cortech GX Air jacket with a pair of Cortech Accelerator gloves. By the way, the bike I bought is a pristine 1996 Yamaha XV535."
---
From "J.R.H." (7/10):  "I have been very happy with the fit and comfort of my GMax Crusader helmet for almost two years now, but have to admit that I never used it on the track — it was my 'bargain' helmet, appropriate for light street use but not track duty.
Well, unfortunately I put it to the test in a crash last Sunday and since I was moving at a good pace, I was amazed by how well the helmet took the punishment.
I sustained no damage to my head or face, internally or externally — the helmet did it's job and protected me, which I am obviously very happy about.
No surprise that the venting system broke off, but the shell was totally intact and even the face shield stayed in place (it even still ratchets). I will have no qualms about replacing it with another GMax lid, and will also not hesitate to now use it on track days too."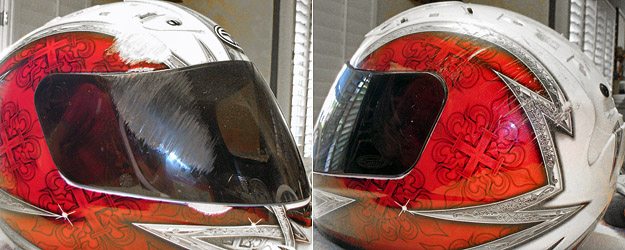 ---
From "A.A." (4/10):  "I bought a GM68S after looking at a bunch of helmets, and taking a trip to the local bike shop to find out what size and shape my girlfriend's head was for her first helmet.
Came to webBikeWorld to check out what might fit and found the GM68S and there glowing review. So I (bought one).
She loves the helmet and all the vents, took it out for a ride this weekend and she didn't say it was noisy, heavy or any of the stuff I would complain about in a helmet.
Yesterday I went to go pick her up from work which is about 2.5 miles away and figured the weathers nice I'll pick her up on the bike. I locked her helmet to the side of the bike and took off.
When I got there we noticed that the plastic screw and black cover that holds the sunshield and face shield in place on one side was missing. It must have walked its way out of the helmet.
It was only used twice, so I emailed Gmax and hopefully they'll take care of it. I'll keep you guys posted. I'd recommend anyone with the sunshield use some temp Lock Tight on those screws."
---
From "S.T." (4/10):  "I recently bought the GM68S helmet out of a catalogue at our local dealer. I perused the many pages of helmets and liked the price and looks of the mat black lid.
The lights, in my mind, are a good safety feature that may well pay off someday. I can not compare with many other caps but this one fits me perfectly.
My shaved head has the wind and rain sensors on alert at all times. I got caught in a rain storm last week (40 deg F) and I did not feel any rain in thru the air scoops.
It is a bit noisy and I am behind a small wind shield but have absolutely no buffeting. I did notice that the material on the cheek/jowl is already seeing signs of wear from my 5 o'clock shadow. I think this will be a problem for me very shortly.
Overall I would definitely recommend this lid to anyone. After I bought the helmet I read the reviews and had to agree with most points. Keep up the great reviews on products, I use them often."
---
From "A.K." (6/09):  "Bought the GM68S Monday. What a great buy. $100 for helmet, dark shield, helmet bag, blinky lights, etc.
I rode over 5.5 hours on Tuesday with the helmet. Wow, is this thing light. It flows more air than any helmet I have ever owned or tried. I didn't really hear any of the booming noise from the neck opening like I hear from most helmets.
At least to this point, this is the most comfortable helmet I have ever tried. Amazing value. Would probably be a terrible winter helmet for even with all the vents closed it still flowed a great amount of air.
Not the greatest fit and finish when compared to Shoei or Arai, but then again they are out of my price range. Well done GMAX and thank you WebBikeWorld for giving me the heads up."
---
From "NJW" (1/09):  "First of all I'd like to say I thoroughly enjoy this site. This is my FIRST stop when researching motorcycle equipment especially helmets. I bought two lids based heavily on the recommendations of webBikeWorld (this one and the Scorpion EXO-400).
The finish and materials are excellent. The helmet bag is good quality and the included for free smoked face shield also came with a very good face shield sock.
This further solidifies the fact that you no longer need to spend upwards of $300 to get a quality helmet anymore. "Well do you have a $120 head or a $400 head?"
Yeah right; it's DOT certified so I tell the nay-sayers to jump in the lake. Shoei, Nolan, Arai: I'm sorry but you no longer occupy my dreams.
I have the GM-68S Dragon just like the photo on the site. I have a large, round cranium and the XXL is very comfortable. Despite the large top vents and the L.E.D. assembly the helmet does not feel heavy. Is it Shoei X-11 light?  No, but my EXO-400 feels heavier. The padding removes and replaces easily for cleaning.
I concur with the site; there is a LARGE volume of air moving through the vents.
I first wore this helmet on my cruiser with a windscreen and was at first a little concerned that the reviews may not be true as the volume of air I felt through the vents while riding a cycle with an upright position was average to a little above average. Then I wore the helmet while riding my Sportbike.
The GM-68S must be optimized for Sportbike aeros in mind because there was a veritable torrent flowing through those vents caused (I speculate) by the change of slipstream.
Not sure if it's because of the venting, but this is a L-O-U-D helmet. I wear earplugs (when I remember to…oops) so this isn't as big of an issue to me.
The anti-fogging capability is better than most but not as good as helmets with anti-fog face shields; my EXO-400 is much better in this regard. It has a slightly "cracked" position for the face shield to aid in this and yet not freeze your eyeballs out.
The sleeve under the chin-guard keeps cold air/wind from flowing underneath and is also included.
Switching out the face shield seemed relatively simple but I've only done it once to see how to do it.
To those thinking the LEDs on the back are a gimmick: maybe so but anything that aids in visibility and therefore safety is no gimmick. These lights can be seen from at least 2 blocks away.
There is very little battery draw as I've had this helmet for 4 months and am on the same set of AAAs (and this is even forgetting to turn them off for hours) with a minimal loss of illumination.
I would definitely buy another one. The value per dollar is high. I can see why this was a webBikeWorld helmet of the year. Happy riding."
---
From "G.C." (1/09):  "After doing some research on the plethora of helmets out there I purchased a GM68. I wanted to shoot you a quick message to thank you for the review which was very helpful.
This being my 1st helmet I really have no basis for comparison, however from a person that has never owned one before I can say the fit was 'spot on' and the overall comfort of the liner was good.
The ventilation is good but as with any helmet with lots of vents a bit on the noisy side.
As described the face shield is great and quite easy to change even for me… Overall for the money its a good comfortable helmet and look forward to many days of riding. Thanks again for the review and the video you posted."
---
From "Zh" (12/08):  "I have been using this helmet for about 2 months now. The GMAX brand is marketed as SOL in Malaysia. The model line up as well as graphics are identical. In fact, on the visor of my helmet, there's actually the GMAX logo. Here is a picture of the SOL version of the 68s:Photo 1 and Photo 2
The SOL brand is hugely popular in Malaysia because of its economical price and attractive design.
The only previous helmet I have used is the Rjays Striker (review) (which is one of your user-reviewed helmets).
Comparatively (with both helmets being size M), the Rjays liner feels more supple and instantly comfortable unlike the GMAX which was slightly tight at first but needed a week or of 'running-in'. But after that period, it was quite comfortable. No problem for long rides.
The ventilation is miles better than the Rjays. Which is important when temperatures range from 35-40 degrees Celsius and it is very humid. But, there is a downside. The GMAX is NOISY. I recommend earphones especially of speeds above 100km'h.
The visor clarity is second to none and the paint has a quality feel to it. No complaints there.
One disadvantage of the 68s to me is the lack of EPS in the ear and cheek area. Which I have noticed (in) none of the GMAX helmets have.
I hope webBikeWorld will review more GMAX helmets as they have a quality line up of lids.
Thanks. Keep up the good work."
---
From "L.M." (12/08):  "Hi, I submitted to you awhile ago that I fixed the vents on my Gmax 68S helmet and I just noticed someone inquired how I did it. Here's how I did it:
Remove the LED assembly from the rear just to get it out of the way.
The two front scoops pop right out. They're held in by 3 tabs, push the front of the scoop up and towards the back and it should pop out; just be careful not to break the tabs. Work it carefully!
Removing the two front scoops will reveal a plastic Phillips head screw on each side.
Remove the plastic extractor covers on the back the same way: they just pop out. Use a small, thin, flat screwdriver or something similar to work both of them out. This will also reveal a plastic Phillips head on each side. Unscrew all four and the whole scoop/extractor comes right off.
I used a small flat screwdriver to poke a hole in the mesh screens then used needle-nose pliers and a hemostat (I have access to medical stuff because of my job, I'm not a pothead) to remove them from the helmet. This takes a little bit of work and time.
Once the mesh is removed you have great access to the Styrofoam and can remove whatever foam is blocking access to the inside of the helmet or just widen the hole using a pencil – of course, do this at your discretion.
And no, no Styrofoam came out with the mesh, so I'm 99% sure I did not ruin the integrity of the protection of the helmet.
Like I said previously, I messed with the liner inside also to make sure it lined up with the vent holes. If you look at the liner the way it is, you can see that some of the ventilation holes are blocked by the liner. I took the liner out then separated the front of the liner where it's sewn together using a seam ripper and carefully removed the thread.
I then used adhesive Velcro to make sure it stayed where I wanted it to when I put it back in – one side of the Velcro applied on the Styrofoam and the other side applied to the liner. I used only four SMALL pieces of Velcro to achieve this.
Remember, do this at your own discretion. Adhesive on the Styrofoam will cause it to degrade over time just like any substance will.
Once you're satisfied you've cleared out the vent holes of whatever may be blocking the airflow, just put everything back together!
Scoop/extractor on top attached with four Phillips head screws, plastic extractor covers pop right back in, the two front scoops also pop right back in.
Push the front tab in first after you align it, then the back of the scoop down and it should lock into place. Don't forget to put the LED lights back in, too.
Yes, it's a bit of work, about an hour and a half's worth if you take your time and do it right. You do get more airflow once you do all of this.
The downside?  It's a little bit of work and any bugs or debris that get in the scoop while riding can make their way to your head!  That's why I wear one of those UnderArmour cap things on my head.
The upside?  I only paid a total of $105 for my Gmax including shipping, and it flows way more air than my Shark RSR2 ($400 sale price) ever will. Yes, I've looked at my Shark helmet and there is nothing I can do to improve it. It's ventilation system just plain sucks.
Oddly enough, removing the mesh screen from the front vent that provides air to the face shield did nothing to increase airflow. Just leave that in.
Finally, one more time: do this at your own discretion. We've all seen this statement: 'Altering your helmet may make it unsafe to wear!'"
---
From "justsayyes" (11/08):  "Comment – I've been using the G68S for about four months now and have the following comments.
First; however, I'm riding a BMW R1100S with the stock (low screen), and raised rear ride height along with the low-for-a-BMW clip-ons – meaning the riding position is a slightly lower crouch than a Ducati Monster. I purchased the Gmax to replace an aging and damaged Shoei RF-800.
Fit:  Slightly tighter than the Shoei, especially the narrowing taper to the opening and at the crown. Both were XL's, but the Gmax is slightly tighter, and definitely rides higher (probably due to the tighter fit at the crown of the head).
Materials/Workmanship:  Just fine, in fact great for a $105 helmet. Vents could fit a bit more flush, vents could open and close more positively, chin strap could be softer, but it is a full $250 cheaper than an RF-1000. Mine is matte black.
Visor:  Clear is superlative. Smoke is also great when NOT looking into a low angle sun. Getting both along with a fleece bag is just terrific.
Venting:  Between the riding position and fairing, the angle of attack for the vents are just wrong for me. I expanded the foam liner holes with a pencil, to get more air-flow, but it's still not great.
I believe it's actually pretty good though because if I raise my head up a bit and look straight ahead, then the air-flow improves considerably. Here in Northern California, the cooling qualities of a helmet are pretty important in the summer.
Bottom line is that if it's hot enough, I try to ride in a more upright position to maximize the airflow through the helmet.
One other saving grace, opening the visor just one indent improves air-flow quite a bit without increasing the noise or letting much turbulence into the front of the shell.
Noise:  LOUD, seriously loud. However, as with venting, it appears to be at least attributable to the angle of attack for the vents. Noise lessens when I get my head out of the turbulence caused by me windscreen.
When I open the visor one indent, the noise doesn't increase, but it DOES get lower in tone which I find less bothersome. Bottom line is that you need decent ear plugs with this helmet all the time. With my Shoei, I could skip the ear plugs for rides less than 30 minutes; not so with the Gmax.
Conclusion: Great, cool looking helmet for the money. No regrets here."
---
From "B.C." (10/08):  "When Vega decided to quit supporting the Summit XPV modular helmet, and I couldn't find a way to rig the broken cable that released the catches to open the helmet, I decided to try something different.
Went to my local motorcycle shop and found the GMAX GM68S at a bargain price, I had to have it.
For just over $100, a helmet with all the vents to keep my head cool in Texas heat, a clear AND a tinted visor, and even the LED lights in the back. Mine even came with the tinted cover for the lights.
So I brought home, and decided to see what exactly I bought. Backwards yes, but it was cheap and I didn't care lol.
That's when I came across your website, and knew I'd made the right purchase. Not only did your review of the helmet give me all the information I needed, the comments from the users were great.
Almost everybody loved the helmet, and those that didn't seemed to be using them in situations not designed for the helmet. But (KD's comments below) made me glad I chose it.
Then yesterday, that comment rang true again. This same helmet saved my life. Nothing like what happened to (KD), but a wreck those who haven't been in, fear gravely.
I was leaving for work at 1:30 am, and was about 5-6 car lengths behind the guy in front of me. Figured I should slow down from the 55 mph speed limit so I could use my brights, as I had seen deer on this road at least twice a week.
About the same time I thought that, wouldn't you know, here comes Bambi skipping across the road. All I remember is seeing the deer directly in front of me, and then smack, then I'm crawling around on the ground.
Took the helmet off and though the black ring that goes around the outside bottom edge fell around my neck, the helmet was in one piece, as was my head. Have a broken shoulder blade and a swollen hip, but didn't even have a headache.
The whole helmet is scratched pretty badly, and the back cracked on the right side (apparently that's the side I landed on according to my injuries), but it saved my life. I'm attaching pictures to prove it.
I must say, I'm 100% with K.D. on his last sentence. 'Gmax is the only helmet I will ever wear…'"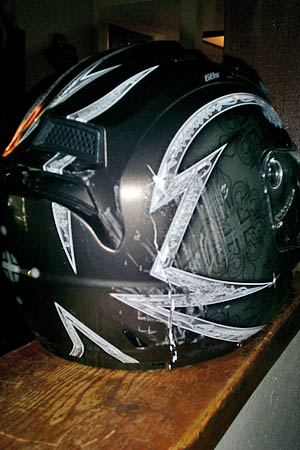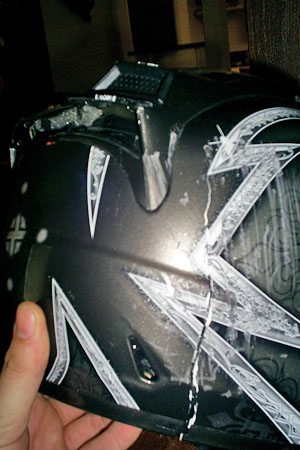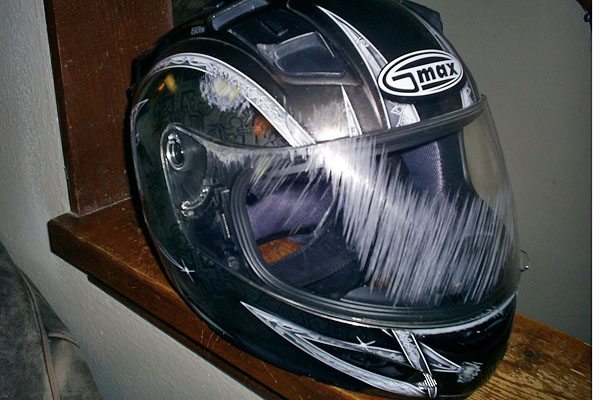 ---
From "D.J." (10/08):  "I purchased the GMAX GM68S helmet after reading your review and just got it today.
The main selling point for me was the amount of air that the helmet flows according to the review. I live in Hawaii, so the weather is always pretty warm and airflow in a helmet is extremely important to me.
Unfortunately, and maybe I got a bad helmet, this helmet feels like it flows almost no air to me. My previous helmet, a Joe Rocket RKT101, flowed a LOT of air, but was very noisy.
The GM68S is very quiet, but at the cost of me feeling my hot breath bounce off the visor and back onto my face even at highway speeds & leaving me with a very sweaty head. I imagine this helmet would be excellent in a cold climate, because it feels like my head is completely sealed off from the outside world in a vacuum.
A previous review from "L" had airflow problems as well, so it could be a defect in manufacturing i suppose. He fixed his by altering the helmet, but I'm not sure exactly how he went about it (did he remove the mesh from the inside of the helmet, or did he pull it out of the vents from the outside, etc?)
Editor's Reply:  Apparently, some of the helmets have a problem where the fabric liner blocks the air channels through the EPS foam, and/or some foam bits were left in the air channels, blocking the air flow.
This is a common problem with many helmets, unfortunately. Try looking under the liner and see if the air channels that come through the foam are clear and that there is a direct channel out to the vent. You can try blowing through the vents while holding your hand on the inside of the foam to check for air flow.
We did not have this problem at all with ours, but apparently some of the newer GMax helmets are having this issue.
D.J.'s Response:  "I took the lining out and checked out the vents. The front vents did seem to be a little closed off, so I tried to clean them out with a pencil like "L" did. That helped, but still not as much air as I would like.
I think the Joe Rocket felt like it flowed so much air because there was no built in wind guard under the chin, which allowed much of the wind bouncing off my body to be directed up under my chin and onto my face.
That is probably why the helmet was so noisy as well. Like they say, I guess there is no free lunch. Quiet or Air, take your pick."
---
From "L" (10/08):  "Hi, enjoyed your review of GMax's GM68S helmet. When I got mine, yes, it vented well, but not as well as I thought it would. So I separated the liner inside so the liner would actually line up with the holes in the foam better.
I separated the middle liner from the front by undoing the stitching then using adhesive-backed Velcro to hold the liner in place.
That helped, but still not great. So, I decided why not and carefully tore out the screen mesh covering the vent holes. In doing so, I found the two top front holes were completely covered by the Styrofoam.
I used an unsharpened pencil to clear out the holes. After reassembly, I took it for a ride. Wow, what a difference! Totally different helmet now.
Of course, I don't recommend these actions, but in doing so I fixed some "problems" with my helmet. I live in Florida, so any ventilation is important."
Editor's Reply: Yes, we've noticed also that the air channels in many helmets are either blocked or don't line up with the corresponding holes in the liner. It pays to take a look at these when the helmet arrives.
---
From "DT" (9/08):  "I recently purchased the Gmax helmet after my Vox modular started to come apart. I was looking for something that stood out in the crowd. The GM68S certainly supplied that. I ride a V-Star 1100 and have owned several helmets before this one.
I love how clear the visor is. No complaint there. When I went out to ride the first day I got it, I couldn't tell if I had the visor up or down. Even the tinted visor, which I use primarily, is crystal clear.
The vents make a huge difference here in (Texas). I decided to test the helmet and left it out in the sun for a few hours before I went to ride. Within a mile, the helmet was already cooled off. I actually felt hot air coming out of the back exhaust vents!  To me, I love the vents.
One big problem I did notice is the noise level. It's LOUD. Upon closer inspection, I noticed that the vent system didn't quite match the curve of the helmet. I think I'm going to try a little silicone in the cracks to see if that will quiet the noise volume.
I do have to say that it is one of the quietest helmets I have owned. Also, in the corners of the visor there is a significant gap. it looks as if the helmet I received didn't have any seals there. I think a little bit of foam tape will clear it up.
I did like the way the artwork was done on the helmet. I found no chips, scrapes, or flakes when I looked over my helmet. I have had several compliments on the paint scheme.
I haven't had a chance to look at the Crusader artwork in detail, but if it looks as good as the dragon scheme, then it'll be a true work of art.
As far as the sizing goes, I always go with the next size up when I order helmets. The sizing chart said I should have worn a large, but I went ahead and ordered the XL.
The XL is tight in the cheeks, but after wearing it for about a month now, they have started to loosen up considerably. I guess it's the shape of my head, but the crown in the helmet feels like it sits further back on my head than my other helmets.
One of the main reasons I decided to go with this helmet is because of the lights.
During the day people don't see them much (being little LEDs, they can't do much). But at night, I had a friend tell me he could see them flashing almost a quarter mile off. I guess, that means they work pretty well.
Overall, this is a marvelous helmet for it's price. I'm sorry to hear about "WJ" (below) and that helmet. My chin strap is firm, but smooth. I haven't had the opportunity to purchase any Shoeis or Arais, but from what I came from, this is one of the best helmets I've ever owned."
---
From "JA" (8/08):  "I've had my G68S since March 08 and have put about 6000 miles on it riding a VTX1300S and my '06 BMW R1200GS and I can say that it's one of the best helmets I have owned at any price.
The shield's optical quality is by far the best of any shield I own (I have 11 helmets ranging from $99 cheapos to a $600 Arai and several Shoeis).
My first smoke tint shield had a foggy film that could not be removed, but the dealer quickly replaced it with another tinted shield that was clear.
The noise level is low, but still significant enough to warrant wearing ear plugs IMO. The fit and finish is very good with no obvious poor fitting components like vent intakes and such.
The padding and Coolmax fabric do a wonderful job of wicking the sweat away from my head even in 95 degree heat.
I usually wear a polypro helmet liner on the hotter days, but even without it I'm impressed with the comfort level this helmet offers. I have to believe "WS" (below) got a bad helmet based on his review which is so far out of spec with the other reviewers here."
---
From "J.B." (7/08):  "I bought this helmet approx 1 wk ago. I ride a GSXR 600.
So far I have been very impressed with the helmet. My last helmet was a HJC CL-15; similar cost, however a lesser helmet in my opinion. They have similar noise levels and the Gmax has much better venting. I have noticed a whistle noise on the new helmet that is a little annoying!
The overall fit and finish of the Gmax is better. My visor on the Gmax seals better and is MUCH clearer than the HJC. The cheeks were a little tight at first: I stuck a bowl in the helmet for a couple of nights and it helped to break them in- the helmet fits wonderfully otherwise.
So far I am very impressed. Great helmet at a VERY reasonable price.
Thanks for all of your input and work at webBikeWorld.com! "
---
From "W.J.":  "Thanks for the wonderful website and reviews. I visit daily and love to see a bit of scientific method put into your review techniques. Anyway, here are my comments on the helmet.
Just picked one up the other day for track days. I wanted something with good ventilation as I sweat a lot while on the track. So far I've only used it on my VFR. My impression of this helmet is as follows:
Pros: Good ventilation. Price.
Cons: Poor build quality, it definitely feels like a $100 helmet. A couple of the vents don't fit the helmet shell properly. Optical quality is extremely poor. The tinted shield is unusable.
Shield function is very poor. The shield flexes so much that I pretty my need two hands to raise it. Not a great idea while riding in traffic.
Not a fault of the helmet but the fit is odd for my head. My HJC Carbon and Shoei RF-1000 helmets fit me perfectly. This fits very differently.
Very noisy. Noisiest helmet I've ever worn. The D-ring is terrible. One of the D's always seems to rotate 90 degrees and makes tightening the helmet difficult.
The chin strap is of very poor quality, it's so flimsy that it tends to fold going though the D-rings. Also, it's much too long. It flaps in the wind even when snapped down.
Overall I am very underwhelmed with this helmet. It seems that every aspect of the helmet is flawed except ventilation and even a couple of those look like they may come off when I hit 290 km/h on the track.
It will likely be pushed to the back of the closet and only used for the occasional passenger. I tend to take webBikeWorld's reviews as gospel so I'm chalking this very poor product up to lack of quality control. I would not recommend this product to an enemy."
---
From "B.S.":  "A couple of comments on my experience with the helmet:
1) The sizing, for me, was not quite as listed. Perhaps I have a different shaped head (seems pretty round to me), but I wear a Shoei Large and my head measures in the range for a Large for GMax, but I couldn't even get my head into the helmet.
So, if you can try before you buy it might be a good idea.
22) The second helmet I got was the correct size, but the cheek pad snap attachment broke the first time I tried it . I hope this is not an indication of build quality. The rep I spoke to at Motorcycle Superstore said they were having quite a few returns on these, not encouraging.
3) Motorcycle Superstore has been wonderful to deal with so far.
No problems with either of my returns. Every call to them has been answered quickly and professionally. I think I've found another favorite vendor.
I'm really hopeful that the third time will be the charm. I'd be interested to know if anyone else has had issues with these helmets, specifically with quality and durability.
I know it's not a $400 helmet, but no matter how inexpensive I think there is a minimum level of quality that should be expected of a protective device."
---
From "tahlsau":  "Hi, i'm stahlsau from Germany and i just wanted to thank you for this review, this is by far the best helmet I've ever owned. Since they aren't sold normally here in Europe (I bought) one at eBay US, and after a fair amount of time at the customs (about 4 weeks) it arrived.
After opening the box i was really impressed because of all that stuff that is shipped with it, be it an additionally visor, a darkened cover for the LEDs, … Well, the LEDs seem a bit childish to me…I just don't like the idea.
It's like flaming airbrush on cars, just a bit too much. But no matter, I've installed the dark cover and now no one can see them.
The visor is, just as stated in the review, the best I've ever seen. The clear vision is superior to all other visors I've had before, and fogging is no big problem too.
Sure there are helmets with double visor that don't fog, but they mostly have a somewhat blurred vision (sorry, English isn't my first language, I hope you get what I mean ;)).
The locking in any desired position is very save too – I ride a naked bike and it doesn't move at 200km/h with the visor a pin open.
The fit is superior to all other helmets I've tested, too (I have a round head, and size XL fits absolutely perfect). I've never experienced such a tight, but none-hurting fit everywhere around my head, it feels just comfortable and safe.
The double-D-lock seemed to suck at first, but well – if you get used to it, it's really easier than the other locks. I always thought double-D is a step back, but that doesn't seem so anymore.
The noise level is pretty high I think (as stated before, naked bike without any windshield or s/t). It's not that the visor lets too much wind through or something, it's just a high peeping noise all from 60km/h up to the end.
Like a flute or something. I'll try to soften the air inlets with a file, maybe that will help. On the other side, after a few minutes you don't hear it anymore…
Anyways, the absolutely Best Thing ™ is, that this helmet is totally neutral in the air. With a naked bike at 200km/h there's no force up/down or left/right, no turbulence, nothing (sure, the pressure of the wind from front is still noticeable ;))
Thanks for the review, keep up the good work!"
---
From "D.S.":  "Just so you know, you are right on with this helmet. I bought one because a local motorcycle store had recommended it. They were out of stock and on backorder so while waiting to get in, I found webBikeWorld.
I really thought at first that the salesman was just trying to get me to buy any helmet since they didn't have the much more expensive one that I went to buy.
I am so glad that I found your site, because after reading the review I ordered one and got the helmet for about $50 less than the dealership.
I don't know that I've ever said this about anything before, but I will say it now, this helmet is worth so much more than what it cost and I still would have thought I got a great deal at full dealership price! price!
I ordered a S even though GMax suggested a XS for me. I have problems with chronic migraines and didn't want to have a helmet that was too tight. The small is perfect, fits better than any helmet I've ever had and looks great too!
There's nothing about the helmet that I don't like and I will continue to go to webBikeWorld for reviews and suggestions! Thanks for a great job!"
---
From "C.K.":  "Hello. I recently picked up one of these based on your excellent review.
Wow. What a great helmet, even at twice the $107 it cost me to get it to my door.
After some searching on the Motorcycle Superstore site, I found a separate listing for the SPC model. It comes in a very subtle flat black color, which really shows off the red LED cover on the back, and the chrome mesh in the vents.
Oh, and those vents. Amazing. They actually open to the inside of the helmet, instead of through magical channels we are forced to assume are there.
The visor, another feat. Perfectly clear, and like you said in the review, until you've experienced it, you can't know how good it can be.
The chinstrap could be a little softer, but I have a feeling it will slowly break in just fine.
TThanks for a great review, and info on a helmet I never even would have known existed without you."
---
From "K.P.":  "I am sorry, but I have to disagree with your take on the GMax helmet. It has a great price and a FANTASTIC face shield, but the helmet is so noisy that my wife and I have gone back to our HJC's after only about an hour of riding.
We broke out the earplugs on the way home and it helped some, but we were not able to hear the radio or each other over the wind noise.
I believe the helmet too narrow for a good fit with our J&M head sets too. We don't normally wear ear plugs unless it is very windy and were very happy we had them in the saddle bags.
I'll be fair. Perhaps the wind coming around and over the windshield of a Goldwing were not the conditions you tested in, however the wind noise was so bad I have a hard time believing this hat could ever be even close to quiet.
Keep up the work though. I think most of your reviews are dead on."
Editor's Reply:  Thanks for the feedback. Yes, riding behind a fairing or windscreen can completely change the perceived noise levels in a helmet. We've mentioned this many times — windscreen turbulence is one of the biggest factors in helmet noise.
As we state in the helmet reviews, we always wear high-quality, correctly fitted ear plugs; all bets are off without them.
I think the GM68S is more oriented towards Sportbike riding than touring, and it probably wouldn't be my choice of helmet for installing speakers or for a touring bike with an upright seating position.
We usually try the helmets on several different bikes during the evaluations, with and without windscreens, but it's impossible to know how the helmet will react on every motorcycle type with every rider and riding condition.
The air coming over the top of the Goldwing's windscreen is probably causing lots of turbulence right at the top of the helmet where the big intake scoops live, so I guess I'm not surprised that this helmet may be noisy on a motorcycle of this type.
---
From "L.Y.":  "After I read your review I went and bought the helmet and I love it. Since this model is so good, any chance of your reviewing the GM58?  It looks like it has less protruding vents, and might be quieter and less turbulent, and it costs less. If it fits the same I'd consider getting one.
Keep up the good work, especially with helmets like this one and the Akuma Ghost Rider (review)and the Akuma Stealth (review), since I'll never get to actually see one in a store since no stores keep them in stock.
Cycle Gear should really pick these guys up instead of whatever crappy cheap sub-$100 helmet I saw there last time, but they probably won't because the great value will make their Arais and Shoeis look bad. Thanks!"
Editor's Reply:  Yes, we will definitely review more Gmax helmets!
---
From "K.D.":  "On Jan. 23, 2008 my red, white and blue Gmax helmet kept my head from being crushed. The Missouri Highway Patrol Report "states": Traveling at a speed 130mph+ "on my 1200 Yamaha V-max" failed to negotiate a left hand curve to travel off the right side of roadway striking a ditch ejecting the driver head first…
I was released from the hospital on Jan. 24 with some internal head injury. If this helmet would not (have) held up, I wouldn't be here to write this letter today. My Gmax helmet has only scratches and a missing face shield. Gmax is the only helmet I will ever wear…"
---
From "J.N.":  "On a clear day you can see forever… Not always true with a full face helmet but very true with the GMAX. Addressing some of the issues already brought up:
Fogging is not an issue with it open 1 detent.
a. That one slot is less than 1/32 of an inch and having ridden with the visor up 1 to 2 inches this is a big issue

I can put my glasses on without bending the ear pieces. I can't see without them and that is why I have bought modular helmets in the past. With this helmet I can put them right on without bruising my temples.

Air flow is excellent (and this morning it was 30* and I didn't freeze). You don't have to have to have all of the vents open to get a lot of flow. (if you have ever worn a full face helmet when its 107 in the shade this will make a lot of difference.)

The ear pockets allow for placement of helmet speakers. Great! Now I can listen to my Ipod with out crushing my ears.

Noise level is louder than expected. With all of the vents closed and wearing ear plugs then it is somewhat quiet but then again I have a 650 Silverado with the CA Emissions still on it and that creates for loud pipes.

The rear lights are a great safety feature. 6 AM on the freeway it helps a lot.

Fit and finish are as advertised and the chin skirt really cuts down on the tearing factor. (Glasses)

$107.00 out the door, Helmet, Bag, Second Visor, and extra light bezel what's there not to like. Beats 600 for an ICON and looks just as cool.
---
From "R.C.":  "I have now had my new GMAX Crusader for a couple of weeks, and I LOVE IT !  I was worried about the fit of it's internal shape on my moderate Oval shaped head, so after checking the sizing on the website, I ordered a Small, and it's right on…
My Extra Small Arai Profile was just a wee bit too tight in the cheek pads , and also took quite a while to pack out and fit right- (and our Vancouver, Canada dealers don't stock thinner cheek pads – special order only!).
After 3 months of wear, the Profile fit almost as well as my new Gmax G68s Crusader does out of the box – it's in a size small, without the too tight cheek pads.
After a few days of wearing it now, I believe the GMAX is the best fitting helmet I have ever owned.
The finish and graphics on the GMAX definitely put helmets costing 5 or more times as much to shame, including my 2007 model Arai! And the visors — wow! Great vision, easy changing, 2 visors, c/w the soft visor bag – This is the best deal I have ever seen in a helmet.
I am not concerned about the lack of a Snell certification, as I will continue to use my Arai for the racetrack, and the more comfortable, lighter, better ventilated, and way quieter GMAX on the street.
Everyone comments on the LED's and I believe they should be standard on all helmets.
I swapped the red LED cover for the smoked one as it matched the colour of my Grey/Silver Crusader perfectly. It appears the LED's are brighter with the red cover on, and I will swap back tonight, as I commute daily, and at this time of year north of the 49th it's still dark before 8 am, and again when I ride home around 6 pm.
Tonight I am going to make a pair of thin ear pocket fillers from upholstery foam and cover them with Coolmax…
I did this on my noisy Arai, and definitely improved the noise factor, so I am looking forward to a nearly silent riding experience on my Ducati Monster (even the Termi's with db killers out sound much more subdued in the GMAX!).
My helmet is always in the wind above the small fairing on the Monster, which has the taller Zero Gravity screen fitted, and up to 120mph, I have not noticed any appreciable buffeting.
This GMAX seems to cut the wind just fine, and stays very quiet, although, due to winter temperatures around the freezing point every day, I have not opened any of the vents!
I have put foam in the little chin bar vents to stop their flow as well…my helmet did not come with spare batteries nor the vent plugs, mentioned by another owner in the comments here…
I also really like the way the visor clicks positively from closed to just a tiny bit open, then to larger openings, smoothly and evenly… Due to the cold weather, I keep it open 1 or 2 notches, and that seems to flow enough air for de-misting, without freezing my face off, or causing my eyes to tear up.
I also like the high eye port opening, as I get a better view ahead when tucking in behind the screen.
My Arai obscures my vision, with it's black visor vents in the way, when tucking in, so I have to sit taller and hold my head a bit higher up into the wind, in order to seen the road farther ahead.
All in all, I think it's the best helmet value ever!  The older manufacturers had better get their act together – both the quality and the pricing of their products needs improving, as this GMAX G68s proves!"
---
From "B.B.":  "Ride: 2005 FZ6, with a Laminar Lip. Location: Bradenton, Florida. Date: 1/22/08
I was riding with an HJC SyMax (review). I have been researching helmets and trying them on for about 6 months. I have tried the Arai, Shoei, Suomy, Scorpion, Shark, HJC, and KBC. I had narrowed it down to the Shoei X-11 (review.
The fit, finish, and especially the air flow were all the major factors of why I had chosen that helmet.
The problem was that I just could not justify spending between $400-$500, on eBay, on a helmet when the helmet I have was working fine. It was a little loud and a little heavy, but the MAJOR problem with it is that it is HOT HOT HOT, and a hot helmet in FL doesn't work well.
I read your review of the GMAX, so I did a little internet research on the company. There really is not much to see out there, so I thought I would go out on a limb and give it a try.
Pros:
The size chart on the GMAX site is dead on. I always took a L-XL in other helmet lines, so I was nervous about ordering the M, but I again trusted and it was perfect out of the box.

The X-11 has great airflow and so does the GMAX. I would say they are very comparable in the airflow department. One thing the X-11 has going for it is that it has an air vent right above the visor that flows air on your forehead.  don't think that is worth an extra $400 though!

I always wear earplugs when I am going to go faster than about 50mph, however this helmet is WAY quieter than my SyMax. One thing I have yet to do is steal the extra little pads that came with my SyMax and put them in the GMAX ear holes. I am sure that will make it even quieter.

The visor is great as far as clearness goes but I agree with the other reviewers that it fogs up a little fast when at a stoplight. Mainly in the morning though. There is really not a problem too much during the day.

There is a little turbulence across the top of the helmet, however I will take the airflow for the turbulence the ducts create.

The lights are cool and they make me feel a little more visible, therefore safer. I couldn't believe that it came with an extra set of batteries!

Graphics are cool. They could be a little cooler like the Suomy but again, worth $300 more?  I think not.

The materials used on the inside (the parts that actually touch your head), are very nice. Nothing rough in there. I do wear a helmet liner but I have tried it on without and didn't have a problem with scratchiness.

It is only DOT certified. I don't know if they intended it that way or not, but I like it. I have done quite a bit of research on the different safety standards and in my opinion the Snell rating is overrated. It is just way too hard. DOT is the softest rating, however I would rather shield my head in something that will cradle my head instead of something that will make my head bounce!

This is a fairly light helmet. I know the chart on the site says that the SyMax, X-11 and the GMAX are all comparable in weight however the GMAX feels significantly lighter than the SyMax. That may be because I use an XL in the SyMax, a L in the X-11, and I only need a M in the GMAX, but that may be true for all the other helmets as well.

$107.99 delivered. Need I say more!
Cons:
The chin vent's on/off toggle is kinda cheesy. The detents are real weak and I feel like after awhile I may have to tape it in position.

The padded chin bar is a little bit too fat. I find that my lips and chin hair rub on it. It will probably be better once the helmet breaks in a bit.

The vents on the top may break if you drop it. However, you are not supposed to wear a helmet after you have dropped it anyway!  It is no worse than any of the other helmets plastic pieces either. Those will break too. AND for only $107.99 delivered I can afford to buy a new one.
All in all I think this is may be the best helmet I have ever owned. Those other manufacturers could learn a thing or two from GMAX, and they better watch out!"
---
From "E.K.":  "Before giving a helmet its final rating, you should always check to see whether the helmet has EPS below the ear, around the jaw and at the chin.
The GMAX does not. This is a serious safety issue that needs to be addressed. Most helmets in the GMAX price range do have EPS in these areas, something that does make a helmet safer."
---
From "H.T.":  "Weather conditions: 70 degrees, wind 20mph. Location: Sarasota, Florida, Date: January 19, 2008.
1. For $108 delivered – A Best Buy. I would question why anyone would need to speed $500 or more for a helmet after using the Gmax GM68S Dragon.
2. I bought the helmet because I liked the graphics and the red LED lights.
3. The medium fit was tight, but it got better the more I wear it. Tighter fitting than my Nolan or HJC lids.
4. Riding my VTX1300C wearing this helmet, the twin-engine single crank-pin rumble now sounds like I'm riding a scooter. Blipping the throttle now sounds like "MaWomph" instead of "BARAANG!"
5. Now that the motorcycle noises are muffed, you hear turbulent wind noise going over the Hondaline tall windshield-helmet interaction. Duck down behind the windshield and most of that is eliminated too.
6. Riding my FJR1300AE wearing this helmet, the wind noise is high with all vents open, but close ALL the vents and crack open the visor 1 or two notches, and with GIVI windscreen all the way down, the helmet is pretty quiet, eliminating all lot of the distracting turbulence.
That is clearly better than the Nolan or HJC. Raise the aftermarket GIVI windscreen up 2/3rds with the same venting makes the ride comfortably quiet. Nearly eerie. Results will likely be different for your bike, windscreen, and riding ergos.
7. The face shield is virtually invisible and distortion free – and the field of view is wider and a little taller. But, it is not polarized. This is the only helmet I've owned where I can change the face shield.
Contrary to instructions, raise the face shield all the way up, then down one notch, then press down the slide release. It's simple – and easier to clean.
8. The extra dark shield, and helmet bag were free!"
---
From "D.B.":  "I received my Gmax GM68S Crusader helmet a few days ago and gave it a good looking over before riding with it. The fit is great. I actually fell right in the range of a small and am very happy with it.
I did find a few very minor spots in the finish that were not perfect, but I was looking really close to find anything. Hardly noticeable, and the graphics of the red crusader more than make up for any blemishes.
I rode to work with it today and it was a cool (45 F) and extremely foggy. It did fog up quite a bit, but I stuck my Respro Foggy in and had no problems.
I read one owners comment of constant air flowing through the chin area, and I found some small foam plugs inside the helmet box to block those off from the inside (along with extra batteries).
It was very quiet (I always wear ear plugs), no lifting at speed, good visibility through the visor and noticeably lighter than my HJC CL-SP (wBW review) or Scorpion EXO-700 (wBW review).
All in all a great helmet at at great price!!
As a side note, how come webBikeWorld has never reviewed the Respro Foggy?  It's my favorite anti-fog method I have found.
Thank you for the great reviews."
---
From "N.F.":  "My new GMAX GM68S was delivered just several days after your review. I have been using it since then.
I haven't powered up the sublight engines (that is what that funky port on the back with the pushbutton is, isn't it???), but otherwise I've been on surface roads and freeways with the helmet, with good results.
I like the helmet. I measured my cabeza at 23" and change, and ordered a large.
The fit on my head is good, but my nose rubs the chin bar.
I figured with enough miles, the helmet may wear a couple of millimeters off my nose for an improved profile. Fancy that: a cost-effective helmet that not only is attractive to wear, but makes me more attractive when I take it off. BONUS!!! What about some slimming leathers, next?
I noticed that the stock shield fogs up pretty easily. Don't have that problem with my OGK FF4 or KBC Force RR. With those helmets, I don't have to raise the shield at stoplights in the mornings, but I do with the GMAX.
I guess I'll have to order the Salclear products (wBW review). Do they make head wax too, so I can apply a little polish and continue my new motorcycle accessory-based, self-beautification regimen?  No one ever told me that the more I ride motorcycles, the more attractive I'd become. WHOA!
Wind noise and airflow are both acceptable, and the fit and finish met my expectations (set by you in your review). Another satisfied customer, based on webBikeWorld. Keep up the great work."
---
From "L.S.":  "Rick, just got my Gmax GM68S Dragon. I love it!  The fit is the best I've had yet — the size chart on the Gmax website was perfect, and it's very comfortable. The finish is incredible.
The color, design, and paint scheme of the black color I got is awesome, it's beautiful. Looks great on my head when I look in a mirror, from all 3 angles — head on, from the side, and from the rear.
The detents on the face shield are tight (maybe even too much so, but I'd rather have it that way than the reverse). And those lights — unbelievable!
One thing about this helmet — it flows A LOT of air, even with all the vents closed. Part of the source of the air may be the vents on the front bottom that are always open. I wore it yesterday in 37° weather, and then last night in 26° weather. I won't be wearing it anymore in the winter. Just too cold.
Also, I can't really asses the noise characteristics of the helmet yet. The major noise that bothers me when I ride is the low pitched, booming wind-rushing noise that comes up from underneath my helmet.
I haven't been able to really asses that because I just put the Two Broters VALE slip-on on my K1200R, and that thing is so obscenely loud, it completely drowns out the wind noise, even with custom earplugs.
I've ordered the power tip noise suppressor (for the exhaust) which should arrive any day. If it doesn't reduce the noise substantially, I'll have to take the Two Bros off and put the stock muffler back on.
But I did notice that the Gmax has full cutouts for the ears, which I think removes some of the noise insulation that other helmets have, and thereby allows me to hear more exhaust noise than with my HJC CL-SP (review). I'll write more after I put the noise suppressor on.
TThanks for alerting me to this great helmet. Looking fwd to riding with it in the hot summer weather."
Other WebBikeWorld Helmet Posts