Indian Motorcycle has always been diplomatic about their rivalry with Harley-Davidson, but a brazen new video showing their new Challenger and a Road Glide Special towing a taco van has sparked an online bitter feud.
The YouTube video shows both frame-mounted-fairing baggers having a go at towing the taco van to prove that the new Challenger can "smoke" the Road Glide Special.
The Challenger is powered by a new 1770cc Powerplus liquid-cooled engine with 122hp (91kW) and 173Nm (128lb-ft) of torque at the crank.
By comparison Harley's Road Glide Milwaukee Eight 114 (1868cc) has 80.71hp (60kW) and 153Nm (113.63lb-ft) of torque.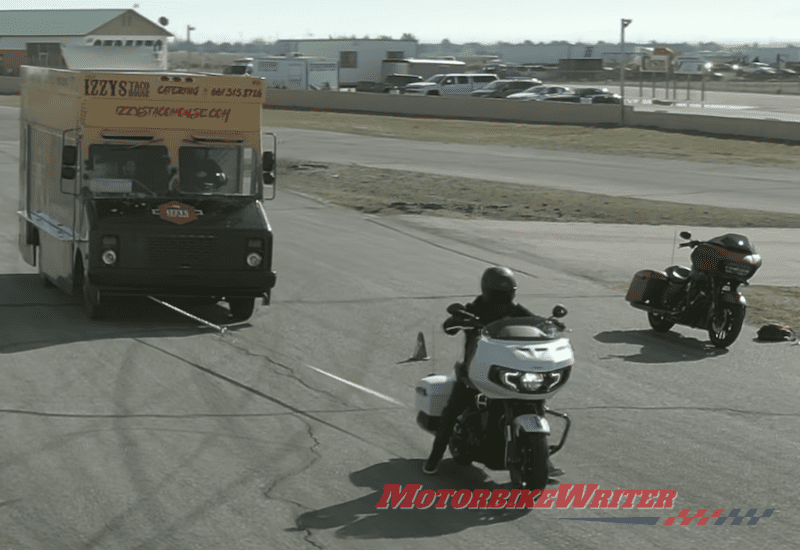 Sales rivalry
Harley hasn't readily identified Indian as a threat even though it has been taking minuscule chunks out of the cruiser, bagger and tourer market since its modern revival in 2013.
Around the world and in Australia, Harley sales have been sliding over the past few years.
However, they still sell substantially more than Indian.
Indian doesn't say how many motorcycles they sell worldwide, but Australian figures show Indian sold 803 bikes last year (down 3.9%) compared with Harley's 6462 (down 7.9%).
If this is an indication of global sales proportions then Indian probably sold about 26,000 bikes globally while Harley sold some 218.273 last year.
That's about 12%, which isn't a lot, but it's obviously starting to get under Harley's skin.
Their marketing department has bitten back over the YouTube video with this very clever ad with a not-too-subtle dig at the brand's Polaris ownership.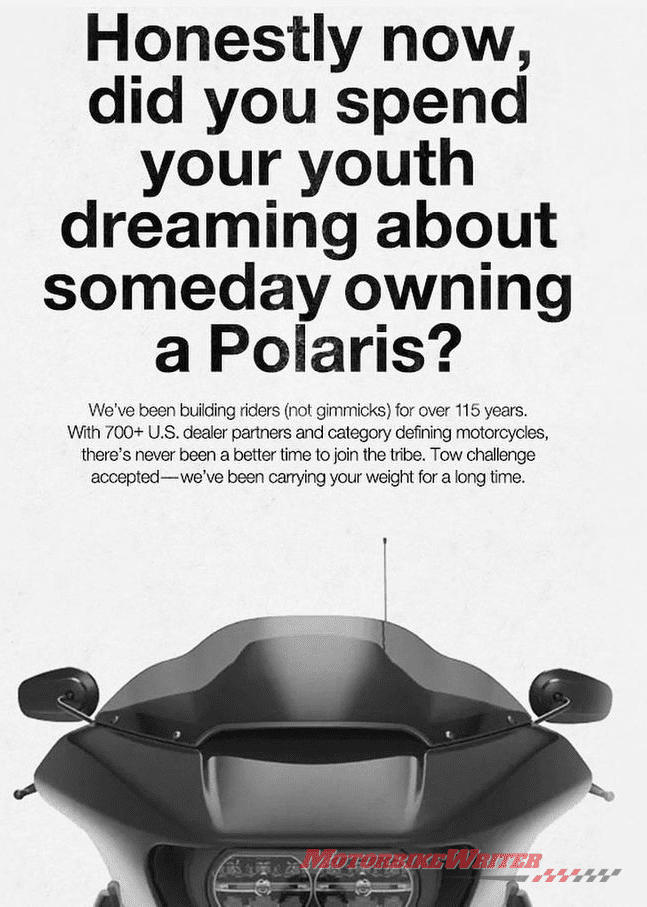 If you can't read the small print it states:
We've been building riders (not gimmicks) for over 115 years. With 700+ US dealer partners and category defining motorcycles, there's never been a better time to join the tribe. Tow challenge accepted – we've been carrying your weight for a long time.
Ouch!
That's what you get when you poke the sleeping bear.
So now that the gloves are off, we can expect to see more direct comparison in this rivalry and a lot of fun and interesting videos and ads!