Taiwanese company Lucky International has launched a GermBuster gizmo that uses ultraviolet light and ozone to sterilise and deodorise your motorcycle helmet.
In the wake of the panic over the pandemic, company spokesman Billy Chao contacted us to see if we were interested in selling their GermBuster through our website.
President Donald Trump would love it as he seems to think that along with injecting disinfectant we could also shine light inside people to cure them of COVID-19.
By the way, you can check the date of this story; it's not April 1!
Now, we know helmets get sweaty and grotty inside and can smell funky. But we usually just use a dedicated spray to deodorise them or pull out the removable pads and liner and give them a wash.
Click here to check our tips for cleaning your helmet.
Sterilise the hi-tech way
However, that is not hi-tech enough for some.
So lucky for them, Lucky International has developed their GermBuster.
I can't vouch for it and when I asked where to get it and how much it costs, the contact Billy Chao just wanted us to buy it via email.
I also couldn't find any reference to the company or the product online.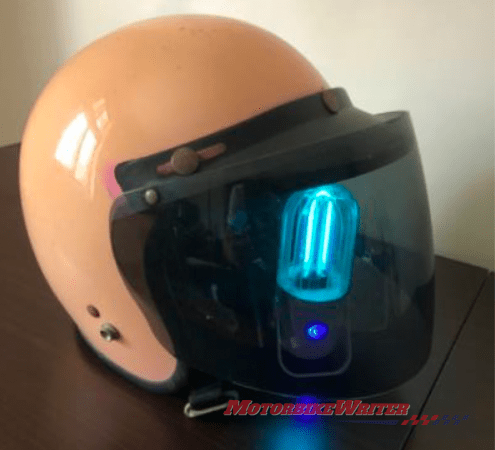 However, I thought you might get a good laugh out of the press release they sent:
Wear a dirty and bacteria motorcycle helmet that caused hair loss and bald.

Due to sweating, dirt, food particles (I am not sure how you get food in your helmet!) and air born (sic) bacteria getting rubbed into the helmet padding and breeding in the warm environment, it is possible that your scalp may become infected. If so it could impact on scalp health and even hair growth

Bacteria in your helmet may also affect your hair growth

Your helmet becomes a breeding ground for air borne bacteria due to sweat, dirt and food particles that could infect your scalp and cause hair fall. It could also affect growth of new hair.

What you can do

The total solution, use GermBuster UVC + OZONE sterilizer and deodorizer,

Helmet sterilizer. Available all kind of helmet.
They say it comes with a free "adjust stand", is USB rechargeable and can also be used to sanitise shoes, masks and nail scissors.