Review Summary
The Giant Loop (GL) ZigZag Handlebar Bag fits on to almost anything, anywhere, even a crossbar on the handlebars – imagine that! Small with 1.5L of usable space, intuitive and very functional mounting layouts and large main full access zipper, and smaller zippered inner mesh pocket. Its only drawdown is that its not waterproof or, more water resistant. The ZigZag is one of those pieces of gear you'll buy and then end up wondering why it took you so long – mea culpa.
Materials & Build Quality
Pros
Small, lightweight, strong
Mounting layouts provide lots of versatility and security
Full width opening and smooth-running main zipper for ease of use
1.5L capacity with small interior zipper mesh pocket to separate things
Equally functional on or off the motorcycle
Cons
Not waterproof
Could use another 250-500cc of usable space
Giant Loop ZigZag Handlebar Bag Image Gallery
As identified in the previously submitted GL Pannier Mounts and MotoTrekk Panniers review and the just submitted GL Possibles Pouch Quick Look, Christmas in July came early this year with a big box of Giant Loop goodies received in June this year.
In addition to the GL Pannier Mount Kit with BMW GS ADV adapter, a set of MotoTrekk Panniers and two Possibles Pouch(es), was a small ZigZag Handlebar Bag.
So, this third in the series of related Giant Loop product reviews (but hopefully not our last), done up as a wBW Pocket Review focuses on the GL ZigZag Handlebar Bag.
The (Abridged) Giant Loop Story
In 2008, Giant Loop pioneered the original horseshoe-shaped biomorphic motorcycle saddlebag design with the bolt-on (strap-on) Giant Loop Saddlebag and since those early days, the Giant Loop adventure proof packing systems, including products based on the original design have been utilized globally under demanding conditions.
Their theory of "go light, go fast, go far" regarding on/off road travel has become a well known, well-respected refrain heard virtually anywhere moto-travellers gather.
Everything Giant Loops designs, produces and markets is focused on the 'go light' aspect, along with designs that shape and position the pieces perfectly on the motorcycle for safe loading, better weight distribution and rider comfort (safety over the long haul). And everything is built to last.
 The GL ZigZag Handlebar Bag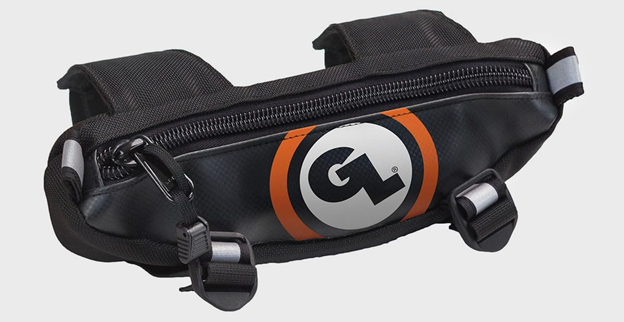 GL ZigZag Handlebar Bag…where did this name come from? This one I knew – it is named for Oregon's scenic ZigZag River on Mt. Hood, a place visited and enjoyed regularly in younger days while moto-travelling near and far from the original western and subsequent eastern home locations; sadly, it's been far too long since the last visit…
First Impressions
Giant Loop identifies the GL ZigZag Handlebar Bag as their smallest bag yet or as they say, "the off-road glove box", and on first viewing the product, it seems to be a good moniker.
It is smaller, more akin to a waist bag than anything which is also one of its many applications; but I digress. Seemingly well laid out, well stitched, smooth running main zipper, dual Velcro-backed mounting sections with integrated flat straps and slide buckles, four retro-reflective tabs – two on the ends and two on the front flat strap – an excellent conspicuity feature.
So, first impressions summary? Good, very good actually.
Form, Composition & Features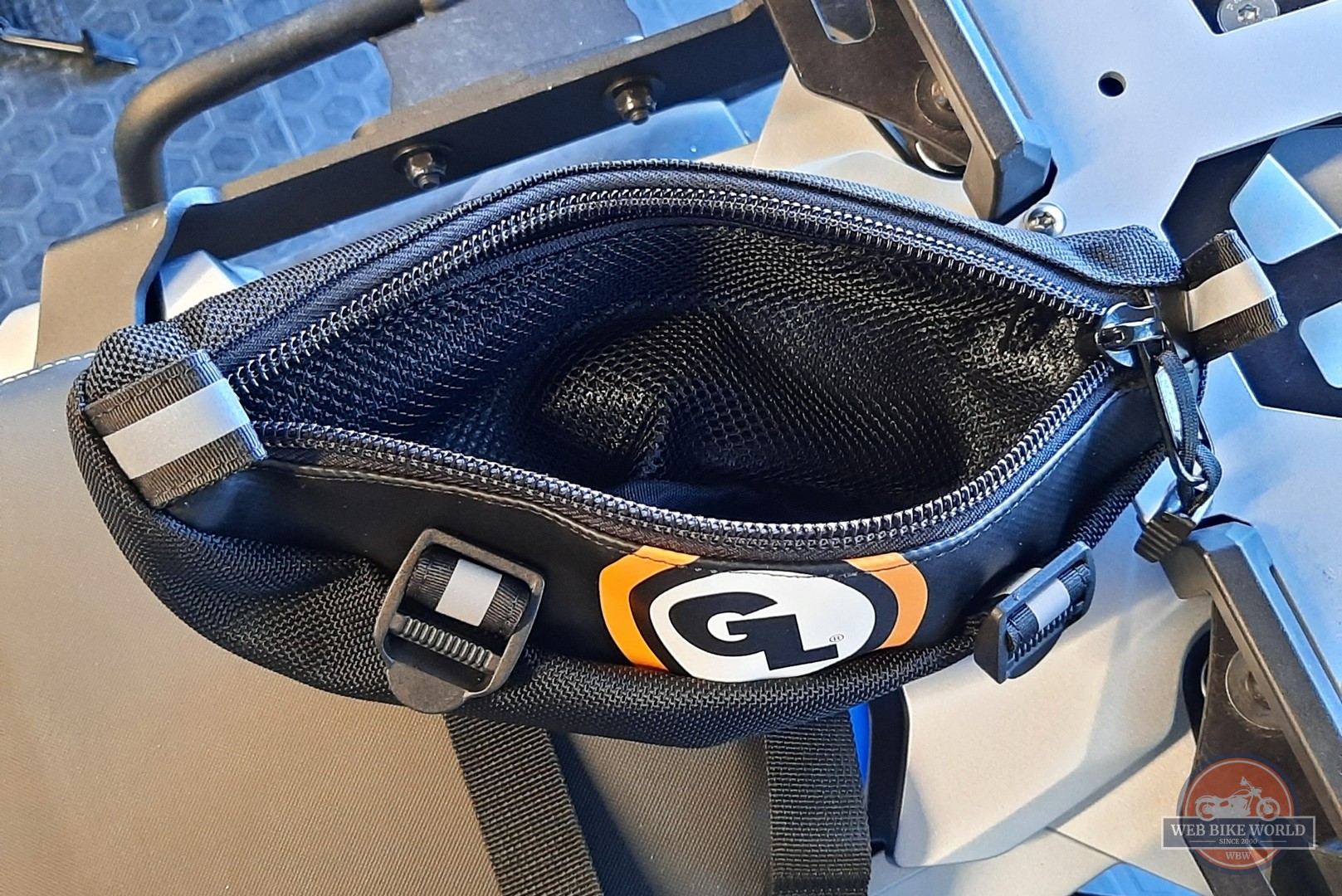 The GL ZigZag Handlebar Bag looks more like a small waist or fanny bag, but its alter ego identity and functionality are given away by its heavier duty build, straps, and mounting options.
Formed of a super tough (trucker's) tarp Bomb Shell ™ and ballistic nylon – like the material composition used for earlier Giant Loop products that is strong, protective but more pliable than the 500D PVC-based material used for the drybag products.
Its basic dimensions (width/height/depth) are: 26.6cm x 10cm x 6.4cm (10.5in x 4in x 2.5in) and it has a stated volume of 1.5L or 0.40USG. The heavy-duty smooth running full width main zipper is a YKK stamped piece, as is the smaller zipper used on the interior mesh pocket.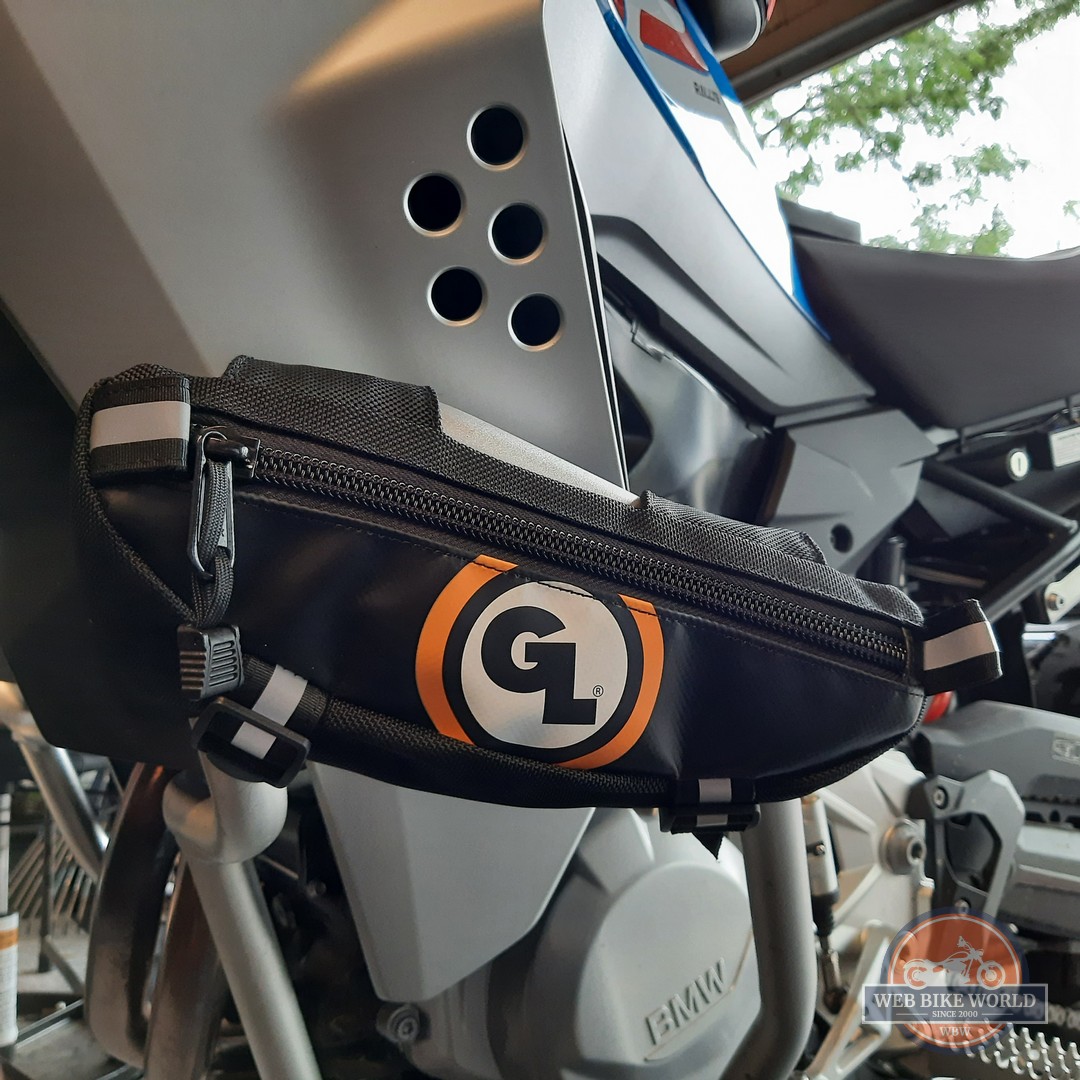 The stiffer GL logo insert piece provides shaping to the bag and a frontal protective surface of sorts. Two front-placed friction loop adjusters are stitched into the join between the insert piece and the rest of the shell with small loops stitched into the upper ends of the shell.
Both the front loop adjusters and the end loops have small but highly effective reflective bands; great for added conspicuity of the motorcycle, rider and gear depending on where the ZigZag is worn or placed.
As with all GL gear, mil-spec materials and construction standards are utilized; this is a good thing in that the ZigZag bag with its multitude of applications is likely to see continued use and lots of exposure to the elements over widely varying riding conditions.
Using the GL ZigZag Handlebar Bag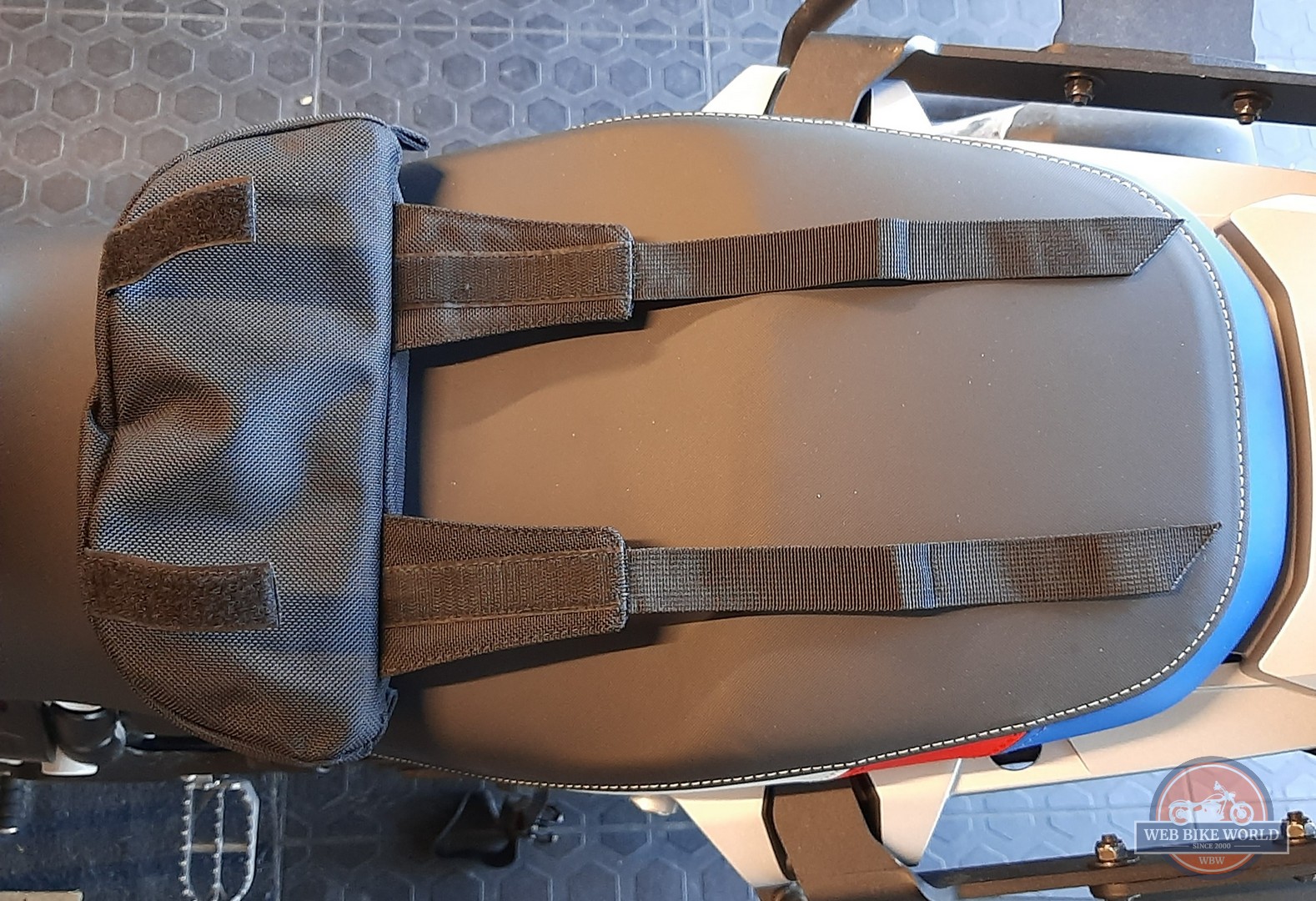 Hmmm, where to begin, this is a tough one – not!
As revealed in the photo above, the key to successful use of the GL ZigZag Handlebar Bag is appreciating its clever design and then exploiting the design features…or more simply, it is pretty intuitive and provides lots of options!
A Starting Point
With or without the longish flat straps used along with the front thumb-lock buckles (sliders), the shaped back sections with hook material and the loop material strips on the back of the bag provide lots of options for passover, pass around or pass-through mounting of the bag with adjustability.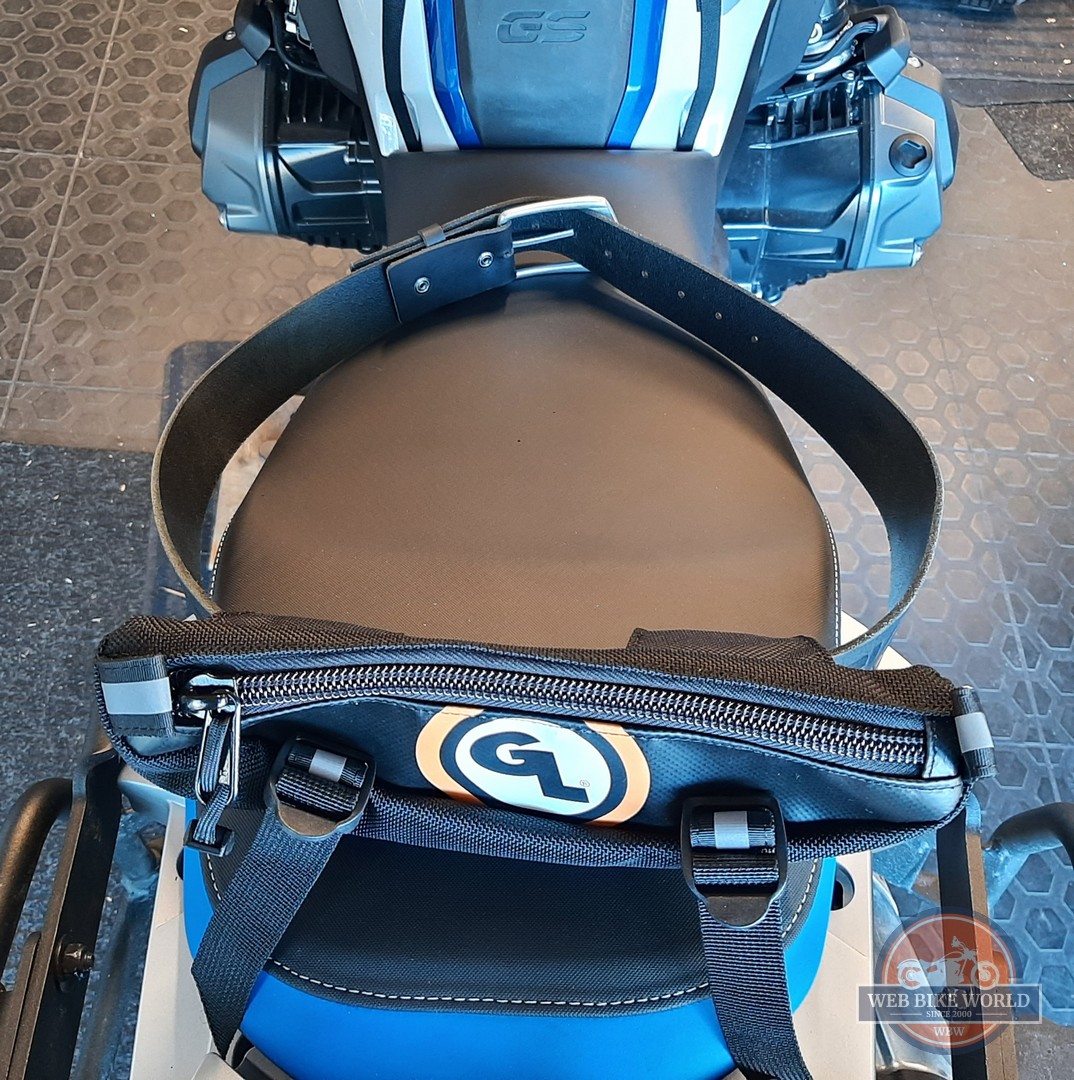 And while the hook and loop layouts provide a secure mounting solution by themselves, even more flexibility, adjustability, and security are provided in using the flat strap extensions with the front buckle sliders especially if the mounting surface has a large area to encompass or the mounting itself needs to be tighter to prevent or minimize movement.
With use of the GL ZigZag Handlebar Bag, typically not on the handlebar, the flat straps can also provide the ability to carry a couple of extra things – like the tightly rolled REAX Traveler Waterproof Pants or a spare pair of gloves, either held securely between the flat straps and the bottom of the ZigZag once mounted.
Elemental Protection
Giant Loop clearly identifies that the ZigZag Handlebar Bag is not waterproof gear, but it does a decent job in being water resistant for a period time – whether due to hose-generated spray or real-world rain showers encountered during local off-road forays.
As expected, the large main zipper is the culprit in letting water sneak by or through. As such, utilize the space well but pack or protect sensitive items accordingly… And if or when the interior does get soaked, just let it air dry – a couple of hours later it will be ready to go again without any sign of water-trauma.
Durability
Everything is well laid out, straps and hooks are well cut and securely stitched in, and a few good strong pull-tests didn't see much flexing at all of anything related to the bag. Time, distance and use of course will tell the longer-term tale.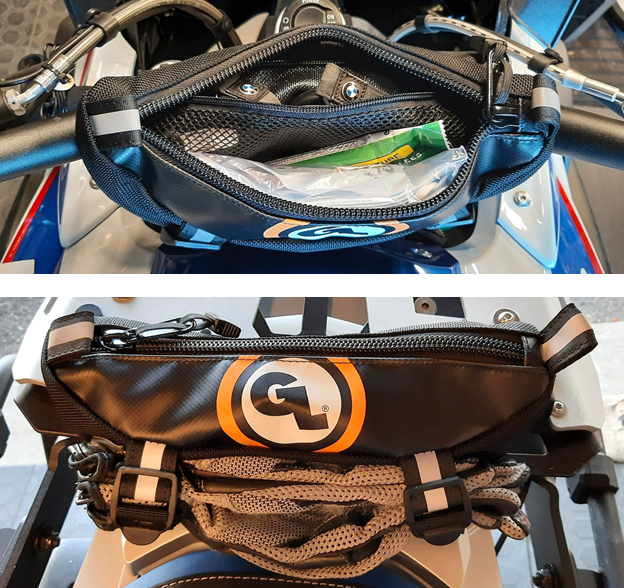 Concluding Notes
Another Giant Loop product that just totally works and it can even be used as a handlebar or crossbar mounted bag, although admittedly, given the various motorcycles currently in the home fleet, attaching it to the handlebar works.
As shown in the photos above, it finds a home in many other locations on the motorcycle, an accessory, or another piece of luggage gear.
Did I say it makes a very good slip-on or slip-over waist (fanny) bag? Got all the good stuff stashed in the ZigZag for riding use? Just slip it off the vehicle and add it to a belt, suspenders, or strap and away you go dismounted.
Bottom Line: The Giant Loop ZigZag Handlebar Bag is another little (literally) gem that doesn't see much (if any) downtime, thanks to its storage and mounting versatility. The current assessment for the GL ZigZag Handlebar Bag is very good to excellent; it only misses an outstanding in that its not waterproof…hint, hint. And to be a real ingrate, another half litre of storage space would be icing on the cake. It's uber useful – on or off two wheels. A highly recommended product.
Pros
Small, lightweight, strong
Mounting layouts provide lots of versatility and security
Full width opening and smooth-running main zipper for ease of use
1.5L capacity with small interior zipper mesh pocket to separate things
Equally functional on or off the motorcycle 
Cons
Not waterproof
Could use another 250-500cc of usable space
wBW Specs:
Manufacturer: Giant Loop
Price (when tested): ZigZag Handlebar Bag, $55.00 USD
Made In: (US)
Warranty: Limited lifetime warranty
Review Period: June to September 2021
Review Submission Date: 9 September 2021
Important Links / Where to Buy: