Gerbings Heated Jacket Liner
This review has been updated since it was originally posted.
We tried the liner again with motorcycles having higher-capacity alternators and found that it works much better.
Read the article for more information.
Back in the old days, when men were iron and motorcycles burned castor oil, there was no such thing as Cordura, Gore-Tex, Lorica and Scotchlite.
Riding during winter meant throwing on a pair of long johns underneath your jeans, a visor on your open-face helmet and maybe a hooded sweatshirt under your leather surplus jacket.
I rode through winters in upper New York state, in an area where, it was claimed, there were only two seasons: winter and the Fourth of July.
Kick-starting the bike in winter made you hot and sweaty, but the air at 40 mph froze it off and literally took your breath away.
OK, OK. We get it. So it was a lot tougher back then…
But there really wasn't much in the way of purpose-built riding gear.
My first piece of winter riding gear was discovered by accident – an old nylon insulated snowmobile riding suit I found hanging in the garage where I parked the bike during the long winter months.
I'd never seen one before, and I hesitated to try it on as I considered the implications of riding a motorcycle wearing something as goofy-looking as that.
Somehow, I got up enough nerve to slip it on over my clothes and I took the bike out for a spin. It was great!
The suit blocked the wind and kept in the heat. Who cares what they think? I'm riding, it's 25 degrees F and I'm having fun!
In the 30-odd years since, we've seen the evolution of many different high-tech fabrics, but not much has really changed when you think about it.
Keeping warm on a motorcycle involves two basic concepts: blocking the wind and retaining as much body heat as possible.
Sure, modern fabrics do that a heck of a lot better with somewhat less bulk, but the idea is the same.
But as you've probably found, there's an interesting correlation between cost and effectiveness.
You can buy some cheap cotton waffle-knit undies and get a little bit of extra warmth, or you can drop a couple of C's on neoprene Gore-Tex windproof underwear and get warmer still.
But somewhere between the two you will reach a point of diminishing returns, where pouring in a lot more money doesn't really make you that much warmer. The more expensive solutions usually get you less bulk, but layering is still necessary.
My middle-aged bones can't take the ultra-low riding temperatures that I endured in the past. Even layering on a selection of windproof underwear, fleece jackets, pants liners, down vests and more doesn't seem to do it for me.
And I end up looking (and feeling) like M. Bibendum.
So during a recent shopping trip whilst looking for some interesting review subjects for webBikeWorld, I decided to try this Gerbing's heated jacket liner.
You'd think after all my adventures in winter riding that I'd have been wearing heated clothing for years. But old habits die hard, I guess.
I knew about heated jackets, vests, gloves and other types of heated garments, but just never had the opportunity to try one.
I guess I somehow equated them with big, overstuffed touring bikes and the matching his/hers jackets and helmets crowd. So I really didn't know what to expect, but I envisioned myself "laughing at the cold", as the old Damark underwear ads used to say.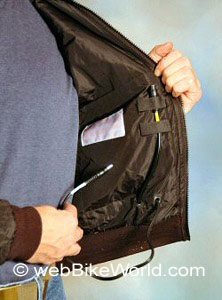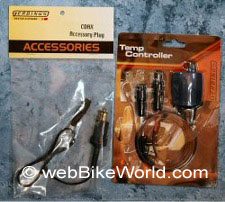 Gerbings Heated Jacket Liner
The Gerbings Heated Jacket Liner is a very utilitarian-looking piece of clothing. The black fabric is very similar to what might be found in a coat liner.
It's a type of nylon taffeta, thin and light weight, and although there's a Gerbing logo on the front, there's no way it looks like anything other than a jacket liner, although I guess this is fine, considering that it is a liner!
Just understand that the garment is apparently not meant to be used as a regular jacket.
Gerbing also makes a heated jacket (not just a liner), and I can only assume that its outer fabric is thicker than the fabric on the liner.
I can understand why the inner fabric on the liner must be thin to transfer the heat, but I don't understand why the outside of the liner can't use a better quality fabric.
Pockets and Zippers
The liner has two internal chest pockets without zipper or Velcro closures. Each pocket is about 20cm (8″) deep and 15cm (6″) wide.
They're handy for storing the assorted wires and connectors that are necessary to power the jacket (more on that later), but it would have been nice to add a strip of Velcro or a button or something to keep them closed.
The jacket liner also has two front slash hand pockets, again without closures of any type. They're about 15cm (7″) deep with a 15cm (6″) wide opening.
They're not very useful – the electrical connectors are too bulky to fit and the lack of a zipper or other type of closure makes them much less useful than they could be.
The jacket liner has a fairly hefty zipper up the front, and the neck of the jacket extends up about 80mm (3″) from the body.
There's no way to adjust the neck diameter when the jacket is zipped up, so if your neck doesn't fit, you're out of luck.
I take a size 43/44 men's street jacket and I have a 17″ neck. The neck on the liner fits, but just barely. It would be better if the neck had some adjustability.
The jacket also has elastic cuffs, which help keep the sleeves from bunching up when the liner is used under a motorcycle jacket.
---
Where to Buy Gerbings Heated Jacket Liner
Check Reviews & Prices on Amazon
Check Reviews & Prices On RevZilla
Also: Motorcycle Jackets, Motorcycle Gloves, Motorcycle Boots, Motorcycle Pants
---
Wiring and Connectors
Gerbing includes wires at the end of the sleeves with connectors that can be plugged into a pair of heated gloves (Gerbing's, naturally!). The connector ends fit into a tiny pocket that keeps them from hanging loose.
The liner also has two main connecting wires; one plugs into the controller (and the controller then connects to the bike's power) and the other can be used to connect a pair of heated pants.
The wires are held inside the jacket with a couple of strips of Velcro.
Gerbing also includes a harness that can be attached directly to a battery. The harness has a 20-amp fuse and about 2 feet of wire.
We eventually figured out that it's probably easier in the long run to install this harness to the bike, even if the bike has a Euro-style adapter.
Gerbing's harness has a special end that looks like the type of plug used on a stereo system. The extra length of wire allows the harness to be threaded up under the fuel tank or to some other location that makes it more convenient for connecting the jacket.
Heated clothing requires a heat controller of some type.
The most basic controller is an on/off switch, but a variable controller is a much better solution that allows the temperature to be adjusted.
Gerbing Regular Temp-Controller costs $69.00 and has a rheostat-like knob to turn the jacket on and off and also to adjust the heat.
Gerbing has several other controllers, one of which has a dual circuit which allows the separate control of two garments, such as a pair of gloves and the liner.
Gerbing uses a non-standard sizing method for their jacket liners. The clerk in the store warned me not to pay attention to the sizes, but to try different sizes until I found one that fits.
The jackets are labeled in a body and sleeve size, like "44/34 or 48/38", but the numbers seem to have no relation to any other type of standard clothes sizing system. Gerbing will also make custom sizes on request.
It's important to make sure that heated motorcycle clothing is snug, to ensure that the heat will transfer to your body. I tried on about a half-dozen different chest/sleeve combinations in the store before settling on a "46/36″ size as just about right.
I normally take a men's size 44 street jacket and a 34″ sleeve length on a dress shirt, so I'm guessing that the Gerbing's sizes run two sizes larger?
I tried on a size 44/34, but it was tight – too tight to close the zipper in the front, and the sleeves were too short. I have a 17" neck, and the neck on the 46/36 jacket fits, but just barely.
Some heated motorcycle clothing is available sans collar, and I now think that's a better solution because if the collar is too tight, the jacket or vest can't be completely closed and then the collar ends up just adding more bulk under the neck of the motorcycle jacket in an area that usually is too tight anyway.
Performance
I had never tried motorcycle heated clothing, but I had certain expectations that I don't think are unreasonable.
I expected that after a brief warm-up period that I'd feel the warmth radiating throughout the entire jacket and into my back, arms and legs.
I pictured myself having to turn down the controller to limit the amount of heat, while I gleefully rode off into the frigid winter air.
Unfortunately, that didn't seem to be the case at all when we first tried the liner.
We eventually found out, through a tip from a webBikeWorld visitor, that the liner draws a lot of power at 77 Watts, so the liner really only works best with an alternator of over 250 Watts (or so) output.
The first two motorcycles we tried had a 200 and 250 Watt output and, combined with the lights and other electrical draw on those bikes, the liner barely threw out enough heat to notice.
After howls of protest from webBikeWorld visitors (and Gerbing fans – there are many of them for sure!) we borrowed another couple of motorcycles and tried again.
Our opinion is that at least 300 Watts of output is needed to power the liner while still having enough electrical capacity for the rest of the bike. At 300 Watts, we could definitely feel the heat and on a bike with a 400 Watt alternator, it was no problem at all.
---
Where to Buy Gerbings Heated Jacket Liner
Check Reviews & Prices on Amazon
Check Reviews & Prices On RevZilla
Also: Motorcycle Jackets, Motorcycle Gloves, Motorcycle Boots, Motorcycle Pants
---
Performance Update
We put a Voltmeter on the bikes and found that when the controller was turned up to maximum, the 200 Watt alternator was in a negative state (discharging the battery) at anything under 3,000 RPM.
The meter barely registered in the positive (i.e., charging the battery) when the engine was running over 3,000 RPM. The bike with the 250 Watt alternator was even at anything under 3,000 RPM and in the positive side over that.
We have only used the liner on bikes with no fairings.
Owners of touring bikes or those with big windscreens will likely feel much warmer at any given setting. Gerbing advises owners to wear clothing that blocks the wind for best results.
It is interesting to note that we could find no mention on Gerbing website of the minimum electrical capacity of a motorcycle that is required to power the heated clothing.
But our feeling is that if you have a motorcycle with less than a 250 Watt alternator, you may be disappointed.
By the way, the number of Watts that a motorcycle's alternator produces isn't always readily available. None of the 4 motorcycles we used had this information listed in the owner's manual.
The formula is Watts = Volts x Amps.
So if a motorcycle is 12 Volts and the owner's manual says the alternator puts out 20 Amps, the bike has a nominal 240 Watt alternator. Note that the alternator output and load can vary.
For example, over 3,000 RPM or so, the motorcycle's charging system may be 13.5 Volts or more. The flip side is that some systems will actually go into a charging deficit when the engine is and under 2-3,000 RPM.
Power output will, of course, vary, depending upon things like headlights, turn signals, brake lights and other powered devices.
A rough estimate of your bike's current draw can be developed by adding up the number of Watts of the headlight (usually 55W), turn signals or brake lights (usually 20-30W), etc. and subtracting that from the total.
Some motorcycles have very weak alternators and as a result, if the engine RPM's are kept under 2,000 or so, the battery will not be recharged and will, in fact be slowly drained. So if you're in a lot of stop and go traffic, you may want to turn off the heated clothing.
At 300 Watts, the liner performed well, except that we noticed that the heat is not uniform.
It seems much hotter where the liner is snug around the body. The front of my arms and a couple of sections down my back were much warmer than anywhere else. If I moved around, I could feel the warmth. This is why it's crucial to find the correct fitting liner.
It needs to be snug enough for the heat to transfer, without being too constricting. Our advice is to be very careful when purchasing a liner over the Internet. Gerbing's strange sizing conventions don't help matters.
It definitely pays to try several different chest/sleeve sizes on at your local dealer.
Here's the hot tip (sorry about the pun!): buy a cotton turtleneck or long-sleeved T-shirt that's one or two sizes bigger than you normally take. Put this on over the liner.
It helps the liner to stay closer to your body and it seems to make the liner work much more effectively. In fact, it can get very hot with the controller on maximum (when using a bike with a powerful enough alternator).
There seems to be a dramatic difference in the level of heat when the liner is close to the body, which is another reason why it's important to make sure you purchase the correct size liner.
Back to the liner: The thinness of the liner's outer fabric doesn't help matters much, because it doesn't perform well as a windbreaker. I think the product would benefit from a heavier outer fabric that not only looked better but helped hold in the heat, whilst acting as a windbreaker.
I see no reason why the outer shell couldn't be made of some nice, heavier weight colored nylon fabrics, similar to those found in other relatively inexpensive windbreaker-type outerwear.
My lack of experience with heated clothing meant that I also hadn't really thought about the implications of wiring the jacket to the bike.
My motorcycle has a European-type accessory outlet, similar to the type found on a BMW motorcycle.
I purchased the separate harness that converts from the BMW-style accessory plug to the Gerbing's connector, which was another $15.00.
The wires that lead out of the heated liner have to be plugged in to the controller, and then the controller plugs in to the accessory plug.
My opinion is that all this wiring is a real pain, and unless it's permanently mounted (which definitely can be done), it's hard to find a convenient place to locate it.
The clerk at the store warned me against holding the controller in my pocket, (he said it would "melt the liner"), but where else can one store a couple of feet of wire?
I ended up using an Aerostich Darien jacket, which allows me to run the controller out of the armpit vent, and although we got some chuckles, this actually works very well, because it's easy to reach over and adjust it without having to fumble around in a pocket.
The adjustment knob on the controller is hard to feel with heavy winter gloves. It also would be better if it had some type of click mechanism so that it could be adjusted by feel.
The rest of the wires hang down out the left-hand side of the liner and then into the bike's accessory outlet. If your bike has an outlet on the right-hand side, this could be a problem.
Ideally, the controller would be located where it's easy to access.
Some owners attach the controller to the motorcycle itself, but this doesn't eliminate the problem of multiple wires. Having to mess with the wires kind of takes the spontaneity out of riding a motorcycle.
It seems to take forever to get everything adjusted just right.
Although according to the comments we've received, it apparently it becomes second nature after you get used to it.
The downside of all these wires is that it's very hard to remember that you're plugged in to the bike. No matter how many times I reminded myself, each time I dismounted I ended up pulling out one plug or another.
This can be dangerous and I'm sure it's not very good for the connectors either.
If you plan on using the liner frequently, it would probably be a better idea to mount the wiring and controller to the bike in a location that would make it easier to use and where the plug and controller are accessible.
Gerbing offers a lifetime warranty on the electrical components in the jacket and a one-year warranty on the non-electrical components.
Conclusion
The Gerbing Heated Jacket Liner did not perform well at all with alternators of less than 250 Watts output. With alternators of 300 Watts and above, it works well and provides lots of heat, but it's not as uniform as we'd like.
The work involved in getting the wiring and controller set and adjusted prior to each ride is the price to pay for warmth.
Our suggestion would be for Gerbing to try and develop a liner using elastic fabrics that would allow it to fit closer to the wearer's body, which provides the best potential for heat transfer.
This is especially true in the neck, which may be too tight for many owners when the liner is purchased in the correct chest/sleeve size.
It would also be nice if the liner had an outer fabric that didn't look — or perform — like a cheap taffeta jacket liner.
This would also have the potential of making the jacket look acceptable for use as outerwear.
One more note: Our liner is clearly labeled "Made in China", even though the Gerbingwebsite indicates that the liners are made in the U.S.A.
More wBW Heated Clothing Reviews  |  Motorcycle Glove Reviews
w

BW

 Review: Gerbing's Heated Motorcycle Jacket Liner
Manufacturer: Gerbing's Heated Clothing
List Price (2004): $199.99; Controller $69.00; BMW Accessory Plug $15.00
Colors: Black. Weight: 907 g (2 lbs.)
Made In: Gerbing's website claims U.S.A., but jacket is labeled "Made in China".
Review Date: December 2004
Note:
 For informational use only. All material and photographs are Copyright © webWorld International, LLC since 2000. All rights reserved. See the webBikeWorld® 
Site Info page
. Product specifications, features and details may change or differ from our descriptions. Always check before purchasing. Read the
Terms and Conditions
!
---
Where to Buy Gerbings Heated Jacket Liner
Check Reviews & Prices on Amazon
Check Reviews & Prices On RevZilla
Also: Motorcycle Jackets, Motorcycle Gloves, Motorcycle Boots, Motorcycle Pants
---
Owner Comments and Feedback
---
From "R.A.Y." (February 2012): "I just finished selling all my Gerbing heated clothing pieces after two winters of experience. That may come as a surprise (me too, as a Harley rider, as that's who Harley heated clothing is made by!).
But I found the jacket got to hot, though I could turn it down, almost off.
But the gloves didn't get warm enough, even when Full ON. With the gloves Full ON, the boot insoles burned my heels but did not keep my toes warm!
Turning that control down left my hands cold as the warmth seems to be on top of the hands where the wind blows it away, and my palms got cold from the handlebars.
My biggest pain was all the hanging cords! I didn't like the dual controller which has to be clipped somewhere. The only location was the left waist strap of my Tourmaster jacket, but then I couldn't see it there while riding and helmet on.
And there are three (3) cables hanging from it which are kludgey when off the bike, going into a store, etc.
On top of that, the two controls didn't stay put!
There are no detents in the control knobs and they change as I rode–either wind or movement against my jacket. I learned to adjust them by feel but it is just not good engineering.
The Tourmaster dual controller has detents and a Velcro strap that goes around your thigh which is a little better location and stays adjusted, but the strap is too big and drops to my knees when off the bike. Again, too may cables hanging — just not clean.
I was advised by several big online sellers that Firstgear has better quality and functionality than anybody else and found they are right.
Tucker-Rocky only brings what they feel are the finest products to represent in their lines and they chose Firstgear.
Heated clothing is actually made by "Warm and Safe", a leader in this field. They offer a dozen different controller options that are portable, semi-fixed to the bike, and remote, with minimum wire between jacket and bike.
I got the Remote Dual with a controller that is mounted in view up front where you can see it, no wires, and only one wire to unplug when you get off and nothing else showing!
Additionally, their configuration allows you to combine jacket, pants, gloves and socks into any configuration you like, vis-à-vis gloves with pants — nobody else does this."
---
From "K.P." (12/09):  "I purchased a Gerbing jacket liner, gloves and dual controller this spring 2009 before a May trip to Alaska.
I was a bit late in ordering so they shipped my order immediately and the articles arrived in 2 days. I found their sizing chart to be exact. My jacket liner and gloves fit like they were made for me.
My jacket liner is wind and water resistant and looks like a regular jacket.
Looking at it, a person would not know it is heated clothing. My liner inner pocket holds the dual controller and wires out of sight perfectly when not in use.
The outer pockets have zippers to keep things in them.
The plugs work well and do not come apart unexpectedly. My leather jacket has a belt so the dual controller fits nicely on it with the belt clip (extra). I ride a Suzuki C90 with a stock windshield so I still get a fair bit of wind while riding.
All I wear now all year is a long sleeved turtle neck T-shirt, the Gerbing jacket liner and my leather biker jacket that does not close up well at the neck.
Gone are all my bulky vests that never worked under or over my leather and my other winter style jackets for the cold days.
I wear the Gerbing jacket liner to replace my leather jacket liner. On warmer cool days the jacket liner under my leather jacket keeps me warm without turning on the heat.
I have never turned the controller past ½ way for either gloves nor jacket liner and have been toasty down to -5 C (approx. 22 F) riding at 100 K/hr (60 m/hr).
I get weird looks riding to work when it is -5 C when everyone has put their bikes away here in Calgary, but I am comfortable and loving it.
I have found the Gerbing jacket liner does not need to be tight to the body as it is air tight at the neck and sleeves and as well, insulated. The liner creates its own pocket of warm air around you as the cold does not get in.
If there are any cold spots in the liner, the air pocket effect nullifies it as I have never felt any. Where the liner touches you it feels warm and where it does not, I am certainly not cold.
The first time I put it on, I did not know which line worked the liner or the gloves so I cranked it up all the way on one line and just about burned my neck as it is snug there. Lesson learned is to start around 25% and adjust from there. It would be impossible to turn it on and off all day long without a controller.
I have had no issues with voltage either.
After one year of riding in rain, snow, sleet, hail, sun and wind across prairies and over mountains, I can certainly say that I have been very comfortable for the first time in all my riding years. I wish I would not have waited so long.
Next purchase will be the pants as my thighs get a bit chilly on longer trips at -5C. Leather engine guard chaps keep my feet and shins warm but the warm air off the engine misses my thighs.
From reading some of the other comments on your web site it sounds like some of the comments are about older products. My liner is also soft and supple so I roll it into a small ball to put into the saddlebags as they say you can.
I like the life time warranty on the wiring components and have only heard good comments on customer care. All I can say so far is "Simply the best purchase ever"."
---
From "J.L.":  "After much deliberation and research, I purchased a Gerbing jacket liner and glove liners. I also purchased a dual temperature controller.
On today's shake down ride the weather was in the low to mid 40 degree range.
Not very cold, so I compensated with several miles over 80 mph to get a wind chill. I wore a Joe Rocket Ballistic jacket and Olympic cold weather gloves.
My motorcycle is a Triumph Speed Triple with no fairing or any other sort of wind protection. Not only was I warm, but I found myself turning the heat down because I became uncomfortably hot.
I do not know what the output of the Triumph's alternator is, but that does not appear to be a factor. One precaution I took was turn the gloves and jacket off for the last couple of miles to insure the battery had a good charge.
I do agree that the wire harness is a little messy, but I do not find it to be too much of a hassle. I stuffed the controller under a belt built into the jacket. I had no trouble working the temperature knobs with my gloves.
I have the battery lead coming out between the seat and the rear of the gas tank.
One of the factors leading to my decision is the almost fanatic loyalty displayed by owners of Gerbing clothing. I stopped by a local BMW shop figuring that is where I would find the most die hard cold weather riders.
The people there swore by Gerbing clothing. I also work with several people who ride all winter in wet Seattle. All of them wear Gerbing clothing. Loyalty like that doesn't come easily, so they must be doing something right."
---
From "E.S.":  "I don't have this specific product and can't comment on it directly, BUT I offer the following two additional pieces of information: Gerbing will stand behind the electrical connections for as long as you own the product.
If a wire breaks, etc. you send the item back to them, and they will repair and ship it back to you free!  Your only cost is to send the item to them.
For something as light as a jacket liner, or a pair of gloves, it comes to a few bucks. If you already have a removable liner for your jacket, Gerbing will wire it up for you!
I have a First Gear Scout jacket, which came with a removable fully-sleeved Thinsulate liner. Gerbing wired it for me for $160. I commute by motorcycle every weekday through gray, wet, and cold Seattle winters, and I'm still toasty."
---
From "C.B.":  "Just wanted to let you know that after dressing up as Mr. Bidendum myself & barely able to bend my legs, I took the plunge 4 years ago & bought Gerbing's "Ultimate Suit".
It comes with the quilted liners which are much thicker than the standard ones like you reviewed. I also had it wired so the gloves are on 1 circuit & the remainder of the suit on the other.
The "Heat Troller", which is what they were using then, I attached with Velcro to an old "Alpha-numeric" type pager belt clip I had modified & just clip it onto the belt of my jacket.
I don't need to see the knobs or the lights unless there's a problem in which case I'll be pulling over anyway.
I just reach down & turn it up or down a pinch as needed. I usually wear a tee shirt and a thin sweater only underneath the jacket & thin tight like leggings.
I've got the whole setup, Suit, gloves, & socks & love the looks I get when it's really cold and I ride by at 80mph.
Yeah, the gloves & the wires are a hassle, but it keeps me warm, extends the riding season dramatically so it's worth it. Gerbing was great to deal with even when I sent the jacket back for some alterations.
Great service, especially from Mike Vlahos, the salesman I dealt with here in central MD. BTW, I ride a '99 BMW K1200LT with LOTS of watts and miles. Really enjoy your site."
---
From "B.B.":  "Hi Rick, Just read through the reviews of the Gerbing's heated gear and wanted to comment on mounting the Heat-Troller.
I attached the Heat-Troller to my tank bag using zip-ties, running the power wire to the connector that sneaks out from under the saddle of my V-Strom.
The majority of the wiring is inside my tank bag, so the set-up is fairly free of dangling wires. Access to the Heat-Troller is simple and it can be adjusted easily "on the fly." I've attached a picture of the set-up (below).
Thanks for the great web resource."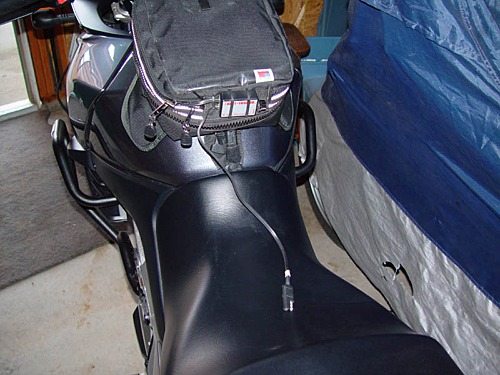 ---
From "T.H.":  "I live in southwest Michigan and bought a liner and gloves two years ago.
I don't use them often because I ride a Kawasaki Concours while wearing an Aerostitch Roadcrafter suit and with a long sleeve t-shirt and a fleece jacket I am comfortable to about 30 degrees Fahrenheit behind the fairing.
Colder than that and out comes the electrics.
I used a Widder vest and gloves for about twelve years and got tired of my arms always being cold because my shoulders were wider than the wind screen so I bought the Gerbing liner with the sleeves.
This helps but I have cold spots on my back, one near the left shoulder blade and the other near my right kidney area, and under my left bicep. I've started using my fleece jacket but the Roadcrafter sleeves get a little snug.
I've asked for a fleece vest for Christmas to at least keep my back warmer so we'll see if that helps in the spring (late winter?). I do think the Widder gives a better more even heat.
I attached Gerbings connector to the battery and run it under the left edge of the seat when needed.
I can slide the wire in under the seat so only the plug is showing when I'm off the bike or if the temperature goes up instead of fumbling with the seat each time I want or don't need it.
When the warmer temps are here to stay I put the whole harness under the seat. I put a small patch of Velcro on the back of the controller and stick it to the Velcro on my left thigh where the Aerostitch map holder attaches.
I haven't experienced trouble operating it but the knob is a little small for the heated gloves.
The knob is usually pointed away from the gas tank so I can pinch it between my thumb and index finger more easily for adjustments. I normally set it about half way to max and leave it till I get too warm or too cold.
My only major gripe is trying to plug in the gloves.
The pigtail from the sleeve is just about long enough to hold between the heel of my hand and my pinky finger.
Needless to say, once they are connected I don't unplug them till I am ready to take everything off. I just joke about my mommy putting the wires on so I won't loose my gloves on the play ground.
Like you, the neck is too tight when zipped fully so I zip it to a comfortable height and zip my jacket fully. I wear a full face helmet.
Behind the Connie faring this seems to be enough. No cold spots on my throat otherwise, my neck and base of my head gets really, really cold.
A nicer outer fabric would be a benefit, especially when I take the riding suit off and would like to leave the liner on walking from the bike to the restaurant or a store. Something like the Widder outer shell.
I don't think it needs to be wind or water proof. Just cosmetically nicer."
---
From "C.A.": "Rick, great site! I particularly like how you review items in detail. Just a couple comments on your Gerbings article. Your electrical formula "volts = watt x amps" is wrong .. it should be "volts = watts / amps".
I've also got a Gerbing liner and it is plenty warm. I wear it under a Joe Rocket Phoenix with the DryTech liner, on a minimally faired VFR (which has a 430 watt alternator). I'd like to counter some of your criticisms:
1. The thin shell:  I don't think this product was ever designed to be worn without a normal motorcycle jacket over it.
Note the complete lack of impact and abrasion protection, and it is sold as a 'liner'.
I think it is unfair to criticize the liner for lack of wind and waterproofing when it is the responsibility of the outer garment to provide that. Personally I appreciate that I'm not spending money or packing space on functions which my outer garments already provide.
22. The controller is hard to use with gloves. Get a real Heat-troller which has a better knob.
I've also gone the extra length of installing a permanently-mounted controller in my fairing. It controls the output of a Powerlet, which my liner plugs directly into.
I can see the controller, easily adjust it, and don't have lots of extra wiring hanging about.
3. Your statement "The liner also has two main connecting wires; one plugs into the harness from the bike's power and the other plugs into the controller." seems incorrect or at least unclear.
On my jacket one is for the pants (i.e. an accessory) and the other is to power the jacket (either for the controller or to the battery harness). I hope you're not wiring both to the battery, or trying to run the liner on the accessory connector.
I'm not an electrical engineer, but I wonder if such a configuration would cause a short or reduced output?
(Editor's Note:  Sorry for the confusion – it's the controller that has the two wires, one for the jacket and one plugs in to the bike's power).
4. As a final note, Gerbing offers the liner in a quilted version which has more insulation than the standard liner.
However, I have regular liner and underneath an unlined DryTech wind/waterproof liner it is more than adequate down to 30F (and colder than that I don't ride due to ice).
5. I've had an Aerostich vest which draws less juice (45W) but found I needed to add a fleece layer over it, negating much of the bulk-saving benefits. It just wasn't very warm.
However, what they did right was to use thinner but more heating elements than Gerbing, so the heat was more evenly distributed throughout the torso.
Keep up the great reviews!"
---
From "RGB":  "Good review of the Gerbings jacket liner — except for the performance conclusion. Wires are a nuisance to arrange especially with a three-quarter length textile jacket and high-riding textile pants.
But I have used the jacket (and $79 glove liners) when frost was thick on the road, and "toasty" is exactly how I felt. I keep the thermostat in the optional leather pouch and clip it to a Velcro strap on my left thigh.
The knob does need to be bigger, though I can rotate it — sort of — with my gloves. Important to wear a thin fleece over it, however, as a textile jacket by itself will lose heat in the wind. I ride a 'Strom behind a Cee Bailey's screen."
Editor's Response:  Thanks for the email, RGB. One email I received today brought up a good point that I hadn't considered.
We're now thinking that perhaps the motorcycles we used to try the heated liner over the last several weeks do not have a big enough alternator to power the liner. The bikes only have 200-250 Watt alternators.
I checked Gerbing's site again and found that the liner takes 77 Watts, which is a very big power draw. Someone wrote to tell us that a bike with more output is probably necessary.
Gerbing doesn't warn about this on their site, so I never really thought about it. A friend is coming over this weekend with a BMW touring bike, so we'll try it with that bike, which I think has 400 Watts output.
We'll post the results, perhaps we'll have to eat our words!
---
From "B.T.":  "Rick sorry but I have to be among the ones disagreeing with you on the Gerbing. I have been totally satisfied with mine for the past 2 years. I ride late model BMW's which have high output alternators which may make the difference.
Unless it's really cold, I have to turn mine off at times. I only use an on/off switch though. I currently ride an R1150R with a Cee Bailey's windscreen."
---
From "R.F.":  "I just purchased a complete set of Gerbing heated clothing (jacket liner, pants liner, gloves, and socks) to use when riding my 2004 Harley Ultra Classic. I also purchased the dual thermostat/controller.
To date, I have used everything except the socks and have been satisfied with the performance.
I tend to be a bit anal regarding safety so I wear leather chaps and leather jacket regardless of the temperature.
Wearing the heated garments under the chaps and jacket does make one much bulkier and less agile but the trade off in being warm far outweighs the inconvenience.
Yes, it is a pain and takes extra time to "gear up" to go riding but again I feel being warm and comfortable is worth the effort.
My opinion of the pros and cons are as follows:
Cons
I agree with you regarding the pockets being next to useless.
I very strongly agree with you about the outer layer of the garments needing to be more durable and wind & water proof.
I found that all the associated wires are "stiff", hard to work with and store.
I found that the storage pockets for the accessory plugs to connect the gloves and socks are all but useless.
Finding a place and means to mount/store the control unit is a real problem. It has to be in an area that is easily accessible as well as visible so that the rider can see the LED indicators. I finally wound up clipping mine the pocket of my chaps but don't know what I will do when I have to put my rain suit on.
The two control knobs on the controller are a bitch to use with gloves on!
Some means of fastening the gloves to the jacket or jacket liner would be nice so that when you needed to remove the gloves you did not have to mess with unplugging them or leaving them dangle from the cord.
They are rather expensive.
Pros
Used as directed (under wind proofing), they do work.
Gerbing seems to be responsive to their customers and provides a good warranty.
Garments can sustain being wet without shorting out or zapping the rider.
Wired as directed, the wires and system are protected by an inline fuse.
Each garment comes with all required wiring & switches (including fused lead from the scoot and a simple on/off switch), optional thermostat/controller available.
Idiot proof, well labeled connection plugs.
My Observations
I have found that when using the jacket liner and the pants liner by themselves, worn under a wind proof outer layer, and each controlled by their own separate channel on the controller they both produce more than adequate heat on the lowest thermostat setting.
I am very sensitive to cold but found that if I turned the thermostat up, I was soon roasting.
I did notice that when I plugged the gloves into the jacket liner, therefore controlling both garments via one channel of the thermostat, the quantity of heat produced by either garment was dramatically reduced.
Even turning the thermostat full hot did not seem to make any difference.
This has the potential to be a real problem when it gets seriously cold and I feed the jacket liner and gloves from one channel and the pants liner and socks from the second channel.
The only other option I can see is to run a separate wiring harness from the scoot to 4 separate thermostat/controllers to supply each garment independently.
Gerbing provides the harness with each garment but running 4 sets of wires and 4 thermostat/controller's is a bit much.
I also had/still have a problem in where to mount or keep the thermostat/controller.
It needs to be in a place that can be reached easily and by touch as well as being visible so that the LED indicators can be seen.
Taking your eyes and concentration off the job of riding to adjust the heat is just asking for one of those "OH S**T!" moments. Trying to "feel" and adjust the thermostat with gloves on is almost an exercise in futility.
I think some of the awkwardness of the system could be alleviated by using wire that is more pliable and less stiff as well as providing adequate storage pockets and wire fasteners on the garments to store excess wire and secure unused plugs.
In conclusion, even with the faults and negatives I observed, I would still opt to purchase the garments. I can say this because they do work. I can put up with a lot of inconvenience as long as I can stay warm."
---
From "S.":  "Heated clothing – hmm – been playing with that for some time now and here are some gems of information that may help you along.
The Gerbing liner, especially puts out heat but as note has no insulation.
That's OK if you are wearing your REV'IT! winter jacket — the same combo I am using not when wearing the Darien jacket — unless you are wearing the liner too, the heat simply escapes and must be trapped.
That said, make sure that your connections are ok and that the heat controller is working.
A friend bought a Widder temperature controller and then rode the iron butt. I almost froze to death (not literally but you get the idea) because the controller was malfunctioning. Try wiring with an on-off switch.
I've been out in 0 (degrees) F using heated clothing. It's stupid-fun especially when I had a CB and the trucker's were talking about me and my riding buddy.
Without it I'd be dead. Try again — the stuff works -0 just some bug in the ointment there with your set up.
BTW, I have the Darien heated liner too. It's nice but a waste of money since it doesn't keep you way hot like the Gerbing does (or should)."
---
From "D.D.":  "Just a note to say I use this while riding my GL1800 and love it. I have to keep it turned down to avoid sweating. Perhaps the liner was defective?"
Editor's Response:  We checked it out, D.D., and it does work. Apparently the heated jacket liner needs to be worn under an insulating garment and also under a garment that blocks the wind (according to Gerbing).
This defeats the goal of having fewer layers. And if this is the case, we're not sure why it wasn't originally designed with it an outer insulating layer and wind-blocking fabric?
---
From "R.&C. T.":  "I have owned and used Gerbing Heated riding gear since 1978. I purchased 2 heated riding vests then and still have both which are worn but the electrics (heat) work perfectly.
My wife and I both currently use Gerbing heated jackets and gloves, which have worked perfectly for years.
We put them on over a long sleeved shirt then our riding jacket. We both have thermostats to control the amount of heat.
Our motorcycles are a fully faired BMW R100RS, Moto Guzzi V11 Sport (with only a very small bug screen!) and our touring Vespa P200E (which will run _one_ heated vest).
Two up on the BMW in any kind of weather with the heated gear is very comfortable. I usually ride the Guzzi solo and have no problems with the heated jacket keeping me very warm.
I have met Gordon Gerbing and can say he has worked very hard to build quality products and if there are any problems they stand behind their gear.
Other WebBikeWorld Clothing Posts