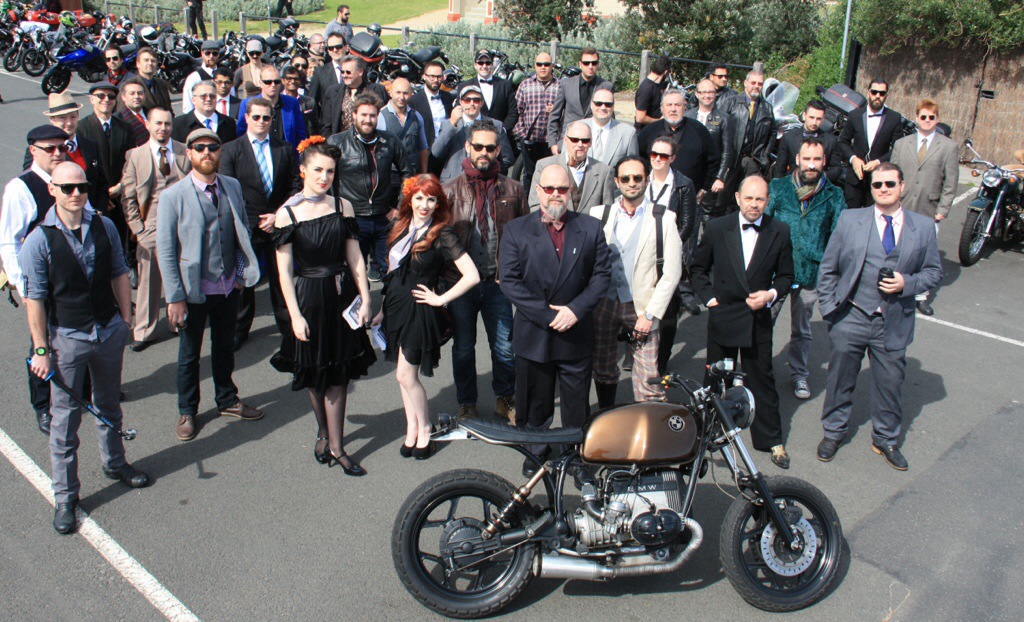 Hundreds of riders got their "dapper" on today (September 29) for the second annual Distinguished Gentleman's Ride.
The ride is held in more than 100 cities worldwide, including five major cities in Australia, in aid of Prostate Cancer research.
I attended the Melbourne ride this morning and can report several incidents of gentlemanly dapper.
It was led by Peter Sherringham on his "Tweed Steed" Suzuki GSX1100 which sorted a cut-up tweed jacket on the fenders and tank.
Several women also participated, sporting false moustache "gentleman" disguises.
Spokesman "Doc" says the event started after a Perth rider noticed a photo of The Wild One actor Lee Marvin wearing a suit while sitting on his Triumph motorcycle.
The image created a notion of dapper bikers and soon after the DGR was born. It was created specifically for owners of cafe racers, bobbers, flat trackers, retros and other classic motorcycles.
In its second year, they have decided to make it a charity ride and have sponsorship from Gentlemen Jack twice-mellowed Jack Daniel's bourbon.
This year's ride has raised the target amount of $250,000, says Doc.
In its first year, the ride was held in 64 cities across the world and the Facebook site has grown exponentially.
In Melbourne more than 130 bikes assembled at Mordialloc by the sea to ride into South Wharf for an after-party at Gasolina cafe.
There were also rides held in Sydney, Brisbane, Perth and Newcastle as well as several US cities, Italy and Berlin.
Visit: www.gentlemansride.com for more details.