Are you an ATGATT (all the gear, all the time) rider, or do you believe riders should be allowed to choose their own level of protection?
While we can understand the desires of riders to choose their own level of protection and, on occasions, choose style and comfort ahead of safety, new safety gear allows both.
Gone are the days when riders had to cocoon themselves in stiff leathers and stormtrooper boots to be protected.
Many of today's motorcycle apparel manufacturers offer jeans, jackets, gloves, boots and helmets that are comfortable, cool, weatherproof and protective.
If riders don't start taking some responsibility for their own protection, we fear authorities may start to mandate protective clothing as they have done with hi-vis vests for novice riders in Victoria and France.
The US Motorcycle Industry Council has started a "Gear up" campaign to get more riders to choose suitable gear, a tall order in a country where many riders choose to not even wear a helmet in some states where it's legal to do so.
While the MIC isn't advocating mandating protective gear standards, it is launching a "Gear Up Every Ride" public awareness campaign and website for riders to choose appropriate gear for the various riding conditions and motorcycle uses, such as cruising, track work, off-road and so on.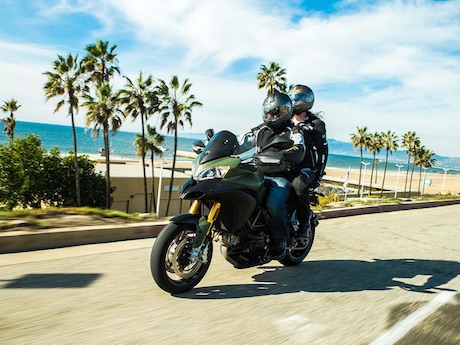 The program which will run during May's Motorcycle Safety Awareness Month was designed by the MIC Rider Safety Committee including riding gear manufacturers, distributors and marketers, such as Aerostich, Bell, BMW Motorrad USA, Held, HJC, MotoQuest, REV'IT!, Schuberth and Scorpion.
Yes, these are companies with their own interests at heart, but also those of riders who they want to retain as customers.
Committee chairman Eric Anderson describes their campaign as a "fundamental shift" in rider attitudes to protective gear.
"We want to inspire a fundamental shift in the way riders think, encouraging them to express themselves and the independent spirit of motorcycling through their riding gear," he says.
"At the same time, we want to help motorcyclists make educated decisions. It's not about shaming riders to do the right thing. It's about providing good information and encouragement to make wise choices."