Updated February, 2018
The Cafe Racer is a bike that pays homage to the early 1960's Grand Prix road racers. These were bikes designed to be lightweight in weight and power. Riders were drawn to them for their optimal speed and handling.
Visually they provided a minimalistic appearance as the complete focus was on performance and not beauty or comfort. The handlebars were often low mounted, the tank was elongated and most had knee grips to offset the odd riding angle. But this style and lack of comfort were well suited for short quick rides that created a subculture in 1960s England.
Cafe Racers became a status symbol for rebellion and a desire for speed. And today, these bikes are making a huge comeback as consumers are seeking a simpler lifestyle, living in tiny homes and returning to the rebel days of short rides on a Cafe Racer.
The unique look and geometry of the Cafe Racer demand a specific type of jacket for a riders comfort and safety. Sticking with the minimalist theme is spot on for the cut of this jacket. But today's riders are looking for more protection and comfort than was available in the 1960s jackets. Our review of some of the more popular models will allow you to weigh the benefits of the new Cafe jackets and select the one that best meets your needs.
Be sure to check back regularly with us here at wBW to read about our latest hands-on reviews of Cafe Jackets and other great products for riders.
Recommendations
Our Top Picks
Best Overall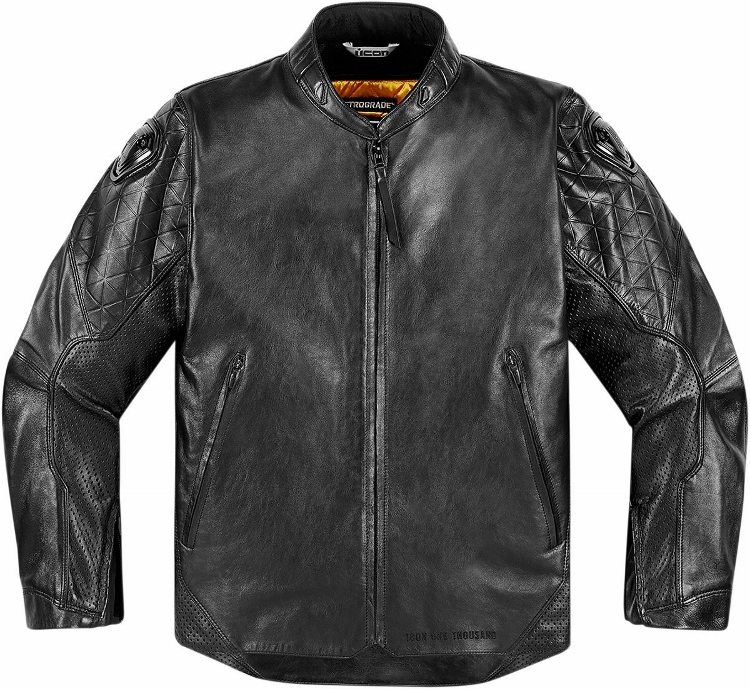 Best Value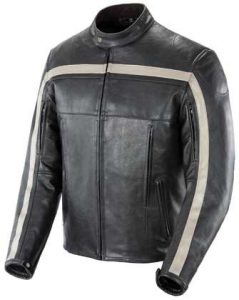 Fully Loaded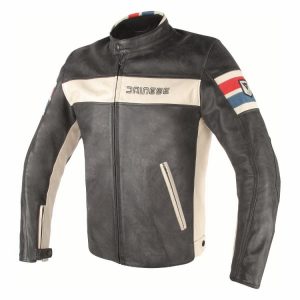 Other great options: Joe Rocket Classic '92, Scorpion 1909, Alpinestars Oscar Charlie
Cafe Jackets Buyers Guide
The retro look and simple lines of the Cafe style jacket have not changed over the years. Riders are still interested in a shorter jacket that allows for a forward lean when riding as well as a more upright position when stopped. And as a rule, the old school look of basic leather is the dominant factor in design. Even with newer more lightweight textile and mesh for mobility and airflow, Cafe riders are happy to stay with the tried and true brown or black leather that is as much a part of cafe history as the bike itself is.
---
The Winners
In Detail
Best Overall


Icon Retrograde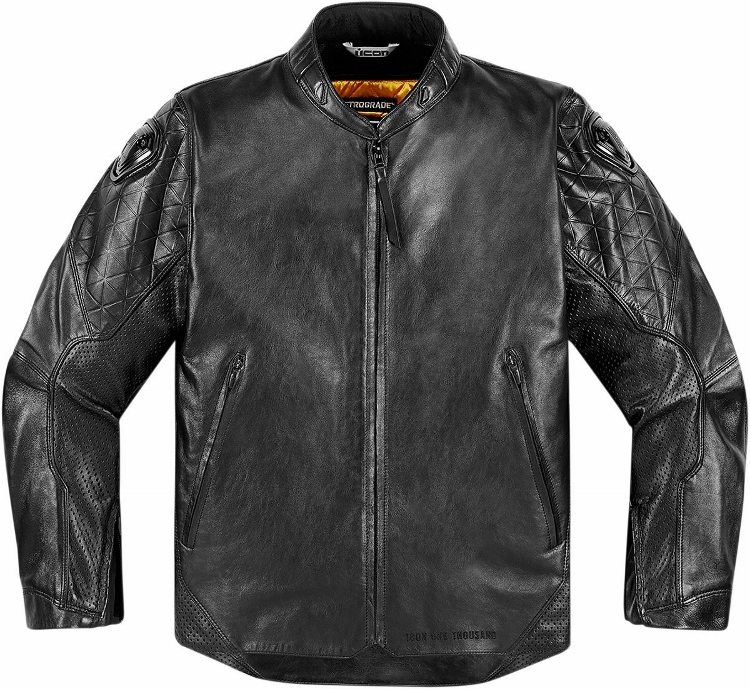 The Icon Retrograde is a masterful blend of the look and feel of an authentic 1960's Cafe Jacket with the safety updates that riders want in 2018.
This jacket is offered in the only two colors that are authentic, black and brown, and made from hand-cut Select Grain leather. The only way to look at this jacket and know that it is a current model and not a well preserved classic is the laser perforations for venting.
A closer look at the inside of the Retrograde will reveal a few other well-hidden secrets.
The removable insulated SatinCore liner is a new feature that offers comfort year round.
The D30 impact protectors in the shoulders, elbows, and back are features that were not found in the original Cafe jackets.
The final upgrade is only slightly noticeable from the back as you can see the mechanical articulated paneling at the shoulders.
This feature provides riders with the ability to lean forward and sit upright and have the jacket follow their motions. Old style leather just didn't offer the flexibility needed to conform to such motions.
The Icon Retrograde is a high-quality leather Cafe jacket that meets all of your needs for safety while still looking old school as your Cafe Racer.
The minimalist nature of this jacket does, however, mean that the fit is tight. Some riders find that the Retrograde is slightly smaller than other models. It is recommended that if you are between two sizes then you should select the larger of the two.
For authenticity, quality and safety features, we select the Icon Retrograde as the Best Overall Cafe Jacket.
Buy Icon Retrograde
---
Best Value


Joe Rocket Old School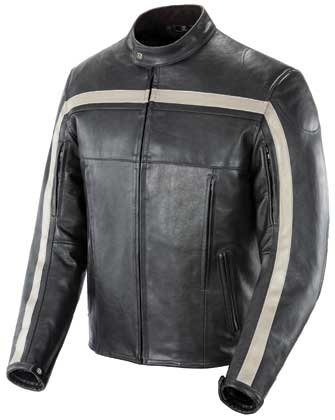 The name captures the entire essence of the Joe Rocket Old School.
This jacket was designed to complement the look of the old school Cafe Racer that has made a comeback to the mainstream bike community. Joe Rocket has taken a slight liberty with this jacket and offers it in a variety of colors which would not have been available in the 60s but they integrated the color band in a way that still looks authentic to the period.
This drum dried leather jacket also offers a few other features that were not possible back in the day.
A variable flow ventilation system allows for more airflow around the torso, shoulders, and back for added comfort on warmer days.
The removable full sleeve quilted liner adds some warmth on cooler days.
Additional impact protection is provided by the 5mm high-density padding in the elbows and shoulders.
By design, this jacket is a relaxed fit and does tend to run a little larger than some Cafe style jackets but the adjustable waist allows for a custom fit to keep the waist in place.
The Joe Rocket Old School offers riders an authentic look for a Cafe style jacket but with some great modern day comfort features, as well. And for under $300 for a top quality leather jacket, the Old School is our selection for Best Value in a Cafe Jacket.
Buy Joe Rocket Old School
---
Fully Loaded


Dainese HF D1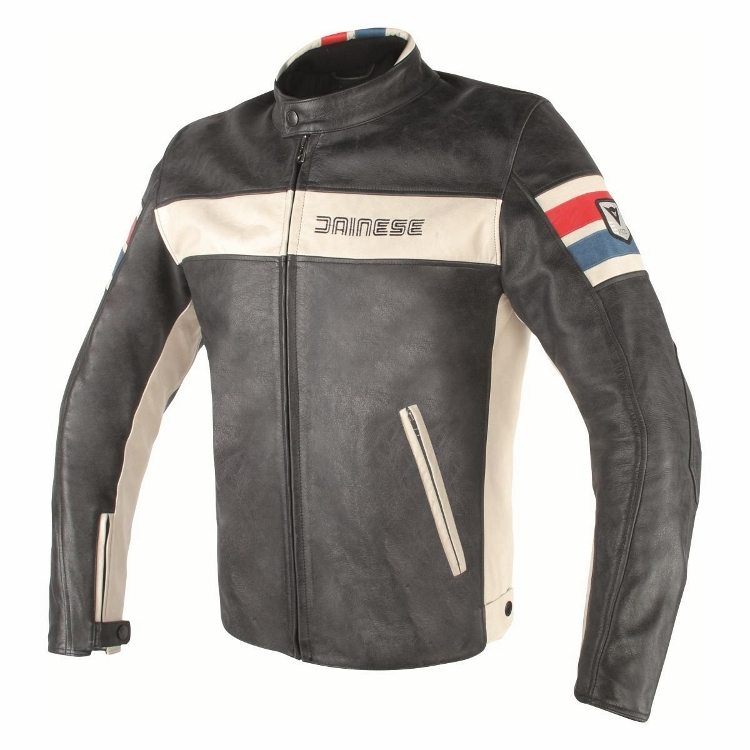 The Dainese HF D1 looks like a reproduction of an old classic but it offers riders far more than historic Cafe jackets ever did.
The vat-dyed, full-grain bovine leather offers the authenticity that Cafe riders are looking for but can also offer additional comfort when the perforated option is selected. But either option will provide a jacket that is immediately soft and comfortable, unlike the old style leather which required a substantial break-in period to attain that one of a kind comfort of a quality leather jacket.
Additional comfort/fit features include the cotton lining, adjustable neck strap, and adjustable waist strap.
There are also loops provided to connect the jacket to belt loops to keep it secured and in place when riding.
A single inner pocket and 2 outer zipper pockets round out the comfort and accessibility features.
What sets this Cafe jacket apart from all of its competitors are the safety features that Dainese has been able to conceal without sacrificing its authentic look, fit or feel.
Removable Pro-Armor EN 1621.1 soft protectors are located in the shoulders and at the elbows.
In addition, there is a back pocket which can accommodate a G1 or G2 back protector if the rider so desires.
Finding a Cafe jacket that could pass for an old classic but offers modern safety features is a tall order. But Dainese has managed to deliver once again. And it is not surprising that this perfection comes at a rather hefty price of nearly $600.
For this combination of safety and style, it is a small price to pay and that makes the Dainese HF D1 our selection for Best Fully Loaded Cafe Jacket.
Buy Dainese HF D1
---
Other Great Cafe Racer Jackets
In Detail
Joe Rocket Classic '92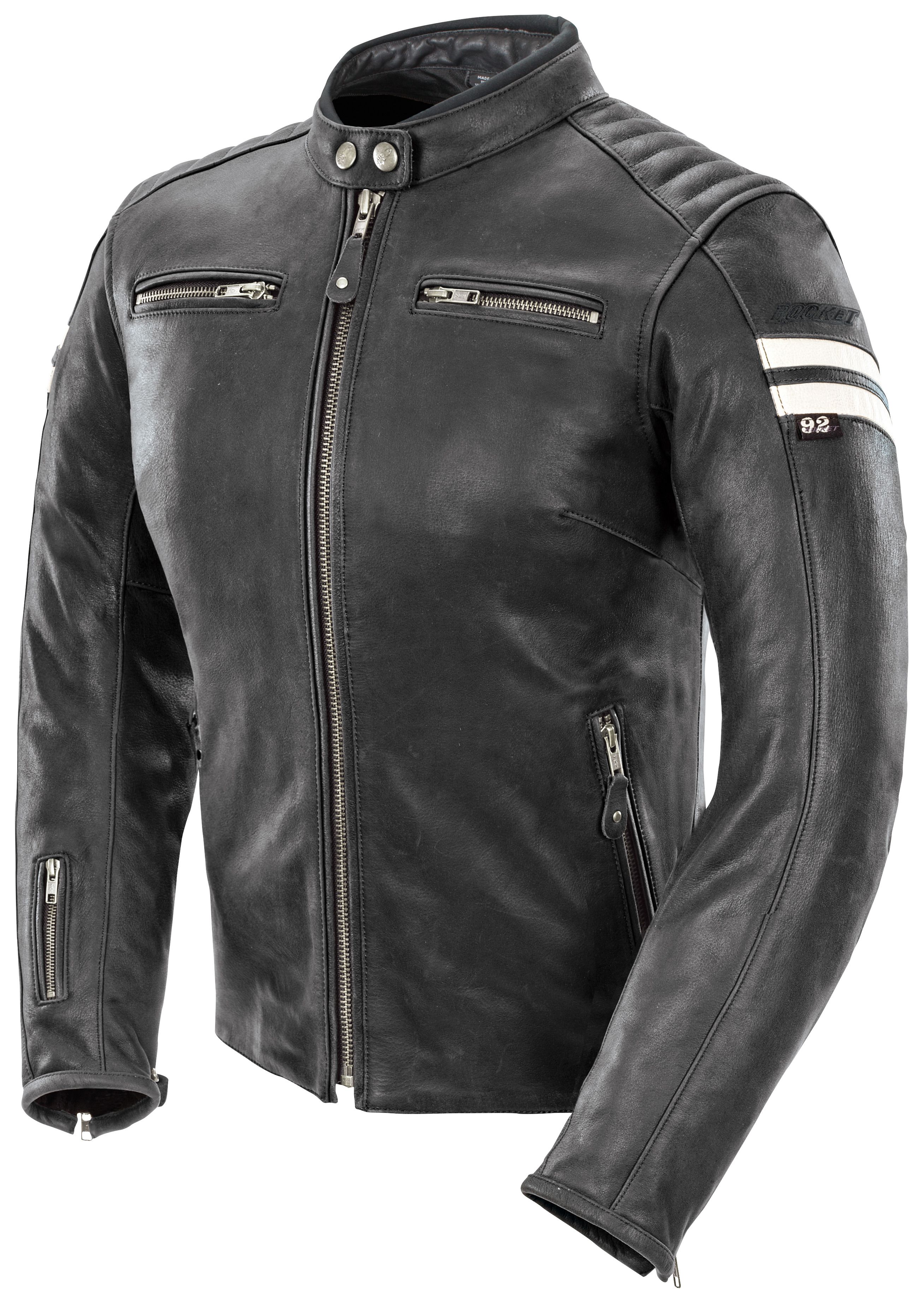 The Joe Rocket Classic '92 is a throwback to the jacket that we all wore when we bought our first bike. Slipping into the classic relaxed cut brings back memories of good times and freedom. The drum dyed leather is cut for comfort and is soft from the first day that you put it on.
This jacket offers a full sleeve quilted liner and pockets on the shoulders, elbows, and back for armor if you choose to purchase it separately. The adjustable cuffs and waist allow for a custom fit and even more comfort. There are 2 internal pockets and 4 outer zipper pockets for fast, easy access.
The sizing on this Cafe style jacket is very reasonable and accurate as compared to other jackets. But that sizing applies to the jacket as it is sold with no additional armor. If you are planning to insert armor or additional foam pads, take that into consideration when selecting a size.
The cost of the Classic '92 is about what you would expect to pay for any decent leather jacket, but this jacket allows you to customize your level of safety. This is a good choice for any rider looking for a Cafe jacket to customize with the armor of his or her choice at a really reasonable cost.
Buy Joe Rocket Classic '92
---
Scorpion 1909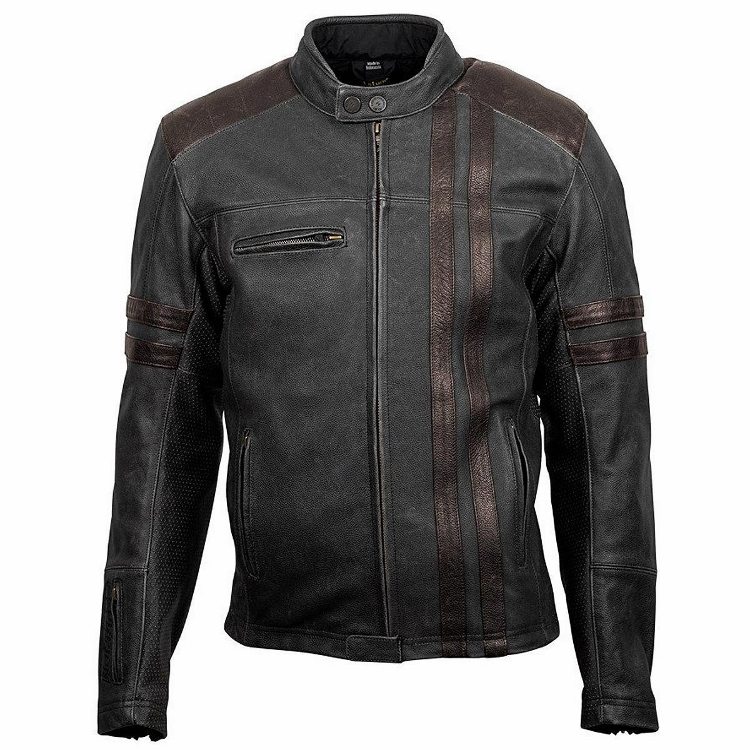 Riders looking for a classic distressed leather look but with modern day safety built in will want to check out the Scorpion 1909. The pre-softened leather looks authentic and is comfortable from day one. The perforated panels on the sides of the torso and under the arms allow for great airflow as do the 2 zippered rear vents.
In cooler weather, the removable EverHeat liner with Kwickwick panels is a great feature. The 1909 includes Sas-Tec Level 2 armor at the shoulders and elbows as well as additional leather overlays for the high abrasion area of the arms.
There is also a pocket in the back to accommodate a back pad or spine protector.
Stretch panels at the sides, waist adjustment tabs, zipper closures at the wrists and a padded collar add to the comfort and ability to customize the fit.
The cost of the 1909 is a little more than some other Cafe jackets but the key to remember is that this jacket includes the Sas-Tec Level 2 armor. For riders looking for a Cafe jacket that is safe and ready to go right out of the box, the 1909 is a good investment.
Buy Scorpion 1909
---
Alpinestars Oscar Charlie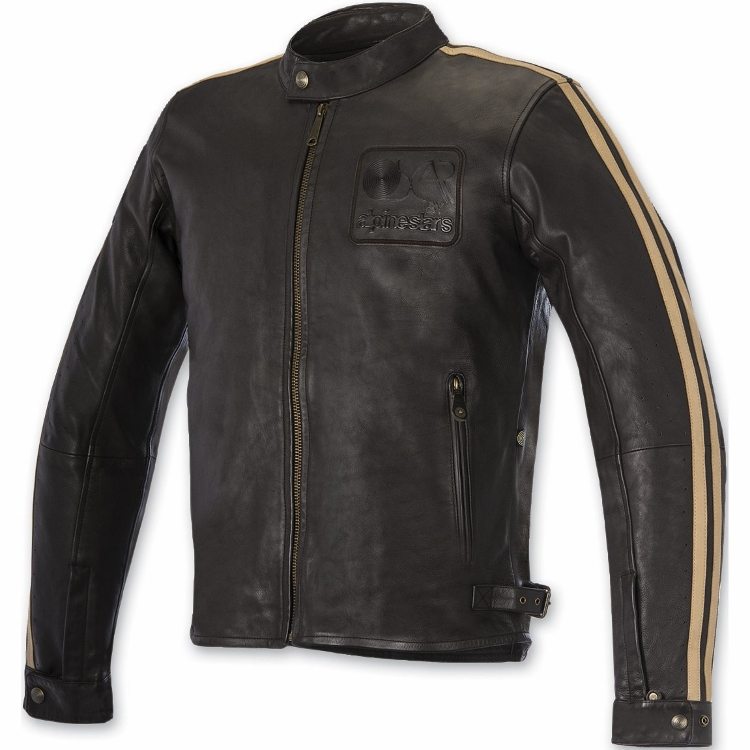 Alpinestars has recreated the Cafe style jacket, authentic right down to the athletic fit and the contrasting leather stripes down the shoulders and sleeves.
This full leather design is created using a natural finish which is abrasion resistant, durable and soft from the first time that you put it on.
The slim fit of the Oscar Charlie is highlighted by the sleeves which are around 1-1.5 inches longer than most jackets.
This offers additional protection for wrists when leaning forward in the classic Cafe Racer position.
The sleeves are also pre-curved for added comfort and mobility.
The removable flannel liner makes this jacket a great option for cooler weather as well.
Alpinestars is able to offer a unique combination of a sleek design and safety thanks to the slim fitting CE certified removable Bio Armor in the shoulders and elbows for added impact protection.
There is also a back pocket which contains comfort padding but could be upgraded to the CE certified Nucleon back protector if added spine protection is desired.
The adjustable waist, as well as the zipper and snap sleeve cuff closures, add to the security and safety of a personal fit.
A pair of outer zipper pockets and an interior wallet or document pocket round out the features of the Oscar Charlie.
At over $500, the Oscar Charlie is at the high end of the price range when shopping for a Cafe Jacket. But the quality design, added comfort, and safety features, as well as the classic design, make this jacket a top contender for riders looking for a quality Cafe Jacket.
Buy Alpinestars Oscar Charlie
---