Garmin StreetPilot C330 GPS Review Summary
Garmin StreetPilot C330 GPS Image Gallery
Garmin C330 GPS Review
Although I hate to admit it, technology has continuously played an important role in my life.
Over the past two years it has taken over my sense of reality as it pertains to motorcycling.
As luck would have it, my income outpaces my common sense, so I tend to dabble in toys for the motorcycle.
And common sense lost out one more time to a little extra cash, so I just had to look for something new.
If you're suffering from the same instability then here's something you might consider: a GPS for the bike.
More and more higher end "touring class" motorcycles are incorporating GPS into their standard feature set or in one of the option packages, but the technology can easily be incorporated on any motorcycle, and probably for a lot less money.
Now truthfully, part of the magic of motorcycling is the getaway.
The unplanned trips to wherever a tank of gas gets us. But if you're trying to make an "a-to-b" type of trip, as I'm sure we all have, then I'm sure you'll understand the magic that comes with either good directions or a map.
Lots of tank bags have places for maps but after a couple of weeks of experimentation I'll tell you that a "moving map" is way cool.
In this case, the GPS provides both: good directions and a map.
Although manufacturers are beginning to make units specifically for motorcycles, these tend to be rather expensive. I was looking for a more moderate approach, say in the $350.00 range.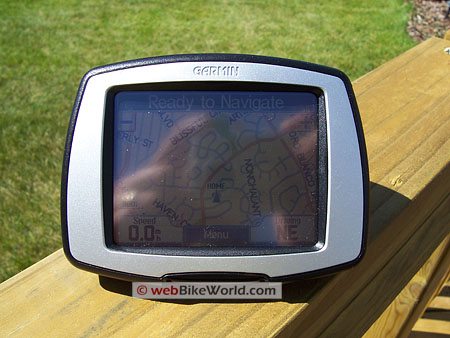 Photo Above: Glare from the sun washes out the c330's screen, although this GPS is not designed for external use. Garmin says the c330 is not recommended for motorcycles.
Garmin C330 GPS
After much contemplating over units and much review I discovered that not only is it possible to have your cake, but to eat it too. Boom.
There's the C330 with a suggested retail of $349.99; for me, it was a match made in heaven – a well respected company with a price point I was comfortable with.
(Editor's Note: See the wBW review of the Garmin i5 and Garmin i3, alternative low-priced GPS units that can be adapted for motorcycle use).
So what's to lose?  The old MasterCard flew out of my wallet and I was completing the purchase online faster than you can say "Global Positioning System".
Garmin says "(the) StreetPilot c330 comes ready to go right out of the box with preloaded City Navigator NT street maps, including a hefty points of interest (POIs) database with motels, restaurants, fuel, ATMs and more.
Simply touch the sunlight-readable color screen to enter a destination, and the c330 takes you there with 2D or 3D maps and turn-by-turn voice directions.
In addition, the c330 accepts custom points of interest (POIs) such as school zones and safety cameras and lets you set proximity alerts to warn you of upcoming POIs."
It's all true. Very true.
Let me just start by saying that this is one of the greatest gadgets I've purchased to date. I thought nothing would enhance my riding pleasure more than satellite radio, but I was wrong.
BBeing able to fill the tank and head somewhere I've never gone before has been great fun. Especially when I didn't really care where I was going or having to leave breadcrumbs to figure out how to get home.
Since I've saved the home address in the address book, I can get hit the "go home" option and I'm being led back. Fantastic.
In the Box
The C330 is ready to go ride out of the box and includes a nice 12 Volt plug to adapt it for use on your bike (or car, but why do that?).
What is more important is that it has a built-in lithium-ion battery so even without external power, you've got around eight hours of usability.
You can even charge the unit via the included USB cable by plugging it directly into your PC.
Incidentally, the fine folks at Garmin provide excellent software that makes keeping your GPS up to date extremely simple. Automated in fact.
Once you install their software, you can choose to have the software automatically check for updates and install them every time you connect it to your PC. Brilliant option says I.
AAccuracy is excellent thanks to the C330s' ability to incorporate Wide Area Augmentation System (WAAS) and although there's no headphone jack to incorporate the audio into your helmet, the prompts on the screen make for easy turn-by-turn navigation.
The unit can provide either a "moving map" display or a 3D "flyout" type of visual representation.
Another thing: it's very light and the mount that comes with it has a very high quality suction cup. It holds firmly to my tank which I found to be a much more convenient mount for me, rather than having it up on the windscreen.
In my line of sight, it's centered just below the speedo (something I should check more often anyway). (Editor's Note: See the wBW article on a handlebar ball mount specifically designed for Garmin GPS units).
Even though the screen is "bright" I've found that if the sun is directly overhead, it is possible to have the screen get a touch washed out, as illustrated in the photo above. A quick hand over the top for a touch of shade is all you need to clearly see it.
This doesn't necessarily bother me, as the GPS is intended to supplement my ride, not automate it. I use it mostly for figuring out where I'm going in the long term rather than staring at it before every decision point.
Regardless, the rest of the time the screen is sufficiently bright enough for me to see exactly where I'm at.
Even if I'm not using it in "navigation mode" meaning I haven't told it where my destination is, it's neat to use the "view map" mode to see the moving map and what the name of the next street upcoming is.
This could be useful if you knew which street you wanted but couldn't remember if it was five blocks up or six.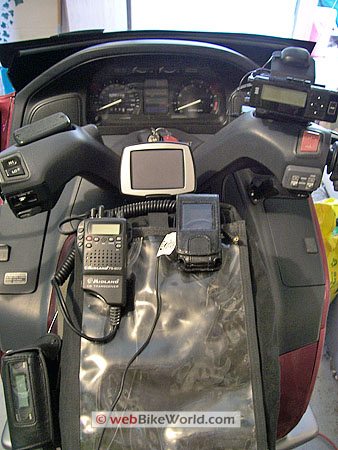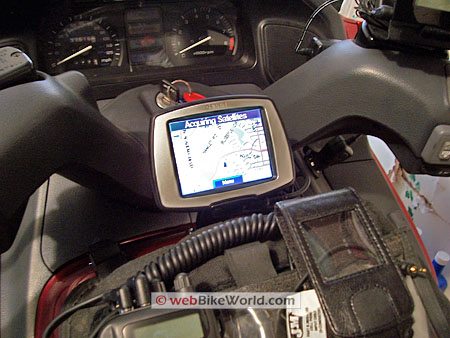 Now, the C330 is not waterproof nor am I. If you're one of those "I'll ride in it all" kinda folks, then maybe you do need a ruggedized unit that will survive a nuclear winter.
Garmin and some other manufacturers are making weatherized units, so you might consider one of those instead.
Others carry a plastic sandwich bag and some rubber bands to cover their Garmin i3 or i5 or the c330 when it gets wet.
However, if you're not the person that rides in every downpour, then you might consider getting the less expensive "I die in water" type. They are half the cost and have the same basic features.
Consider that the Zumo 450 which is "designed for the motorcycle enthusiast" has a retail around $750.00 and has buttons plus the touch screen.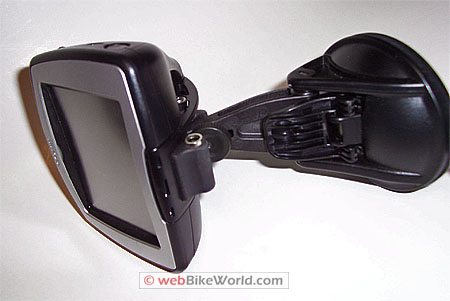 Photo Above: Garmin c330 mounting system.
The C330 is all touch screen (except for the volume control) and I have no issues working the touch screen while wearing gloves. No issues whatsoever.
Again, the C330 doesn't have a headphone jack output so if you need voice prompts then maybe you should look at a more expensive unit.
(Editor's Note: See the wBW article on modifying a Garmin i3 and i5 to add an external speaker jack; the same modification could probably also be done to the c330).
Basic Specifications
Dimensions: 113 x 82 x 72 mm (4.4″ x 3.2″ x 2.8″).
Display: 72 x 4 mm (2.1″ x 2.8″).
Resolution: 320 x 240 pixels.
Display Type: 16-bit TFT LCD with white backlight.
Conclusion
Looking for a lightweight, portable, easy to operate, inexpensive GPS for your motorcycle?
Then instead of spending a fortune on one of those complicated models, give the C330 a try.
It's a tremendous bang for the buck and hey — if you decide to get one specifically designed for motorcycles later on then you can always use this one in the car. Or sell it on eBay.
w

BW

 Review: Garmin C330 GPS
List Price (2007): $535.70 (Street price $499.99)
Made In: Taiwan
Colors: Dark Gray
Sizes: 9.45 ounces (269 g)
Review Date: June 2007
Note:
 For informational use only. All material and photographs are Copyright © webWorld International, LLC since 2000. All rights reserved. See the webBikeWorld® 
Site Info page
. Product specifications, features and details may change or differ from our descriptions. Always check before purchasing. Read the
Terms and Conditions
!
Owner Comments and Feedback
---
From "D.R.":  "I was reading your review of Garmin C330 and noticed your comments about screen washout. There is a solution for your readers (especially for motorcycles).
Our company makes a GPS accessory sun shade for the most popular GPS units. Basically these shades prevent direct sunlight from reaching the screen, dramatically increasing screen visibility
The visors attach with Velcro (formulated for high temp applications), and are made of a soft material that can be folded right over the screen for storage. We recommend these for GPS units that are mounted on motorcycles with windscreens.
Most of our shades are less than $19 and we will ship them free to your readers (US/CAN)."
---
From "T.M.": "I bought one of these two years ago when it first came out. In no particular order, these are the downsides:
The power switch is a surface mount switch and breaks away from the circuit board easily.
If it gets wet, the contacts on the unit quickly pit and corrode. It won't start up below 32 degrees F. The suction mount cannot be trusted. The screen scratches easily. The c500 series screen is much brighter.
On the plus side, the audio is LOUD and it's got a fast processor for quick routing or re-routing."
---
From "N.F.":  "This is not a comment about the C330, per se, but about GPSs for bikes in general. I considered a lot of GPSs for my bikes, and I own crotch rockets, cruisers, and tourers. It is possible to use tank bags on all three types, but wired power is not necessarily easy provided.
So, my criteria was 1) must be thin and easily and safely fit in the top map pocket of a tank bag; 2) must have at least 4 hours of battery power; 3) must be readable in direct sunlight; 4) MP3 play while navigating a route.
Most of the GPSs like the C330 are way too thick to fit in the map pockets. Those that aren't too thick have a fold-out antenna, which could easily be broken if folded out and stuffed in the map pocket (if indeed it could be stuffed in there at all). Some can't play MP3s while navigating. My choices narrowed down to one brand: MIO.
The MIO isn't my favorite, I admit. I have a Lowrance iWay500c that is my all-time top choice.
That's pretty big and needs power, but the interface is really good, it's waterproof, and it can be read in the brightest sunlight. I have a Nuvi 650 that I like much better than the MIO, but its fold-out antenna is a problem (and I do NOT want to carry an accessory antenna).
The MIO, though, is a reasonably priced and functional unit, and will probably meet, but not exceed your expectations.
If you want a GPS that you can very simply pop into a map pocket and go, you'd do well to consider the MIO."
---
From "H.T.":  "I got my C330 on May 2007 at Circuit City for only $249.95 (not refurbished). So it's a Best Buy GPS for sure. It was purchased for use in my car when traveling, but I ended up using it more on my FJR1300 AE in the 3D map mode.
The great thing about GPS is it will preview the road ahead to give me a heads-up on the approaching corner or curve. So if a hairpin curve is coming up, it's not going to be a surprise.
That is going to be very helpful riding unfamiliar twisty roads when traveling, particularly at night.
The only negative is that the approaching street name is not announced like the C550 model – such as "Make a left turn in 200 feet".
Here is a nice feature – If the "speed" button is pressed it will display the last trip data: Total distance, avg speed, total time, moving time, stopped time, moving average, plus the highest record speed for all trips taken (which was surprisingly high)."
---
From "B.W.":  "While you may get away with using that suction cup mount on a luxury tourer (which is what it looks like you've mounted it on, from the pictures), I wouldn't trust it on a bike.
I bought a c340 for my daughter to use in her car, and the suction cup mount is highly susceptible to temperature variation. There's a small pocket of air under there, and it changes volume with temperature. If you put the thing on when it's cold, then when it warms up, it falls off.
(Editor's Note: We've had good luck by wetting the suction cup before use).
I also wonder whether the c series can handle the vibration of a motorcycle environment.
It's been widely demonstrated that units with hard drives (which does NOT include the c-series) don't survive, but I don't know if Garmin has different vibration standards for the electronics in different units.
Lastly, I think the voice prompts are nearly a necessity on a bike, for safety reasons, if you're using the unit to provide directions. You really don't want to be looking down at that thing as often as you might have to to ensure you don't miss a turn.
(Editor's Note:  See the wBW article on modifying a Garmin i3 and i5 to add an external speaker jack; the same modification could probably also be done to the c330).
No, I don't work for Garmin. But I am a satisfied owner of a BMW Navigator II (Garmin 2610) and the aforementioned c340.
Here's a fun GPS trick for finding some new roads: ride somewhere pretty far from home, then set the GPS route preferences to avoid freeways and major roads and prefer minor roads, then tell it to take you home."
Other WebBikeWorld GPS Posts