Furygan Fighter Jacket Review Summary
Furygan Fighter Jacket Image Gallery
The Furygan "Fighter" is a high-quality leather jacket with a wonderful hand. It's also instantly comfortable. Just be sure to confirm your correct size before purchasing. It's good to see Furygan gear finally sold in the U.S.A.! Hmmmm…I know I've seen this jacket before — but where? Then it hit me — Ago!
Yep, the one and only Giacomo Agostini wore Furygan leathers when he was riding for Yamaha back in the day. I dug up a photo of Ago in an old moto book and, sure enough, his Furygan leathers sure look to me like the inspiration for this Furygan "Fighter" leather jacket.
I can see it in the details — the stripes on the arm, the red outlined pockets (very '70's) and even the tailoring have captured the spirit. So score one for Furygan, because I'm a big Ago fan (see the wBW review of our autographed copy of "Fifteen Times", his autobiography).
Now, stylin' like Ago is fine, but what about the rest? The '70's, in case you haven't noticed, are long gone. We, the citizens of the 21st Century, demand high-tech safety and quality along with our classic styling. Can the Fighter deliver?
About Furygan
Furygan is probably a new and unfamiliar name to many American motorcycle riders.
But the name Segura might ring a bell? They've been a long-time European leather clothing manufacturer of note.
Jacques Segura was part of the family-run business but he had his own vision, so he struck out on his own in 1969 and started Furygan, and his family has been turning out high-quality motorcycle clothing ever since.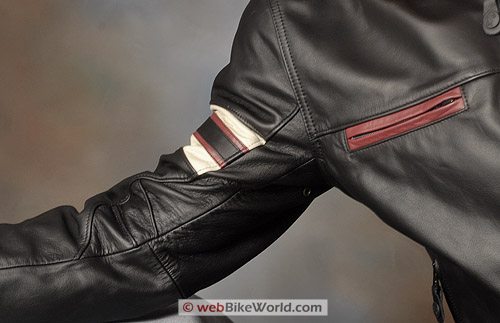 The company actually makes a huge selection of leather jackets, pants and one-piece suits, along with gloves, boots, street clo
thing and even backpacks, motorcycle underwear and tank bags.
Our opinion is that Furygan's product mix is similar to the REV'IT! lineup, and I'd guess that the two companies are probably close competitors.
They target the same market — discriminating riders looking for high-quality, European designed (and in this case, European manufactured) motorcycle apparel.
And now Furygan is finally available in the U.S., distributed by Van Ellis Ltd. in Seattle.
Van Ellis sent us this Fighter jacket, along with an interesting Level 2 SAS-Tec memory foam back protector that fits this jacket and others.
They're building the retail network, but they'll also sell Furygan apparel directly to motorcyclists who don't have a local dealer nearby. We think this is a good strategy for building brand recognition in a competitive marketplace.
When Van Ellis offered to send jacket for a review, I pored through their catalog, but it wasn't easy to make a decision, because there are so many great-looking Furygan products.
But I quickly zeroed in on the Fighter jacket.
The Furygan Fighter
Besides the styling connection to Agostini, my motorcycle classicist's heart and the retro Ducati GT1000 sitting in the garage told me it was the perfect choice.
My knowledge of the brand was limited to raves from our British friends and maybe a run-through on a dealer's rack in England during a visit a while ago, so I had no idea what to expect when the box arrived.
When I opened it up, I was impressed. One look and one touch of this leather is all it takes.
This is definitely une classe supérieure, or "high class goods", as we say in Brooklyn.
The leather has a sheen that I've tried to capture under studio lighting and a measly 72 dots-per-inch in the photos below. It really is different, and the feel — ooh la la!
The feel is tres magnifique!  I'm hoping you can see the suppleness by the way the leather looks in the photos below.
I'd say this is probably the most supple, silky-feeling leather I've ever encountered.
It feels broken-in right out of the box, but I'm sure it will get even better over time. It just looks and feels great, and believe me, people notice. Everyone wants a feel!
Although the Fighter jacket is biased more towards street style than motorcycle racing, it does carry the Furygan race heritage, as do all of their products.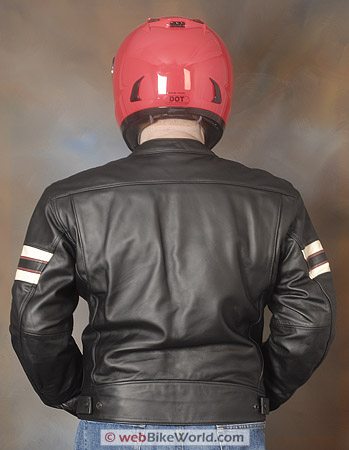 About That Leather…
The leather used for the Fighter jacket is 1.3 mm to 1.4 mm full grain cowhide.
It's dyed and waterproofed with a proprietary formula that impregnates the material, and it's all done right at the Furygan family-owned factory.
Grading, cutting, processing and manufacturing leather all under one roof used to be the way it was done.
But this method is extremely rare nowadays, especially in Europe, as most of the manufacturing has been moved way offshore.
But Furygan sticks by the good ol' fashioned, European family-owned-and-operated leather tailoring model, and it's nice to see that Old-World craftsmanship can still be found.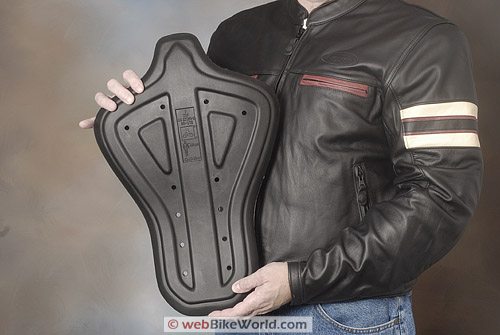 Protection
The Fighter jacket comes with removable CE-approved elbow and shoulder armor, but, as you can see in the photos, it's barely noticeable because the jacket is tailored so well.
The optional SAS-Tech CE-approved Level 2 back protector is also a very interesting piece.
The foam is relatively soft and squishy if it's squeezed slowly between the thumb and forefinger. But hit or squeeze it fast and it instantly stiffens, just like magic.
The back protector will actually bend over like a wet noodle if it's held at one end, but it comes right back into shape as soon as it's moved.
It's one of the most comfortable back protectors I've ever experienced, and at $35.00, it's a downright steal. It's just the right shape to fit into any motorcycle jacket's back protector pocket too, so it's worth a checkout.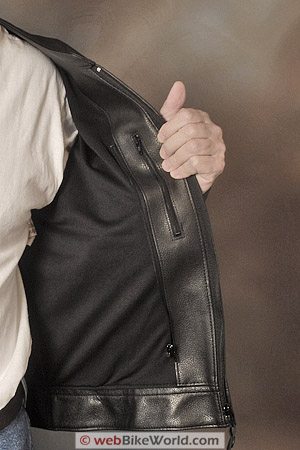 Insulating Liner
The Furygan Fighter comes with a zip-in quilted liner, but honestly, I don't think I've ever kept a liner in anything other than a 3/4-length jacket.
Add some light layering and maybe a turtleneck under leather and you're all set.
With the liner installed, the size large jacket is a bit tight on my U.S. size 43 torso, but with the liner removed, the jacket fits like a glove, as you can see in the photos.
It fits just like it should; snug, with sleeves long enough to cover my outstretched arms.
The jacket is belt length, and it has an attachment zipper that fits Furygan pants.
Furygan offers many different jacket styles and shapes and the classic Fighter is simple, yet every detail is perfect. Not a stitch out of line, not a single loose thread, and did I mention that leather?
Oooh la la… ooops, sorry!
The Fighter jacket has two waist hand pockets with zippers and cool-looking leather zipper pulls with the Furygan panther logo.
It also has two horizontal zippered pockets on the upper chest, outlined in red leather; and two inner vertical zippered pockets, one on either side inside the placket. Here are some photos to illustrate the details:
Snaps and Zips
The sleeves have a zipper and snap at the cuff; no Velcro here.
It's definitely a cross between a cool-looking street jacket and a protective motorcycle jacket, and one of the neat things about the Fighter is that it looks just as good with a Ducati GT1000 as it does on a cruiser and it's even a looker in the stunt crowd.
Conclusion
Good news, Furygan fans — no more black-marketing the jackets back to U.S. shores after your summer trip to Paris. They've finally arrived in the U.S., so if you're looking for something unique with vieille école (old school) European craftsmanship, you're golden.
w

BW

 Review: Furygan Fighter Jacket
Manufacturer: Furygan
List Price (2007): $465.00
Colors: Black. Black/Cream.
Made In: France
Review Date: July 2007
Sizes: S-3XL
Note: Item provided by a retailer, distributor or manufacturer with these Terms and Conditions.
Note:
 For informational use only. All material and photographs are Copyright © webWorld International, LLC since 2000. All rights reserved. See the webBikeWorld® 
Site Info page
. Product specifications, features and details may change or differ from our descriptions. Always check before purchasing. Read the
Terms and Conditions
!
Owner Comments and Feedback
---
From "H.T.": "First, I want to thank you for providing and maintaining this great resource on the web.
It's very educational for a newbie rider such as myself and I can give webBikeWorld a lot of credit for making me a safer and more comfortable rider.
I read with interest Rick's review of the very fashionable Furygan Fighter jacket and subsequently checked out the catalog.
Decided that the Fighter jacket was possibly too stylin' for my Honda cruiser but I was intrigued by other Furygan offerings; I ordered a pair of San Remo boots.
They are sturdy, grippy, of good quality and the fit is fantastic.
I typically have great difficulty in finding comfortable shoes for my wide feet, let alone a comfortable pair of boots Unlike other boots I've owned they're quite pleasant for walking.
IIt's an added bonus that the customer support provided by Van Ellis was top notch.
I'm sure to order more products and ask my local dealers to stock Furygan."