Fulmer AFS7 Helmet Review Summary
The Fulmer AFS7 is relatively quiet, which is a surprise.
It's also pretty comfortable with a "Neutral" internal shape that tends towards "Round".
It has a removable liner and a quick release face shield.
The graphics are interesting and nicely done, especially considering price.
The AFS7 also meets DOT and Snell standards.
Unfortunately, the poor quality switchgear on vents is a letdown, because otherwise it would be an outstanding bargain.
Fulmer Helmets started making motorcycle helmets in 1969. A very good year, indeed.
Easy Rider, the Honda 750, Woodstock and the end of the first longboard era.
If I recall correctly, a Fulmer helmet was an inexpensive lid that met the legal requirements and that's about it.
I had pretty much forgotten about Fulmer, but on the suggestion of a couple of webBikeWorld visitors, I went to the Fulmer website to learn more.
I'm not sure if Fulmer helmets were ever manufactured in the U.S.A., but Fulmer rather plays up being an American company.
This AFS7 is made in Taiwan, which is probably where all the Fulmer helmets are sourced.
It's interesting to note that Fulmer Helmets are not available for purchase via mail order or Internet purchase. Fulmer seems proud of the fact that their helmets are only available through authorized dealers, although I'm not sure why.
If they had a dealer training program to teach sales personnel how to answer questions about buying and fitting a Fulmer helmet, or about motorcycle helmets or helmet safety in general, I could understand it.
But there seemed to be no such thing at the motorcycle shop where I purchased this Fulmer AFS7, their top of the line full-face helmet.
The shop had a small, medium, large and extra-large size example of each Fulmer model on the rack, but the sales person had neither information nor support to offer. The helmet came with no box, no bag and no owner's manual.
Pick it up off the shelf, pay for it and walk out with it in your hands.
I'm not sure if this is typical; it probably isn't, and the dealership is more to blame than Fulmer for sure. It just makes me wonder why the strategy for dealer-only sales? I've had better service and support on a website!
As far as I know, Fulmer has always had what might euphemistically be called a "value pricing" strategy. In other words, the helmets are inexpensive. This isn't necessarily a bad thing, to be sure.
We've always maintained that comfort, safety and quality are important, and should take precedence over cost.
If you can find a comfortable, well-constructed helmet that meets your safety envelope requirements and if it's within your budget, you're golden (See thewBW Motorcycle Helmet FAQ page for more information).
The Fulmer AFS7 actually comes pretty darn close.
At least two out of three aren't bad. Unfortunately, if only just a few dollars more had been spent on upgrading the helmet's hardware, this would probably be one of the all-time helmet bargains.
The top-of-the-line AFS7 retails for $159.99 (as far as we can tell). That's right about near the lowest price you'll ever find a full-face, DOT and Snell approved motorcycle helmet.
The DOT and Snell approved Scorpion EX-700 we reviewed recently lists at $179.99, and the quality of that helmet seems a definite step above the Fulmer. That's what 20 bucks, give or take, can buy.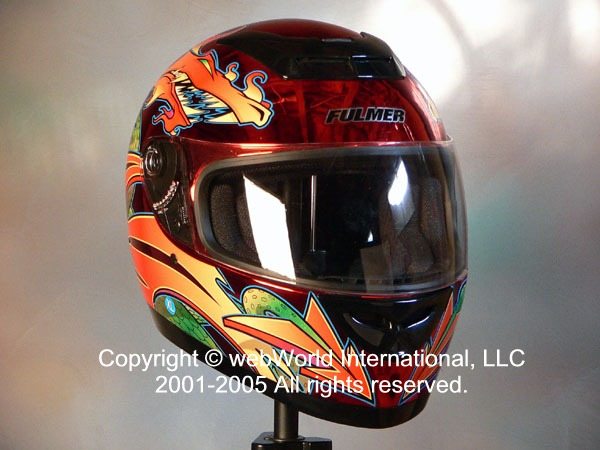 Pros and Cons
Let's start with the cons and then move to the pros.
Our Fulmer AFS7's chin vent has one of the balkiest switches we've ever used on a helmet. I'd say it was an aberration, but I tried several other AFS7's in the shop and they all seemed to have the same problem.
I think it's supposed to be a two-position switch that opens the chin vent.
Pull it down to close, push up to open.
But it's so stiff and has so much play that it's hard to tell what it's doing, and it definitely feels like it's going to break off in my hand.
The top vent isn't much better.
A sliding cover is pulled back to uncover the top vent.
The switch has no detent, so tilt the helmet down to spread the straps when you go to put it on and the cover closes the vent.
The top vent sliding cover is difficult to feel when wearing leather gloves, and the chin vent switch is so balky that it takes two hands to get it to function correctly.
I can pull it down by hooking my thumb under the chin for leverage, but to push it up, I have to open the visor, hook my thumb onto the helmet and pull with all my might to get it to move upwards to open the vent.
It hasn't gotten much better over time, either.
Why motorcycle helmet manufacturers have to reinvent the wheel every time they design a helmet is beyond me. Most vents provide barely noticeable levels of air anyway.
Why not just use a moving window on the chin that directly opens and closes a vent? Why create something so complex that it's just about guaranteed to break?
The same goes for top vents.
Helmet manufacturers have become way too fond lately of placing all sorts of questionable aerodynamic plastic junk on a helmet, supposedly in the name of better venting.
Most of these protuberances stick out in the air stream and act primarily as noisemakers that break off the first time the helmet is dropped. Simpler is better when it comes to helmet design, as far as I'm concerned.
The reason this is so annoying is because it's a shame to have such an easy to solve problem basically ruin what is otherwise a decent helmet, as we shall see.
Fit and Internal Shape
The AFS7 in size extra-large fits my round head perfectly.
The liner isn't bad – not as comfortable as the Shark RSR, but the Fulmer is about 20% of the price of the Shark.
The AFS7 fits me about as good as any of the 20 or so helmets we have laying around the shop, and that's saying something, because I usually have a heck of a time finding a good fit.
The liner and cheek pads are removable. They attach to the helmet with a set of snaps, and the liner seems easier to remove and replace than other helmets I've tried.
It also has a double D-ring strap, which is preferable to the more complex "quick release" buckles. The helmet is on the heavy side at 1749 grams (3 lbs., 3-3/4 oz.), but I think it feels lighter, so it must carry its weight well.
I was surprised to learn that it weighed as much as it does after we put it on the scale.
Noise Control
The helmet is also relatively quiet. There's an occasional whistling noise that emanates from the molding that surrounds the top vent in certain cross-winds and at certain angles of attack.
But overall, I'd say it's one of the quieter helmets we've tried.
Note that we always wear earplugs and an accessory helmet liner when riding, so the noise levels you experience may be different. We strongly recommend always wearing earplugs when riding a motorcycle.
See the wBW Earplugs and Hearing Protection page for more information and for a list of earplug reviews.
It's hard to tell if the venting works or not, primarily because of the balky switchgear but also because the riding weather has been very cold recently, and it's much harder to tell where the air is coming from when cold blasts seem to creep in from under the helmet.
The AFS7 in this Chrome Red Dragon color scheme is good looking also, especially for this price range.
The AFS7 comes in a variety of solid colors and several different Dragon color graphics, including the red chrome and a blue chrome version. The dragon is a decal that's applied to the helmet with an overlay of clear coat.
The edges of the decal can be seen and felt under the clear coat, but overall it's not a bad effort for this price.
Face Shield
The face shield removal mechanism is hidden underneath each side and uses the now typical Shoei-type spring loaded quick release system.
The face shield must be flipped all the way up to remove it. Pull down on the levers on each side and it pops out easily for replacement.
Replacing the face shield is slightly more complicated, because it must be squeezed tightly for the little plastic tabs to slip back into their channels, but overall, the Fulmer removal system is better than some others we've tried.
Water Sealing
The helmet has a full-length vinyl gasket around the face opening, and the visor seals tight against it, probably helping to keep things quiet.
I've found some very expensive helmets that don't seal as good as this one, so kudos to Fulmer for this feature.
The visor opening does seem just a little bit smaller than normal, at the front and bottom and also on each side. I can see the bottom of the visor opening and each side of the opening is in my peripheral vision.
But it's not bothersome and one quickly gets used to it.
Conclusion
The Fulmer AFS7 has a lot going for it, considering the price.
It's comfortable, relatively quiet, and it meets DOT and Snell standards, rare in this price range. Unfortunately, the vent hardware and the plastic vent trim, at least on our example, are of poor quality.
It's too bad, because with just a little more effort, this could be a real bargain helmet. But our opinion is that in this price range we think you'd be happier spending just a few more dollars and buying the Scorpion EX-700, which also meets DOT and Snell standards.
w
BW
 Review: Fulmer AFS7 Helmet
List Price (2007): $159.99
Made In: Taiwan
Colors: Solids and graphics.
Sizes: XS-2XL
Review Date: May 2007
Note:
 For informational use only. All material and photographs are Copyright © webWorld International, LLC since 2000. All rights reserved. See the webBikeWorld® 
Site Info page
. Product specifications, features and details may change or differ from our descriptions. Always check before purchasing. Read the
Terms and Conditions
!
Owner Comments and Feedback