Professional racers and amateurs alike could soon be wearing patented airbag leathers that fully cocoon the rider and automatically call emergency services if they crash.
British company Titan Technologies plan to launch the one-piece leather suit in September along with "the most advanced augmented reality helmet available" and a "secret" third product.
Company spokesman Adam Wilson contacted us with information about two of their products after we published an article about a patent pending on a full-length airbag suit.
Brooklyn start-up Airbag for Bike has so far only posted this digital animation of the patent-pending device. Attempts to contact them have yielded no results.
Patented airbag suit
Adam says Titan Technologies is already making that airbag and patented the idea "a few years ago". 
"Our suit offers a complete cocoon-like protection for the rider," he says.
"The one-piece suit has ambient lighting to enhance visibility as well as having capabilities of summoning emergency services in the event of an accident.
"The red accents are LED lights with our company logo in LED on the aerodynamic hump on the back.
"We have many features which I am not able to disclose as yet.
"But safe to say it is the most advanced available in the world right now.
"We are in talks with FIM with the aim of supplying helmets and suits to the MotoGP for the 2020/21 season."
MotoGP made airbag suits mandatory last year.
Suit pricing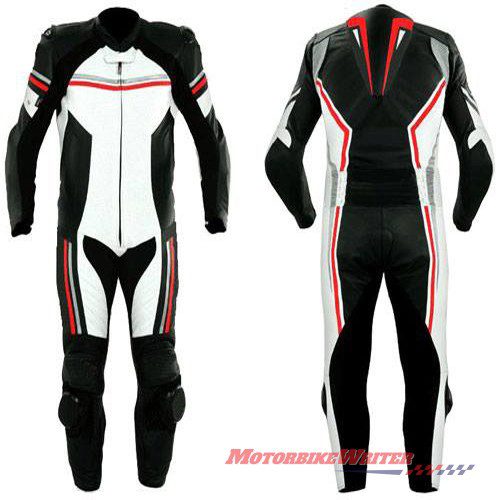 Adam says their suit will cost about £2,500 (about $A4700, $US3300, €2940).
"This is substantially cheaper than other suits on the market offering a fraction of the protection our suit offers," Adam says.
"Further, we will not have any lease agreements with customers as many manufacturers force customers into signing.
"Failure of customers to sign such agreements results in the suits being rendered useless as the manufacturer will not lease the propellant to inflate the suits to the customers.
"Other manufacturers charge a yearly fee irrespective of whether or not the protection system is deployed. We will supply the propellant within the purchase price of the suit and not charge a yearly fee either.
"Prices are subject to change given supplier prices and other component part price increases."
Production begins soon.
Adam says they are not looking for crowd funding for their projects as they have invested their own funds.