If you think the adventures of Charley and Ewan were intrepid, how about the five French female L'Equipee riders who took old Royal Enfields to the highest road in the world?
The three videos of their Himalayan trip have been a YouTube sensation and now the Parisiennes are on their next adventure to the jungles of Brazil.
Check out their Himalayan videos at the end of this article by Mrs MBW about International Women's Day.
Like the first trip, they wear trendy French motorcycle fashion, so their gear may be ultra-chic, but not necessarily totally suitable for protection and for the harsh conditions. But sometimes that's fun, too, and part of the adventure.
On this trip, they are not riding Royal Enfields, but modern Triumph Bonneville T100 models.
The girls will travel 4000km from Rio to the Amazon over 23 days followed by photographers from Marie Claire magazine.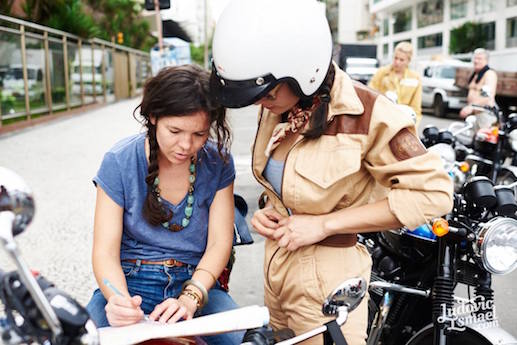 But if you think it's just a fashion shoot, think again. The girls actually completed the last adventure against all odds and although they are not GP or MX stars they are quite competent on motorcycles, even in mud and sand!
This time they say they want to "highlight feminine enterprise, to go and meet people who are fulfilled through their own codes, with their own vision of the world".
They are only a few days into their trip and you can follow them on their Facebook page or wait for their inspiring videos.