Here's a free fun app that provides interactive motorcycle exhaust and engine sounds for those who are disappointed with their quiet legal exhaust.
RevHeadz Motorbike Sounds was developed in Australia and spokesman Chris Wise says it's basically "a novelty app for people who love automotive sounds".
The free app includes two free bikes – a Yamaha R1 and an Indian Chief Dark Horse. If you like them, you can buy an additional pack of 12 bikes for $4.49.
The extra bikes are Adventure 1170cc, Ducati Diavel 1198cc, two-stroke 250cc dirt bike, four-stroke 450cc dirt bike, MotoGP 1000cc, Suzuki GSX-R1000, Kawasaki Ninja 636cc, Harley-Davidson Panhead 1200cc, Ducati Panigale 1198, Triumph Speed Triple 1050cc, KTM Super Duke 1301cc and 11988cc superbike.
The app doesn't just have static exhaust noises, but real engine sounds that simulate real-world mechanical physical parameters including speedometer, tachometer, throttle, brakes, drive ratios, turbocharger, drive lashing, engine load, gear-shifts and backfire logic.
RevHeadz Motorbike Sounds lets you control the throttle, gear shifts, braking and even perform tyre-screeching burnouts.
You can download the iPhone version here and the Android version here. 
About RevHeadz
RevHeadz is a three-man Aussie operation including artist Chris, audio engineer Greg Hill and programmer Derek Long.
They are responsible for providing motor sounds for a number of popular games including Test Drive Unlimited, Need for Speed, Juiced, Colin McRae Dirt and more. They also make a car version of this app.
MBW readers may remember Chris from a project to develop a special safety training simulator which unfortunately failed to gain funding support despite a lot of interest from crash research facility CARRS-Q at the Queensland University of Technology.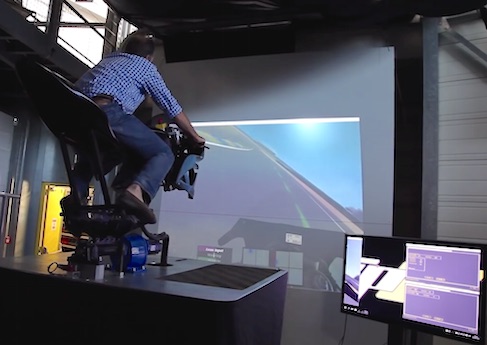 Chris says this new app is in "no way related to the motorbike simulator project" which was his own personal project via a different business.
"The bike simulator is pretty much dead now as I can't get the level of interest needed to pursue it any further," he says.
Chris says he hasn't ridden bikes for 30 years, but would love to buy another sometime.
"Trials bikes were always my favourites, but my main interest in bikes these days comes from the TT and top fuel drag bike," he says.
"In fact I've thought seriously about developing a drag racing simulator at some point in the future."