Some Monoposto Action
This Ducati is pretty much the creme-de-la-creme of motorcycles from the early 2000s. This single swing-armed beauty has been kept in great condition for its 12k mile lifespan and has lots of desirable extra components that make this bike worth your time.
The 996 is, of course, powered by Ducati's fuel-injected 996cc Desmoquattro L-twin engine and is happily married to the six-speed transmission. On the technical side, the bike comes ready with Brembo brakes all around, Marchesini wheels, and full Showa suspension (inverted fork in the front and single-sided suspension in the rear).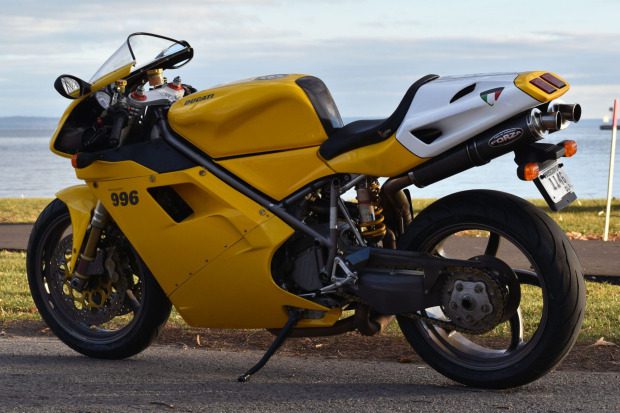 For modifications, previous owners decided to ditch the stock Ducati seat and opt for a Corbin seat for added comfort. The levers have been swapped out with shorty levers (the bike still comes with the original), and the exhaust has been replaced with a full carbon fiber system. The performance chip when paired with the exhaust system will give a comfortable boost in horsepower from the 112 hp the bike came with when it was new.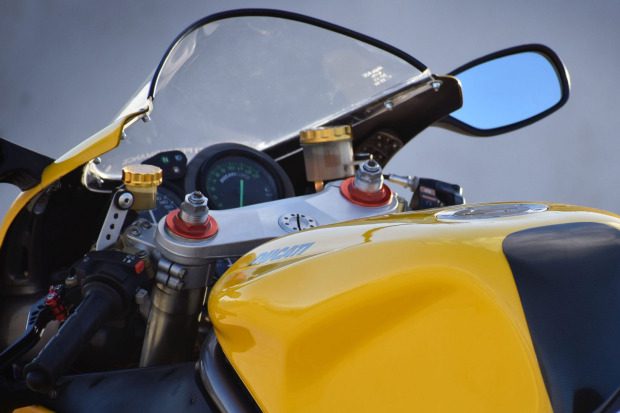 The body of this Ducati 996 Monoposto is in fairly good condition, with the ad noting one crack on the left side of the front fairing. The bike's plastics are fully yellow, except for the white monoposto tail section.
This motorcycle has six days left on auction over a bringatrailer.com and bids are sitting at $7500 with no reserve. Happy bidding!