FM Motorcycle Helmets Review Summary
"Hey, it's new helmet time!  I'd been using an HJC ½ helmet for the last few years and its time was up (actually, I gave it to my girlfriend).  I was looking for something a bit different in an open face helmet and a search on the Internet introduced me to the FM series (I haven't seen FM helmets anywhere in New York).
My attention was drawn to the Monterey because it was an open-face helmet which had a built in visor and sunshade – these things always make for a more pleasant ride as far as I am concerned and, in addition to this, it just looked a bit "different".  I ordered it from Isle of Wight Motor Cycles and much to my surprise it arrived just a week later."
"Initial impression – a very cool looking helmet with some nice features.  I ordered the basic "gloss black" as it goes with everything!  It was a bit snug (I ordered a medium as all my other helmets are mediums) but I figured it would loosen up a bit over time.
It also felt a bit strange around the ears – as if it was just a tad too small or something – it was hard to say what the issue was, it just felt "different" (and not in a particularly good way) – as if it was designed to fit the slightly flattened head of an alien (or something like that).  The inner liner is nicely made and the "vent" area in the top of the outer shell has a matching "vent mesh" in the inner liner. The helmet appears to be of good quality and worth the money spent.
The test ride!  On it went (the helmet) and off I went (on my bike).  My bike (Triumph Thunderbird) has a small windscreen and a lot of air comes over the top and hits me smack in the head.  This helmet felt much better than the HJC when turning my head from side to side – I think the integrated visor works much better than the crap add-on visor I had on the HJC.

Although the visor is only a ½ visor, the eye protection is pretty good – I had no worries of being hit with bugs, small rocks etc. and the sun-visor worked very well!  After a while I adjusted to the "strange feel" of the helmet (maybe my head changed shape?) but it is definitely a bit out of the ordinary as far as the ears/neck area goes. All in all, I like it very much.
The gripe!  There was only one real disappointment and that was the claimed "QUICK RELEASE" chin-strap.  I have no idea what they meant by this (maybe it is a misprint) because it is a standard double D-Ring setup (and a bit cheap feeling at that) and there is nothing quick-release about it (unless you happen to get decapitated in a collision).
On a scale of 1 to 10 I'd give this an 8.
That's it for now – if they ever deliver the ROOF R05 Roadster I ordered, I'll let you know what I think of that also (it is on backorder right now)."
 FM 101 Motorcycle Helmet Report from 

w

BW

 Visitor "A.C.":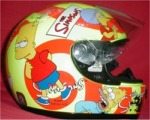 "I bought an FM F101 helmet with the Simpson family graphics.  Good helmet with a lot of goodies, similar to Arai.  Ventilation is good, interior is firm and it's made from good materials.
It doesn't use a double-D ring, it uses a seat belt type locking mechanism with a clip button for the extra slack.  The face shield has a coating for antifog, works OK.
You can change visors for a dark or iridium but the mechanism is a bit complicated to do that.  It has a nose guard and chin curtain.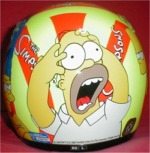 Usually expensive helmets get that or you have to buy it separately.  It has a front vent that is adjustable, bringing fresh air to defog the shield or bring air into mouth.  Top vent in forehead brings fresh air to head, this air is forced like a Venturi when you open the two back vents.
Finish of the shell is top notch, stickers are laid on and then a thick clear coat is laid over.  Helmet weight is a bit lighter than my AGV X-vent.  Helmet is smaller than my X-vent.
I'm purchasing another FM helmet, since I was run over by a cab driver who ran a red light; I might buy the red Bart Simpson one that is on sale for $225."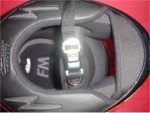 Thanks for sending your comments and the photos, A.C.!
Note:  For informational use only.  All material and photographs are Copyright © webWorld International, LLC – 2000-2011.  All rights reserved.  See the webBikeWorld® Site Info page.  NOTE:  Product specifications, features and details may change or differ from our descriptions.  Always check before purchasing.  Read the Terms and Conditions!