American sunglasses manufacturer Flying Eyes who specialise in glasses for pilots now have improved safety standards to make them UV-protected and shatterproof.
These stylish pilot sunglasses have recently become popular among motorcyclists for their comfortably thin yet indestructible frames and wrap-around design that keeps the wind out.
Now they have updated their Golden Eagle Sport and Hawk Convertible sunglasses with top-level UV400 protection and international safety standards.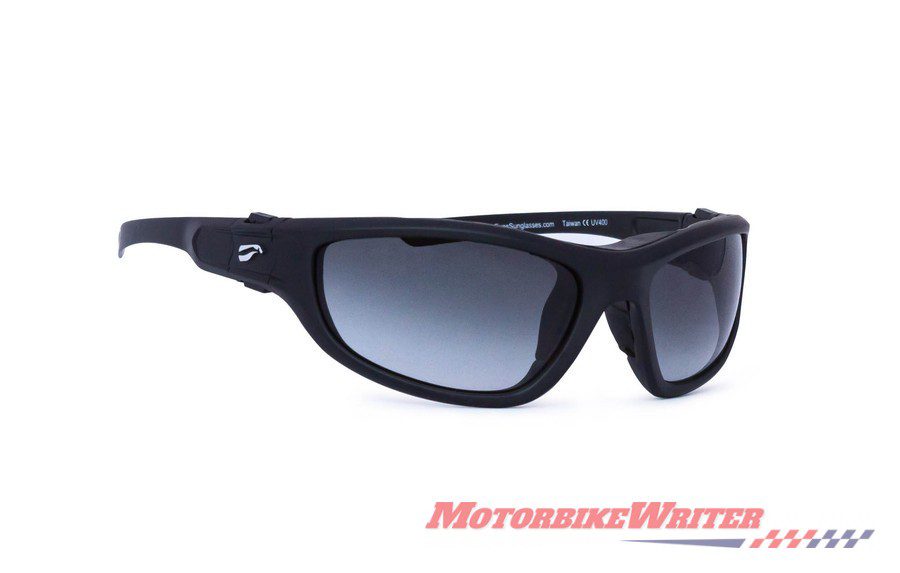 Flying Eyes president Dean Siracusa says they are the "only eyewear company that offers motorcyclists this level of safety and optical clarity, and still be comfortable while wearing a helmet".
UV400 protection for your eyes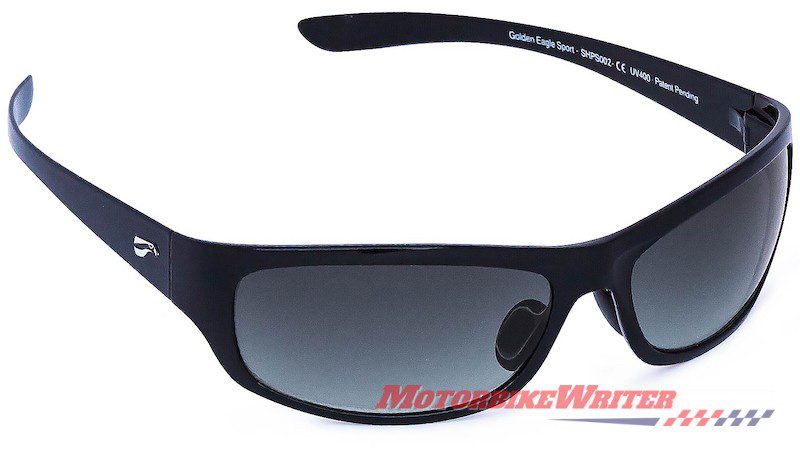 UV400 blocks all light rays with wavelengths up to 400 nanometers, including damaging UVB rays. It is the highest protection standard for blocking UV light.
Marketing VP Don Osmond Jr says the sun's rays are strongest between 10am and 2pm, but "that's not the only time UV rays can affect your eyes".
"Also, most people think that they're at risk only when they're outside on a sunny day, but UV light can go right through clouds, so it doesn't matter if the sky is overcast," he says.
"Contrary to popular belief, polarising filters do not protect your eyes from UV light in any way, but rather block very specific angles of visible light, and thereby reducing glare from surfaces below you, such as reflections off of water and snow. 
"Glare and reflections can give you trouble too, so have your sunglasses ready if you'll be around snow, water or sand, or if you'll be driving (windshields are a big glare source)."
Improved safety standards
Flying Eyes sunglasses also now reach ANSI/ISEA Z87.1-2015 safety approval standards.
American American National Standards Institute and International Safety Equipment Association instituted the ANSI/ISEA Z87.1–2015 safety standard to address personal eye and face protection devices such as eyewear.
ANSI/ISEA Z87.1-2015 focuses on product performance and attempts to harmonise with international standards. 
"Flying Eyes uses an independent testing facility to confirm the required standards such as impact (from the sides as well as frontal impact) as well as lens clarity and quality," Don says.
"Impact resistant refers to the lenses and means that they will not shatter on impact with a projectile.
"These tests are done from multiple angles, not just straight on. Both the lenses and the frames do not break or deform permanently, and the lenses will not pop out of the frame.
"In order to pass the ANSI safety testing, they can't break at all.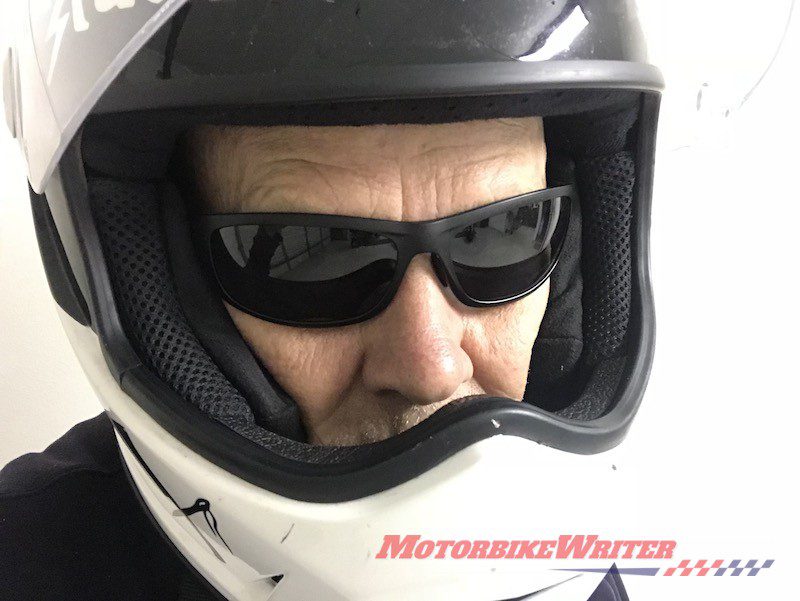 "In general, when polycarbonate does finally fail (far beyond the testing standards), it does not shatter under great stress, but breaks in a single line.
"With Flying Eyes it's far more likely that the lenses would pop out of the frames, before they broke in any way. And this would occur far beyond the testing standards." 
Flying Eyes sunglasses are also resistant to normal day-to-day scratching that can diminish the clarity of vision especially in afternoon light conditions.
"All Flying Eyes lenses have a scratch-resistant coating to protect the lenses from incidental scratching during normal wear and use," Don says.
"With polycarbonate lens material, scratches do not lead to cracks." 
Flying Eyes sunglasses cost $229.95 from Australian stockist Downunder Pilot.