If your sunglasses are a pain in the head, try a pair of Flying Eyes which are so slim they cause no pain under your helmet even after a long day in the saddle.
Some riders find sunglasses so painful, they prefer to fit a tinted visor to their helmet. However, that prevents you from riding on into the night.
Flying Eyes sunglasses, made in Austin, Texas, by Summer Hawk Optics, have been used by pilots for years for their comfortable, lightweight design, impact resistance and "virtually" unbreakable construction.
Marketing VP Don Osmond Jr says they recently heard that customers were also buying them to wear while riding motorcycles for the same reasons.
"Pilots experience the same discomfort wearing sunglasses with a helmet or headset," Don says.
So now, they have added a couple of motorcycle designs with wider sides for wind and sun protection.
No pain
Don sent me a pair of Golden Eagle Sport sunglasses to review and I have to agree that they are the most comfortable sunglasses I have yet worn under a helmet.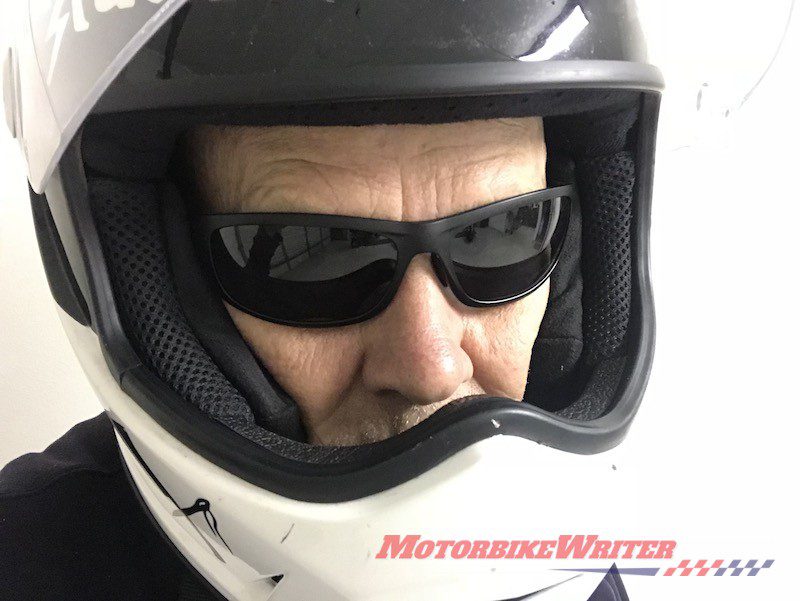 The sides are so "micro-thin" and flexible, they slide into any helmet, even tight helmets and those that don't have glasses gaps at the temples.
After several hours wearing them under a helmet I didn't have that usual pain in the temples or behind the ears.
They are so slim I can even put on and take off an open face helmet while still wearing the glasses.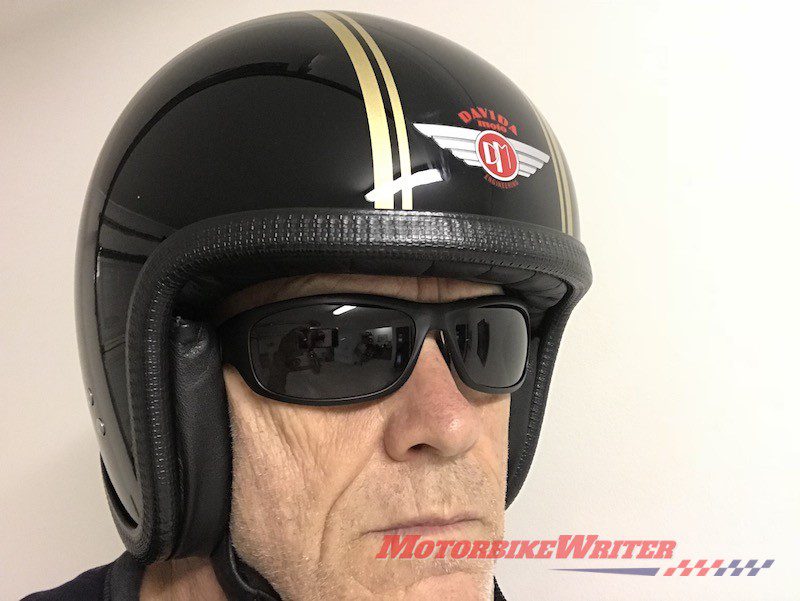 The flexible frames mean they fit tight and close to the contours of your face and don't slide down your nose. So you don't have to keep taking one hand off the bars to push them back into place.
The reasonSummer Hawk Optics can make their Flying Eyes arms so slim, yet flexible and virtually unbreakable is the expensive Resilamide aerospace polymer they use.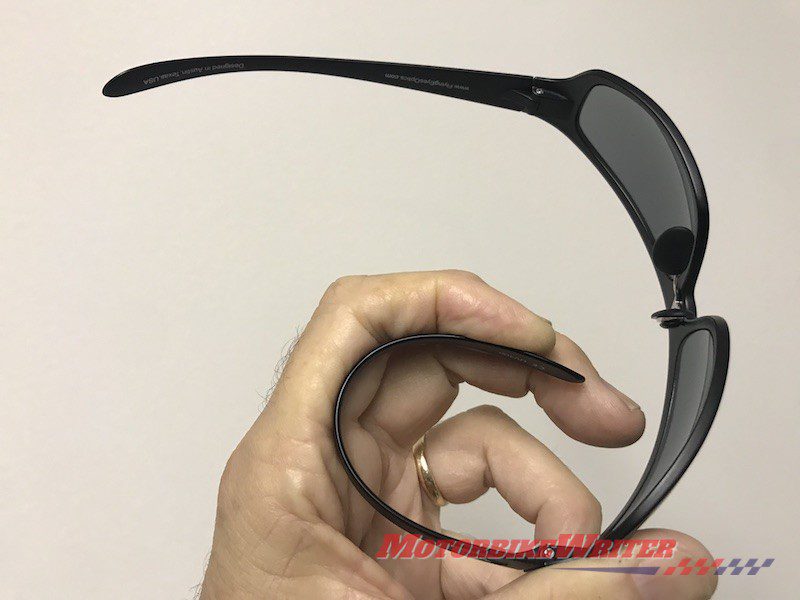 That also makes them quite expensive at $229.95 from their Australian stockist Downunder Pilot.
However, I've paid that for other motorcycle sunglasses before and they were not as robust as these.
Tough on sunglasses
Riders are notoriously tough on sunglasses. Just pushing them in and out of helmets is usually enough to bend them out of shape. I find I am always trying to bend my glasses back into shape.
We also tend to drop them a lot off motorcycle seats, so a tough pair of sunglasses with scratch resistance means they should last longer.
Many motorcycle sunglasses come with foam gaskets to keep the wind out, but these are so flexible they will fit the contours of your face better and provide decent wind resistance.
Consequently your eyes don't dry out, even when riding with the visor up or in an open face helmet.
Some of those other riding sunglasses with the gaskets also have problems with fogging up but these don't.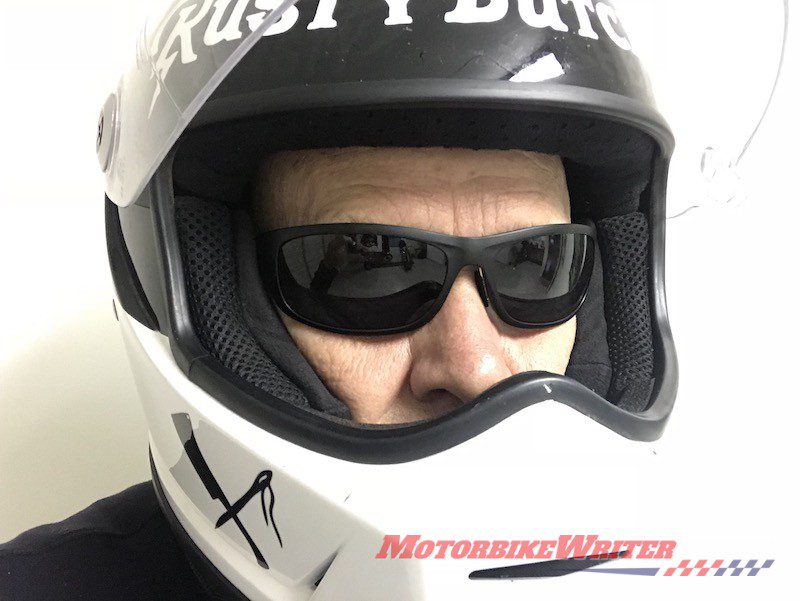 Clear view
Another important aspect of sunglasses for a pilot as well as a motorcyclist is a distortion-free view, especially in the periphery.
Many other glasses I've used tend to distort on the periphery, but these polycarbonate UV400 lenses are optical correct all the way to the edges.
And because they are ultra-slim, you can push them in close to your face so your periphery vision is not obscured by thick frames.
Flying Eyes claims the lenses are impact resistant, but I haven't yet copped a stone in the eye to test them.
Instead, I used a pin to try to scratch them near the edge and it left only the tiniest mark.
Flying Eyes makes several styles of glasses from the usual warp-around motorcycle type at $229.95 to the more traditional Aviator fashion for $100 more.