Flying Eyes Golden Eagle Sport Sunglasses Review Summary
Flying Eyes Golden Eagle Sport Sunglasses Image Gallery
Summary
The Golden Eagle Sport sunglasses provide quality glare and brightness combined with slim and lightweight frame. They are designed to be comfortable for long periods of time when wearing a helmet or over-the-ear headphones.
Introduction
My history with eyeglasses goes all the way back to first grade. Then at age sixteen I started wearing contact lenses which opened up a world of sunglass options for. Yes, the irony of finally being able to not wear glasses, and then being excited to wear other kinds of glasses.
I have a strange relationship with sunglasses in that the more expensive they are, the sooner I lose or break them. This is a lesson I have been schooled in repeatedly over the years to the point where I rarely spend more than $20.00 on a pair.
In fact it was just last year that I had borrowed a nice pair of Ray-Ban's from Carmen for my trip for wBW to Continental Tire's proving grounds in Uvalde, TX. Sure enough, I left those glasses in the shuttle van in Uvalde and was certain they were lost forever. Luckily they were found by one of our hosts and they mailed them back to me. Lesson learned.
So fast forward to the present and what do I receive for review on webBikeWorld? A pair of sunglasses from Flying Eyes Optics which stand well above the "cheap" range of sunglasses that are usually safe in my care. Will I be able to get through my review before they are lost and/or broken? Let's hope so.
Buy Glasses @ Flying Eyes Optics
Flying Eyes Optics
Before I received their sunglasses for review, I had never heard of the Flying Eyes brand. It turns out they are a relatively new company founded by Dean Siracusa, a private pilot. Siracusa found, after many years of flying, that there was a need for an update to the classic aviator style sunglasses.
According to him, the classic aviator design wasn't designed with headsets in mind. As such, he found that usage with headsets to be a pain over time, literally. Siracusa felt he could design something better and in 2014, Flying Eyes Optics was born after a successful Kickstarter campaign.
The key design point to Flying Eyes Optics sunglasses was to make very thin temples that would remain comfortable under the typical over-the-ear headset. At the same time the ultra-thin temples don't foul the sound isolation provided by the surrounding cushion around the ears.
The same feature that makes these comfortable under a headset also translates well to those wearing helmets such as, but not limited to, motorcycle helmets. This is very interesting to me as I haven't found a pair of sunglasses that don't give me a headache under my helmets. Even helmets designed to allow for glasses don't work well for me but maybe it's been the glasses themselves.
I'll admit I was skeptical but I was willing to give them a go and see if I can ride pain free with them. On that note, let's dig in.
The Flying Eyes Golden Eagle Sport Sunglasses
The Golden Eagle Sport sunglasses are one of several designs available from Flying Eyes and they have a contemporary, semi-wraparound look. The pair I received has a matte black finish to the frames and a solid (non-graduated) gray tint.
Frames are also available in gloss black and dark tortoise shell look. Other lens options include a copper tint as well as gradient version in gray or copper. A polarized version is also available but as Flying Eyes information points out, polarized lenses can partially obscure modern LCD displays on planes as well as motorcycle and car instruments.
Non-Prescription bifocal lenses are also available for the Golden Eagle Sunglasses as well as their Hawk series of sunglasses.
Branding is nice and subtle with only the Flying Eyes "raptor" logo embossed in silver just behind the hinges of the temples on each side. On the interior facing side of each temple "arm" is the brand's website information, model details, UV rating, and a "Designed in Austin, TX USA" callout.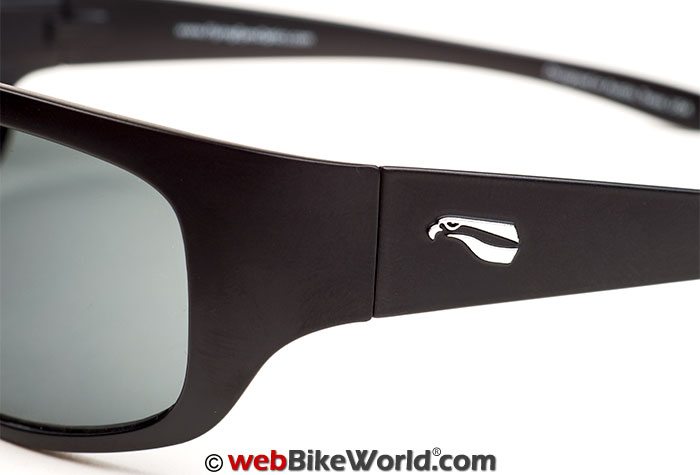 The sunglasses arrive in a microfiber pouch which also serves as a cleaning cloth. The glasses and pouch come with a durable, felt-lined, three sided case with a magnetic latch. The case is a bit large but one can't deny it is protective.
Buy Glasses @ Flying Eyes Optics
Construction
Flying Eyes Optics constructs the frames and temples from a material they call Resilamde ™. This material is a very lightweight and flexible polymer that Flying Eyes calls "virtually unbreakable".
The ~1mm thick temples can certainly be bent quite a lot and they still return to their original shape without damage. The frame of the lenses is made from the same material but it is thicker and I'm not willing to tempt fate by trying to bend them as much.
On the lightweight claims, they are not kidding around. This pair weighs in at just 21 grams (.7 oz) which is very light. A pair of similarly styled Ray-Ban ® glasses I have on hand came in at 36 grams (1.26 oz) and even my super thin wire frame readers came in at a similar 21 grams.
Attached to the frame is a small metal strut assembly on which the nose pads sit. This allows for the pads to adjusted by gently bending the struts to the correct position for best fit. I asked Flying Eyes support if this part is available for purchase by itself (in case one breaks it).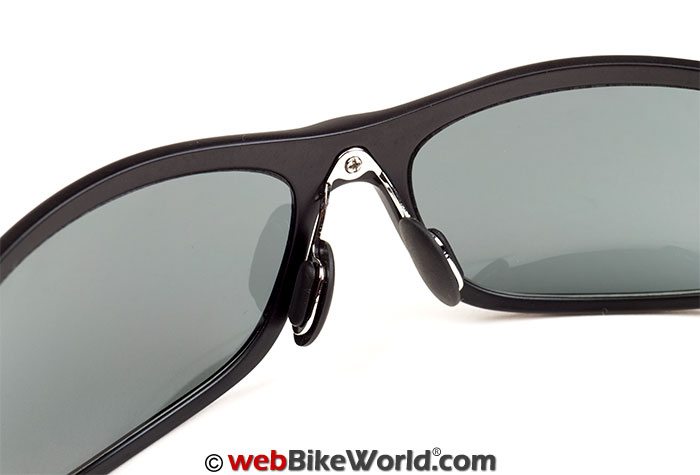 They responded saying that wear with this part and nosepads is typically covered under the limited lifetime warranty. Of course they cannot account for every conceivable situation. They also said they have had very few situation where the nosepads themselves have worn to the point of needing replacement.
The lenses are polycarbonate which in the past I felt offer less clarity than good quality glass optics. Polycarbonates have come a long way, though, and I really can't see much, if any,  difference in clarity between the lenses used here and other glasses I have with glass lenses.
Polycarbonate of course offers better resistance to impact than similar thickness glass and glass is also heavier. For use in sports eyewear like this, polycarbonate lenses make sense.
Fit and Comfort
I find the fit of the Golden Eagle Sport sunglasses very good for my head size and shape. For reference I typically wear size large helmets that are intermediate oval.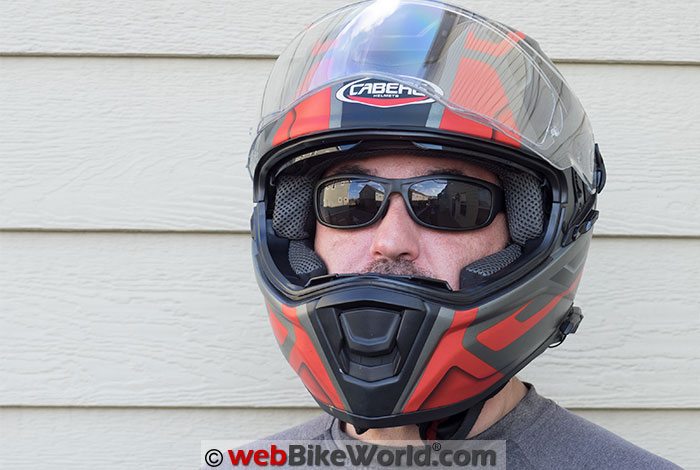 I only had to adjust the nose pad positions a little to get them to sit where I prefer and they appear to offer plenty of adjustment. Of course if one is unsure about the fit I'd recommend review the guidance on their FAQ page or contacting them for more information.
As for comfort, I found them to be excellent. The sunglasses are so light that it is easy to forget one is wearing them. This equates to hours of wearing without any noticeable discomfort and this goes for in-helmet use as well.
I have stopped wearing sunglasses in my helmets over the past 4 years or so as I have been using helmets with internal sun visors. I have had to review some helmets that do not have this feature and my other sunglasses have always after a while given me a headache.
Sometimes it was just a few minutes and others longer, but they just weren't comfortable. This includes helmets with accommodations for eyeglasses. I'm not calling out the helmets or the other sunglasses in question here. Everyone's head shape is different but for me it has been a challenge.
The Golden Eagle Sport sunglasses work as advertised, at least for me. I have tried them on wearing the three different full face helmets I have on hand and sure enough, no headache or other discomfort occurred. I can feel a bit of weight from the nose pads which is expected as the helmet can push down on the temples a bit but this is not unexpected and it's not uncomfortable, just apparent.
One issue that I ran into is that the sunglasses can fog up in the right conditions inside a helmet with the visor down. This is a common issue that affects most sunglasses and internal helmet sun visors and there are chemical treatments one can use to mitigate this.
I reached out to Flying Eyes Optics to see if they have any recommendations that are safe for use on their lenses. They tell me that they are looking at various solutions at this time but do not have a specific recommendation yet.
Optical Quality
I stated earlier that I'm skeptical of the optical quality of non glass lenses but I can't find anything to complain about with the lenses installed in these sunglasses.
Contrast and clarity is very good with the gray solid tint versions I have for review. Also distortion is well controlled. I can't say it is perfect but it is as good as any sunglasses I've had in the past and in most cases much better.
Color shift is minimal as the tint adds a slight shift towards blue-green. This is not out of the ordinary for most "gray" tints as pretty much all gray tinted lenses I've seen add some color shift. In this case it took my photographing a color chart through the lenses to confirm there was a shift as it was very small.
Conclusion
The Flying Eyes Golden Eagle Sport sunglasses are the real deal. I'm very impressed with design and the overall quality present here. The lightweight and durable frames are indeed comfortable inside a helmet and without.
That lightweight can be an issue to those who might judge a featherweight item as "lower quality" but that perception is misplaced here. Plus, as motorcyclists, we love things that are lightweight and perform (think carbon fiber and titanium for instance).
At $169.00 ($189.00 with polarized lenses), I wouldn't call them a "steal", but at the same time, one can spend a lot more on sunglasses. The overall quality plus the limited lifetime warranty is appropriate for the price range.
As the saying goes, you get what you pay for, and with the Flying Eyes Golden Eagle Sport sunglasses the phrase definitely applies. If you're looking for sunglasses for use under a helmet, I would definitely recommend checking them out.
wBW Review: Flying Eyes Golden Eagle Sport Sunglasses
Manufacturer:
Flying Eyes Optics
Colors: Matte Black, Gloss Black, Tortoise
Lenses: Gray, Copper, Polarized, Gradient Gray, Gradient Copper
List Price:(USD) $169.00 ($189.00 w/polarized lens)
Made in: China
Review Date: November 2017
Gallery