Firstgear Jaunt Jacket Review Summary
Review Summary
The Jaunt jacket doesn't have all the bells and whistles of the more mature Firstgear Kilimanjaro jacket and the newer Denali jacket. But for those of us living or traveling in climates where sudden change is the norm or for three to four season riding, the Jaunt gives up little in fit, form and function.
Cons
Pricing can vary
not "quite" all weather
Firstgear Jaunt Jacket Image Gallery
It doesn't have all the bells and whistles of the more mature Firstgear Kilimanjaro or Denali jackets. But the Firstgear Jaunt jacket is a good choice for many reasons. That includes climates where sudden weather change is the norm, or for three to four season riding.
The Firstgear Jaunt jacket is 3/4-length textile and it functions as a stylish multi-season jacket on and off the motorcycle. And it does this while providing excellent protection from the elements.
Firstgear has been around for some time, with some ups and downs. The brand has been bought and sold a couple of times over the last few years, and it now appears to be managed by Tucker Rocky, one of the largest distributors of motorcycle products in the U.S.A.
A large and loyal consumer base has developed for Firstgear products over the years, especially from those of us that need tall sizing, because many of their jackets are available in extended sizes.
The Firstgear Jaunt jacket is claimed to be 100 percent waterproof, not just water resistant, with the outer shell constructed of 840 denier "Hypertex" material.
The insulated, fully removable thermal liner is held in place with a full zipper around the sides and across the shoulder area, with two small snap tabs used along the back side to keep it from riding up.
I've owned multiple Firstgear products, and my experience has proven that the design, materials used and the quality of construction in the Jaunt jacket does provide a waterproof (and warm) garment.
I have ridden three to four days in constant heavy rain in this jacket and in similar Firstgear products (the Kilimanjaro jacket and HT pants) and stayed dry underneath.
I always carry rain gear, but have never had to wear it to cover up any shortfalls in any of the Firstgear products that are made with their Sheltex or Hypertex features, and for cold weather riding, Firstgear is always my first choice.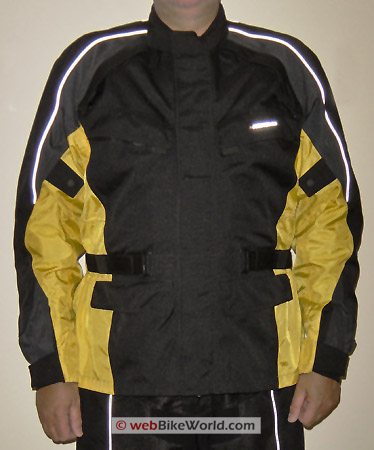 Ventilation
Ventilation on the Firstgear Jaunt jacket is provided by two front shoulder vents and two back vents, all with waterproof zippers and over flaps.
When open, the front vents do a good job and if the back vents are not open as well, the jacket has a tendency to balloon out somewhat.
While the combination of front and rear vents provide a somewhat limited ventilation system, it works well in flowing air through the jacket.
Pockets
Four horizontal external storm-proof pockets (two upper and two lower) and one interior vertical pocket provide plenty of storage space and each pocket has a large over flap, with hook-and-loop strips for security.
The two top pockets are quite large and deep by themselves and will hold fairly large items.
This keeps everything secure and dry and they have convenient corner pull tabs sewn in to facilitate opening the flap.
The two bottom pockets are equally spacious; great for storing small items while riding, and for stuffing with gloves, neck-scarf, etc, when dismounted.
As found on most of the recent Firstgear garments, the mandarin style collar is well designed and comfortable, sealing out the elements.
The outer cross flap can be folded in and secured to the inner left hand side of the collar by a small hook-n-loop fastener pad — a nice touch to keep it out of the way when not in use, especially during warmer weather.
Two-position snap tabs on the upper sleeves of the Firstgear Jaunt jacket allow for size adjustment as desired, a feature which also serves to reduce air turbulence due to excess material getting caught in the air stream.
The bottoms of the sleeves are cut wide for ease of use, with wide hook-n-loop tabs allowing easy and secure adjustment at the wrists.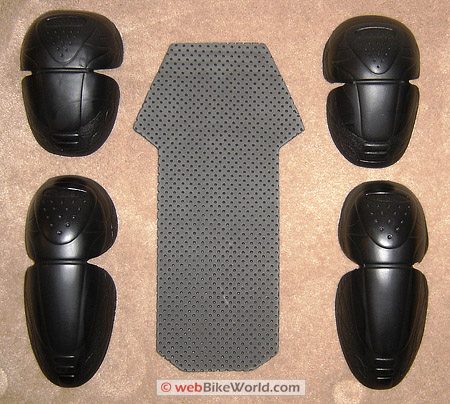 Adjustments
An attached belt provides waist adjustment via a D-ring and hook-and-loop tab on each side.
This allows the jacket to be tightened up as desired when riding and loosened off when dismounted, for better mobility and appearance.
Zippers
All of the zippers used on the Jaunt jacket are heavy-duty and made by YKK.
The main front zipper is two-way, which is a good thing, as the zipper can be opened from the bottom allowing the three-quarter length of the jacket to better fit most seating positions.
That also allows air flow from the bottom of the jacket and for other expedient purposes.
The front main flap with its "rain gutter" design fully covers the zipper and has hook-and-loop tabs along its length for a complete seal.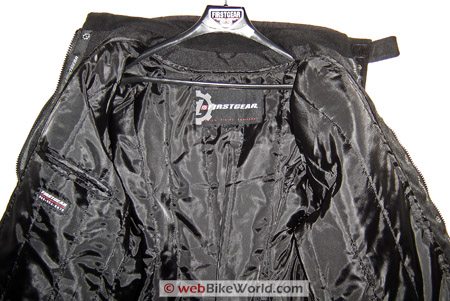 Protection
In addition to the Hypertex material used in the jacket shell, additional protection is provided by CE-approved armor in the shoulder and elbow areas, along with a basic back pad.
The armor used in the shoulder and elbow areas is a fairly firm compound, but still pliant enough to allow easy removal from their pockets sewn into the mesh liner of the jacket (see photo).
The pockets allow easy removal for replacement and cleaning purposes.
The position of the armor seems to be quite good for most upper body sizes, although the edge of the shoulder armor can be felt on the upper arm at times, but it is not obtrusive.
The armor pockets are cut large enough to allow the owner to upgrade to other armor sets, as offered by Firstgear and other suppliers.
The EVA "Temperfoam" back pad provides good basic back protection and is relatively short in relation to the three-quarter style of the jacket.
This is not a bad thing as many one-half and three-quarter length jackets, especially those classed as "unisex" in design, feature full length back pads and many of them end up being trimmed a bit shorter for best fit and comfort.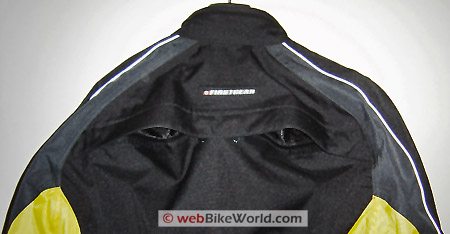 I typically wear a size XL Tall and the Firstgear Jaunt jacket in this sizing is a perfect fit for my 6 foot 3 inch frame.
Keep in mind that one should always allow some room for at least one extra layer or for "expansion", especially over the winter!
I use a full BMW back protector (review) under the Jaunt jacket (with a liner as needed), and this makes for a comfortable combination.
For visibility, I think the Black with Yellow Back option provides the best visibility of all the combinations. All piping and trim is reflective as well.
Nits and Picks
The hook-and-loop strips under the pocket flaps take a fair bit of tugging to open.
That's good for security of items inside, but somewhat frustrating it something does need to be accessed quickly (contingency planning appreciated).
A deficiency from older jackets has now been overcome, at least in the Jaunt jacket, as the main zipper, rain gutter design and collar tab configuration now provide a full seal from the elements.
This process of refinement and attention to detail is evident in all Firstgear products.
Conclusion
The Jaunt jacket doesn't have all the bells and whistles of the more mature Firstgear Kilimanjaro jacket and the newer Denali jacket.
But for those of us living or traveling in climates where sudden change is the norm or for three to four season riding, the Jaunt gives up little in fit, form and function.
With another layer, or an electric vest, it is a viable option to the Kilimanjaro or similar multi-season products.
Having now used this jacket from late winter through spring and into summer here in Ontario, the Jaunt has been an excellent choice.
Depending on the market area, pricing can be a bit higher than other products, but as with most Firstgear products, the investment is well worth it.
w

BW

 Review: Firstgear Jaunt Jacket
Manufacturer: Firstgear
List Price (2009): $199.99
Colors: Black w/Yellow, Gray, Blue or Red
Made In: Indonesia
Sizes: S-3XL.L-2XL Tall
Review Date: July 2007
Note:
 For informational use only. All material and photographs are Copyright © webWorld International, LLC since 2000. All rights reserved. See the webBikeWorld® 
Site Info page
. Product specifications, features and details may change or differ from our descriptions. Always check before purchasing. Read the
Terms and Conditions
!
Owner Comments and Feedback
---
From "S.O.":  "Being an average 5′ 10″, slender build guy, I find that the Size Medium Jaunt's sizing leaves plenty of room for layering.
It breathes decently for rain gear, but gets warm quickly while stopped in the sun when the temperature is above 70 F, even if the zips are open.
But it beats any non-breathable rain gear I've tried for comfort and has been keeping me dry, even here in Portland, Oregon.
The CE armor is well integrated into the jacket.
It never seems to feel out of place like some others I've tried. After several thousand miles, on multiple day rides, it is wearing well, and I like the looks. I've stopped carrying my non-breathable raingear as the Jaunt does the job."