Harley-Davidson has entered the performance jeans market with a range of three rider jeans featuring the lining that made Australian company Draggin famous.
The jeans feature Draggin's Roomoto protection fabric which offers race-level protection of 7.45 seconds of road abrasion. The lining also has an antibacterial treatment and "climate control" to take away heat and sweat from the skin.
The Roomoto lining is in the seat, hips and knees which are the major contact points if you do have a spill.
The H-D Performance Riding Jeans collection is made up of three styles for men and women with waist sizes from 30 to 44 inches: 
Original Performance Riding Jeans ($A280/$NZ385) are a classic style in stretch denim for comfortable fit with a straight leg to go over your riding boots.
Genuine Performance Riding Jeans ($A320/$NZ440) are a more modern style with hand-distressed fabric, mid-rise waist, stretch-in denim and straight leg. They not only have the Roomoto lining, but also FXRG

hip and knee removable body armour pockets.

The FXRG Performance Riding Jeans ($A375/$NZ515) are also classic styled, but are fully lined from waist to angle with Roomoto and a polyester mesh for moisture-wicking and comfort. They also come with FXRG hip and knee removable body armour included.
Harley-Davidson Australia sent me a pair of the Original jeans in black to try.
I usually take size 34 waist but I've put on a little bit of "comfort padding" in recent months.
However, I have another pair of Harley trousers in 34 waist and they are a little too big for me so when Harley asked me what size I was, I said 34, thinking that Harley sizes are made for Americans and are usually a big size.
However, when they arrived, I couldn't zip them up. Concerned I'd stacked on more weight than I thought, I measured the waist which cinches in a little to 33 inches!
I swapped them for a size 36, which I actually measured to be 35 inches.
They fit in the waist, but now they are too baggy and long in the legs. However, a little bit of extra leg length is always good as pants ride up when you bend your leg to ride.
All the same, it is surprising as I would have thought Harley would make sizes and styles a little bigger and more generous in the waist for their clientele.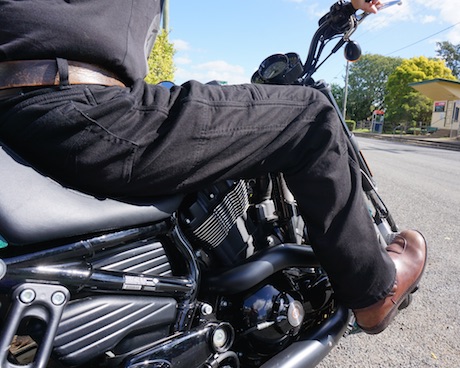 Anyway, the jeans feel very soft and comfortable and the lining is not hot and scratchy like the old Kevlar linings used to be.
They have all the usual pockets you would expect and a knee pocket for CE armour.
I haven't crash tested the pants, but I've seen the Draggin video and am comfortable in the knowledge they work.
I've tested them in 29 degrees in traffic on a V-Rod which pumps out a lot of heat on the right leg and they felt reasonably cool. However, black is never going to be cool in the summer's direct sun.
I've also tested them in 12 degrees on a night ride and they feel reasonably warm, as well.