Rider safety trainers Roger and Tracy Hughes are taking their motorcyclist first aid course on the road from today (July 8, 2015) to reach 3000 riders in the next two years.
The monthly First Aid for Motorcyclists half-day course has trained 350 riders in Sydney over the past year.
Principal trainer Tracy says they are now getting a lot of demand in other cities and regional centres for the course.
So, from July 2015 it will be available in other major regional centres and capital cities around Australia.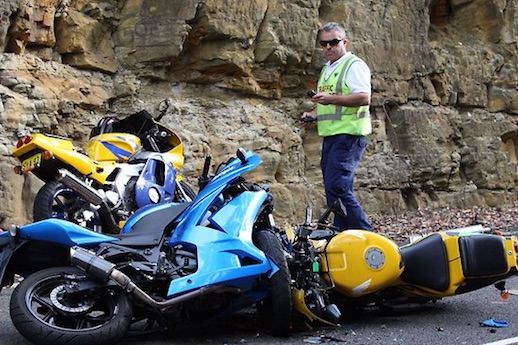 "Roger and I will swap our home in Stanmore for a 25ft Jayco caravan then plan to load the ute with our Ducatis (MTS1200S & M821) and hit the road for a two-year adventure," says Tracy.
Their goal is to put 3000 riders through the half-day course and raise community awareness around motorcycle accident scene and injury management and raise money for the Royal Rehab, Brain and Spinal Injury Units in Ryde.
"We want to help as many riders as we can, plus have a great adventure at the same time," she says.
The course developed specifically for riders teaches the vital skills and knowledge needed to provide immediate roadside first aid and effectively manage the accident scene until emergency services arrive. 
Tracy says it is not a regular first-aid course, but modified for riders with practical and relevant content.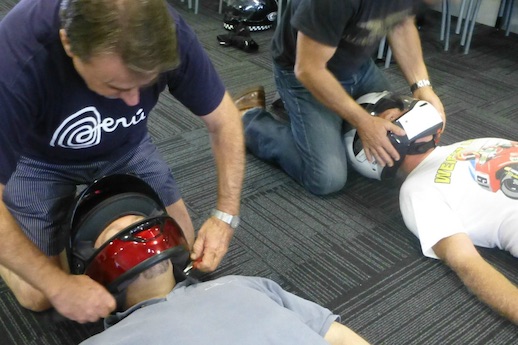 She became interested in first-aid training after a friend crashed on a ride.
Seeing first-hand how critical it is to have good first aid skills and act decisively at an accident scene inspired Tracy to become a Senior First-Aid Instructor for St John Ambulance.
From there, she developed a first-aid course specific to riders.
By the end of the hands-on training session riders will have learnt when and how to perform emergency helmet removal, give effective CPR, move a casualty in danger, treat a rider with serious road trauma injuries and safely manage the accident scene.
Cost is $78, but it is endorsed by the Ulysses Club so members get a 50% discount.
Click here for bookings and look out for their van!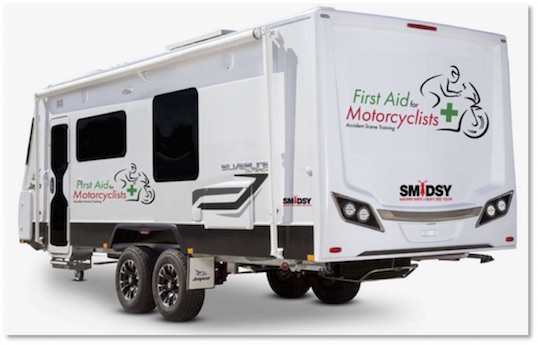 National Training Tour
11th July – NSW – 2 x Coffs Harbour – Aero Club: 8:30am – 12:30pm & 1:30pm – 5:50pm

18th July – NSW – 1 x Port Macquarie – The Westport Club: 11:00am – 4:30pm

25th July – NSW – 1 x Gosford – Gosford RSL: 11:00am – 4:30pm

8th August – NSW – 1 x Newcastle – Edgeworth Sport and Rec Club: 11:00am – 4:30pm

15th August – NSW – 1 x Tamworth – Tamworth Services Club: 8:30am – 12:30pm

22nd August – NSW – 1 x Lismore – Lismore Workers Club: 11:00am – 4:30pm

29th August – QLD – 1 x Gold Coast – Palm Beach Currumbin Sports Club: 11:00am – 4:30pm

5th September – QLD – 2 x Ipswich – Ipswich Golf Club: 2 x sessions: 8:30am – 12:30pm & 1:30pm – 5:50pm

12th September – QLD – 1 x Birkdale – Redlands Multi Sports Club: 11:00am – 4:30pm

19th September – QLD – 1 x Caboolture – Caboolture Golf Club: 11:00am – 4:30pm

26th September – QLD – 1 x Warwick – TBC: 11:00am – 4:30pm

3rd October – QLD – 1 x Gold Coast – Palm Beach Currumbin Sports Club: 11:00am – 4:30pm

10th October – NSW – 1 x Newcastle TBC

24th October – NSW – 1 x Sydney – Royal Rehab Ryde: 1:30pm – 5:00pm

7th November – NSW – 1 x Wollongong TBC

14th November – ACT – 1 x Canberra – The Harmonie German Club: 08:30am – 12:30pm

21st November – VIC – (Melbourne) TBC

5th December – VIC – (Melbourne) TBC

19th December – VIC – (Melbourne) TBC

16th December – VIC – (Ballarat) TBC

23rd January – VIC – (Geelong) TBC

30th January – VIC – (Frankston) TBC 

6th February – VIC – (Bairnsdale)